Global

2020.10.30
Nippon Paint Holdings Group receives Asia Responsible Enterprise Awards 2020 in Recognition of its CSR Activities in Asia
Nippon Paint Holdings Co., Ltd. (Head office: Chuo-ku, Tokyo; Chairman, President & CEO: Masaaki Tanaka; hereinafter referred to as "NPHD") hereby announces that NIPSEA Group, NPHD Group's Asia Business unit, received Asia Responsible Enterprise Awards 2020 (AREA 2020). This award recognizes Asian corporations with excellent CSR activities。It is the first major international CSR award for NIPSEA Group.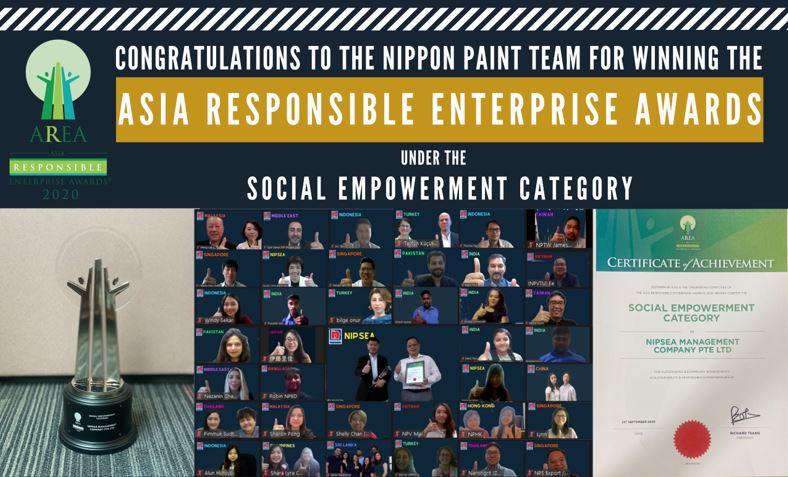 AREA is run by Enterprise Asia, a non-governmental organization (NGO) promoting entrepreneurship development across Asia, and has seven categories: Social Empowerment, Investment in People, Health Promotion, Green Leadership, Corporate Governance, Circular Economy Leadership, and Responsible Business Leadership. Since the establishment of AREA in 2011, the award program has had 2,597 entries submitted from corporations operating in 19 countries and regions in Asia, and about 400 corporations have won the award. In 2020, 81 winners were selected from more than 200 entries and were honored in a virtual award-presentation ceremony in September.
NIPSEA Group received the award in the Social Empowerment category for the following two activities in the "Colourful Dreams" project for developing talents in the paint industry.
(1) "Asia Young Designer Awards (AYDA)"
AYDA is a competition for architecture and interior design students in Asia. Since its launch in 2008, AYDA has had more than 35,000 entries from about 1,200 educational institutions in 15 countries and regions in Asia. AYDA is recognized as one of Asia's premier design awards in the fields of architecture and interior design. In Japan, entries are invited under the theme of "Dynamics in light" until November 12.
(2) "n'Shakti Women Painters Empowerment Program"
This program was launched in 2018 for women in rural areas in India, and has provided training to about 450 women to become professional house painters.
With this award as a start, all the NPHD Group companies will inspire each other with the goal of building a brilliant society that embraces individualities and potential of people.
[AREA 2020]
https://enterpriseasia.org/area/
[The page introducing NIPSEA Group's activities]
https://enterpriseasia.org/area/hall-of-fame/hall-of-fame-2020/social-empowerment-2020/nipsea-management-company-pte-ltd/
[NIPSEA Group's CSR activities]
https://www.nipponpaint.com/corporate-responsibility-sustainability/
[AYDA]
https://ayda.jp/
[Events sponsored by AYDA in Japan]
https://ayda.jp/event/