Environmental and sustainable products
Our approach to sustainable products
The Group refers to its products with features that help resolve social issues as "sustainable products." These products are classified into two categories: products that reduce environmental impacts throughout product lifecycle by reducing VOCs emitted into the atmosphere or using environmentally friendly raw materials; and beneficial products, which actively contribute to the resolution of new social issues, such as helping customers reduce CO2 emissions during painting.
In fiscal 2020, in response to COVID-19, we actively promoted the development of paint with functions to help prevent infections. We are committed to contributing to the resolution of various issues such as prevention of climate change and pollution. In addition, we will accurately grasp changes in needs and demand of customers and consumers in global markets in seeking out innovative products and services.
Initiatives
Achievements in sustainable products
In fiscal 2020, we sold approximately 5,700 items globally and 3,100 items in Japan that were sustainable products. Within domestic sales, sales of beneficial products that actively contribute to resolving social issues with their features totaled about 24.5 billion yen. The certification of sustainable products was carried out by the working team (currently the Global Team) in consultation with the ESG Committee, which is in charge of the materiality "Innovation for a Sustainable Future".
We plan to spend about 4.3 billion yen on research and development in Japan and Asia in fiscal 2021, covering about 200 sustainable products on the theme of technology and product development. Total research and development spending for the entire Group in fiscal 2020 amounted to 18,411 million yen, representing 2.4% of consolidated revenue.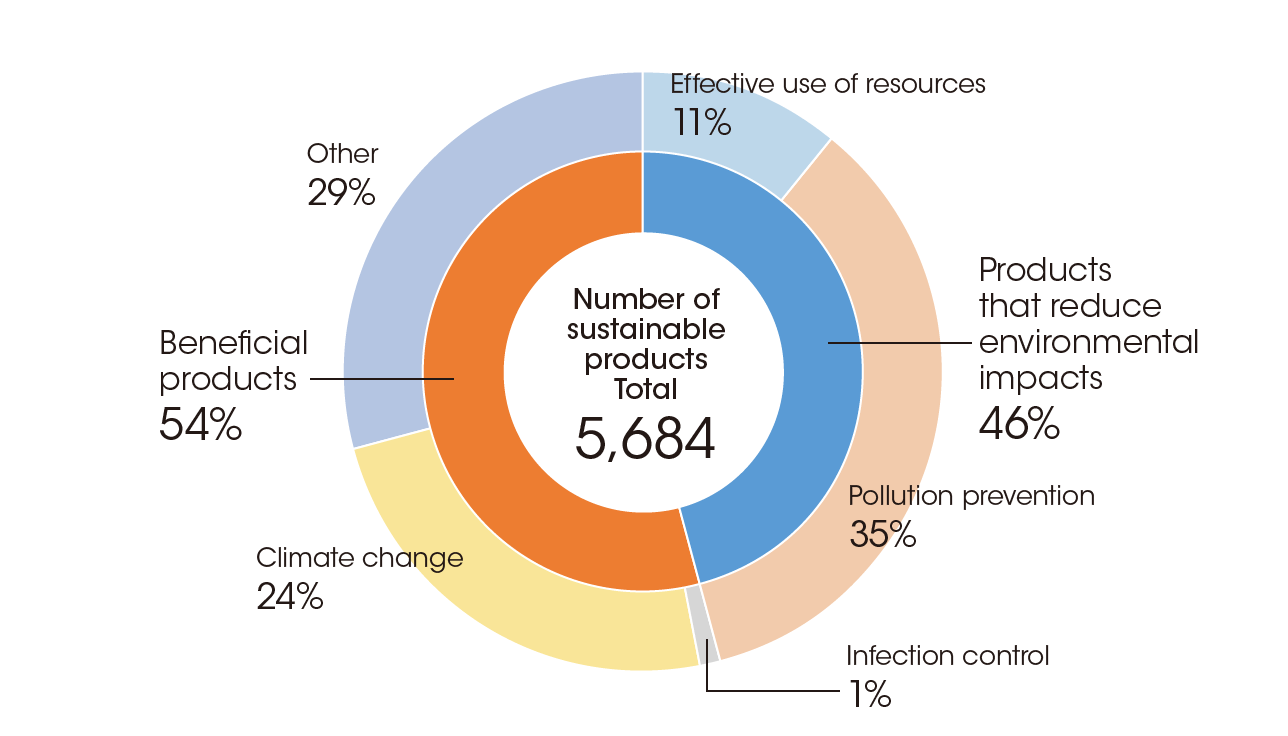 (1) Total number of sustainable products sold in FY2020 (by category)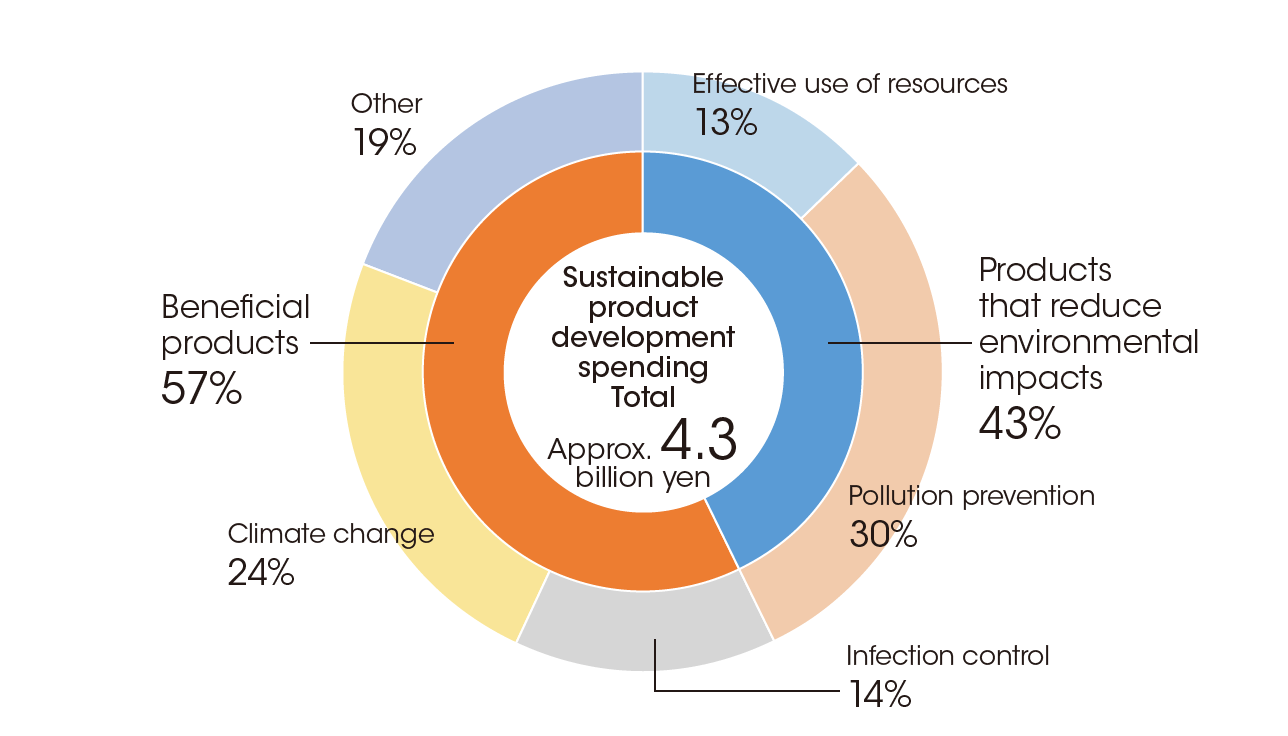 (2) FY2021 sustainable product development expenses (as of August 2021)
※Reporting boundary:
(1) Nippon Paint Group in Japan*, NIPSEA, DGL * NPAC/NPTU/NPIU/NPMC/NPSU
(2) Reporting boundary: Nippon Paint Group in Japan*, NIPSEA * NPAC/NPTU/NPIU/NPMC/NPSU
Sustainable product (1) anti-fouling hull paint AQUATERRAS
In April 2021, Nippon Paint Marine Coatings' anti-fouling hull paint AQUATERRAS received the TECHNOLOGY AWARD at GREEN4SEA VIRTUAL AWARDS hosted by the European maritime NPO SAFETY4SEA. This marked the first time a Japanese company received the award.
AQUATERRAS is the world's first biocide-free self-polishing anti-fouling paint with a marine-environment-friendly formulation, free of heavy metals, active ingredients and silicone. In addition, this product can reduce the total resistance on a ship's hull by up to 10%, thereby contributing to the reduction of CO2 emissions. We have positioned
this paint as a beneficial product mitigates climate change. AQUATERRAS received a global award for its innovative technology that achieves both environmentally responsible and efficient vessel operation.
In January 2021, we launched FASTAR, a next-generation hydrolysis anti-fouling hull paint that incorporates for the first time a hydrophilic and hydrophobic nanodomain technology, focusing on coating surface control technology, under the concept "Precise, Predictable, Performance."
These low-friction antifouling hull paint products have been continuously developed and supplied since 2007, when LF-Sea, the world's first product of this kind, was developed. In 2013, we launched A-LF-Sea, an advanced ultra-fuel-saving anti-fouling paint for ship bottoms. This type of product has reduced CO2 emissions from global shipping. Our unique low-friction technology, a water trapping technology, won the Minister of the Environment Award in 2019 for its contribution to CO2 reduction. As of June 30, 2021, our low-friction anti-fouling paints have been used on approximately 3,800 vessels in total.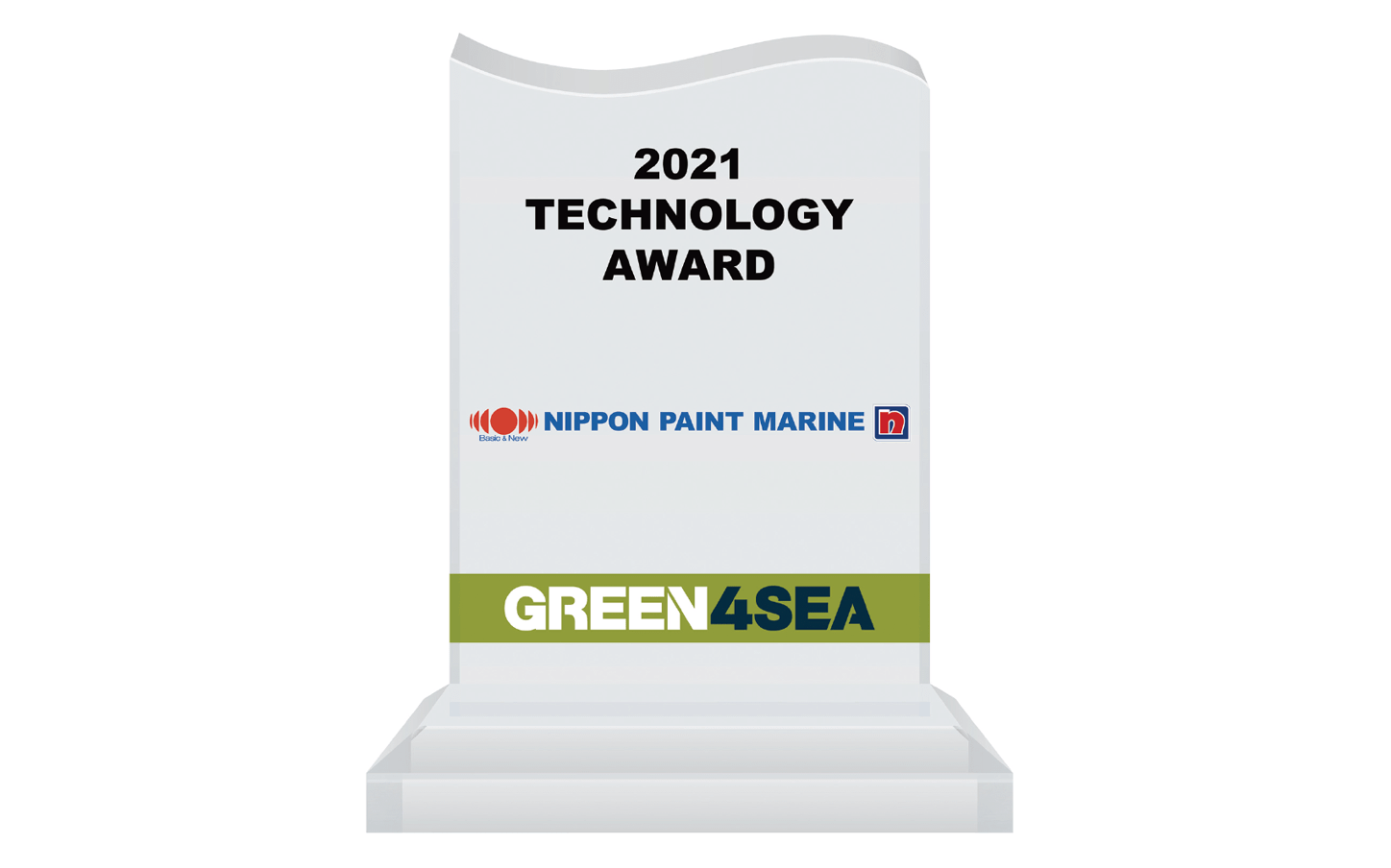 GREEN4SEA 2021 TECHNOLOGY AWARD Trophy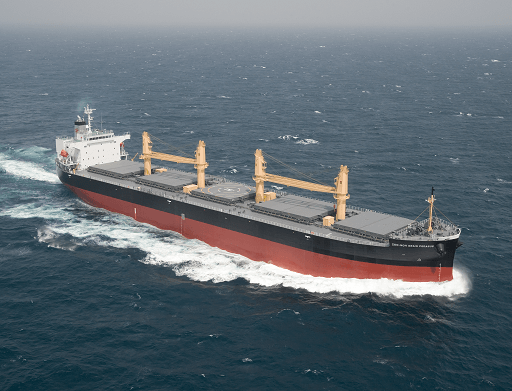 Sustainable products (2) Anti-virus and anti-bacterial paint brand PROTECTON®
In accordance with our mission of protecting people's health and creating a safe and pleasant future, the PROTECTON® brand debuted in September 2020. PROTECTON® is a paint technology with anti-viral and anti-bacterial functions developed by combining our paint, coatings, and surface treatment technologies. The name implies the function to "PROTECT" people's lives from threats of viruses and bacteria and to turn the function "ON" on the surfaces of all things. We have positioned this paint as a beneficial product that contributes to infection control.
We are developing the PROTECTON® brand for deployment across our partner companies in Japan. We have already launched five anti-viral paint product at each domestic partner company for industrial, DIY, and household use, including PROTECTON® BarrierxTM Spray released by Nippon Paint Industrial Coatings in July 2021. PROTECTON® will expand into various areas in addition to paint products as a product brand with anti-viral and anti-bacterial functions.

Example of joint development: PROTECTON® brand proven effective in suppressing novel coronavirus (including one variant): Joint development of anti-viral nano photocatalyst
Five PROTECTON® products have been proven to be effective in suppressing the novel coronavirus (SARS-CoV-2) and its Alpha variant on coated surfaces. This is based on a joint research project between the Group and the Graduate School of Engineering of the University of Tokyo and the Institute of Medical Science. This is the first time in Japan that anti-viral and anti-bacterial products have been proven to be effective in suppressing the novel coronavirus (SARS-CoV-2) and its Alpha variant. We have also developed a new anti-viral nano photocatalyst that suppresses novel coronavirus and its variant (Alpha variant), and are considering its social implementation by introducing it into new PROTECTON® products.
The Group and the University of Tokyo have jointly conducted research activities on coating technologies with anti-viral functions and functions to prevent the spread of infections for a sustainable post-COVID-19 society. This is one of the joint research themes under the industry-academia co-creation agreement we concluded on May 18, 2020. Through collaborative research, we will continue to conduct tests to verify the effectiveness of our innovative coating technologies including anti-viral technology using visible light-responsive photocatalyst in suppressing the SARS-CoV-2 virus under actual conditions of use.
* The products used for the test are not intended for medical use as a medical product or medical device. The test results do not indicate the effectiveness of these products in preventing infections.
* These products do not suppress indoor airborne viruses.
Life cycle assessment
We promote new product development to replace existing products and create environmental products given consideration for market expansion and following the philosophy of life cycle assessment (LCA). Specifically, we are setting Responsible Care (RC) target guidelines in aiming to grasp and reduce environmental impacts within the supply chain through processes from procurement of raw materials to production, distribution, usage and disposal. The goals are set based on LCA and from the stance of developing and promoting products with lower environmental impacts (low temperature curing, aqueous, thermal barrier, etc.) in paint, their disposal and their coating function.
In 2018, Dulux paints made Environmental Product Declarations (EPDs) available to assist architects, specifiers and construction industry members to achieve sustainable and Green Star certified projects. EPDs detail the environmental impact of Dulux paints throughout the life cycle of the product, from the production and processing of raw materials, to manufacturing, distribution and application. The documentation also covers any waste generated throughout the life cycle, and opportunities for recycling of packaging.
Dulux EPDs for Wall Paints, Ceiling Paints and Preparation Paints provide comprehensive data on selected products within each paint range. The EPDs are prepared in accordance with international standards* and independently verified. The EPDs are available on the Australasian and International Environmental Product Declaration website.
* ISO 14025: Environmental labels and declarations — Type III environmental declarations that display the environmental impacts of a product using the LCA method.
* EN 15804: Sustainability of construction works - Environmental product declarations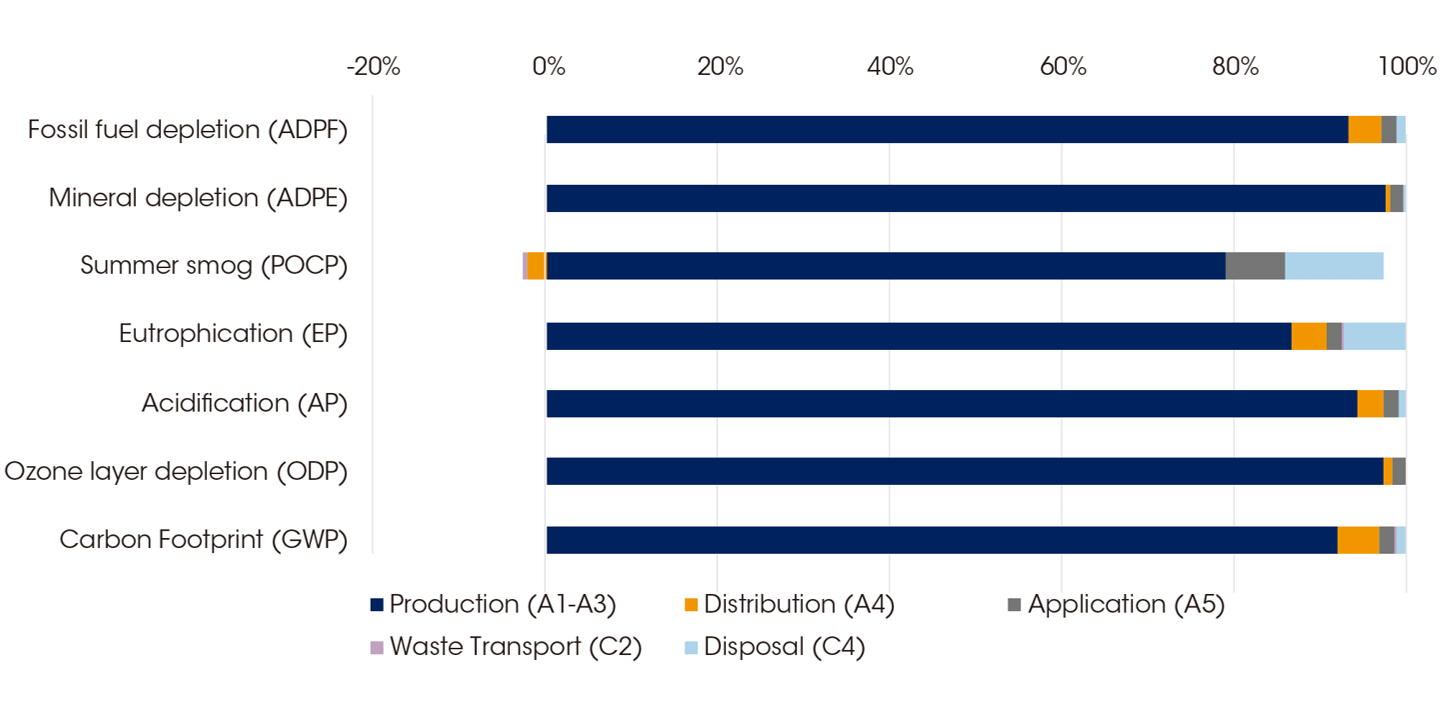 Example of LCA report (from Dulux® envirO2™, EPD S-P-01542)