Human resources management
Basic Policy
For the Nippon Paint Group to grow in a sustainable manner, it is essential that we secure skilled human resources and offer a corporate culture and working environment in which it is comfortable and rewarding to work, thus allowing people to leverage their individuality and capabilities to the fullest. In order to provide every person with inspiration, comfort, and peace of mind, we pay due respect to the diversity, character, and individuality of our employees and are endeavoring to create working environments that take health and safety into consideration, and allow each to grow and demonstrate their potential.
Based on the laws and regulations of countries around the world, we do not discriminate or commit harassment based on race, religion, gender, age, sexual orientation, disabilities, or nationality.
We will also eliminate forced labor, labor that prevents children from receiving an education or interferes with their healthy development, harmful or dangerous work, and all child labor. Furthermore, we make certain that working hours and wages are fair and in accordance with the laws and regulations of each country. Additionally, to ensure that discussions between labor and management concerning these working conditions and environments proceed smoothly, we guarantee freedom of assembly and association for our employees, and respect their right to organize and bargain collectively, as well as to take other collective action.
The Nippon Paint Group is formulating and promoting human resources strategies aimed at implementing management strategies and propelling our businesses, and at contributing to the maximization of shareholder value (MSV) underpinning them. The environment in which we do business is subject to drastic and rapid change, with globalization, digitalization, and the diversification and growing mobility of personnel prominent. We believe that to gain a grasp of changes in the market and business strategies and transform these into opportunities we must deploy human resources flexibly; in other words, allocate the right people to the right job, with the right timing. We are constructing a range of systems and measures with that in mind.
Thorough implementation of labor standards
Our Group companies in Japan have put a range of systems in place in order to promote appropriate labor practices. Our thinking and initiatives regarding labor standards such as wages and working hours are made public at each Group company so that all employees working for us in Japan and internationally can understand them, and we have also concluded a collective agreement with the labor union. In order to engage in constructive dialog between management and labor, we hold labor-management dialogs and committee meetings between company management and representatives of the labor union, facilitating regular exchanges of opinions on the business environment and improvement to various systems, as well as discussions on wages, lump-sum payments, and occupational health and safety.
Additionally, we endeavor to ensure that labor standards are well understood, and working conditions such as remuneration, work hours and holidays, occupational safety and health, benefits, and service rules are always explained at orientations for employees when they join the company, and are now always available for reference on the company intranet. Labor standards for Japan are published on the intranet in both Japanese and English to ensure that they are understood. We have created an environment that allows employees to use internal reporting systems to report any violations that may occur, and we disclose the number of reports made annually.
See here for details of the internal reporting system.
Management of working hours
In addition to complying with Agreement 36 (Labor-Management Agreement relating to Overtime Work and Work on Days Off) and other rules and regulations, Group companies in Japan monitor employee working conditions and hours at the management, human resources, and workplace level to promote appropriate management of working hours. Work management e-learning and seminars are held for all employees at least once annually to alleviate and prevent overwork, protect their mental and physical health, and ensure that they are able to utilize their abilities to the full.
Fair wages
Our basic policy is to comply with the labor laws and regulations of countries around the world, and to pay wages in excess of the minimum level required to achieve a stable lifestyle. The average yearly salary for fiscal 2020 at Nippon Paint Holdings was 8.32 million yen. We have included the concept of "equal pay for equal work" in the Compliance Textbook, a move is intended to eliminate the unfair disparities in treatment arising from differences in the employment status of regular and non-regular employees, and to prevent such disparities from occurring.
Management system
We autonomously formulate human resource strategy in accordance with business activities, country of location, and business phase of each partner company. We regularly hold discussions, led by senior management, on group-level action themes, such as ESG, Diversity & Inclusion, and development of next-generation management talent.
In 2020, we formulated the ESG Statement and designated Diversity & Inclusion as an item of materiality. We are also undertaking people management initiatives. Specifically, the Global Team that works directly under the Directors, Representative Executive Officers & Co-Presidents (the Co-Presidents) discusses policies and initiatives concerning the human resources policies for each company and reports their outcomes to the Co-Presidents.
Training people who will support sustained growth
Our philosophy on cultivating human resources at Group companies in Japan is that people cannot achieve growth unless that growth is grounded on independent effort and a desire to do, and accordingly, personnel development is based on self-responsibility. This thinking forms the basis for our hiring activities and human resources training.
We aim to cultivate self-reliant people who are able to respond to changes in the global social conditions and the business environment, and contribute to business performance in an ongoing manner. We are working to achieve this through normal job-based education and off-the job training.
Nippon Paint Group's vision for human resources, and training program
Japan
We offer training (training for prospective hires, new employee induction training, follow-up training, annual training, etc.) to all employees as appropriate to their current career stages and the roles it is hoped they will play. In fiscal 2020 total training hours for selection training and group training by job level at Group companies in Japan reached 15,500 hours. From fiscal 2021 onwards we improved the on-boarding training we offer to new mid-career hires, and opened a business college with the goal of strengthening the business literacy of our executives. We are also concentrating on language education, and in addition to systems to support self-development we inaugurated a daily English language education program called the English Café.


Australia
DuluxGroup has put in place a comprehensive training program for everyone from newly appointed to senior leaders to train people who can function as leaders globally, and works to help them in their efforts to develop their skills and build their careers. Additionally, they are building systems that will allow employees to learn on their own initiatives through programs to improve their skills and specialist knowledge. They improve and revise the program on a daily basis, seeking to maximize the effects of training.
The Group currently offers programs such as "Insight in Business Strategy," "Management and Marketing Skills," "Employee Career Development," "Health and Welfare," and "IT Skills for Employees to Understand Business."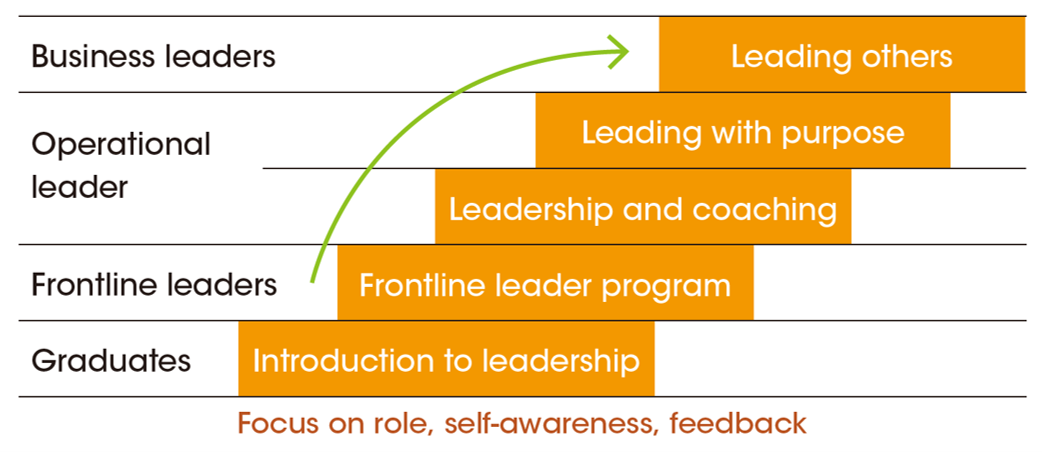 Leadership programs for all job levels
Asia
Each of our NIPSEA companies utilizes a learning framework that spans regions, countries, and companies, focusing on cultivating employees with the experience, skills, and competencies needed at each job level. For example, they offer a series of training and education programs for a range of job domains, covering categories from technical to leadership skills. The programs are improved and enhanced based on yearly reviews of training results and effectiveness, and on the requirements of each company and country. In fiscal 2020 a total of 341,448 hours of employee training were conducted.

Average annual training time for work domains
Recruitment of a diverse range of human resources, and training of managers
Recruitment activities
We emphasize two points in particular when hiring new graduates as we endeavor to acquire new human resources. One is the ability to bring enthusiasm and a sense of responsibility to their work, and the other is the ability to resolutely take on the challenge of solving social issues.
We are enhancing our public relations efforts with more online seminars and events as we approach capable human resources around the world. We also hold a range of internship programs and offer students with differing specialties the opportunity to work together, giving them the chance to experience the excitement and surprise that can come of leveraging each other's strengths. In future programs we will provide opportunities for participants to learn about our company from a variety of different perspectives, including activities undertaken by women, production technologies, information systems, and ESG, working to raise the profile of our organization and attract a diverse range of people.
We are actively engaged in activities to hire people who are in the middle of their careers and possess diverse skill sets, and a wealth of practical experience and specialist knowledge, based on our management and business needs.
Training managers
Nippon Paint Group defines "independent managers" as those who are able to demonstrate leadership even in social and business environments where the situation is unclear, maintaining a global, historical, and human perspective. We are continuing our endeavors to enhance our talent pool of managers and those who will succeed them, in order to accelerate our growth around the world.
Furthermore, with an eye to training global leaders, in fiscal 2020 we began offering language study programs in English and Chinese, MBA study programs, and a doctoral study program. For the medium- to long-term, we are working to cultivate human resources who are able to be active on a global scale, enhancing the development of the skills and ambition required of global leaders.
Proactive use of the internet
In addition to a range of training, including recruitment activities and position-based training, we are increasing opportunities for use of the internet in activities such as daily communication, meetings, and ceremonies as the induction ceremony. Specifically, we are expanding use of the web to include some meetings and a range of project activities, and to revitalize group activities. We are working to standardize in-house IT environments within the Group, and to transform our working and training practices using technologies such as collaboration and coordination that leverage new tools.
Career management
In Japan we have revised existing role-based grading systems and implemented a job-based human resources system for the executives who play a key role in moving our businesses forward. As we clarify expectations and performance required for each job, we are beginning to utilize compensation benchmarks using objective indices in order to achieve market competitiveness. Additionally, we are configuring human resources development systems with the goal of further strengthening business literacy. On the human resources recruitment front we are employing mid-career hires strategically in addition to the regular hiring of new graduates, working to ensure that the right people are hired for the right position.
Furthermore, to emphasize individuality and diversity in our hiring practices, we must train people to have career ownership , and have a foundation based on a system that recognizes their orientation and career vision. With that in mind, we have instituted our new "Career Drive Measures."
Finally, we are constructing a talent management system to effectively leverage the human resources needed for our business. This system allows us to acquire a centralized and quantitative grasp of the diverse range of human resources data collected as a result of our measures, and visualize and analyze it from a variety of perspectives.
Labor practices
Opening of a harassment help desk
In 2020 Group companies in Japan set in place a harassment prevention policy and launched the "Harassment Help Desk," an in-house advice service specializing in harassment. These contact points were established separately to the "NPHD Group Hotline"—which allows people to report possible compliance violations—in order to offer an in-house consulting contact to allow employees to seek advice easily, even if they are unsure that certain behaviors constitute harassment. To prevent harassment and foster harassment-free working environments, we provide appropriate feedback while giving due attention to preserving the privacy of employees who make reports and that of the people involved.
In fiscal 2020 there were ten incidents of people consulting the harassment help desk, with each incident dealt in a prompt, appropriate manner. We also utilize a range of tools such as employee training, surveys of all staff, and analysis of stress check results, and work to assess risks and prevent problems related to labor issues.
Nippon Paint Holdings Harassment Prevention Policy

Harassment is a human rights issue, and is an act that harms the dignity and personality of the other party. We will not permit or overlook harassment.
We will seek to resolve any incidences of harassment promptly and appropriately. We will preserve the privacy of those who consult us and those who cooperate with us in checking facts, and will never place them at a disadvantage.
We will respect the individuality and diversity of others, and will continue to pursue create healthy working environments that allow everyone to work as a team with peace of mind.
Compliance Textbook
In 2017, Group companies in Japan created the "Nippon Pain Holdings Compliance Guidebook" (digital version) to improve compliance awareness among employees and officers. In 2021 we added new content on diversity and inclusion and appropriate use of IT systems and tools, and changed the name to "Compliance Textbook," and provided this new edition to all employees and officers. This textbook includes sections on appropriate management of working hours and fair evaluation of human resources, introduces the rules and regulations to which employees must pay particular care, and features explanations of case studies and cases that employees of paint and coating companies may encounter. In addition, the Compliance e-Mail Newsletter is sent out to all domestic Group employees, etc. once a month, and an internal site providing legal and compliance information has been set up. In these ways, activities are continuing in order to increase awareness of labor issues and compliance.
Improvement of employee engagement
Creation of an environment in which people can work with peace of mind
As COVID 19 spreads throughout Japan, we have instituted guidelines to prevent infection, distributed masks, made disinfectant available, and have proactively implemented staggered shifts and systems to allow working from home, in order to protect the health of our employees. Additionally, from July 2020, we have offered PCR tests to all employees in Japan who wish to have one. As measures against infection, we ventilate our factories and distribution facilities thoroughly and distribute warm clothing, endeavoring to create workplaces in which people can work with peace of mind, even when faced with the COVID 19 pandemic.
Establishment of a dress code
In April 2021 we instituted a dress code in order to allow employees to demonstrate autonomy and diversity, and to create an environment in which they can work comfortably in a way that suits themselves. The dress code does not feature any detailed rules, but is positioned as a set of guidelines to help each person to choose clothing that is appropriate when taking TPO into account, and serves as a starting point in creating a culture in which we all recognize the diversity of each other's values.
Level of employee satisfaction (Japan) * Nippon Paint Labor Union Survey