The world looks different than usual
in a magical living room under the blue sky
My design office does not have a typical design style. However, I thought for the first time that I had found my original design concept when I participated in a competition for designing a light meal shop. That happened in my thirties, shortly after I established my own design office. Specifically, it was a project to create a cafe for picnicking customers in a vast field of grass in Hokkaido where people can enjoy untouched nature.
Did you know that the concept of size does not apply to nature? In Hokkaido, there are many landscapes where there are no artificial objects in sight. Without any objects, such as a road or barn, that can work as a gauge to grasp the actual size, humans never know, for example, the actual distance between where you are and a large tree looking very far away, or the tree's actual height. Therefore, if we place any architectural structures in such a landscape, we end up setting up a gauge to determine the size of the landscape. At the beginning, I was somewhat fearful of doing such a thing.
Our plan was to place a small shop with a gigantic door that hides the building when opened, and a barn stocked with picnic sheets and garden furniture, at opposite sides of a spacious open area. In other words, no actual rooms were planned to be constructed for customers to spend their time.
If a door, a familiar object to everybody, is greatly enlarged, we feel as if the landscape around it were a miniature model. That's why I thought that I might be able to create the impression, when visitors open the door, that there is a room before their eyes in the field of grass, which is a vast and unmeasurable space. The picnic starts only when people have found their favorite location, doesn't it? Then the architect should not deprive them, in advance, of the freedom to choose their own picnic spot. Based on this belief, I designed a shop with a huge door that creates an image of a room when opened. Every time the door is opened, people see a "room" with a different arrangement of furniture or picnic items. That is what I aimed for by focusing the relationship between architecture, landscape and people.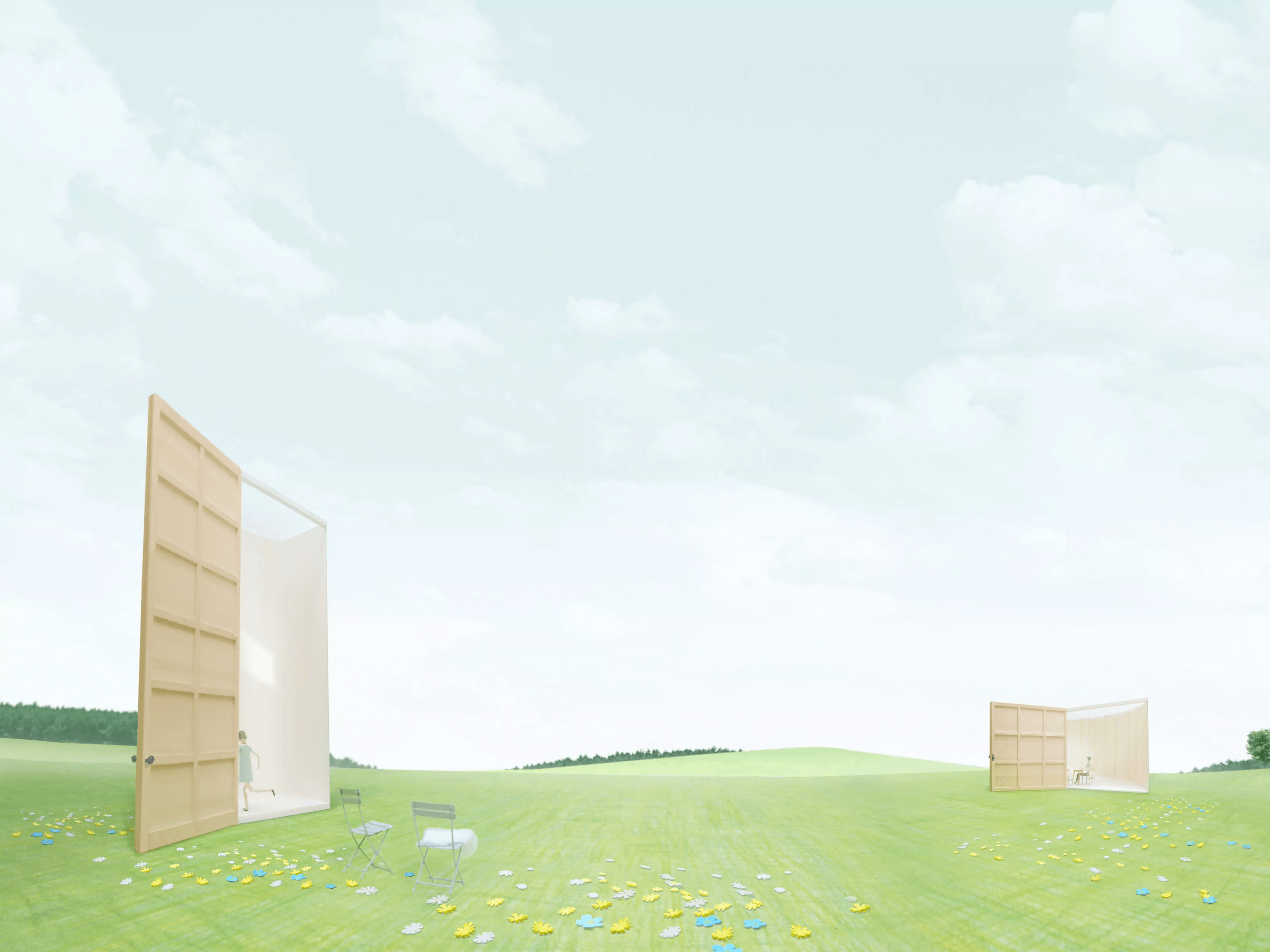 "Big door on the Prairie" Photo courtesy of Hideyuki Nakayama Architecture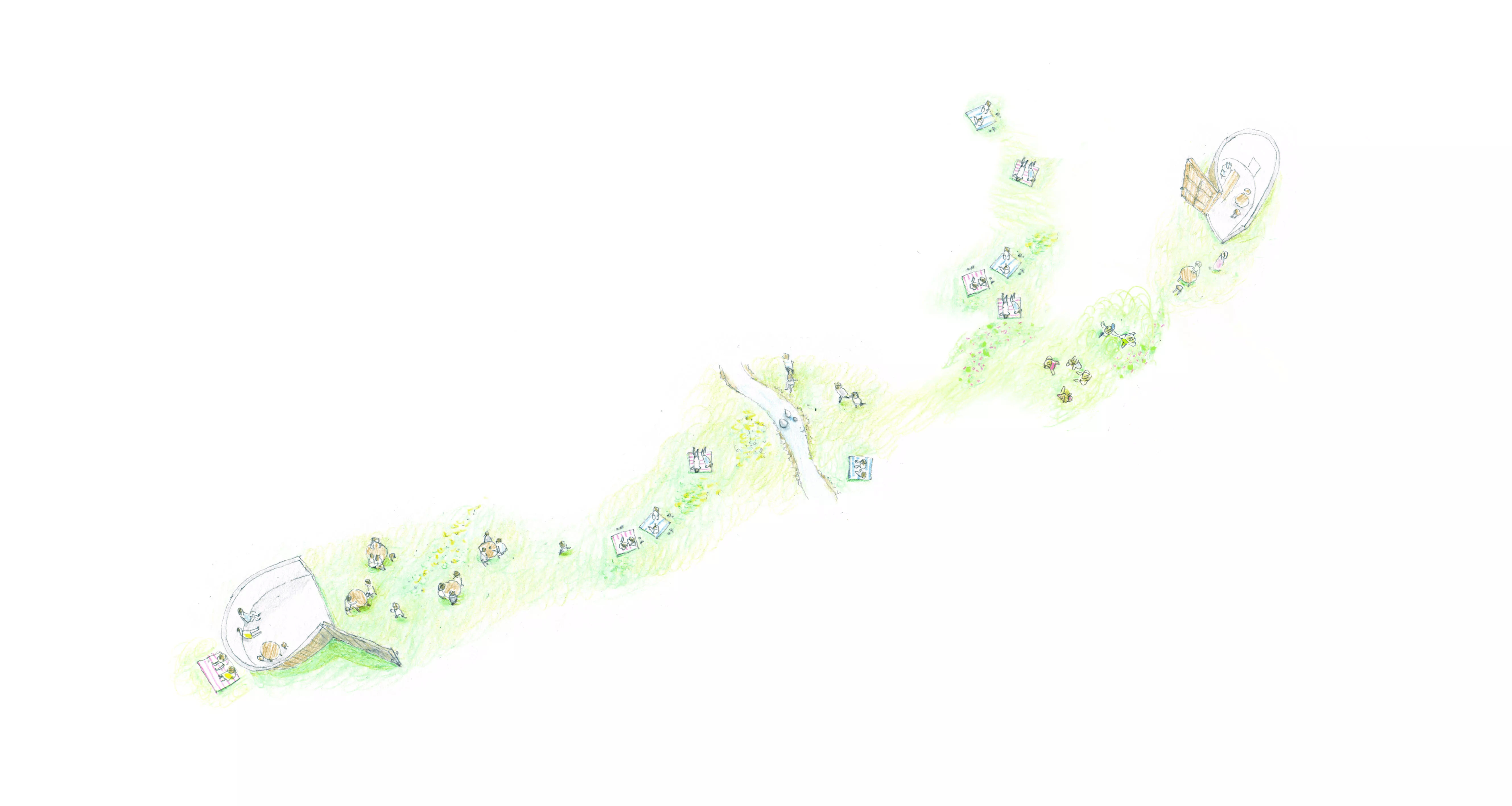 Mr. Nakayama's work, which was planned to be built in Rokka Forest, Obihiro City, Hokkaido, received the first prize. (It was not actually built due to various reasons.) The living room stretching under the sky suddenly appears before the visitors' eyes when the door is opened. Each visitor sees a room with a different arrangement of furniture or picnic items.
What made me decide to pursue an architectural career was
a shocking encounter at a gallery
It was around the end of my second year at high school that I decided to become an architect. I was not a prominent student either in academic or extracurricular activities. Moreover, in the first place, I was spending time at high school with no specific aim, even never thinking seriously about going to college. The turning point for me was a drawing exhibition by Iraqi architect Zaha Hadid.
One day, when I entered a gallery by chance, I came across a painting that was somewhat different from the paintings I had seen in the art textbooks. Curiously enough, it greatly aroused my interest. At that time, she hadn't had a single work actually built. However, I was completely fascinated by an article by architect Arata Isozaki in the collection of her works I had bought with my allowance, which explained "how her exceptional talent was discovered," as well as the atmosphere surrounding the unknown culture of architecture. That's why I decided to go to a prep school for art college.
I was shocked again by the people attending the prep school, who were completely different from my high school classmates. They talked about music and movies that I had never heard of. I admired their unique fashion, and wanted to join in their conversation. These feelings made me start going frequently to movie theaters and record stores that I had never been to alone.
My prep school classmates had a great influence on me, both tangible and intangible. I found my favorite music and became absorbed in movies. But I think their biggest influence on me was probably their free and creative spirit. "We should not wait for somebody to create a new world. If we decide to create one, the new world starts to open up." This spirit somehow may have led me to the plan submitted to the competition in Hokkaido.
Grasp space based on free thinking
like what led to the creation of the Arco floor lamp
To be honest, I don't like designing stairs. More specifically, I don't like adding stairs to my project. Stairs are a supreme example of "gauge of size," aren't they? Even in a house, I don't want to add any structures other than movable furniture as far as possible. Therefore, in our design projects, we often partially hide stairs behind a wall, or include ladder-like stairs that can be moved freely. Isn't it weird?
However, there are designers who have the same way of thinking. The floor lamp designed by the Castiglioni brothers (Italy) called Arco became very popular in Japan's bubble economy period, which made people see it as a luxurious item. However, it is not well known that it was actually designed as a portable lamp.
Using this lighting equipment, you can enjoy the light of a pendant lamp anywhere. What's more, just place the lamp anywhere, and the spot immediately turns into a dining space. Actually, the first house our office designed, which was titled "2004," had no fixed lighting. If an architect hangs a pendant light in advance, people will use the space as a dining room forever. New possibilities will emerge when we question conventional ideas. I wanted to look at architecture with such a perspective.
The nature of lighting predetermined by architectural design has such a decisive influence on our senses. In 2021, I was involved in the preparation of the exhibition site of "Monet: In the Light" held at the POLA Museum of Art (Kanagawa Prefecture). This was also a project in which I paid close attention to the nature of lighting. Also, this work gave me an opportunity to vaguely see the "tail" of color*, which I had not understood well before.
*Mr. Nakayama's unique expression means "a clue to understanding the essence of color".

"2004" Photo courtesy of Hideyuki Nakayama Architecture photo:ToshiyukiYano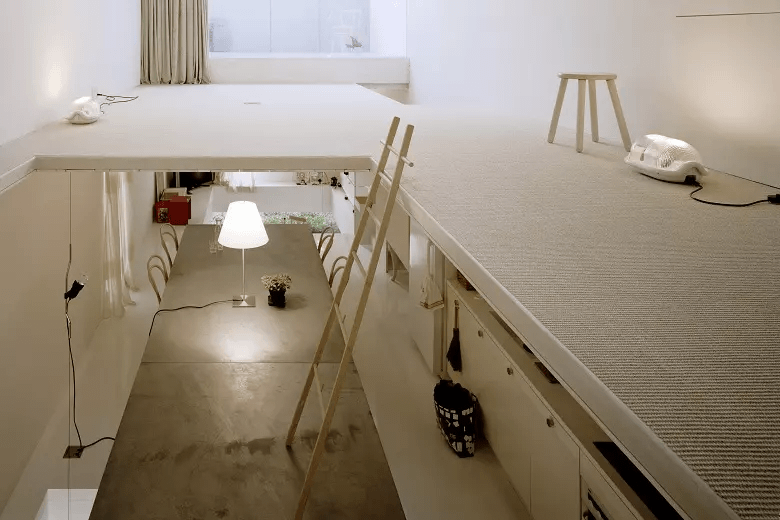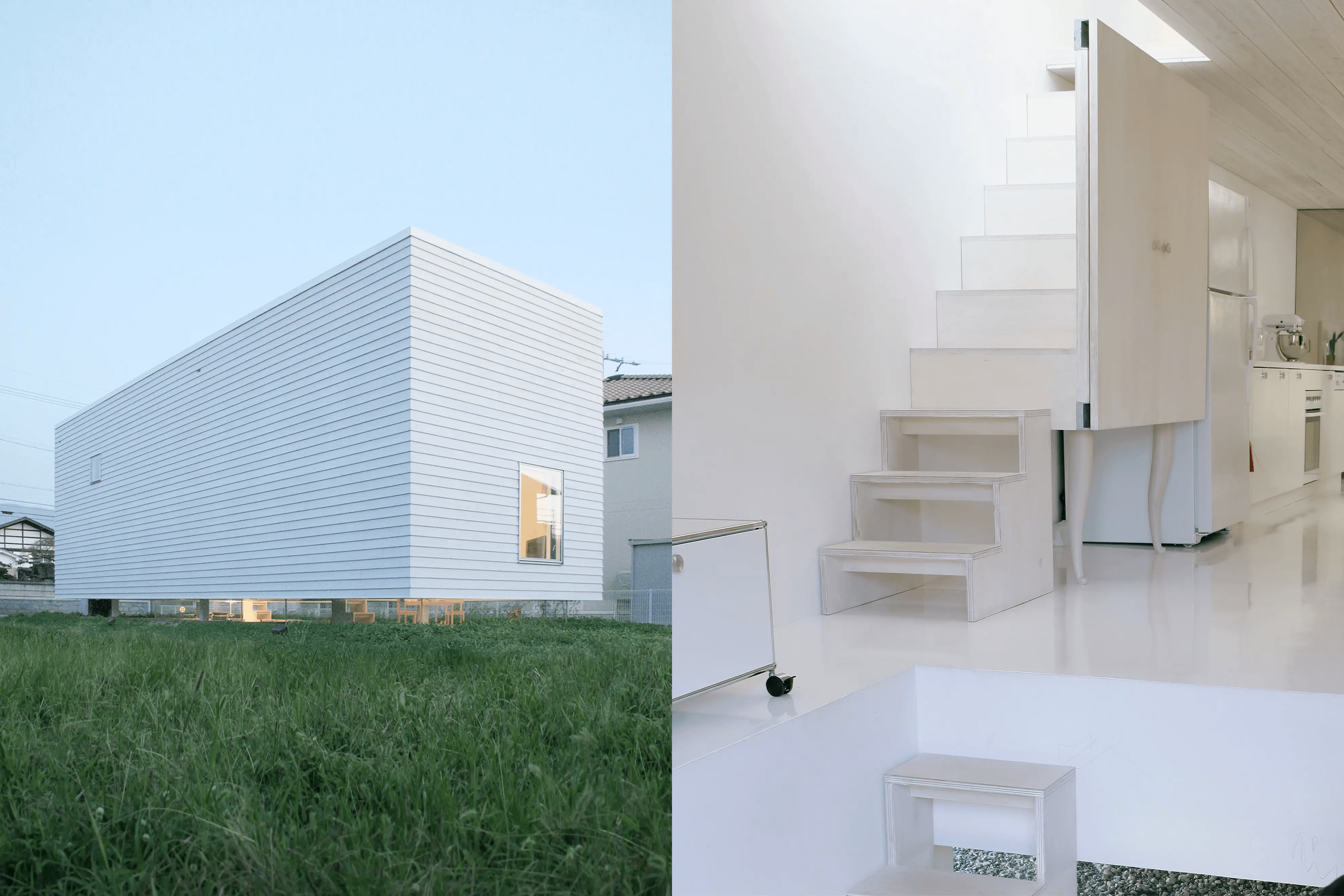 "2004" is the first work of the Nakayama architecture office. This house stands 50 cm vertically off the ground, while the houses on the other lots are built exactly 50 cm away from the boundaries between sites.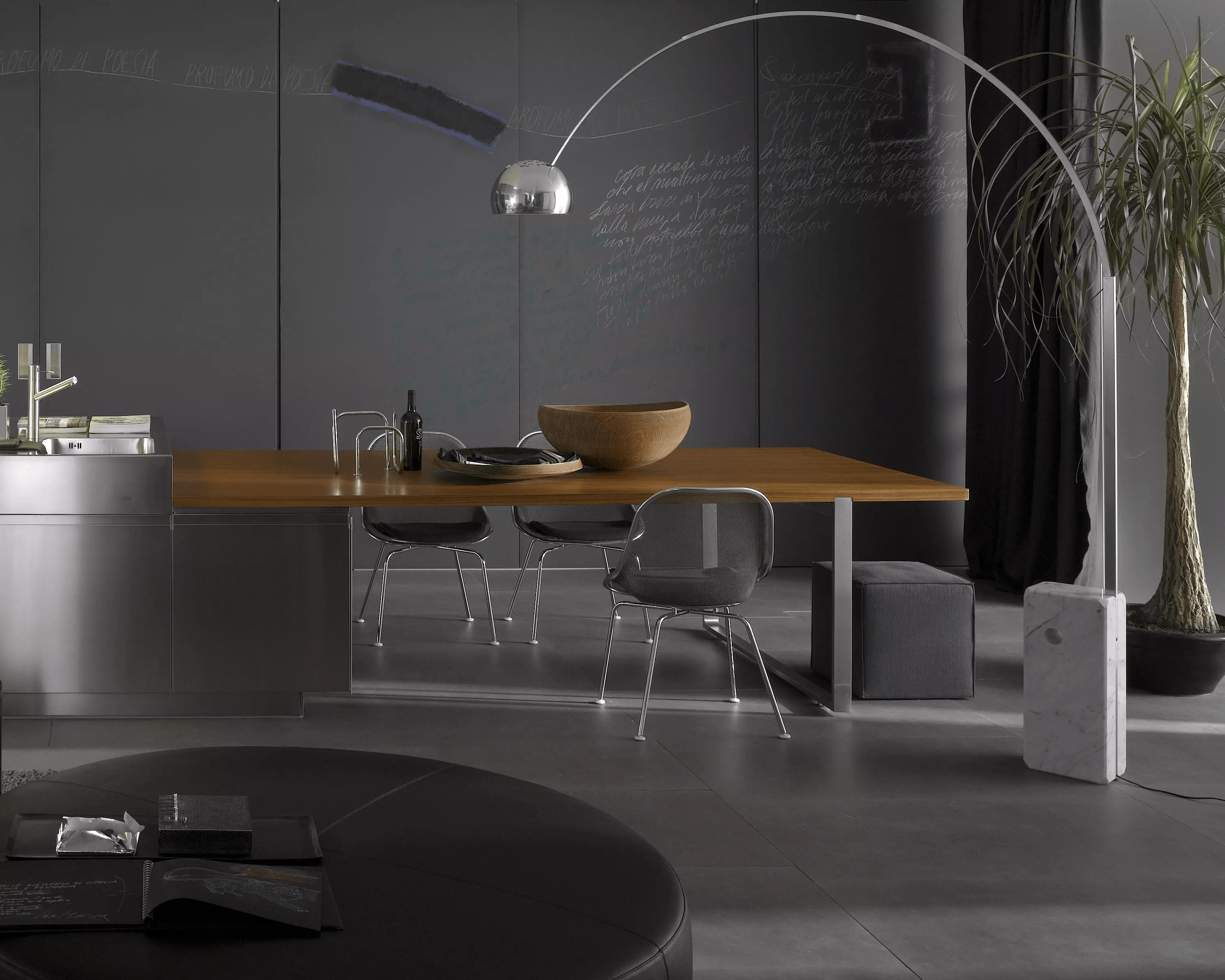 Source : gionata xerra
The Arco lamp has a hole in its marble base at the center of gravity. This hole is designed to insert a rod for carrying the lamp. The size of the arch is determined based on the movement line of a person serving behind the chairs around the table.