ESG statement・ESG management
ESG Statement
At Nippon Paint Holdings Group we aim to conduct our business activities to support and enable sustainable development everywhere we operate.
We aim to include the three dimensions — economic, social and environmental — in a balanced and integrated manner.
Creating paints and coatings to add color, comfort, and safety to people everywhere has been our mission since the company was founded.
Finding solutions to global sustainability challenges is our responsibility to future generations and is a driving force for our continued growth and success. To achieve this, we will:
Pursue technologies across the value chain to create sustainability benefits, through innovative products and services, and new business opportunities.
Engage and work with our stakeholders to meet their expectations and together deliver on our shared sustainability commitments, responsibilities, and challenges.
Establish effective governance frameworks to ensure transparency, objectivity, and fairness of the management of our company and earn society's trust everywhere we operate.
Respect, support, and enable our diverse employees and company associates to achieve their full potential and create innovative, sustainable value for all.
Support the 2030 Agenda for Sustainable Development (SDGs) through delivery of sustainability improvement plans that create new business opportunities and maximize shareholder value.(MSV※)
※MSV is predicated on fulfillment of our duties to customers, employees, suppliers and society, setting us apart from the concept of "Shareholder Primacy".
ESG management
ESG management system
The Nippon Paint Group is pursuing MSV that remains after fulfilling our responsibilities to customers, employees, business partners, and society. We have formulated the ESG Statement and reviewed materiality (material issues) that we should address on a Group-wide basis.
In 2022, we restructured the sustainability structure into an autonomous team structure by strengthening the link between sustainability initiatives and businesses, rather than relying on initiatives of the headquarters. We established four Global Teams based on materiality to work directly under the Directors, Representative Executive Officers & Co-Presidents (the Co-Presidents) for implementing sustainability initiatives on a global scale.
From the perspective of sustainability governance, each Global Team Leader directly reports to the Co-Presidents, who will then report progress and proposals to the Board of Directors whenever necessary. This structure allows the Board of Directors to supervise our sustainability initiatives.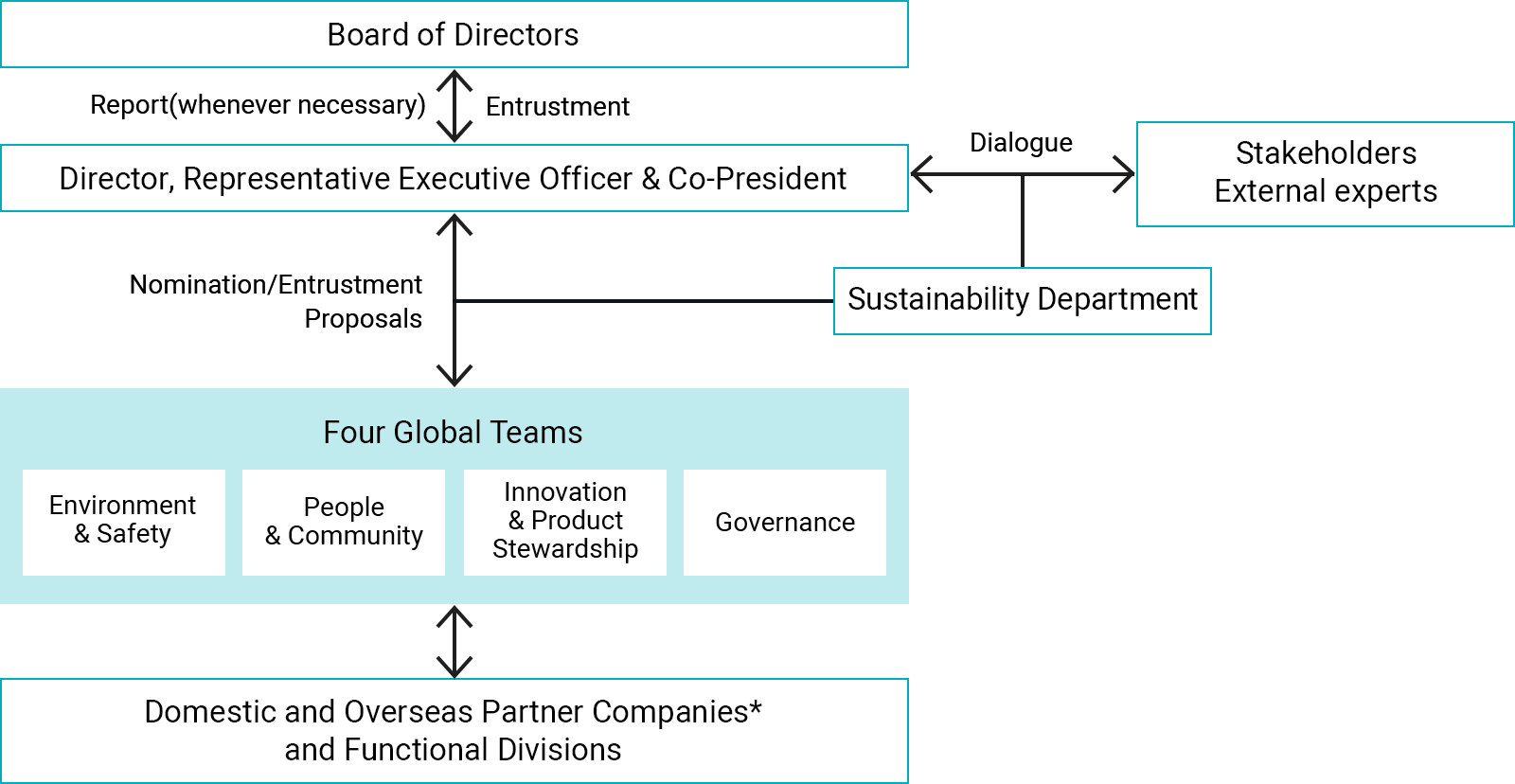 ESG management system chart (as of May 2021) (as of January 2022)
Candidate project site and new business due diligence
The Nippon Paint Group seeks to prevent occupational accidents through advance assessment of risks associated with occupational safety and health, environmental protection, and accidents at all stages from planning to operations related to all of equipment, including newly constructed and expanded factories.
When acquiring a company, our due diligence encompasses assessing risk associated with the company's occupational safety and health, environmental protection, and labor practices, including the safety control system and operating status and the management system for environmental protection. We seek to identify not just recognized risk but also latent risk associated with the operations of newly acquired companies, and take proactive steps to mitigate the risks.
The risk assessments conducted for the acquisitions in 2019 of the paint manufacturers DuluxGroup, of Australia, and Betek Boya ve Kimya Sanayi Anonim Şirketi, of Turkey, confirmed that neither company's systems presented undue risk.