Financial and Capital Strategies
Part of my mission to achieve MSV is to maximize the P/E ratio (PER). PER reflects the expectations of the capital market. Maximizing PER requires active investor relations, effective financial strategies, sustainability, and M&A for further growth. In particular, a successful M&A transaction entails a comprehensive consideration of all aspects, including of the appropriate price, risk assessment, the most effective equity and debt structure, and proper post-merger integration (PMI) planning. I believe this is the area where I can fully leverage my years of experience and insights from exercising leadership in the capital market circles.
Unique and successful M&A model combining acquired company strengths and Group financial support capability
M&A is an important element in the sustainable growth of our Group. While building on the high growth of our existing business portfolio, we are actively exploring new partners to further accelerate our growth. Our M&A targets are primarily in the decorative paints market, which accounts for the majority of the paint market and is expected to continue growing. In addition, we are also looking into companies in the industrial coatings and paint related markets. The criteria for choosing acquisition targets are companies with high local market shares, powerful brands, and competent management teams. In a word, the key point is whether the acquisition contributes to MSV. Rather than setting detailed criteria for the acquisitions, we will make decisions with flexibility and speed based on assessments of a company's ability to contribute to EPS and business growth in the future. If, for example, acquiring company A will rule out the possibility of acquiring company B in the future, we will need to assess which company will contribute to MSV from a long-term perspective. In this way, we will consider various options and opportunities without focusing on one option, and carry out M&A that contributes to MSV.
Based on my experience as an M&A advisor for many projects, I believe one of the conditions for a successful M&A is to have a solid structure in place for the PMI process and local operations. Specifically, our M&A also considers the acquisition of human resources. After the acquisition, we ensure effective governance of the acquired companies while respecting the autonomy of local management teams as ways to keep their motivation high. In addition, we provide strong support for the operations of acquired companies by leveraging our Group's strengths in such areas as joint procurement of raw materials, financial support, and sharing of best practices, which helps accelerate business growth in their local markets.
This approach allows us to not only reduce cost, but also to maximize the growth potential of acquired companies. By targeting companies that share our values, we believe we can continue to increase our partner companies around the world.
Endeavoring to increase TSR through EPS accretion while maintaining stable dividends
We aim for Maximization of Shareholder Value (MSV) by prioritizing investment for future growth, raising total shareholder return (TSR) through earnings per share (EPS) growth, and maintaining financial discipline by pursuing an optimal capital structure with balanced leverage while allowing for temporary higher leverage for strategically important M&As.
As part of our effort to raise TSR, our policy is to maintain steady and consistent dividend payments while taking full account of factors including the earnings trend, investment opportunities, and the dividend payout ratio. We currently aim to maintain a dividend payout ratio of 30%.
Combining our strengths to achieve MSV
Since the co-president structure has been in place, I exchange opinions with Mr. Wee through email and chat system on a daily basis. We also talk for a few hours two or three times a week. Although we both have our own main areas of responsibility, that does not mean we cannot discuss each other's issues. And, in fact, we make management decisions together. For instance, I am responsible for M&A, but M&A decisions cannot be made without the active input from the business divisions. All of our decisions are based on our discussion from the perspective of what is right to achieve MSV. The co-president structure enables very quick decision-making backed by our customer-focused philosophy and career experiences. We are confident that by combining our strengths we can achieve our ultimate objective of MSV.
---
Financial Highlights
* Figures for FY2016 and FY2017 based on JGAAP / Figures for FY2018 to FY2020 based on IFRS
Revenue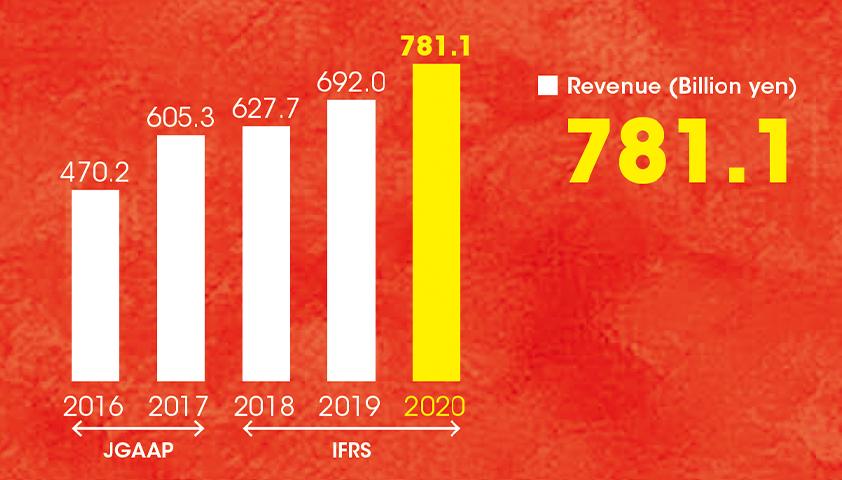 The Nippon Paint Group has grown steadily through the acquisitions of a paint manufacturer in the United States in FY2017 and in Australia and Turkey in FY2019 along with the successful growth of the decorative paints business in China and other Asia. This rapid growth has enabled us to increase revenue for four straight years and, despite the impact of COVID-19, reached a record high for revenue in FY2020.
Operating profit / Financial Operating profit margin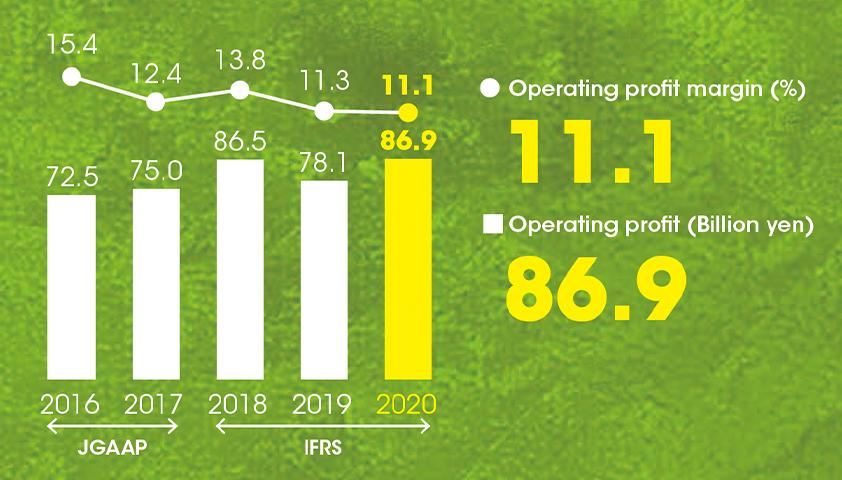 Group operating profit decreased in FY2019 due to one-time factors, including recognition of impairment loss, but rose to a record high in FY2020 supported by contributions from acquisitions and the growth of the Chinese business. While operating profit increased, the operating profit margin remained flat compared with the previous fiscal year due to a higher ratio of SG&A expenses to sales due mainly to higher personnel expenses associated with the accelerating global growth.
Dividends per share / Dividend payout ratio (IFRS)*1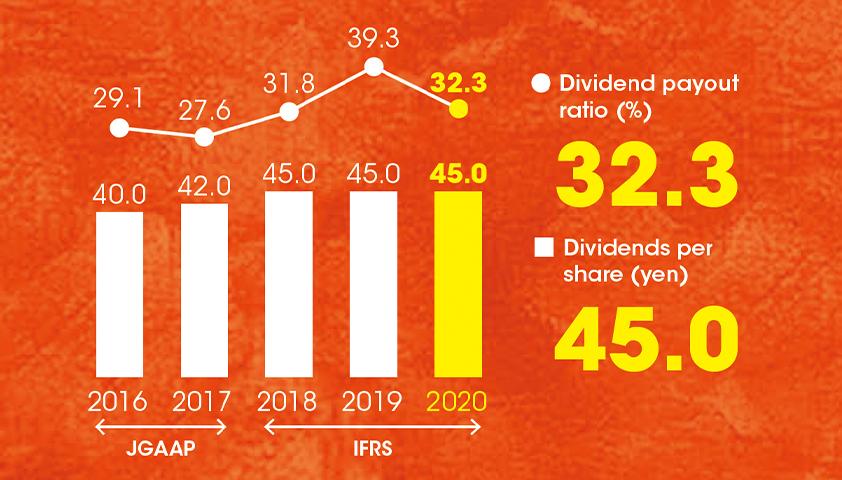 Our basic policy is to distribute stable and consistent dividend amounts and aim to maintain a dividend payout ratio of 30%. Following this policy, we maintained our dividends per share distribution at ¥45 in FY2019 despite the decline in operating profit for the year. In FY2020, the dividend payout ratio was 32.3%.
Return on equity (ROE) /
Return on invested capital (ROIC)*2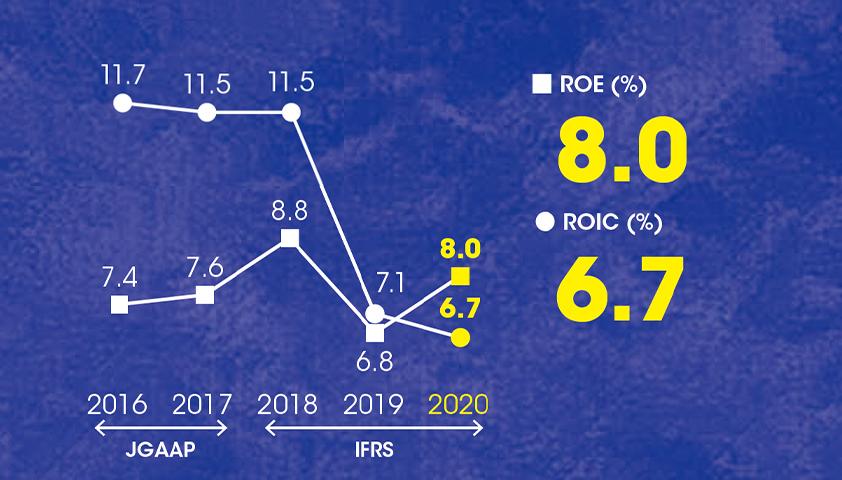 ROE increased to 8% in FY2020 after having declined in FY2019 with the decline in net profit, and we have reestablished ROE in the 7-8% range. ROIC declined in both FY2019 and FY2020 owing to lower turnover of invested capital from increases in interest-bearing debts and shareholders' equity due to M&A activity and the acquisition of 100% ownership of the Asian JVs.
Earnings per share
(EPS)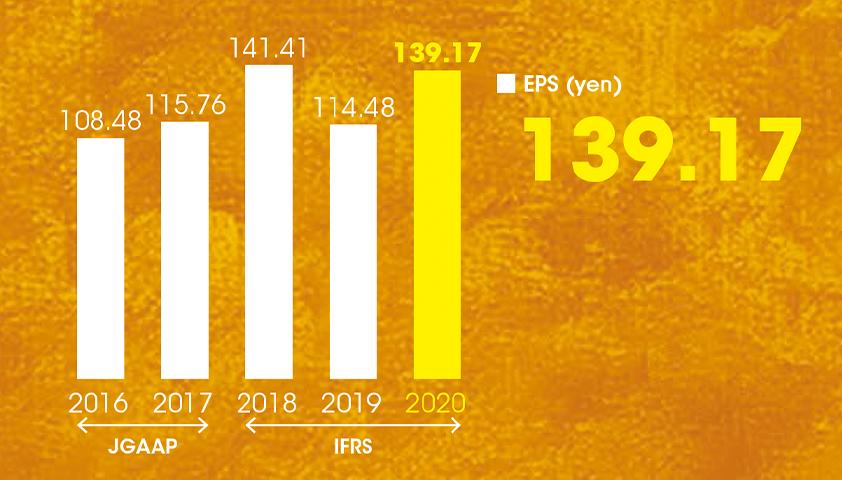 Earnings per share rises or falls roughly in proportion to changes in profit items. EPS fell in FY2019 with the decline in operating profit, but rose significantly in FY2020 as operating profit increased despite the COVID-19 conditions.

Free cash flow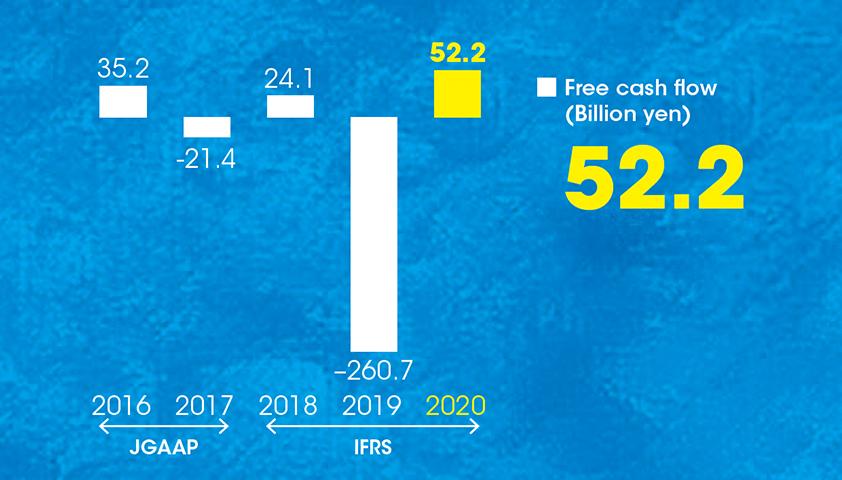 Capital investment costs in the paint industry are relatively low, and positive cash flow is the norm. Free cash flow FY2017 and FY2019 declined to negative territory due to acquisitions of overseas paint manufacturers. However, our operating cash flow continues to steadily grow each year and returned to a positive cash flow in fiscal 2020.
Total shareholder return (TSR)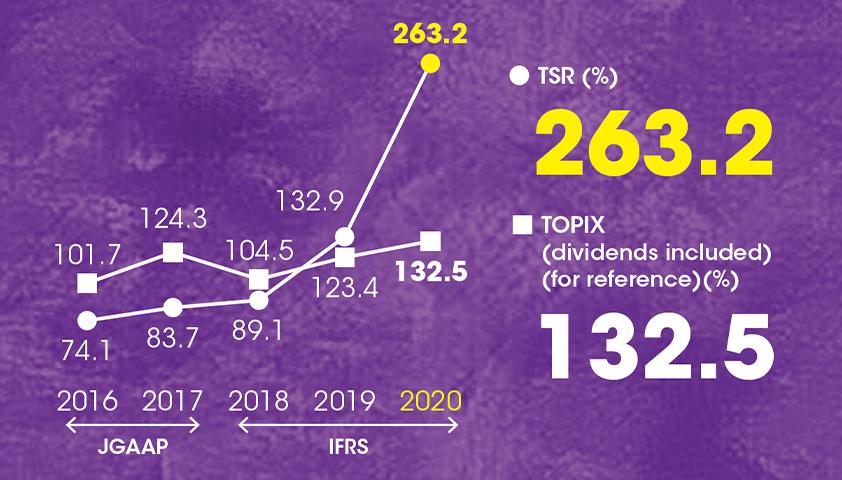 Total shareholder return has been increasing each year in line with the increasing dividends and share prices. Although the dividend amount did not change in FY2019 and FY2020, the solid rise in the share price lifted TSR to around two times higher than TOPIX (including dividends).
Net debt*3 / Net D/E ratio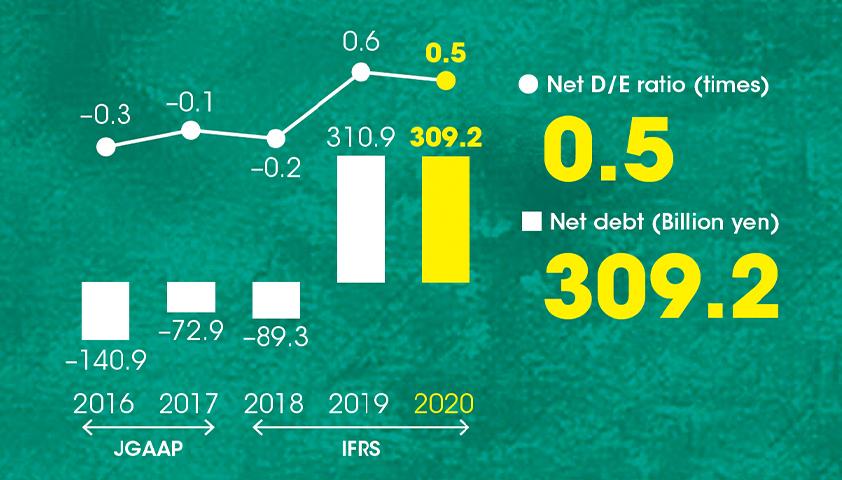 Due to the relatively low capital investment costs in the paint industry, positive cash flow is the norm, and we continued to have negative net debt. In FY2019, net debt decreased significantly to a positive figure due to the borrowings of funds from financial institutions to finance M&A. The increase in net debt raised the net D/E ratio in FY2019.
---
Links to related pages