Management Policy/Management Strategy
Basic Management Policy
With SDGs and ESG at the core of management, NPHD places Maximization of Shareholder Value ("MSV") as its paramount mission toward creating wealth for shareholders. MSV is predicated on fulfillment of our duties to customers, employees, suppliers and society, setting us apart from the concept of "Shareholder Primacy".
Maximization of shareholder value as a mission, creating wealth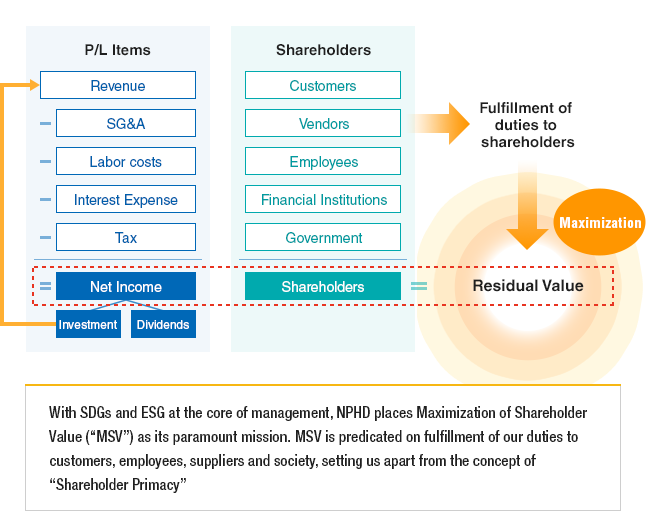 Management Environment
From a global perspective, paint is a growing industry as demand will certainly increase along with population growth. Furthermore, paint has stable growth unlike the volatility in the general chemical industry. The world's population is expected to increase from 7.8 billion to 8.5 billion over the next decade. Accompanying this population growth, paint market is projected to grow 1.5 times over the same period, driven by growth in China and other Asian countries.
Paint market is expected to witness strong global growth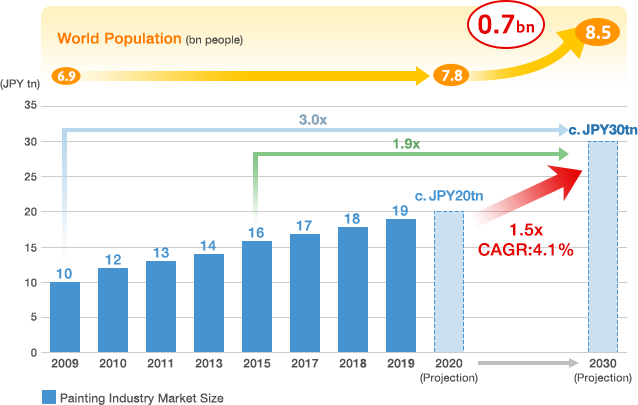 Source: Company estimates based on data from International Paint & Printing Ink Council Report and the United Nations
Note: Calculated at the exchange rate of JPY110.0/USD
Future Strategy and Management Direction
FY2020 is the final year of our Medium-term Management Plan "N-20". With the achievement of the target revenue under N-20 already in sight, our major management issue now is to formulate a new Medium-term Management Plan covering FY2021 onward. Thus we are taking time to discuss this matter at the Board of Directors meeting under the new management structure.
As for our future strategy and major management direction, NPHD will place SDGs and ESG at the core of management and strive to maximize shareholder value by promoting the following five strategies.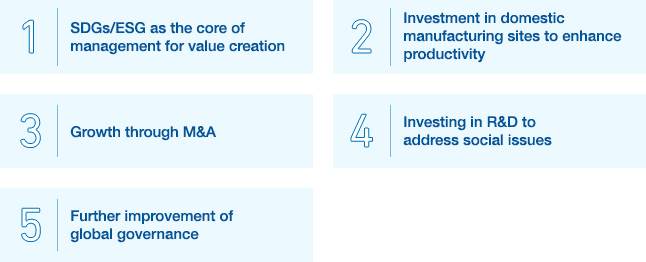 1. SDGs and ESG as the core of management for value creation
NPHD will address social issues through our key strengths under spider web management. By this, we will not only innovate new eco-friendly technologies but also increase market share and create business opportunities through actively supporting the urban development to deliver EPS accretion (basic earnings per share). Our paramount mission is Maximization of Shareholder Value ("MSV") predicated on fulfillment of our duties to customers, suppliers and employees.
Value Creation Model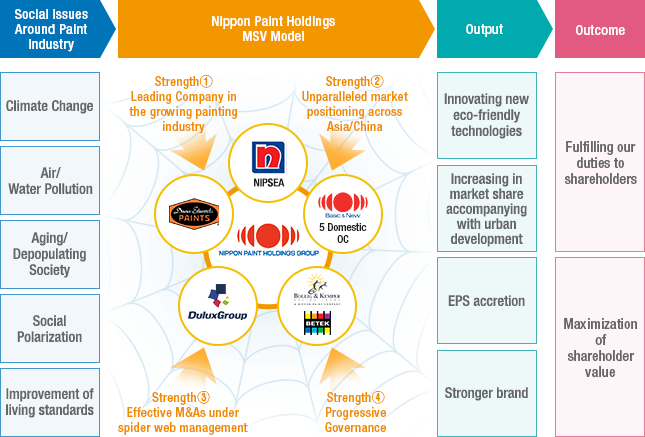 2. Investment in Domestic Manufacturing Sites to Enhance Productivity
NPHD will restructure supply chain to address issues associated with aging and obsolete manufacturing facilities, declining working age population, aging skilled engineers and logistics.
Our restructuring efforts will not be limited to capital investment to upgrade manufacturing facilities at plants; rather, we will take this opportunity to thoroughly review our entire supply chain from ordering to sales by incorporating the approaches of digitalization and open innovation and applying the ESG perspective.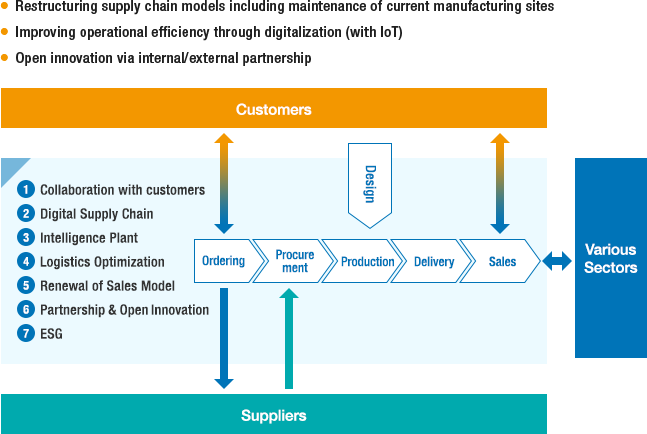 3. Growth through M&A
NPHD promotes M&A which maximizes shareholder value. In selection of potential M&A targets, we will set priorities on pursuing returns exceeding cost of capital, which translates into EPS accretion, and investment according to disciplined capital allocation.
We will achieve sustainable growth with spider web management by pursuing synergy creation after acquisition of target companies from various aspects, including identifying new sales opportunities arising from collaboration between target companies and existing Group subsidiaries, cost reduction by sharing procurement resources, acquisition of talent and sharing of best practice.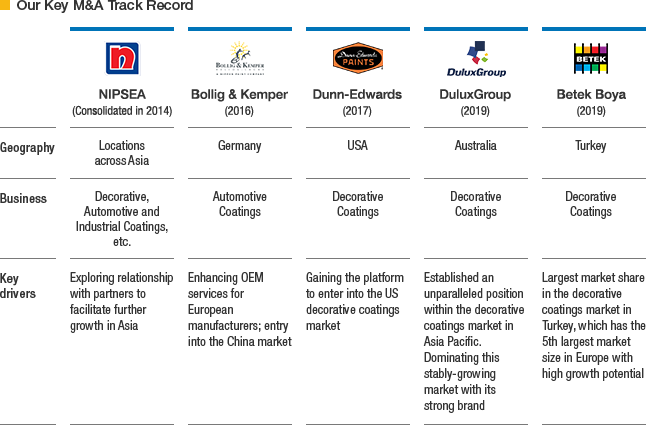 4. Investing in R&D to Address Social Issues
NPHD will continue to explore various R&D opportunities to promote open innovation by strengthening contact and collaboration with external organizations, such as research facilities and universities. Our major management theme is how to get our 1,000 engineers in domestic manufacturing sites, as well as engineers in our global manufacturing sites, to perform to the best of their capabilities. In addition, we will proactively communicate the allure of the paint created by those engineers of the Group.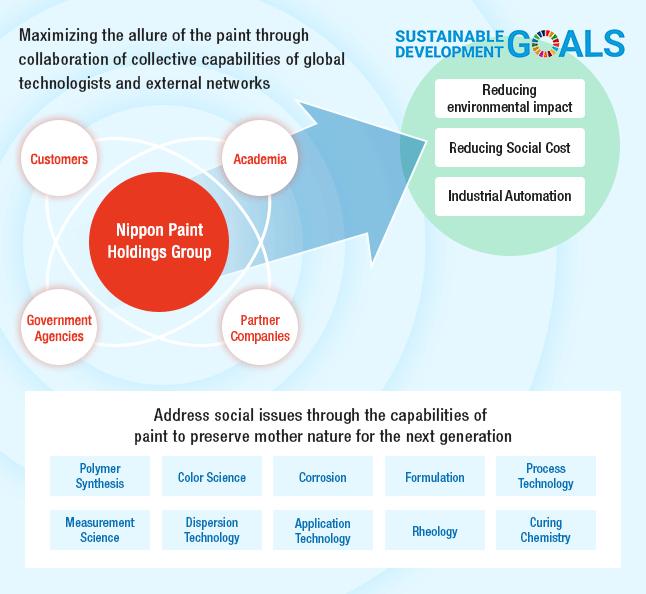 5. Further Improvement of Global Governance
With the intention of securing the independence and objectivity of the Board of Directors and protecting the rights of minority shareholders, NPHD has adopted a structure of the Board of Directors whereby the independent outside directors comprise six members out of nine board members, and shifted to a Company with Three Committees.
These changes have led to the speed-up of decision making on the part of operational executives and allowed the Board of Directors to focus more on business strategy discussion, while strengthening the global audit system through Audit Committee to enhance management supervisory function.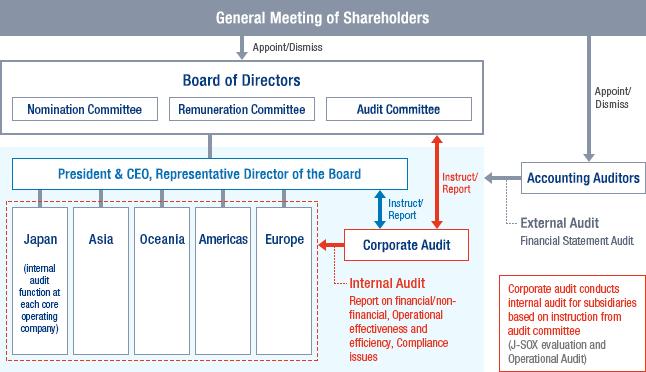 Capital Policy
While maintaining financial discipline of pursuing optimal capital structure with balanced leverage and allowing one-time higher leverage for strategically important M&A, NPHD places higher priority to investments for future growth thus focusing on providing higher Total Shareholder Return (TSR) through ESP accretion.
As an effort to enhance TSR, NPHD has set out a policy to pay dividends stably and continuously, taking comprehensively into account factors including the earnings trends, investment opportunities and dividend payout ratio. NPHD currently aims to maintain a dividend payout ratio of 30%.