Management Policy/Management Strategy
Basic Management Policy
NPHD places Maximization of Shareholder Value ("MSV") as its paramount mission toward creating wealth for shareholders. MSV is predicated on fulfillment of our duties to customers, employees, suppliers and society, setting us apart from the concept of "Shareholder Primacy".
Maximization of shareholder value as a mission, creating wealth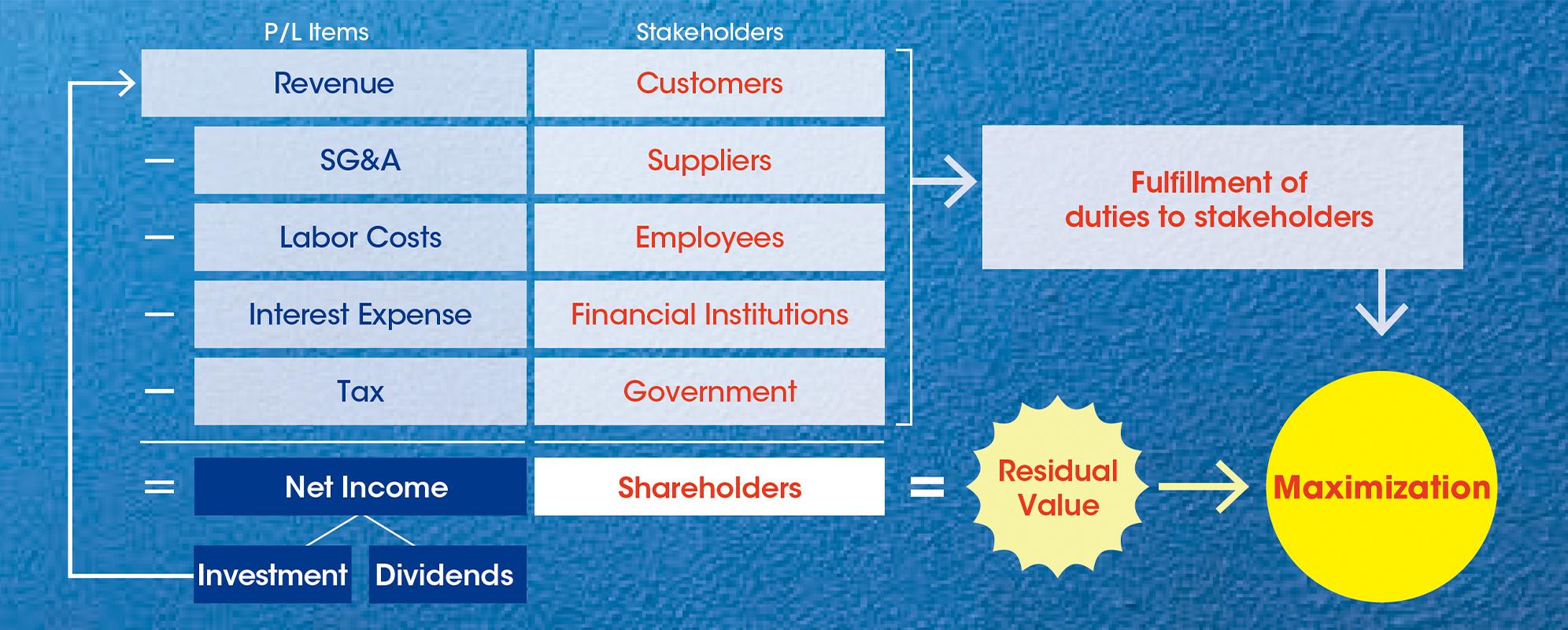 Value Creation Model
Pursuing Maximization of Shareholder Value (MSV) based on Powerful Partnerships with Group partner companies around the world
Management Environment
From a global perspective, paint is a growing industry as demand will certainly increase along with population growth. Furthermore, paint has stable growth unlike the volatility in the general chemical industry. The world's population is expected to increase from 7.8 billion to 8.5 billion over the next decade. Accompanying this population growth, paint market is projected to grow 1.5 times over the same period, driven by growth in China and other Asian countries.
Paint market is expected to witness strong global growth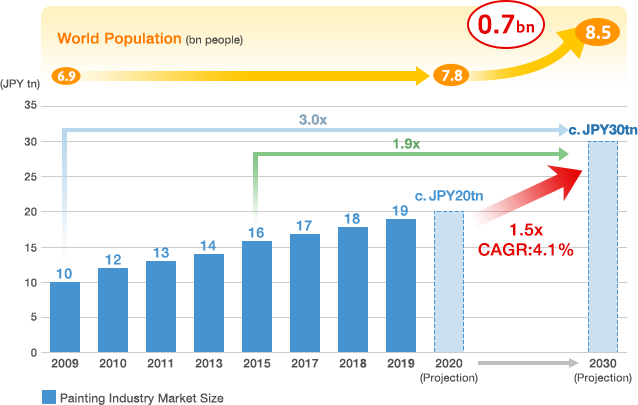 Source: Company estimates based on data from International Paint & Printing Ink Council Report and the United Nations
Note: Calculated at the exchange rate of JPY110.0/USD
Future Strategy and Management Direction
The Nippon Paint Group released a three-year New Medium-Term Plan (FY2021-2023) in March 2021. This New Medium-Term Plan was drawn up based on the following three policies.
Firstly, the plan was created with the significant involvement of the management teams of our partner companies. The aim is to clarify accountability and enhance the sense of involvement among our partner companies in order to maximize the Group's comprehensive power and increase prospects for the plan's success.
Secondly, we determined our "Purpose" (See page 01) concurrently with the New Medium-Term Plan. The Purpose defines the Nippon Paint Group's shared "Identity" while respecting management autonomy at partner companies based on their own Mission, Vision, and Value. The Nippon Paint Group, which consists of diverse members, is dedicated to conducting business operations based on the shared values ingrained in the Purpose.
Thirdly, the positioning of the New Medium-Term Plan. In today's rapidly changing business environment, companies should always look ahead five to ten years. Therefore, we set long-term goals and positioned the Medium-Term Plan as a three-year milestone to achieve those goals.
We will implement the growth strategies in the New Medium-Term Plan in all our operating regions and businesses by mobilizing the Power of Teamwork with our partner companies with the goal of building a powerful base for sustainable growth. Our Group's long-term financial targets are to achieve a revenue CAGR in the high single digits beginning in FY2024. Our goal is to exceed the revenue CAGR targets of our major benchmarked competitors of 4-6%. The operating profit and EBITDA CAGR are based on the plan to use additional marginal profit as sales grow in order to increase profit margins, thereby achieving profit growth exceeding revenue growth.
Our milestones for FY2023 are revenue of 1,100.0 billion yen, operating profit of 140.0 billion yen, and EPS (before stock split) of 225 yen. Furthermore, our targets are revenue CAGR of more than 10%, an operating profit margin improvement of 2.7 points, and EPS growth of 25%.

1. Regional and Business Strategy
Further solidify our strong growth platform and proactively address new challenges
2. M&A Strategy
Aggressively pursue new partners to join our Group taking advantage of the growth potential of the paint market and stability of cash flows
3. Sustainability Strategy
Expand business opportunities through ESG initiatives for sustainable growth
4. Financial Strategy
Using our strong cash generating capacity to strengthen our financial base and secure funds for growth with M&A and business investment
Capital Policy
While maintaining financial discipline of pursuing optimal capital structure with balanced leverage and allowing one-time higher leverage for strategically important M&A, NPHD places higher priority to investments for future growth thus focusing on providing higher Total Shareholder Return (TSR) through ESP accretion.
As an effort to enhance TSR, NPHD has set out a policy to pay dividends stably and continuously, taking comprehensively into account factors including the earnings trends, investment opportunities and dividend payout ratio. NPHD currently aims to maintain a dividend payout ratio of 30%.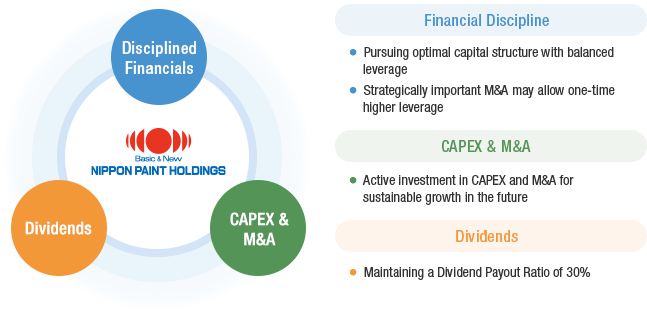 ---
Links to related pages