Capital Policy
With SDGs and ESG at the core of management, the Nippon Paint Group places Maximization of Shareholder Value (MSV) as its ultimate objective. MSV is predicated on fulfillment of our duties to customers, employees, suppliers, and society.
While maintaining the financial discipline of pursuing optimal capital structure with balanced leverage and allowing one-time higher-leverage for strategically important M&A, NPHD prioritizes investments for future growth, thus focusing on providing higher total shareholder return (TSR) through the accretion of basic earnings per share (ESP).
In an effort to increase TSR, NPHD has set out a policy of paying dividends stably and continuously, taking comprehensive account of factors including earnings trends, investment opportunities, and the dividend payout ratio. NPHD aims to maintain a dividend payout ratio of 30%.
Since FY2015, NPHD has determined dividend amounts based on the dividend payout ratio on an IFRS basis.
NPHD issued new shares through a third-party allotment to the Wuthelam Group for the purpose of paying the consideration for acquisitions of additional equity interests in its joint ventures (JV) with the Wuthelam Group and the Indonesia business operated by the Wuthelam Group, which were completed on January 25, 2021. The third-party allotment has enabled NPHD to capture in its consolidated accounts the profits of Asian JVs that previously belonged to the Wuthelam Group as the non-controlling interest, and the profits of the new businesses that will fall within the scope of NPHD's accounting consolidation, including the Indonesia business, while maintaining the stability of its financial base. The acquisitions of 100% ownership of NPHD's Asian JVs with the Wuthelam Group and the Indonesia business operated by the Wuthelam Group are expected to increase earnings per share (EPS) and enable NPHD to optimize resource allocation by reducing the outflow of profits to other entities. Therefore, these acquisitions contribute to promoting the interests of minority shareholders in NPHD. Taking these factors into consideration, the scale of dilution in the third-party allotment is deemed reasonable.
Trends in Dividends and Dividend Payout Ratio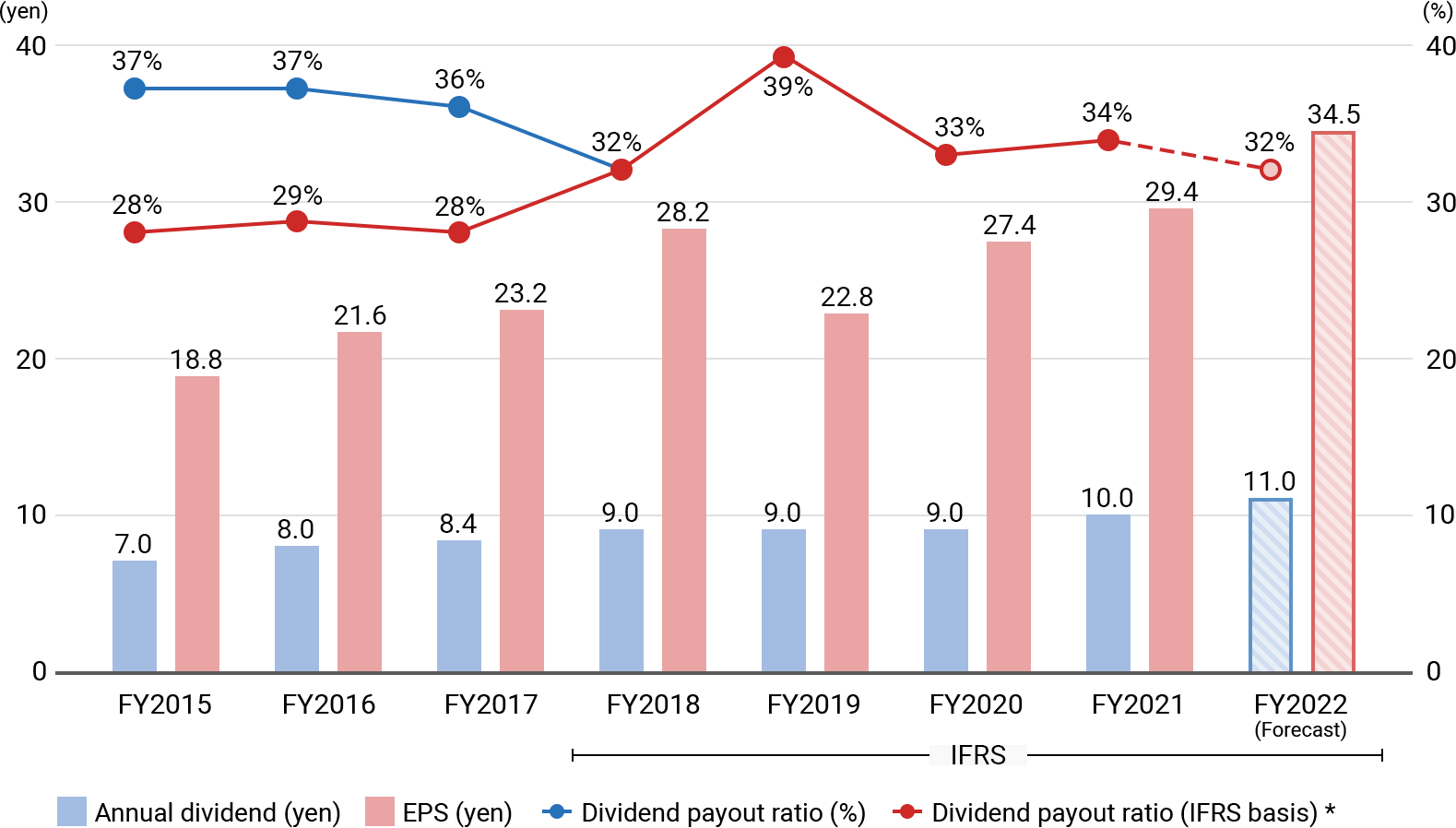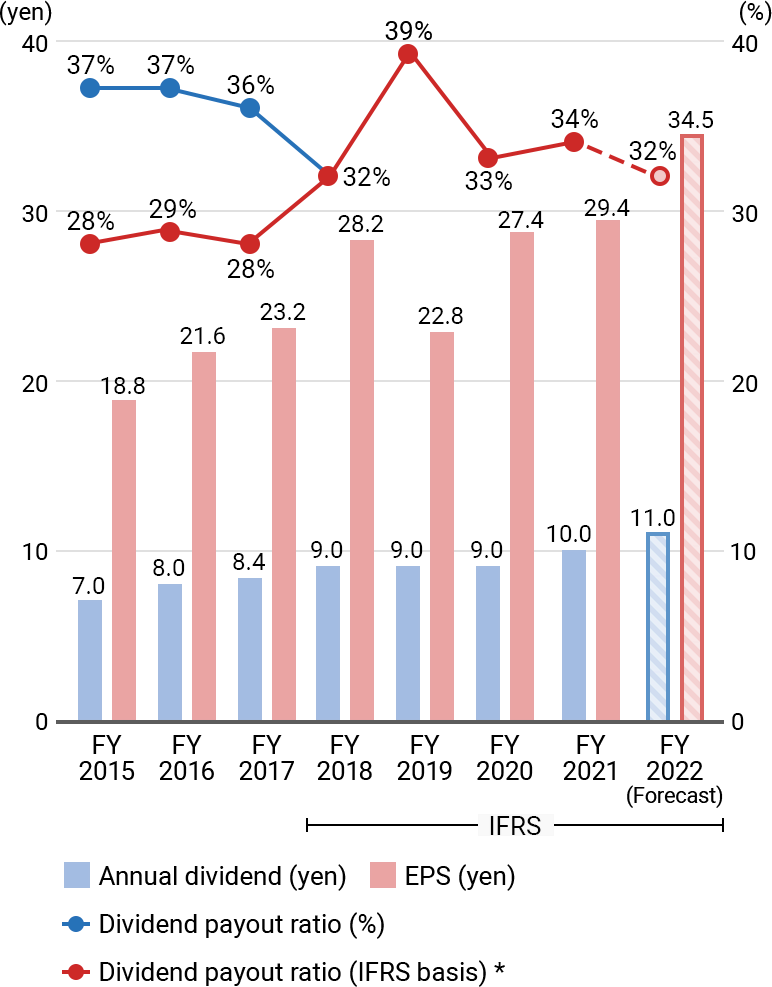 Item
FY2015
FY2016
FY2017
FY2018
FY2019
FY2020
FY2021
FY2022
Annual dividend

(yen)

7.00
8.00
8.40
9.00
9.00
9.00
10.00
11.00
(Forecast)
Interim dividend

(yen)

3.00
4.00
4.00
4.40
4.40
4.40
5.00
5.00
Year-end dividend

(yen)

4.00
4.00
4.40
4.60
4.60
4.60
5.00
6.00
(Forecast)
Dividend payout ratio

(%)

Dividend payout ratio (IFRS basis)*
28
29
28
32
39
33
34
32
(Forecast)
Dividend payout ratio
37
37
36
32
-
-
-
-
*Figures for the dividend payout ratio (IFRS basis) from FY2015 to FY2017 are calculated using the dividend payout ratio (JGAAP basis) after adjustment for goodwill amortization.
*NPHD implemented a stock split in which each share of common stock held by shareholders as of the record date of March 31, 2021 was split into five shares, with April 1, 2021 as the effective date.
*The interim dividend for FY2021 includes a commemorative dividend of 1.00 yen per share for the 140th anniversary.
*The Company applied an accounting policy regarding cloud computing agreements beginning with the fourth quarter of the fiscal year ended December 31, 2021. Figures for FY2021 reflect this accounting policy change. In addition, figures for FY2020 have been adjusted retrospectively as a result of retrospective application of this accounting policy change.
Acquisition of Treasury Shares
NPHD did not undertake any acquisition of treasury shares in FY2021, except for acquisition under Article 155, Item 7 (acquisition of shares less than one unit) of the Companies Act.
Stock Split
Shareholder Benefit Program
No shareholder benefit program is currently offered.
---
Links to related pages