Reduction of environmental burdens
Climate change
Climate change is beginning to have a serious impact on our lives every year. To mitigate the impact of climate change, we will work to reduce greenhouse gas (GHG) emissions and minimize business risks caused by climate change.

Nippon Paint Holdings Group is committed to the prevention of global warming in Japan mainly through efforts to reduce energy use. In FY2019, CO2 emissions from electricity use and per unit emissions increased due to the expansion of the scope of data collection to include the Group's subsidiaries. The following is a list of several examples of the group's energy conservation initiatives.
In FY2020, we identified climate change as one of our materiality items. We will make Group-wide efforts to promote initiatives related to climate change, recognizing it as a global issue. Discussions have begun in the E-subcommittee, a subcommittee of the ESG Committee, and have been held four times as of September 2020. In August 2020, we responded to the CDP questionnaire for the first time.
Improvement of paint production processes (dispersion process and other measures)
Installation of high-efficiency boilers and electrical panels
Review of the optimal operating conditions for large equipment (compressors, freezing/refrigeration units, others) used for manufacturing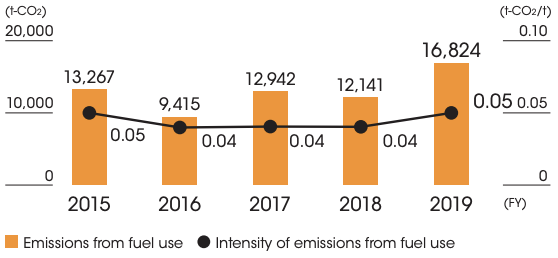 fuel(Scope1)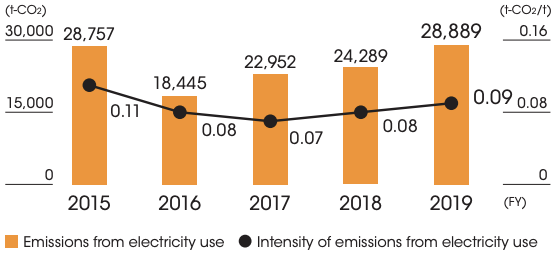 Electricity(Scope2)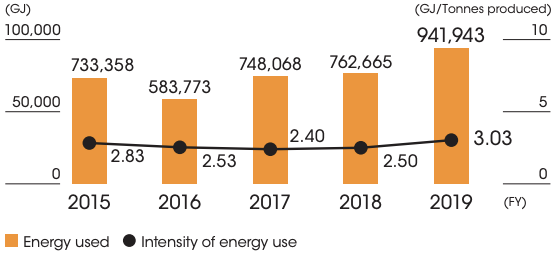 Electrity used
---
Resources and environment
Effective use of resources such as water, energy, and raw materials, and prevention of environmental pollution are important matters for sustainable business. We will advance these efforts throughout life cycle of products.

Reduction of waste, etc. and zero emissions
In Japan, the Nippon Paint Holdings Group has adopted an integrated waste material management system that is compatible with the electronic manifest system. We make Group-wide efforts to reduce waste such as management, proper disposal, and effective use of waste generated. In FY2019, the amounts of waste generated increased due to soil emissions from unplanned construction work at some business sites, causing the recycling rate to decrease. We will work to enhance waste management in order to reduce waste generation and achieve a recycling rate of 100%.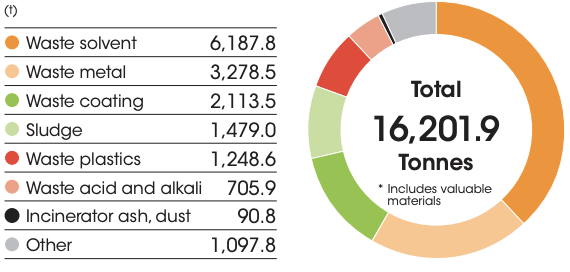 Break of waste, etc.(FY2019)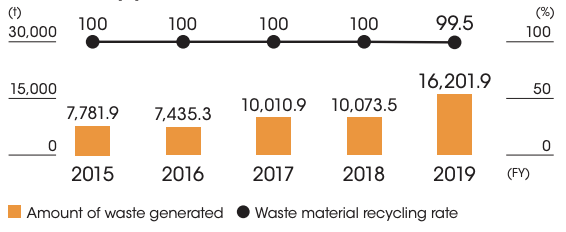 The amounts of waste, etc. generated, recycled, and landfilled by year
Comprehensive management of chemical substances
Paints contain various chemical substances originating from their raw materials and some of them can be harmful to the human body or the environment. For the management of these chemical substances, the Group Product Safety Committee, which is set up under the Responsible Care Committee, holds discussions with Group companies and prepares management standards to standardize the handling of chemical substances and Comprehensive management of chemical substances
Initiatives in FY2019 prevent incorrect operation. We properly responded to domestic and international laws and regulations in FY2019, including the submission of notifications in accordance with the revised Chemical Substance Control Law and partial revision of the Cabinet Order for the Designation of Poisonous and Deleterious Substances, as well as the submission of preliminary notification about existing chemical substances in accordance with South Korea's Act on the Registration and Evaluation of Chemicals (K-REACH).
hazardous materials and obtained materials for leakage treatment and also provide training dedicated to the prevention of the leakage of hazardous materials in an emergency drill organized in each area every year. For example, we assume a case where products have leaked on the road after an accident with a truck transporting them on a surface road and provide training for preventing expansion of the leakage and recovering the products in order to develop the ability to respond quickly to mergency situations.
Air and water conservation
The Group complies with all laws and regulations pertaining to air pollution and water contamination through setting of voluntary reference values and other measures in Japan. In FY2019, emissions and the amount of water used increased because the scope of data collection was expanded to include the group's subsidiaries.
We make efforts to prevent air and water pollution through periodic pollution load measurements, improvements to the efficiency of cleaning processes at production sites, and recycling the water used for these processes.
In 2020, we identified "resources and environment" as one of our materiality items. We will start exploring issues from a new global ESG perspective.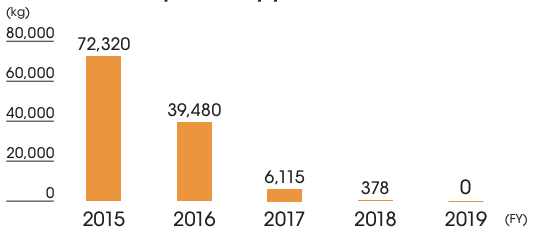 Use of lead compounds by year*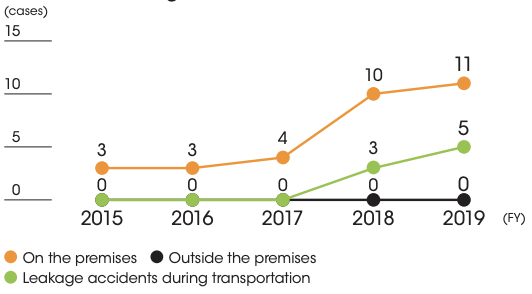 Number of leakage accidents*

VOC emissions by year*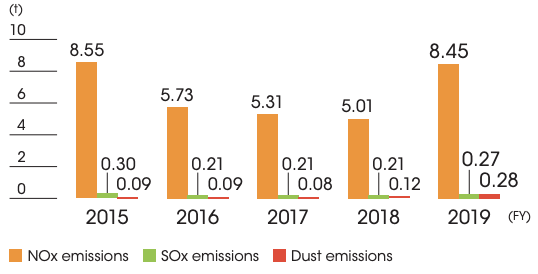 NOx, SOx and dust emissions by year*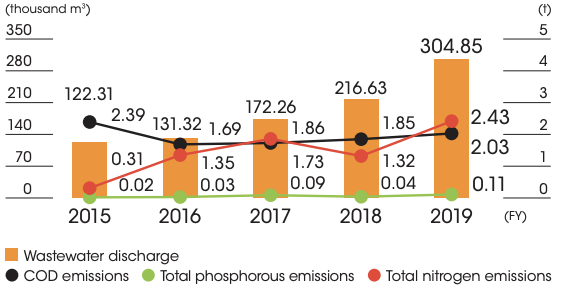 Wastewater discharge and COD, total phosphorus, and total nitrogen emissions by year*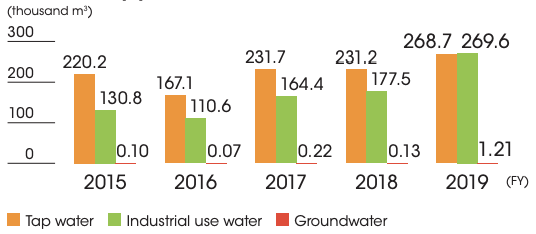 Water use by year*
* Scope of data collection:

NPAU, NPIU, NPTU, and NPSU for the data in FY2015

NPAU, NPIU, NPTU, NPSU, and NPMC for the data from FY2016 to FY2018

NPAU, NPIU, NPTU, NPSU, NPMC, AS Paint (ASP), AS Resin (ASR) and Nippon

Paint Anti-Corrosive Coatings (NAC) for the data in FY2019

Data collection period:

January to December; April to December for FY2016
---
Responsible Care
Based on the principle of actively contributing to Responsible Care activities including environmental beautification and preservation through the creation of colors and landscape and the protection of materials and resources in the business activities, the Nippon Paint Holdings Group is committed to the activities through the coordination of all organizations in the Group, including all employees, with awareness of the respective missions and responsibilities, aiming to contribute to the establishment of relationships based on mutual trust with the global community, local communities, and customers. To this end, all of our business activities are required to follow the rules below:
We will endeavor to preserve the global environment and protect the ecosystem while striving to conserve energy and other resources in the course of all business activities.
We will promote the development of products with less environmental impact and technologies that help the products reduce such impact and will consider the impact of our products on the environment, safety, and health at all stages of their lifecycle from development to disposal.
We will work to reduce the environmental impact of our operations and ensure security and disaster prevention while striving to ensure the health and safety of local residents and employees.
PLAN
Establish the
objectives and
goals of RC
RC Committee
Do
Setting of RC
objectives/targets
Nippon Paint Holdings Group (in Japan)


Nippon Paint Holdings (NPHD)
Nippon Paint Automotive Coatings (NPAU)
Nippon Paint Industrial Coatings (NPIU)
Nippon Paint (NPTU)
Nippon Paint Surf Chemicals (NPSU)
Nippon Paint Marine Coatings (NPMC)
Nippe Trading (NTJ)

Check
Inspection and
corrective/
preventive actions
External review for ISO 14001: SGS
(management system certification body
accredited by JB)
Internal RC audit: In-house assessment by
internal RC auditors
Action
Management
review
RC Committee → President
Environmental and work safety management
Nippon Paint Holdings Group received ISO 14001 multi-certification for seven domestic operating companies
and their subsidiaries. In addition, we provide active support to overseas Group companies for their health and
safety activities. In Asia, we provide support to enable Group companies to establish improvement activities. In
Europe and the Americas as well, we conduct audits and provide support for corrective actions on an as-needed
basis in cooperation with domestic operating companies.