Basic approach to preventing environmental pollution
The Group has declared "Resources and Environment" as one of our materialities. In the paint manufacturing process, we not only comply with all relevant laws and regulations, but also take a proactive approach to preventing pollution.
To date, each Group company has been carrying out initiatives that prevent environmental pollution as it serves as the foundation of business development and management. In order to address the changing social situation as well as further meet the expectations and demands of stakeholders, Nippon Paint Group is promoting initiatives on a global scale and established a global policy on the prevention of environmental pollution in 2021 with the Global Working Team (currently the Global Team) under the ESG Committee in order to share its objectives with all employees. Based on this policy, the Group will strive to prevent pollution of the air, soil, and hydrosphere.
-Nippon Paint Group Global Policy-

We care for the environment to avoid polluting the air, soil, and water*.
* Refers to oceans, lakes, rivers, groundwater, etc.
Initiatives for preventing environmental pollution
The Group complies with all laws and regulations pertaining to air and water pollution by establishing its own voluntary reference values and conducting periodic pollution load measurements in Japan. Due to production adjustments in response to COVID-19, VOC emissions were reduced slightly between 2019 and 2020. There was no significant change in the pollution loads of air and water. Since fiscal 2017, the amount of water used, wastewater discharged, and air and water pollution loads have increased, mainly due to the expansion of the scope of data collection. We will continue our efforts to prevent air and water pollution through improvements in the efficiency of cleaning processes at production sites as well as recycling the solutions and water used for these processes.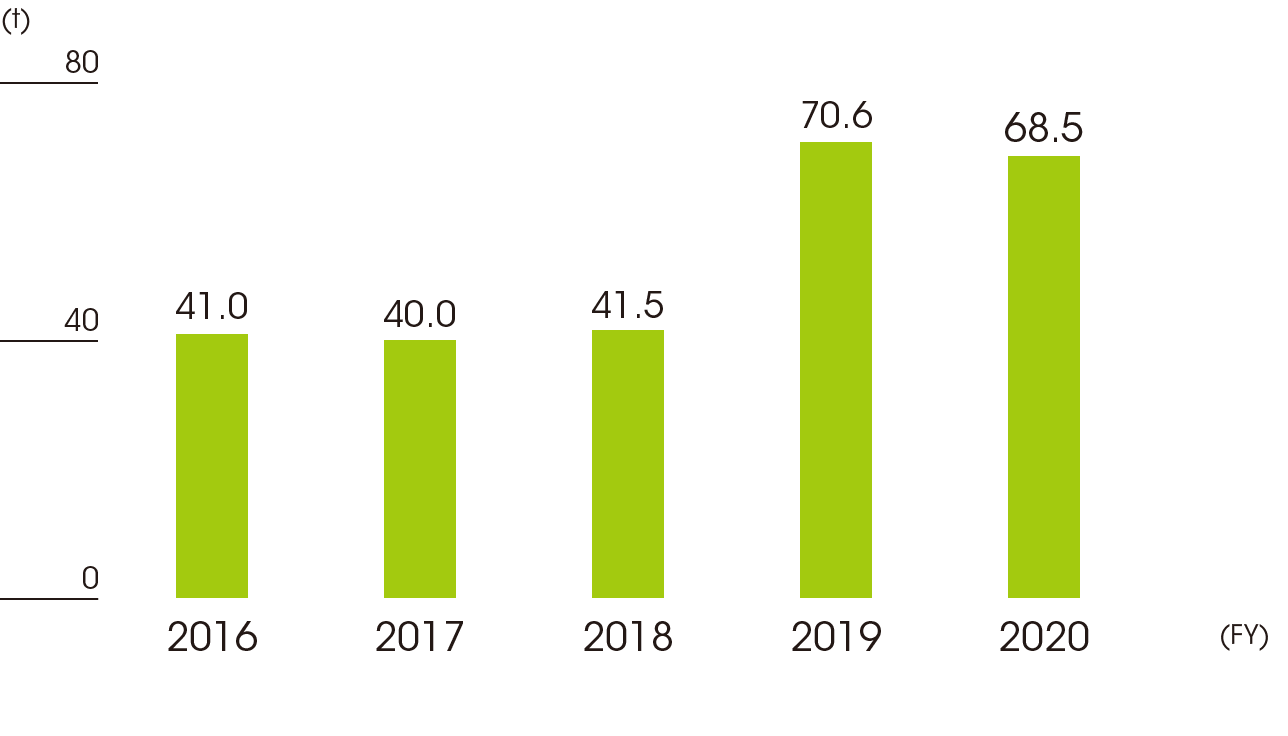 VOC emissions by year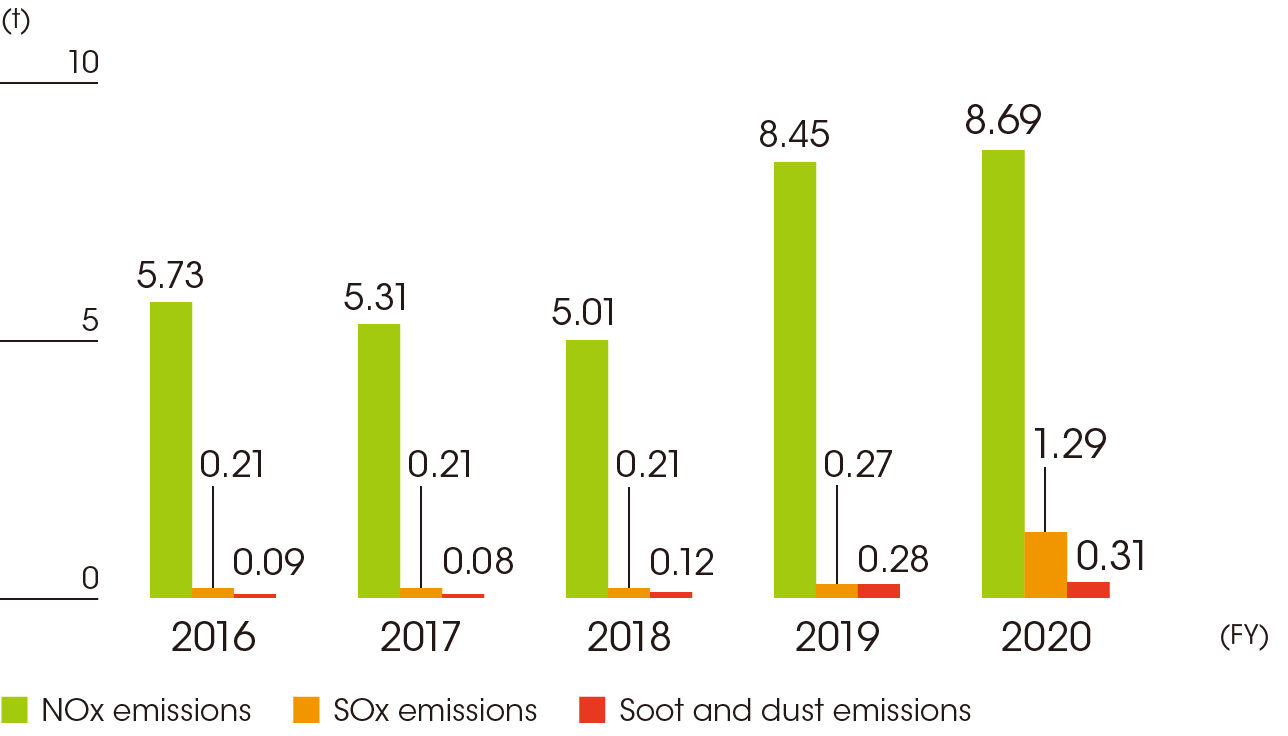 NOx, SOx, and soot and dust emissions by year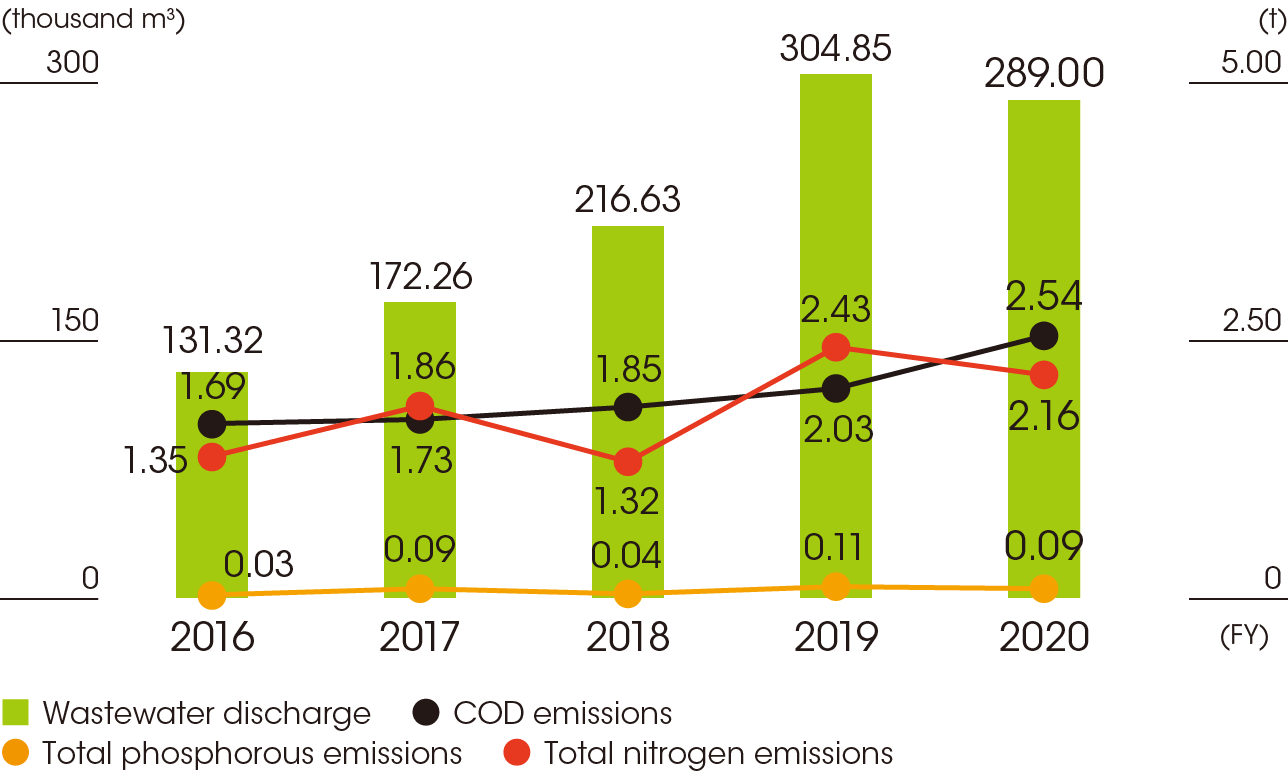 Wastewater discharge and COD, total phosphorous, and total nitrogen emissions by year
* Reporting boundary
FY2016-2018: Nippon Paint Automotive Coatings (NPAC), Nippon Paint Industrial Coatings (NPIU), Nippon Paint (NPTU), Nippon Paint Surf Chemicals (NPSU), Nippon Paint Marine Coatings (NPMC) (April-December only for FY2016)
FY2019-2020: NPAC, NPIU, NPTU, NPSU, NPMC, AS Paint (ASP), AS Resin (ASR), Nippon Paint Anti-Corrosive Coatings (NAC)
Targets and results for prevention of environmental pollution
Targets for 2020
Results in 2020
Evaluation
of 2020*
Targets
for 2021
Preservation of air, water and soil environment

Comply with voluntary management standards (air pollution:SOx, NOx, soot and dust; water pollution: COD, total phosphorus, total nitrogen).
Reduce substances subject to the PRTR system (emissions into the atmosphere or hydrosphere) and VOC emissions.
Achieve zero incidents of soil and groundwater contamination or leakage of flurocarbons that depletes ozone.

Maintained compliance with voluntary environmental standards
The amount of substances subject to the PRTR system increased at some factories
Zero incidents of soil and groundwater contamination or leakage of flurocarbons

+++
Follow-up on targets for 2020
See here for details on the preventive measures against leakage and outflow of hazardous substances.
Management to prevent air, water, and soil pollution is implemented in Responsible Care.
For more details, see Environmental and safety management.
Total cost of environmental fines and other penalties
In fiscal 2020, the Nippon Paint Group was not subject to any fines or other forms of punishment due to violations of environmental laws or regulations.
Amount of investment in environmental protection
The Group positions the period of the new Medium-term Management Plan (FY2021-2023) as a period of establishing the foundation for sustainable growth. It is considered a period to enhance our competitive edge and productivity to ensure sustainable growth of the Group. As capital investment is crucial to the manufacturing industry, we have planned to invest ¥10 billion globally on R&D and environmental protection during the course of the three years.
As a result of strictly limiting capital investment over a long period of time in Japan, we are faced with the urgent challege to address the increased number of accidents and quality issues on the manufacturing frontlines as a result of aging factories, as some sites have been in service for over 50 years. Moreover, as it is difficult to comply with ESG issues with the current aging equipment, we plan to make proactive capital investment in Japan in order to implement measures geared towards net zero CO2 emissions.
See here for actual investment amount on R&D related to environmental protection, effective use of resources and climate change.