Diversity and Inclusion

D&I Statement
Our people are an integral component of Nippon Paint Group in achieving Maximization of Shareholder Value (MSV).
We value diversity*, and recognize the importance of inclusion. For this reason, we are determined to foster a culture where differences are welcomed and appreciated, and environments where all employees have access to resources, feel respected and are empowered to reach their full potential.
People play a vital role at Nippon Paint Group and we firmly believe that active participation and contribution by a diverse workforce is the key driving force to achieve MSV.
Management system
We have designated Diversity & Inclusion as an item of materiality, and is undertaking human resources initiatives. Specifically, the Global Team (People & Community Team) that works directly under the Directors, Representative Executive Officers & Co-Presidents discusses policies and initiatives concerning human resources activities of each partner company and reports updates to the Co-Presidents. The Co-Presidents will submit reports to the Board of Directors whenever necessary. In this manner, materiality-related activities of the People & Community Team are overseen by the Board of Directors.
People & Community Team shares success cases of each partner company and identify priority issues, and autonomously conduct activities based on roadmaps developed for each partner company.
Ensuring and enhancing diversity
Assembly of human capital with diversity is one of the primary basis of Asset Assembler model. Nippon Paint Group Global Code of Conduct established in January 2022 states that the Group embraces diversity. In addition, the Group partner companies worldwide implement human resource management with the goal of ensuring and enhancing diversity.
The NIPSEA Group is continuously working in Asian countries to improve gender representation in its management team and the Board of Directors. Hiring local talent in countries and regions where we operate businesses not only leads to strengthening the competitiveness for acquiring market share but also contributes to the creation of employment opportunities in local communities. The percentage of people hired from local communities to senior manager positions has reached 57.1%.
DuluxGroup has doubled the number of women in the senior leadership team of all business divisions in the last five years, implementing programs for increasing the ratio of women in each position level, focusing on improving the gender balance in particular among senior managers.
Dunn-Edwards has increased female representation among its leadership ranks from 20% to 30% over the past five years and successfully mirrors the ethnic demographics of each of the diverse communities they operate in.
In Japan Group, we are conducting activities for promoting female employees to managerial positions by taking reference from success cases of the Group partner companies overseas. Specifically, we have been sending female employees selected through internal entry system to external training programs for cross-industrial exchanges. We are working to develop executives by fostering a leadership through collaboration with members in other industries, and by encouraging autonomous career development by providing opportunities to meet a variety of role models. We are also actively promoting the appointment of management and executive personnel with high expertise from outside the company.
One female Director of the Board, one female Executive Officer, and one female Corporate Officers were appointed to Nippon Paint Holdings.
---
Work-life balance initiatives
Japan Group have established flexible working systems in step with the life events of their employees, including work-from-home systems and systems allowing paid leave to be taken in hourly increments, shortened working hours, and childcare and nursing care, as well as promoting initiatives such as seminars to explain systems.
System
Eligible people
Summary
Flextime system
All employees
In principle, employees work core hours of 11 a.m. to 2 p.m. and are able to choose their own starting and finishing times
Shortened work hours system
Employees with preschool children and those caring for family who require nursing
Employees may shorten their working hours in 30-minute increments up to a limit of two hours per day
Childcare leave
Employees with children up to first grade in junior high school
Seven days per year for one child and ten days per year for two children
Leave can be taken in hourly or daily increments
Nursing care leave
Employees caring for family who require nursing
Seven days per year for one nursing recipient and fourteen days per year for two recipients
Leave can be taken in hourly or daily increments
Menstrual leave
Female employees
When it is difficult for an employee to work on menstrual days. Two days within the menstrual period
Paid leave by unit system
All employees
Leave can be taken in hourly or half-day increments
One-week holiday
All employees who have been with the company for at least two years
Acquisition of five consecutive days of paid annual leave every year
Work-from-home system
Those raising children or caring for family
Employees engaged in overseas-related work
Employees may work from home up to four times per month
During the COVID 19 pandemic, this system applies to all employees, with no limit applied to the number of times
Childcare allowance
Employees caring for children under the age of three
Subsidies available for childcare fees when using childcare facilities
Childcare leave system
Employees caring for children under the age of three
Up to three years
Nursing care leave system
Persons caring for family who require nursing
Authorization of leave for up to six months per year to provide nursing care
---
Establishment of Working from Home System
---
Encouraging men to take childcare leave
Male employees' participation in childcare is important in terms of responding to the requests of these employees, and also to mitigate the impact of childcare, which is skewed towards women, and to allow both spouses to build a sustainable career. Japan Group are encouraging men to take childcare leave to support men actively participating in it. In particular, we are using in-house media to offer messages from management and stories about men's experiences with childcare leave, and working to create an environment in which it is easy for men to take it.
A comment from a male employee (photograph at right): "I couldn't do any of the things I wanted to do; feeding the baby, changing diapers, putting my child to bed; it was a constant process of self-examination and failure. I realized just how much I had been relying on my wife to raise my children. This woke me up to how being close to my child's growth would be an asset for me; it was a great opportunity for me to re-look at the way I work."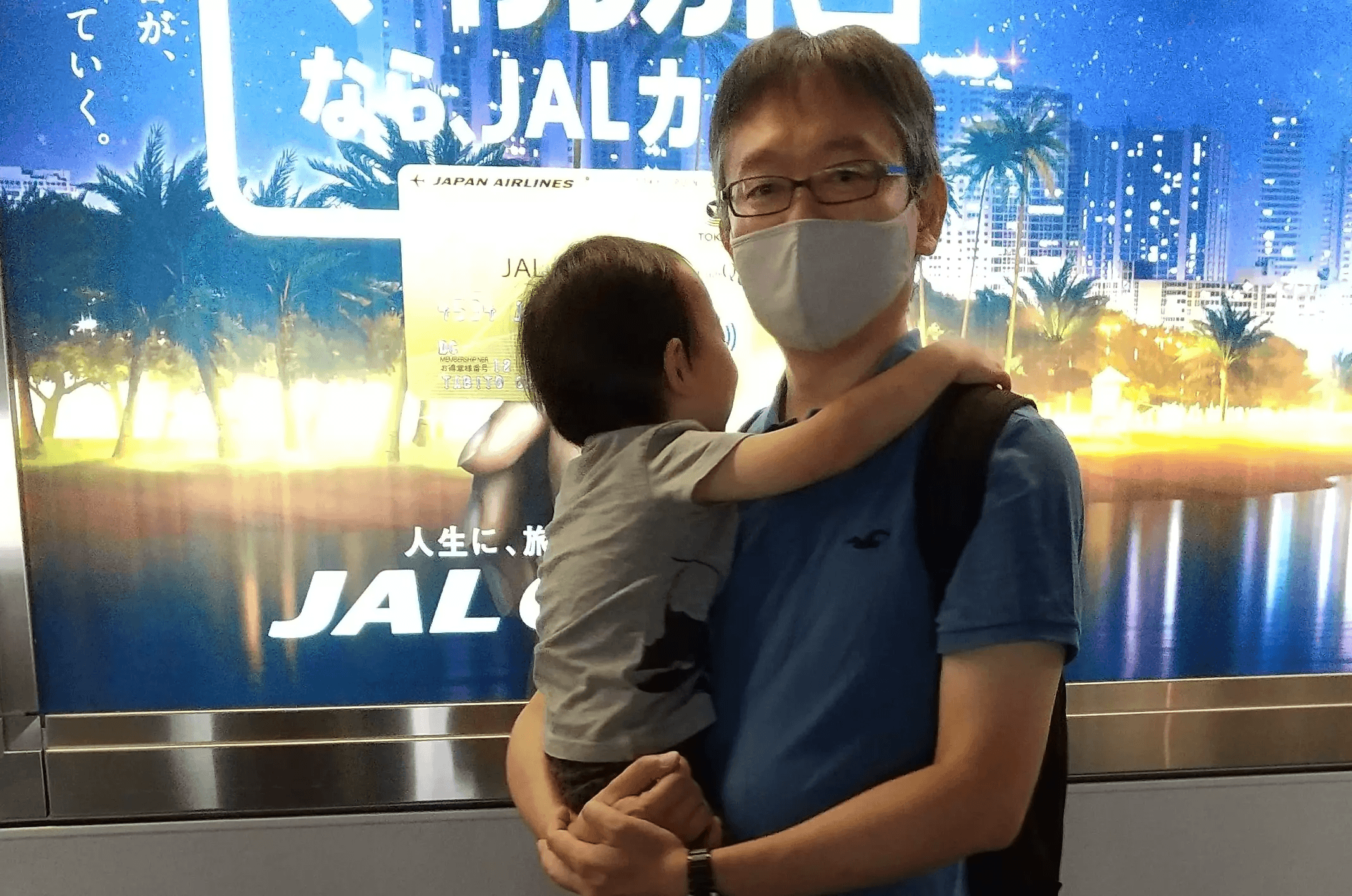 Employees who have taken leave