Given the stricter regulations on waste, rising cost of waste treatment and risks such as changing customer needs related to raw materials, we will strive to reduce environmental impacts through our product lifecycles and commit to reducing waste and effectively using resources.
Policy on waste and effective use of resources
The Group believes that the reduction of waste and effective use of resources are important for a sustainable business.
We have listed Resources and Environment as a materiality and we are committed to properly managing waste and effectively utilizing resources. Moreover, in order to achieve waste reduction and effective utilization of resources across the entire Group, the Global Working Team (currently the Global Team) under the ESG Committee established a global policy on the reduction of waste and effective utilization of resources in 2021.
Specific initiatives will be implemented based on this policy.
-Nippon Paint Group Global Policy-

We proactively reduce waste through a "Reduce, Reuse, Recycle" philosophy and comply with laws and regulations in each country/area including managing hazardous waste responsibly.
Initiatives aimed at reduction of waste and zero emissions
In Japan, the Group uses an integrated waste material management system compatible with the electronic manifest system. We make Group-wide efforts to reduce waste such as management of waste generation and proper disposal and effective use of waste generated.
Waste increased in fiscal 2017 and fiscal 2019, mainly due to the expansion of the scope of data collection. In fiscal 2020, we failed to achieve recycling rate of 100% due to the release of asbestos-containing waste from construction work at some sites and generation of brick waste from the demolition of buildings.
We will work to enhance waste management in order to reduce waste generation and achieve a recycling rate of 100%.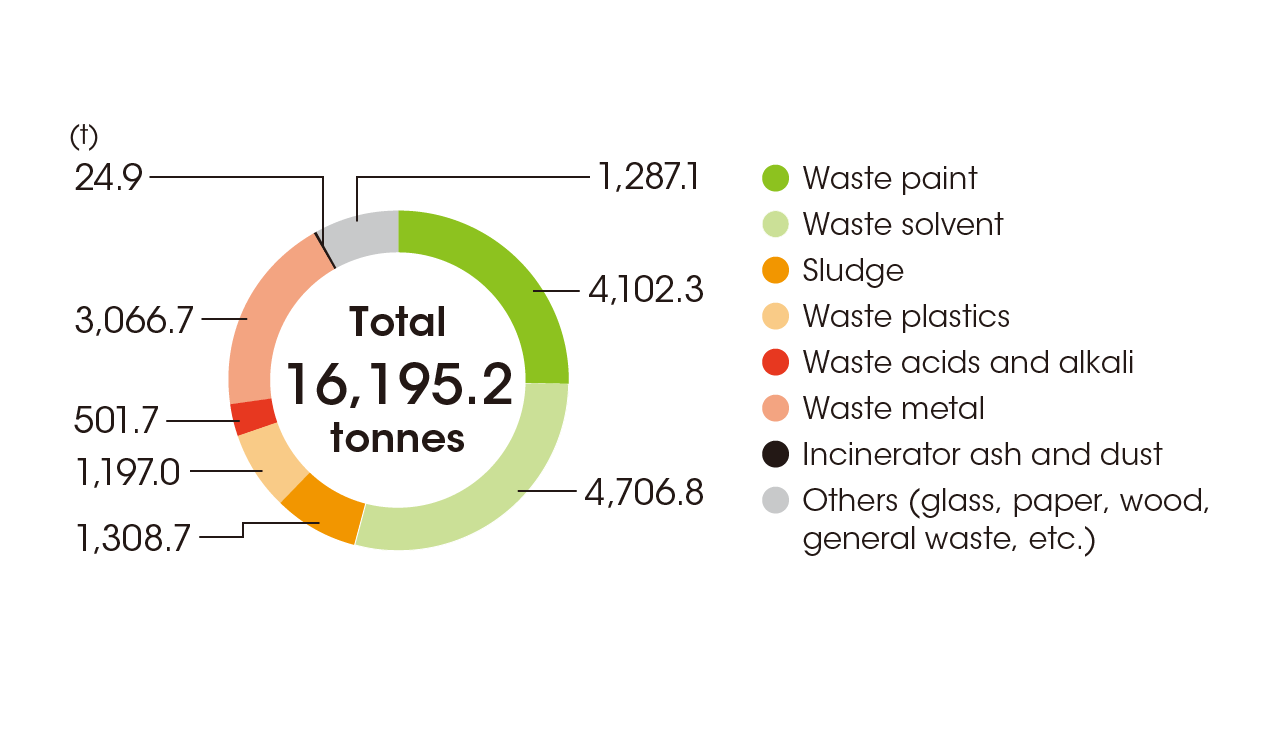 Breakdown of waste (FY2020)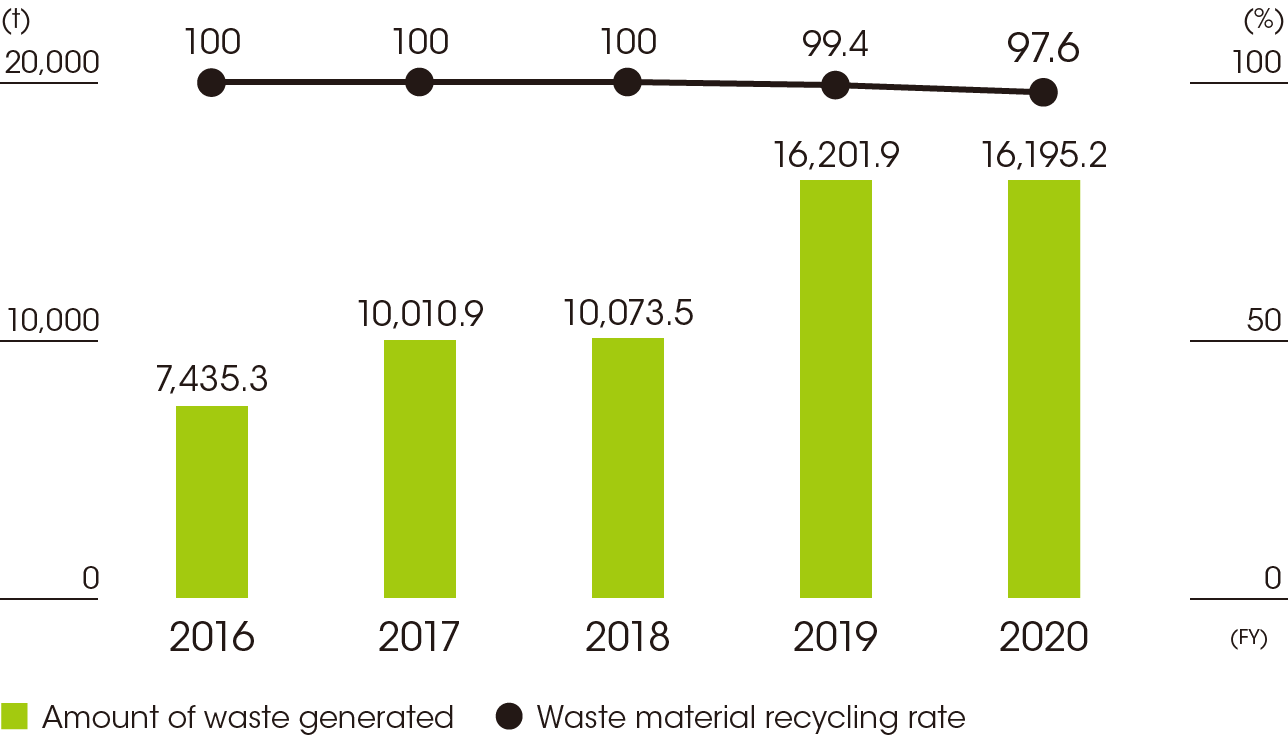 Amounts of waste generated and recycled by year
Reporting boundary:
FY2016 to FY2018: Nippon Paint Automotive Coatings (NPAC), Nippon Paint Industrial Coatings (NPIU), Nippon Paint (NPTU), Nippon Paint Surf Chemicals (NPSU), Nippon Paint Marine Coatings (NPMC) (April–December for FY2016)
FY2019 to FY2020: NPAC, NPIU, NPTU, NPSU, NPMC, AS Paint (ASP), AS Resin (ASR), and Nippon Paint Anti-Corrosive Coatings (NAC)
Targets and results for reduction of waste and effective use of resources
Targets for 2020
Results in 2020
Evaluation
of 2020*
Targets for 2021
Initiatives on the appropriate management of waste

Achieve and maintain reduced industrial waste generation and zero industrial waste sent in landfills.
Store PCB waste properly and complete treatment by deadline.

Increased industrial waste generated due to unplanned construction work and the disposal of long-term inventories. Not achieved a 100% recycling rate due to the asbestos-containing waste from work at a portion of the factories and brick waste generated from building demolition.
Managed and maintained PCB waste properly based on laws and regulations.

+++
Follow-up on targets for 2020
Management of polychlorinated biphenyl (PCB) waste
We strictly control PCB waste, which is highly hazardous and negatively impacts human health and the environment, at storage facilities in accordance with the Waste Management and Public Cleansing Act and the Act on Special Measures concerning Promotion of Proper Treatment of PCB Wastes. This waste is always disposed of by the deadline.
The management of waste and effective use of resources is addressed through our Responsible Care activities.
See here for the details.
Hazardous waste emissions
We recognize specially controlled industrial waste (materials that are explosive, toxic, infectious, or having other properties that may harm human health or the environment; flammable waste oil, strong acid, strong alkali, specified hazardous industrial waste) defined under the Waste Management and Public Cleansing Act as hazardous waste and control these emissions.
Hazardous waste emissions (2017–2020)*
Item
2017
2018
2019
2020
Total hazardous waste
2,021.4
2,094.0
1,957.2
1,667.4
(Breakdown)
Waste oil (flammable waste oil)
1,932.5
1,995.5
1,842.5
1,605.8
Waste acid (strong acid)
86.2
98.3
75.3
48.8
Waste alkali (strong alkali)
0.0
0.0
0.2
8.1
Specified hazardous industrial waste (burnt husks, waste oil and sludge)
2.7
0.2
39.2
4.7
Other initiatives—participation in industrial associations
As part of our initiatives to reduce environmental pollution and waste, the Group is a member of the Japan Chemical Industry Association (JCIA) and Japan Paint Manufacturers Association (JPMA).
Specifically, we keep track of the performance indicators of target substances subject to the voluntary survey conducted by JCIA, including air load, water quality load, water usage, and effluent amount.
In addition, we are cooperating with the assessment of actual efforts in environmental conservation within the paint industry by responding to the safe environmental management performance survey conducted by JPMA (energy, CO2, waste, PRTR, VOC).
Moreover, we also promote the reduction of waste and recycling of materials in accordance with the Voluntary Action Plan for Establishing a Sound Material-Cycle Society put forth by Keidanren, as well as complete follow-up surveys.