Global

2021.08.24
Nippon Paint China's Paint Featuring Safety, Quality and Environmental Friendliness Used at Xiong'an Railway Station
#Paints for architectural structures
#Products・Businesses
#Global
Urban development projects are taking place in various parts of China to accelerate economic development. Xiong'an Railway Station is located in Xiong'an New Area, which is a new economic zone. This newly constructed station is one of the largest railway stations in Asia and uses the latest paint products of Nippon Paint China, a Chinese partner company*1 of the Nippon Paint Group.
Xiong'an Station Features Cutting-Edge Technologies
Xiong'an Railway Station opened in December 2020 as a station of the high-speed transit system connecting Beijing, Beijing Daxing Airport, and Xiong'an. Xiong'an Railway Station has three above ground and two underground levels with a total area of 475,200㎡, which is equivalent to 66 soccer fields. This station uses advanced technologies such as Internet of Things (IoT), next-generation communication networks (5G), Big Data, and artificial intelligence to automate, optimize and improve the efficiency of facility management and services for comfort and ease of access for passengers. Xiong'an Railway Station also uses environment-friendly materials and solar energy to reduce energy consumption and the environmental impact. The station has obtained a 3-star rating in the Chinese Green Building Evaluation Standard*2 of China's Ministry of Construction. This station uses the latest technologies from around the world, with a priority placed on construction safety and green building materials. Nippon Paint China was selected to supply paint as a company that can meet these requirements.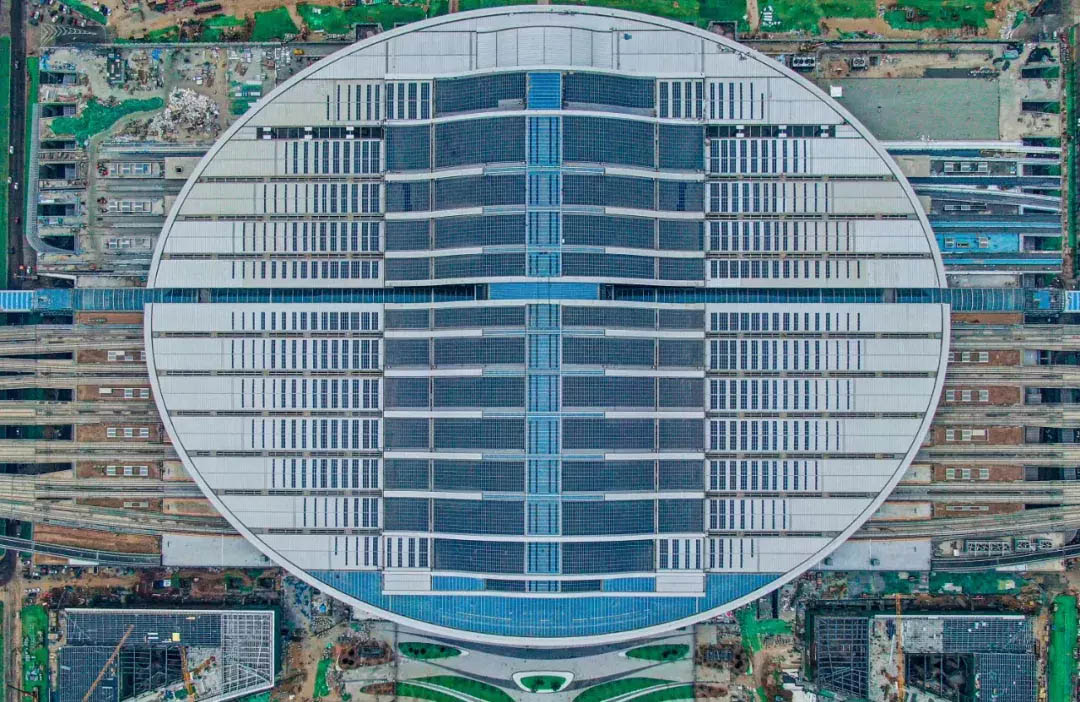 The exterior of Xiong'an Railway Station was inspired by the water culture of Beiyang Lake in the Xiong'an New Area. The oval waterdrop shape symbolizes a dewdrop on a lotus that brings prosperity to Xiong'an. (Image from the Internet)
Paint Application Solutions for Parking Facilities Required by a High-Speed Railway Station
A railway station used by about 20,000 passengers daily requires space for parking and a high volume of traffic. Nippon Paint China's cementitious self-levelling compound for overlayment system was used as the paint application system for the surface of parking areas and the drop-off point at the Xiong'an Railway Station. This paint application system uses Nippon Paint China's unique paint featuring fire resistance, abrasion resistance, environmental properties, and aesthetic performance to ensure safe and environmentally friendly operation of the advanced parking facilities.
Improved safety
Railway stations that have many passengers require a high level of fire safety. Nippon Paint China's paint complies with China's national Grade A of burning behavior (the highest level) for construction materials. This paint keeps people safe in the event of a fire by reducing combustion speed and preventing toxic smoke.
High durability & Anti-skid
The finish layer is a kind of Super-Abrasion-Resistant coating (SAR) that contains special corundum in resin. The corundum has excellent hardness, wear resistance and impact resistance, which improves the durability of the coating and prevents deterioration and damage due to a high volume of traffic. In addition, even in the condition of wet floor, fine frosted particle surface has good anti-skid property, to prevent the tires from slipping on the floor surface, and reduces traffic noise to create a comfortable environment.
Environmental protection
Inorganic floor system that significantly reduces emission of VOCs (volatile organic compounds) is used for parking facilities.
High-efficiency construction
Achieving the maximum performance of floor system requires taking into consideration the effects of temperature and relative humidity during application and as the paint dries. The station was constructed during the winter when temperatures were low. Nippon Paint China was able to apply floor system on large areas efficiently by creating a stable working environment by controlling the ambient humidity and temperature as well as the floor temperature and moisture content.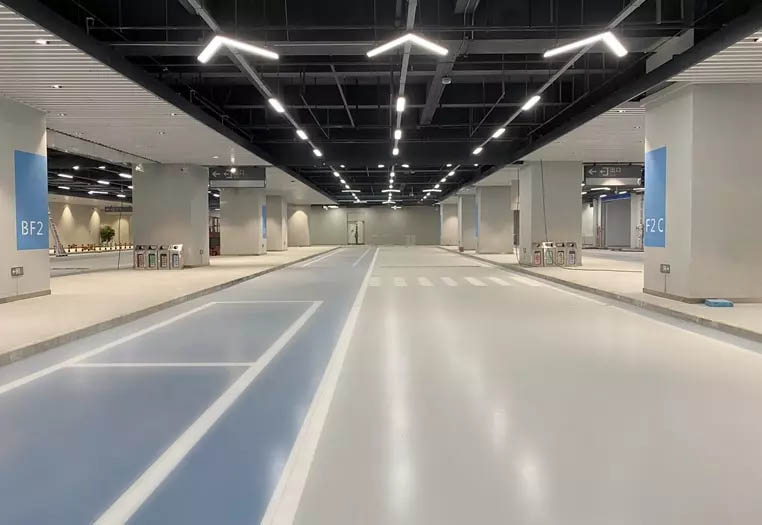 Xiong'an Railway Station parking area that uses paint supplied by Nippon Paint China (Image from the Internet)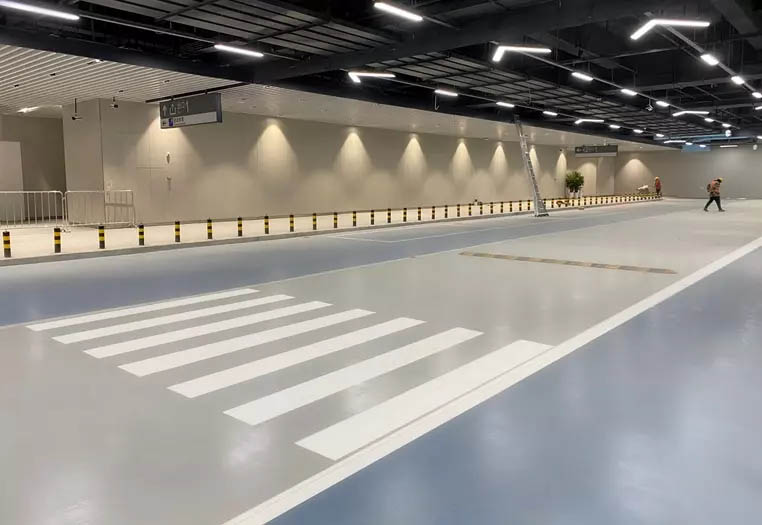 Nippon Paint China has developed many new paint and coatings technologies such as sound insulation coatings that reduce noise pollution, anti-viral coatings that reduce viral adhesion, and environmentally friendly paints for urban projects and infrastructure with the goal of creating more comfortable and sustainable living spaces.
Website of Nippon Paint China
http://www.nipponpaint.com.cn/