Products/Businesses

2020.09.04
Nippon Paint Holdings Develops "PROTECTON," a New Brand Specialized in Anti-viral and Anti-bacterial Products
September 4, 2020
Nippon Paint Holdings Co., Ltd.
Contact Person: Yukiko Yamamoto
General Manager of Public Relations
Email: nphd-kouho@nipponpaint.jp
#news release
#Paints for home use (DIY)
#architectural interior
#antiviral
#Products・Businesses
Nippon Paint Holdings Develops "PROTECTON," a New Brand Specialized in Anti-viral and Anti-bacterial Products
— Releasing Japan's first paint for home use for suppressing viruses and bacteria by 99.9% under using indoor lighting as the first product under the brand —
Nippon Paint Holdings Co., Ltd. (head office: Chuo-ku, Tokyo; Chairman, President & CEO: Masaaki Tanaka; hereinafter, "the Company") has developed "PROTECTON" (*an application for trademark registration pending in Japan), a new brand for anti-viral and anti-bacterial products that uses cutting-edge paint technology. The Company will develop anti-viral and anti-bacterial products, which can be used for home and industrial applications, in stages. The first product is PROTECTON Interior Paint Premium, Japan's first*1 water-borne paint that has anti-viral and anti-bacterial functions derived from photocatalysis for DIY and home use. The product will be available from September 4, 2020, only on NIPPE HOME ONLINE, an online shopping site in Japan.

PROTECTON Interior Paint Premium is a paint that reacts under indoor lighting to suppress viruses and bacteria on the paint film surface by 99.9%*2 or more and that cleans indoor air with ultra-low-odor and anti-mold functions.

Indoor air is constantly flowing due to the movement of people and air conditioning. The airflow causes viruses and bacteria to adhere to walls. Photocatalysis on the surface of the PROTECTON Interior Paint Premium layer suppresses them.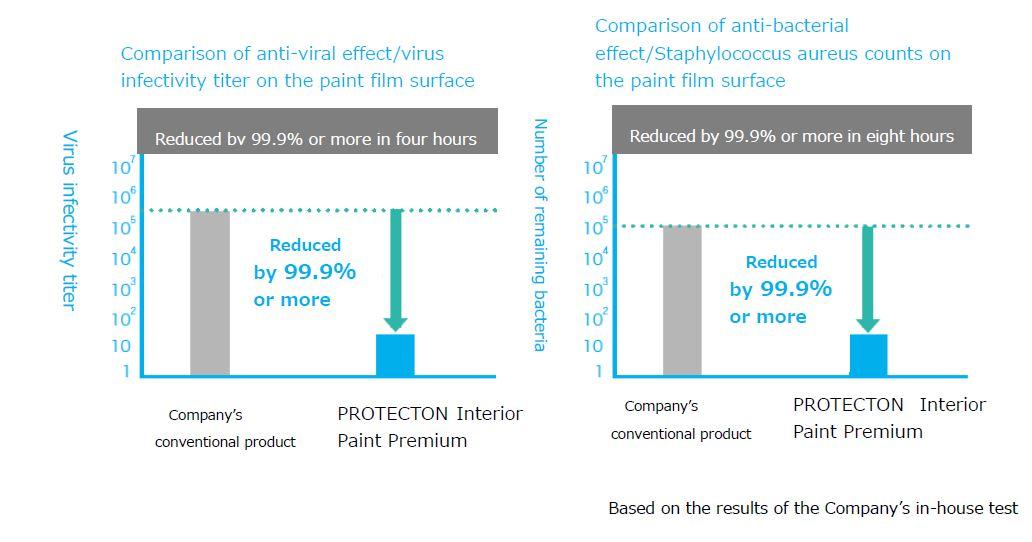 *1 based on a survey conducted by the Company in September 2020
*2 Comparison of virus infectivity titer and Staphylococcus aureus counts with those of a conventional emulsion paint product (based on a test conducted by the Company)
The Group started to accelerate the development of paint and coating technologies and products that contribute to solving social issues, including Anti-viral measures, in May 2020. On May 19, 2020, the Company concluded an industry-academia co-creation agreement with the University of Tokyo. Projects are underway to develop anti-viral technologies and technologies to solve new social issues after the end of the COVID-19 turmoil.

The Company will help ensure security and safety in the "new normal" by accelerating the development of paints, coatings, and surface treatment technologies and offering products and services.
*The paint does not suppress indoor airborne viruses.
* This product is not designed for medical purposes (e.g., medical supplies, medical equipment). This product suppresses viruses that adhere to a surface but does not show the effect of preventing infection.
* The performance may vary depending on the shape of the object to be coated, conditions of the base material, weather conditions, and construction conditions. * The Photocatalysis Industry Association of Japan uses Bacteriophage Qβ, a non-enveloped virus whose testing accuracy and reproducibility are high, for the standard tests to determine the anti-viral performance. Non-enveloped viruses are generally considered to be resistant to disinfectants. For details, refer to the website of the Photocatalysis Industry Association of Japan.
https://www.piaj.gr.jp/roller/contents/entry/20090121(in Japanese)
[Profile of Nippe Home Products Co., Ltd.]
Sale of paints for home use and DIY in general as well as coating utensils and relevant products
Administration of NIPPE HOME ONLINE (an online shopping site)
■ Location of the head office: 4-1-15 Minamishinagawa, Shinagawa-ku, Tokyo
■ Representative: Representative Director and President Kazuo Yamaguchi
■ URL: https://www.nippehome-online.jp/(in Japanese)
[Profile of the PROTECTON brand]
PROTECTON is a paint technology brand offering new technology and value to add functions, which could not be realized previously, by harnessing proprietary cutting-edge technology derived from the Group's paint and coating technology.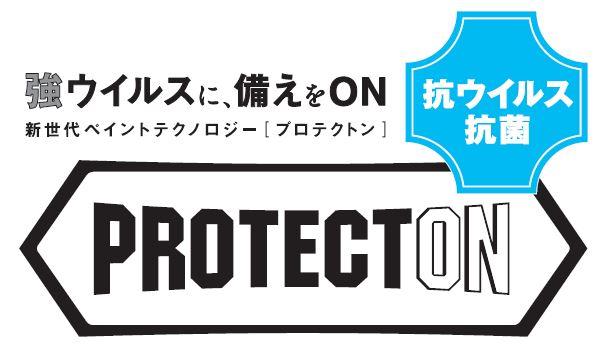 Brand logo
Brand concept
A paint technology brand that continues to evolve to protect people's health and create a safe and pleasant future to achieve advanced anti-viral and anti-bacterial functions.

Brand keyword
New-generation paint technology to turn "ON" protection against strong viruses
* It does not show effect for specific viruses or show the effect of preventing and treating diseases.


The Company will deploy products of various forms, without limitation to paint products, under the product brand for anti-viral and anti-bacterial functions. Through PROTECTON, the Group will contribute to protecting people's health and creating a safe and pleasant future.