Company Information/Management

2021.02.18
Press Conference Summary on the Consolidated Financial Results for Fiscal Year Ended December 31, 2020
#Company Information・Management
#Investor Relations
[Script for President Masaaki Tanaka]
Thank you very much for joining us today.
I am Masaaki Tanaka, Chairman, President & CEO of Nippon Paint Holdings Co., Ltd.
As the state of emergency declared in response to the COVID-19 pandemic has not been lifted yet, we decided to hold a press conference online instead of in person. We appreciate your understanding.
Now, I will start to explain the consolidated financial results for the fiscal year ended December 31, 2020.
1. Consolidated Financial Results for the Fiscal Year Ended December 31, 2020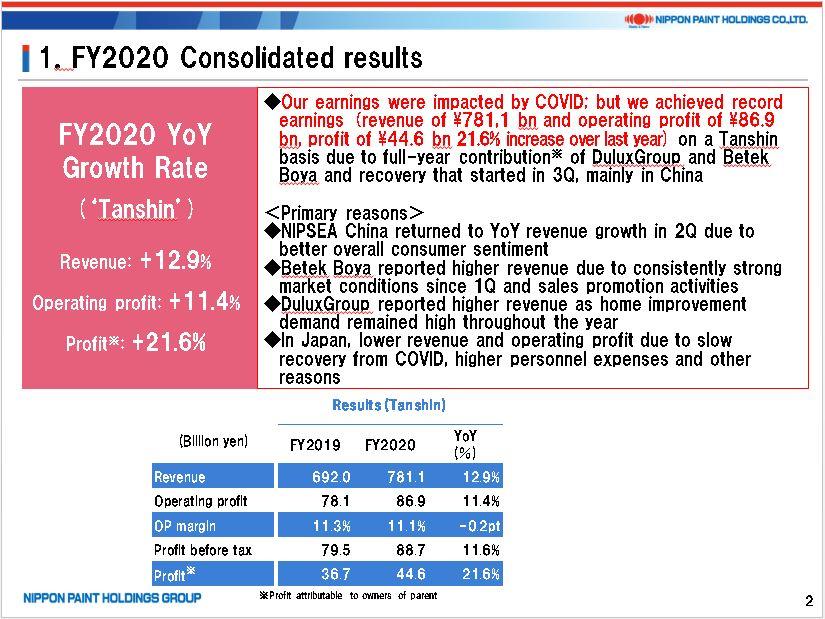 Though we operated under the global impact of COVID-19, revenue for the fiscal year ended December 31, 2020 was 781.1 billion yen, operating profit was 86.9 billion yen, and profit attributable to owners of parent was 44.6 billion yen, each of which represents a year-on-year increase of 12.9%, 11.4%, and 21.6%, respectively. In addition, revenue and operating profit both hit a record high.
Last year, as COVID-19 fiercely spread all over the world and the global economy was faced with a challenging situation, the Group was also affected to some extent, and the domestic business was forced to see a decline in revenue and profit. However, overseas partner companies, such as NIPSEA Group in Asia, Dulux Group in Australia, Dunn-Edwards in the Americas, and Betek Boya in Turkey, utilized their capabilities in each region to the fullest to achieve an early recovery from the impact of COVID-19 and make significant contributions to the increased revenue, increased profit, and record operating profit.
The following are the main two factors for hitting a record high for both revenue and operating profit.
The first is a significant increase in revenue and profit from decorative paints at NIPSEA China. Since the lockdowns were lifted, new construction projects recovered, and the demand for repainting existing houses was robust from July 2020 onwards. As a result, though we struggled very much at the beginning of the year due to the impact of the COVID-19 pandemic, revenue increased by approximately 10% for the entire year.
The second is contributions of our overseas partner companies, including two companies that were newly consolidated in 2019. An increase in DIY revenue at DuluxGroup in Australia due to the demand generated by people's staying at home and a significant increase in demand for decorative paints at Betek Boya in Turkey attributable to the government stimulus measures made a sizable contribution to our financial results. In addition, Dunn-Edwards in the Americas also performed well thanks to an increase in demand generated by the government stimulus measures, contributing to revenue.
2. Consolidated Financial Results Forecast for the Fiscal Year Ending December 31, 2021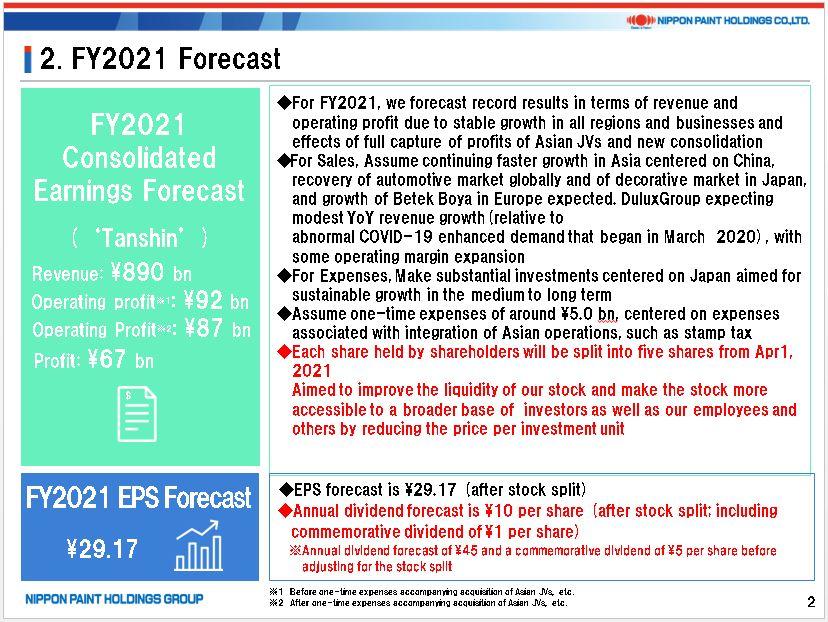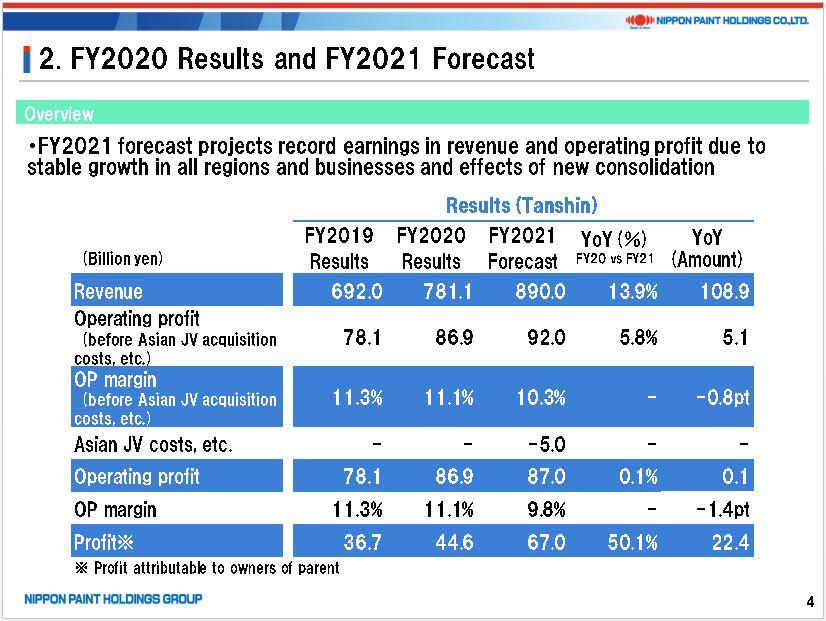 Next, I will explain the forecast for the fiscal year ending December 31, 2021. Taking into account factors such as recovery from the impact of the COVID-19 pandemic, contributions to revenue of the acquisition of 100% ownership of Asian joint ventures and the completion of the integration of the Indonesian business, and recovery of the automotive coatings business, we are anticipating a record-high consolidated revenue of 890 billion yen, which would be up 13.9% year on year. As for operating profit, we forecast 92 billion yen, up 5.8% year-on-year, excluding temporary expenses associated with the integration of Asian businesses, such as the stamp tax recognized in January 2021. In addition, we are forecasting a significant increase also in profit attributable to owners of parent of 67 billion yen.
As we announced together with the financial results, the Board of Directors of the Company resolved today to implement a stock split of the stock of the Company. Each share of common stock owned by shareholders listed or recorded in the final register of shareholders as of the record date of March 31, 2021 will be split into five shares. To give you some background, the purpose of the stock split is to improve the liquidity of the Company's stock and make the stock more accessible to a broader base of investors as well as our Group's employees and others by reducing the price per investment unit.
As a result, we expect the EPS after the split to be 29.17 yen.
Additionally, March 2021 marks the 140th anniversary of the foundation of the Company. Given the steady financial results of the Company, we have decided to pay out a commemorative dividend. Consequently, the annual dividend per share after the stock split will be 10.00 yen, which will consist of an ordinary dividend for the first half of 4.00 yen, a commemorative dividend of 1.00 yen, which will be 5.00 yen in total, and an ordinary dividend for the second half of 5.00 yen.
For other details, please refer to the Financial Results Presentation Material that has been posted on our official website.
3. Topics in the Second Half of 2020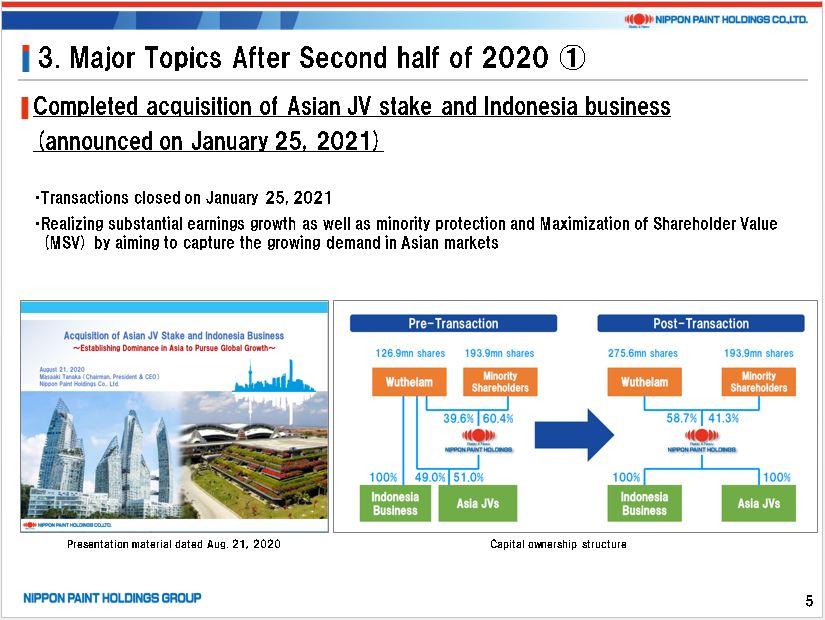 Now, I will briefly explain the status of our activities from the second half of 2020 onwards.
As we announced on January 25, 2021, as a result of 60 years of collaboration with the Wuthelam Group, the acquisition of 100% ownership of Asian joint ventures and the acquisition of the Indonesian business have been completed. We are going to accelerate our business operation as "Global One Team".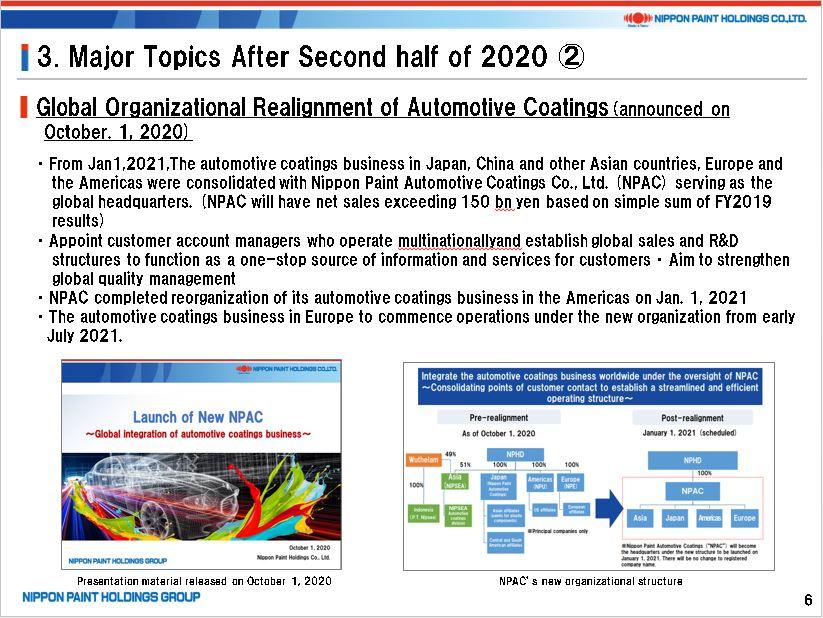 Furthermore, automotive coatings businesses in the Group were integrated and launched as NPAC, a new global organization, on January 1, 2021. As the first step, we completed reorganization in the Americas in January 2021. We plan to complete reorganization in Europe in July 2021. We will thus make further reinforcements to our automotive coatings business, including domestic investments, to establish a system that enables speedy, one-stop provision of products and services to customers and significantly enhance our quality assurance system worldwide.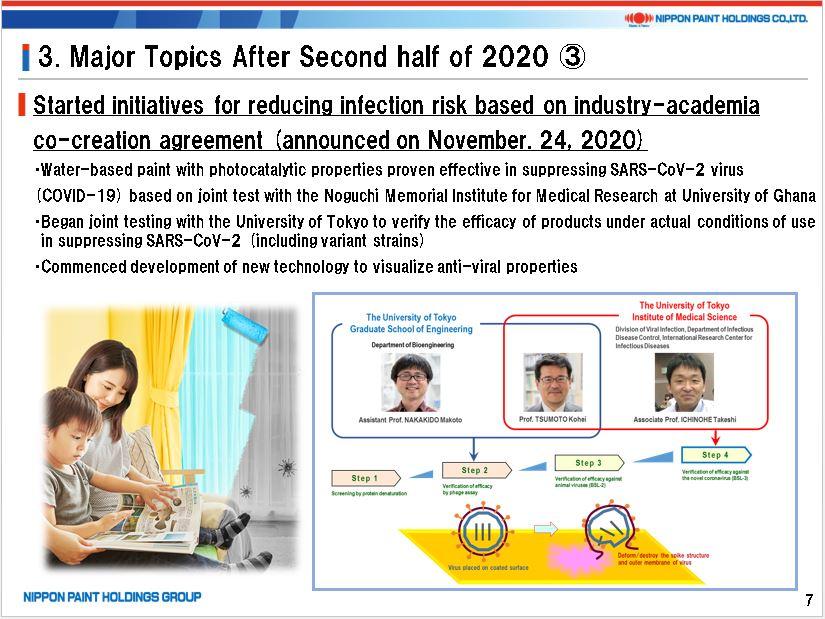 Now, I will talk about our initiatives to deal with the current social issue of COVID-19.
The Company started a social cooperation program titled "Creation of Innovative Coating Technologies" in October 2020 at the University of Tokyo. We have been conducting joint research on three themes: infectious disease risk reduction, smart society, and social cost and environmental burden control. A team of professors at the University of Tokyo and our engineers have become One Team and are accelerating the development of new painting and coating technologies at the moment.
Meanwhile, in October 2020, a water-based paint with photocatalytic properties was proven effective in suppressing SARS-CoV-2 virus (COVID-19) based on a joint test with the Noguchi Memorial Institute for Medical Research at the University of Ghana. In November 2020, the University of Tokyo began to verify the efficacy of the product under actual conditions of use in suppressing SARS-CoV-2 (including variant strains) and is making steady progress.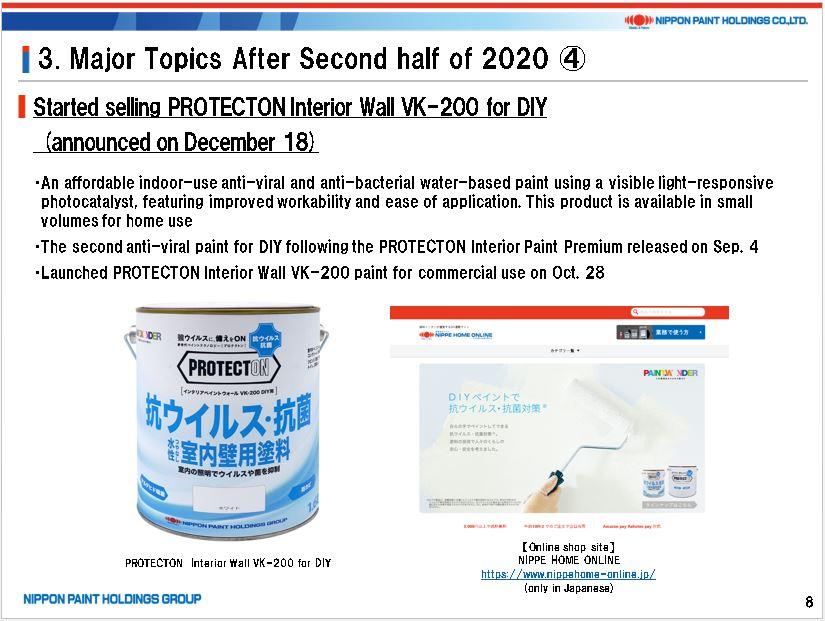 In September 2020, the Company launched "PROTECTON," a new brand exclusively for anti-viral and anti- bacterial products. We have released two types of products for DIY and home use and two types for commercial use in stages and met with a great deal of positive response. We are planning to launch a large number of new anti-viral and anti-bacterial products under the "PROTECTON" brand in 2021 as well. We will notify you of their launch as soon as information becomes available.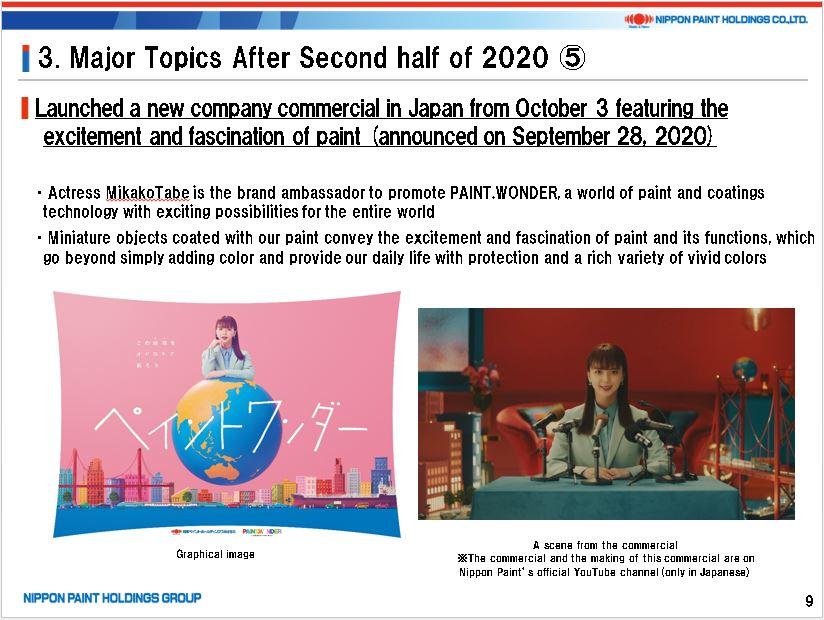 Technologies of paint, coatings and surface treatments not only bring colors, comfort, and security to people's lives all around the world but also have the wonderful power of contributing to solving various social issues. We would like more people to know the potential paint has and the advanced technologies we have, and we have expressed this feeling with the word "PAINT.WONDER."
In the TV commercial with the theme of "PAINT.WONDER" that has been aired since October 2020, wonders and various functions of paint are introduced by Ms. Mikako Tabe, an actress, through social infrastructure such as buildings, ships, automobiles, bridges, and roads where paint is used. As we celebrate the 140th anniversary of the foundation of the Company this year, we will further evolve this world view of "PAINT.WONDER" and communicate it to you in various ways.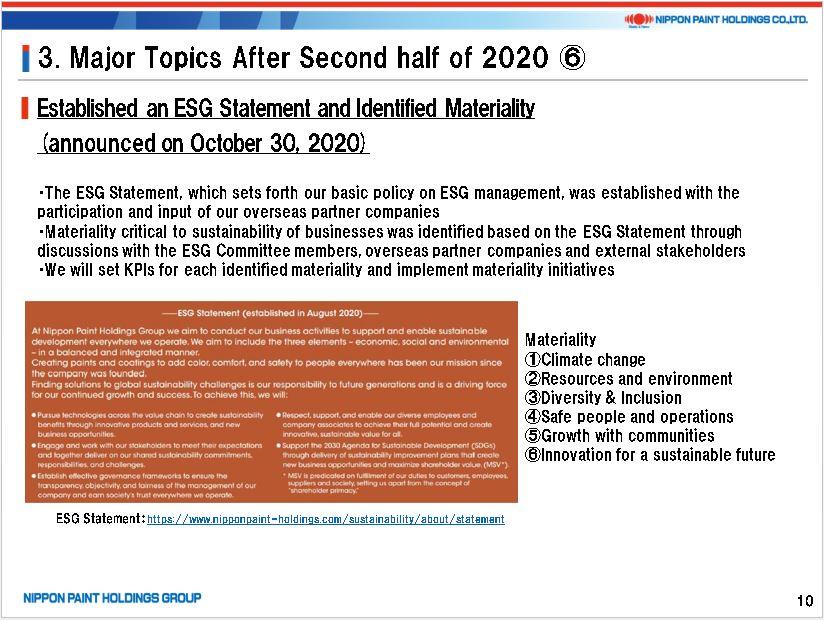 Now, the Group is pursuing maximization of shareholder value by creating wealth through solving social issues, with the SDGs and ESG at the core of management. In January 2020, we established the ESG Promotion Department as an independent department, and we launched the ESG Committee in April 2020.
In addition, in October 2020, we held discussions with overseas partner companies on a global basis, formulated the ESG Statement, and identified Materiality so that each employee will regard ESG issues as their own matters. Based on these, we will continue to promote ESG management.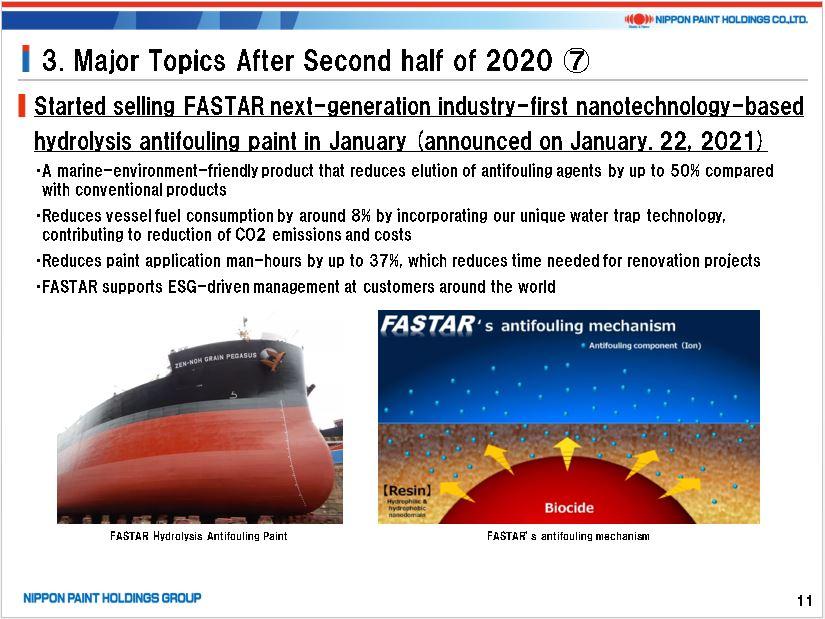 Furthermore, from this ESG perspective, we are accelerating development of products that are friendly to the global environment. In January 2021, Nippon Paint Marine Coatings, a Group company producing marine coatings, launched "FASTAR," an antifouling hull coating that is environmentally friendly. This industry-first nanotechnology significantly reduces the elution of antifouling agents, which in turn reduces environmental impact. It can also contribute to our customers' ESG management as its fuel-saving feature reduces CO2 emission. We plan to expand the sale of "FASTAR" as the future main product of Nippon Paint Marine Coatings.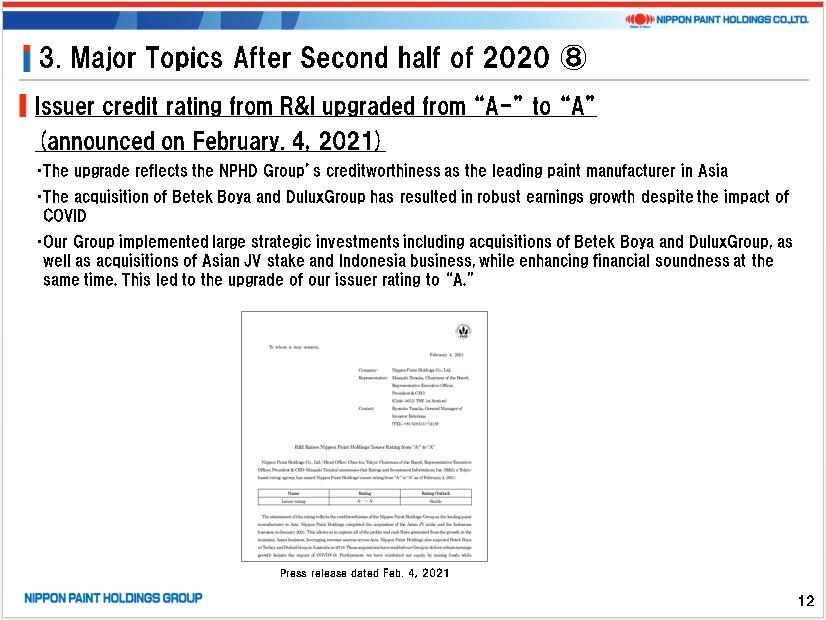 Rating and Investment Information, Inc. (R&I) raised the issuer rating of the Company from "A-" to "A" as of February 4, 2021. The fact that we completed the acquisition of 100% ownership of Asian joint ventures and the acquisition of the Indonesian business without compromising our financial soundness and that our financial results were strong even in the COVID-19 pandemic has resulted in the positive evaluation.
4. New Medium-term Management Plan
Last but not least, we would like to have an opportunity to explain to you our 2021-2023 Medium-term Management Plan starting at 3:30 p.m. on Friday, March 5, 2021. We will send out a letter of invitation with details shortly. We would appreciate it very much if you could join us.
[Q&A Summary]
Q. In your forecast for FY2021, growth at each business segment is expected to be smooth but are there fluctuations or differences in your forecast for each region?
In FY2021, our goal is basically to achieve sales growth in each regional segment. Although the scale and ratio will differ by region, we anticipate major growth in the Asia region, mainly China. As shown on pages 32-35 of our IR presentation materials, we expect growth of around 5% in Japan, about 10% in China, and in the range of 5%-10% in Asia outside of China. Meanwhile, we estimate growth of 10%-15% in Indonesia, where we recently made an acquisition, and growth of approximately 5% in the Americas.
Q. Explain the specific details of your active investments domestically in Japan.
In our business in Japan, we considerably curbed investment after the collapse of Lehman Brothers. Given this circumstance, several of our plants are deteriorating due to aging. Starting this year, we plan to conduct a full-fledged review of our overall supply chain, including the restructuring of our plants and successively implement investments in designated areas.
In 2020, we newly launched a powder coating plant in Chiba. We made this a cutting-edge plant by incorporating digital equipment.
Similarly, we plan to renew our resin plant in Chiba, relocate the automotive coatings line at the Hiroshima Plant to Okayama, and integrate the Takahama and Taketoyo automotive coating plants in Aichi Prefecture for relocation to a large-scale facility. As this is gradually taking shape, I will provide an explanation once we reach the disclosure stage this year.
We do not plan to maintain the current structure of our plants. Our goal is to create plants with high productivity by incorporating the cutting-edge facilities and technologies of our overseas partners, including NIPSEA, Dulux and Dunn-Edwards. From the perspective of management, we are also considering measures, including the creation of monitors that will display operating conditions at our plants.
Q. Explain the period and cost estimate for the period for plant and supply chain reforms.
At this stage, I cannot disclose the total cost. We believe these reforms will take around 7 years. We plan to push forward with restructuring by setting three-year milestones. We already have a major picture and concept. We aim to take one step every three years by dividing up reforms into stages, including land acquisition and machinery purchases.
Q. What are your major capital investments and the details of your capex plan for FY2021?
Our global capex plan for FY2021 totals ¥44.0 billion yen. This will be highly diversified, including plant facilities, electroplating equipment, and offices.
Q. Will the coup d'etat in Myanmar impact your business operations? If so, explain in detail how you plan to address this.
There is a local unit of NIPSEA group in Myanmar. We do not see immediate impact given operations are not large scale. We are monitoring current trends. Prior to the coup, we discussed increasing our investment but we are currently considering reviewing this.
Q. As a requirement of paint products from the viewpoint of being carbon neutral, elaborate on your policies for environmental performance and manufacturing processes.
As our core business, we are producing paints and coatings that are adapted to the environment. In the Scope 1 and Scope 2 categories, Nippon Paint's CO2 emissions total 47,000 tons. This breaks down to 16,000 tons for Scope 1, with Scope 2 accounting for the remainder.
In Scope 1, we can implement carbon neutral control by changing production methods at our plants. This includes the renewal and new construction of plants. In Scope 2, it is difficult to control purchased electric power. We are looking into how to change electrical power generation using coal while monitoring government policies.
As we are deploying business operations globally, our CO2 emissions on a global level total 240,000 tons, of which China accounts for half. Regarding this portion, the ESG Committee is starting to examine carbon neutral measures for each region.
Q. Roughly what schedule you have in mind?
We are slated to kick-off discussions at the ESG Committee the week after next. At present, we are at the data collection stage. The Japanese government is aiming to become carbon neutral by 2050 therefore we are taking this into account while positively consider this.
Q. Regarding the supply chain, I am sure you recognize the issue of driver aging in domestic logistics but what is your recognition of hard (tangible) and soft (intangible) issues?
Issues faced by Nippon Paint is aging of truck drivers, the declining number of truck drivers, and special transport methods for the shipping of hazardous materials. In addition, the population structure is gradually shifting from people in their 50s to those in their 40s and 30s. This is also a major issue for the population structure of our employees. One theme is the improvement of cost efficiency for transports when taking a view of operations overall. We are examining measures, including the simplification of the transport process between plants.
At our plants, looking at our overseas partner companies, robots handle the acceptance of transported raw materials, storage/retrieval in the warehouse, transport to plants, furthermore the retrieval of produced coatings/paints and also transport to the warehouse. This will results in a cutting-edge plant with a very low headcount and with few errors and a low level of danger. It is our idea to create a supply chain (including plant operations), with high productivity, by positioning robots in the role of control as opposed to using humans for coating/paint production processes.
Q.On page 7 of today's material, you discuss joint testing with the medical department at University of Ghana and mentioned that you embarked on a new technology that will visualize anti-viral functions. Explain, as much as you can, what progress you have made with this technology, your next move for a visible-light responsive photocatalyst and product deployment.
In the materials, the development stages shown at Step 1 to Step 4. Step 4 was launched in conjunction with the University of Tokyo to verify the effect on SARS-CoV-2 virus (including mutant strains) in the envisaged real environment. In a joint test with the University of Ghana, verification of effects were carried out in a lab but not in the actual living environment. At present, we are in the process of verifying effects in the actual living environment.
Amid research being carried out from various angles, there was talk about whether we could visualize the anti-viral function so we commenced research. By visualizing the anti-viral function, it would mean seeing where the virus is, and knowing how to handle it. This would generate enormous relief. It is from this meaning that we embarked on this.
As for commercialization, we want to market this as soon as possible. The professors at the University of Tokyo are of the same opinion. At this stage, I cannot disclose details on the product that will be launched but I will say we are envisioning various formats for the product. A feature of our product is that it uses a coating film. Assuming that the coating film will not become soiled, it can be used semi-permanently and will be durable for a long time. Based on our concept of delivering a safe anti-viral product that uses a coating film, we are performing several final checks. We will provide a detailed explanation when it comes time for the actual product launch.