Corporate Information and Management

2021.04.20
Notice of Construction of an Automotive Coatings Plant in Okayama —A Smart Factory with Priority on ESG—
#news release
#Investor Relations
#Company Information・Management
#Automotive coatings

April 20, 2021
Nippon Paint Holdings Co., Ltd.
Contact Person: Yukiko Yamamoto
General Manager of Public Relations
Email: nphd-kouho@nipponpaint.jp
Notice of Construction of an Automotive Coatings Plant in Okayama —A Smart Factory with Priority on ESG—
Nippon Paint Holdings Co., Ltd. (Head Office: Chuo-ku, Tokyo; Chairman of the Board, Representative Executive Officer, President and CEO: Masaaki Tanaka) has approved the construction of an automotive coatings plant (NPAC Okayama Plant) in Shoo-cho, Katsuta-gun, Okayama by Nippon Paint Automotive Coatings Co., Ltd. (Head Office: Hirakata-City, Osaka; NPAC).
The construction of the NPAC Okayama Plant is a project included in the Nippon Paint Group's new Medium-Term Plan (FY2021-2023) released on March 5, 2021. The NPAC Okayama Plant will replace the aging NPAC Hiroshima Plant (Minami-ku, Hiroshima-City, Hiroshima) and serve as the primary base for automotive coatings production to supply to customers in the Chugoku and Kyushu regions of Japan. The new plant will be located on the premises of the Okayama Plant of Nippon Paint Co., Ltd. Construction of the NPAC Okayama Plant will start in May 2021 and end in May 2022 with operations scheduled to start in July 2022.
The NPAC Okayama Plant will use smart factory systems, such as the latest inventory management system and production execution system, and automation technologies in order to further improve manufacturing productivity and safety. This plant incorporates numerous ESG considerations and uses state-of-the-art equipment and facilities for production processes with low energy consumption and CO2 emissions.
The operations of the NPAC Hiroshima Plant will be transferred to the NPAC Okayama Plant with July 2023 as the target. The Hiroshima Plant will retain its engineering, sales and logistics functions.
NPAC will supply high-quality products that meet customers' needs by utilizing the new Okayama Plant and conducting management that reflects ESG and the SDGs with the goal of becoming the leading company in the automotive coatings business.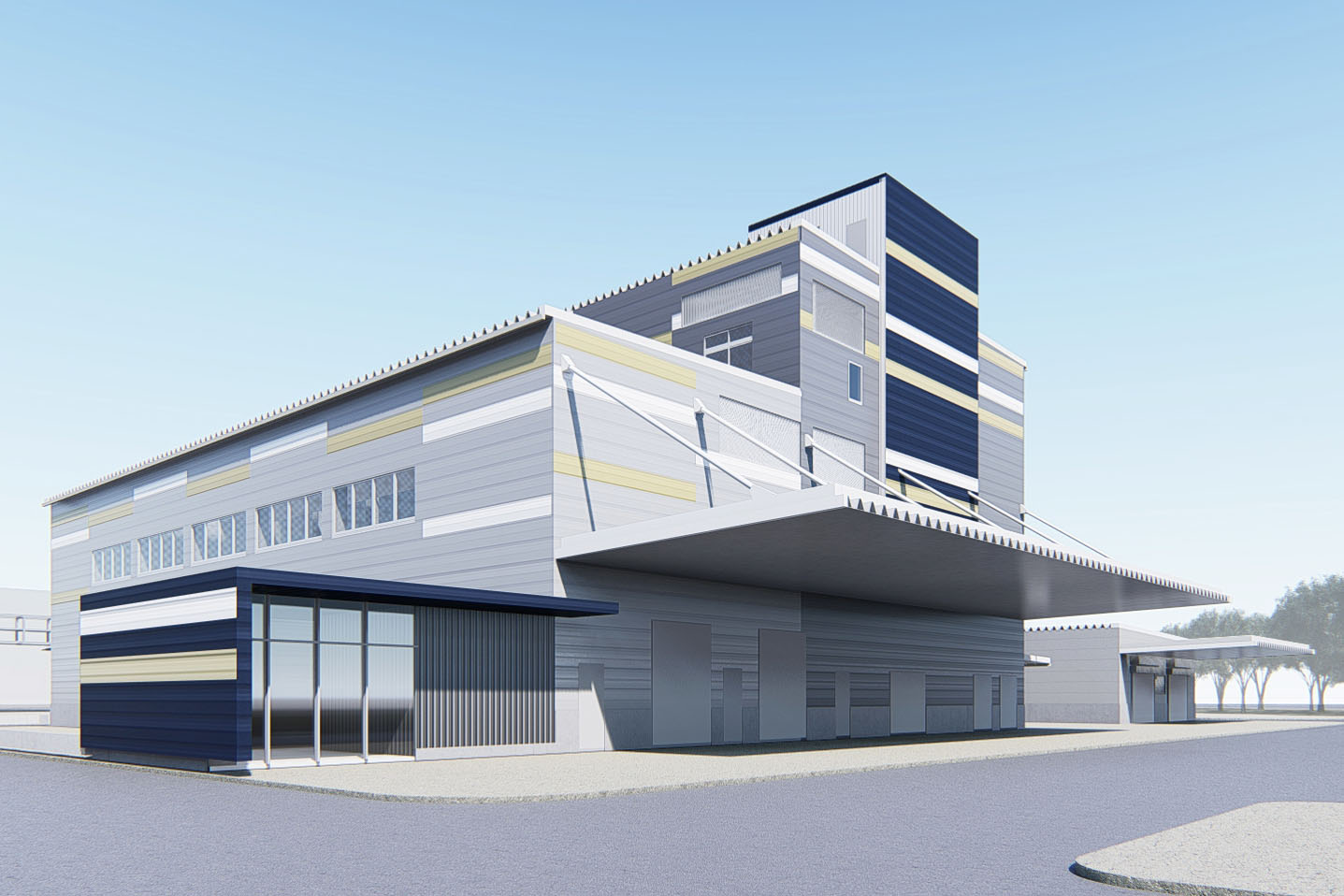 Architect's rendering of the factory building of the NPAC Okayama Plant
■Overview of the plant
Location: 33-1 Oohiradai, Shoo-cho, Katsuta-gun, Okayama
Site area: 81,600㎡
Floor area: 4,700㎡
Buildings: Factory building (three-story steel frame building), hazardous substance warehouse (single-story steel frame building), business operations building (two-story steel frame building)
Production item: Automotive coatings (top-coating paints, water-based middle-coating paints, automotive paints for plastics, and other products)
Investment: 4.1 billion yen (planned)
Construction plan: Starts in May 2021 with completion scheduled for May 2022
End

The Nippon Paint Group turns 140 years old
Founded in 1881, the Nippon Paint Group has the longest history of any comprehensive paint manufacturer in Japan.
Our corporate tradition and philosophy commit us to confront and solve social issues through technology and research and
develop innovative paint and coating technologies.