Global
Asia Young Designer Awards(AYDA)
The Asia Young Designer Awards (AYDA) is an international design competition for architecture and interior design students. National-level preliminaries are held in 16 Asian countries. Since Nippon Paint Malaysia held the first competition in 2008, AYDA has been spreading to countries where the NIPSEA Group operates. For AYDA, which aims to foster future architects and interior designers, students from different Asian countries tackle the same task. After national-level judging, the best entries from each country are invited to the AYDA international summit. The winners at the AYDA international summit are entitled to attend a six-week summer school at Harvard University. AYDA attracts a total of about 8,400 entries from 16 countries each year. It provides architecture and interior design students in Asian countries with opportunities for international interactions not only with each other but also with renowned architects.
Japan
Providing People with Painting Experiences
HAPPY PAINT PROJECT
Since 2017, Nippon Paint has held painting events to bring happiness to society with paint. Through this initiative, named the "HAPPY PAINT PROJECT" from 2019, we share the joy of painting with people and help solve regional and social issues with paint. During the period from its launch in 2017 to September 2021, the project has spread to 16 Japanese prefectures, with a total of approximately 2,000 people participating in 34 events. Supporting a Wall Art Project Implemented by Hannan City Kaikake Junior High School in Osaka Prefecture In August 2021, we provided our water-based paint for a wall art project implemented by Hannan City Kaikake Junior High School in Osaka Prefecture. This wall art project was planned by the school, which had long suffered the problem of graffiti on the stone walls along the route by which students came to school every morning. We supported this project in empathy with the school's education policy of having the students appreciate the value of the support of others and the joy of responding to this support through the experience of creating wall paintings, as well as the school's desire to invigorate the local community by improving the townscape. Not only all of the about 210 students at the school but also teachers, school staff, alumni, and paint artist Madblast Hiro participated in the three-month project. Five-meter-high walls, whose total length amounts to 230 m, were painted colorfully with a phoenix, a unicorn, and other motifs designed by Madblast Hiro, along with huge calligraphic characters quoted from the school song.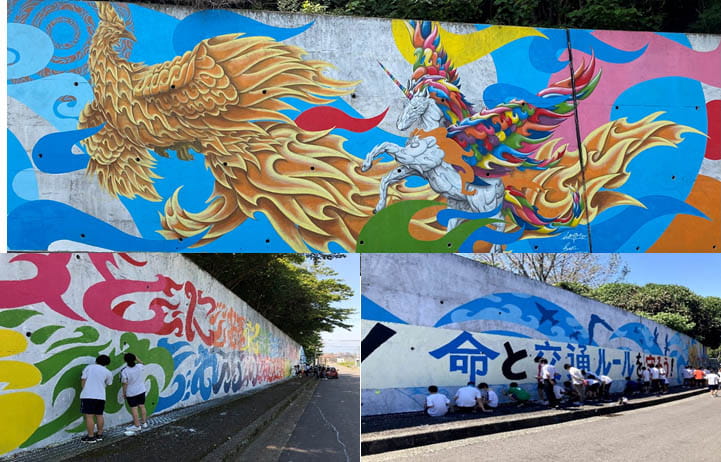 Part of the completed wall paintings
Activities for Sharing the Appeal of Table Tennis
The Nippon Paint Mallets, a professional women's table tennis team formed in 2017, is involved in social contribution activities to share the appeal of sports with children and nurture their dreams.
School-visit Programs in Collaboration with the Osaka Prefectural Government
Since 2021, the Nippon Paint Mallets has participated in school-visit programs in collaboration with the Sports Promotion Division of the Osaka prefectural government, which calls for and selects elementary schools and special needs education schools in the prefecture to receive a visit from the team. In 2021, when the first call was issued, about 50 schools applied to receive a visit from the team. Of them, 10 schools (including four special needs education schools or classes) will hold classes taught by the team by the end of this year. The team will offer table tennis classes tailored to the needs and requests of each school. From 2022 onward, the team will successively visit other schools that have applied.
Dream Class Initiative in Collaboration with the Osaka City Government
Since 2020, the Nippon Paint Mallets has taken part in a Dream Class initiative implemented in collaboration with the Economic Strategy Bureau of the Osaka City government. Under the initiative, the team visits elementary schools selected by the city government to offer table tennis classes. In 2020 and 2021, taking into account the COVID-19 pandemic and the league schedule, the team was able to visit four schools and offered classes to about 250 children. The classes include not only practice at a table tennis table but also fun game-style training to enable children to enjoy table tennis irrespective of their level of experience in the sport.
Extracurricular Classes at Senior High Schools
Since 2020, the Nippon Paint Mallets has provided extracurricular classes at public senior high schools in Osaka Prefecture. In 2020, the team taught about 10 students who wanted to become instructors in physical education and other fields, as well as about 10 teachers. The team members gave the participants advice not only on playing table tennis but also on what they should say to those they teach from the perspective of an instructor. In 2021, the team offered a class to about 15 students, including students with intellectual disabilities, who came together to attend the selective class. The team members gave advice suitable for each student on how to play a long rally, how to serve, and other matters. Replying to our questionnaires, for two consecutive years, all participants have expressed their desire to watch table tennis matches, and indeed, these classes have been an inspiration for some participants to actually do so. In addition, in both 2020 and 2021, the Nippon Paint Mallets participated in an event organized by the Osaka City government where professional sports teams based in the city offered sports classes. At both events, about 150 people from a wide range of age groups attended the classes given by Osaka-based sports teams. These participants were selected by lot from 10 times as many applicants as the prescribed number of participants.
Donating Children's Table Tennis Tables
Since 2018, we have donated children's table tennis tables to kindergartens, nursery schools, special needs education schools, hospitals, etc. around Japan through Table Tennis Junior Support Japan, a general incorporated association. During the four years from 2018, we have donated 117 table tennis tables. With each donation, we hold an event where children interact with members of the Nippon Paint Mallets. Children participate in this event with a twinkle in their eyes. In 2020, as a new initiative amid the COVID-19 pandemic, we held donation ceremonies and table tennis classes online. In 2021, we are offering in-person table tennis classes while adopting thorough COVID-19 control measures.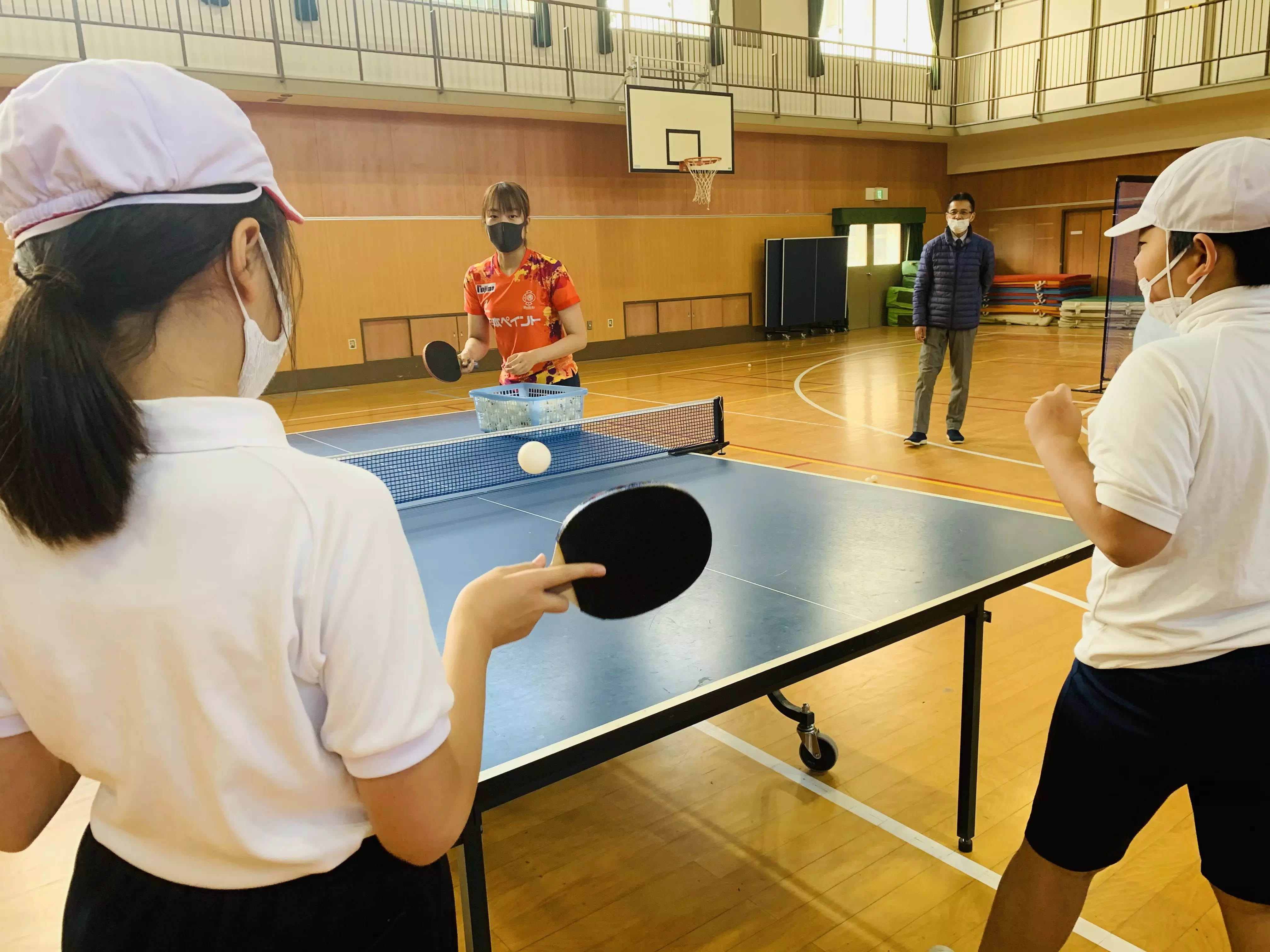 A member of the Nippon Paint Mallets enjoying playing table tennis with children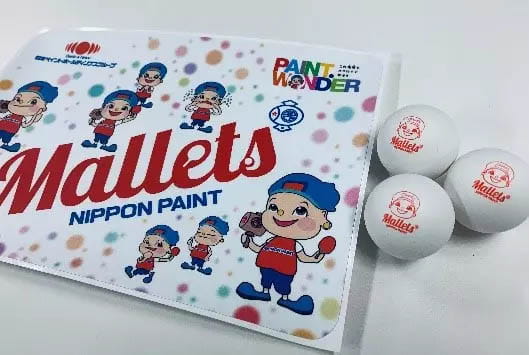 Table tennis balls and a sticker with images of Mallet-chan, the official mascot of the Nippon Paint Mallets
Helping Maintain and Improve School Facilities
Providing Nippon Paint Antiviral and Antibacterial Paint Products to Yamagata Prefectural Yamagata School for the BlindTo contribute to creating a safer and more secure educational environment suitable for the age of coexistence with COVID-19, Nippon Paint provided Yamagata Prefectural Yamagata School for the Blind, located in Kaminoyama City, Yamagata Prefecture, with about 76 liters of its antiviral and antibacterial paint.Although avoiding physical contact with various things is one of the major ways of preventing COVID-19 infection, it is indispensable for students at schools for the blind to touch walls, doors, and various other things with their hands when moving around school buildings. We contributed to solving this issue with paint in empathy with the desire of teachers at the school to protect the children as much as possible from infection risks entailed by physical contact.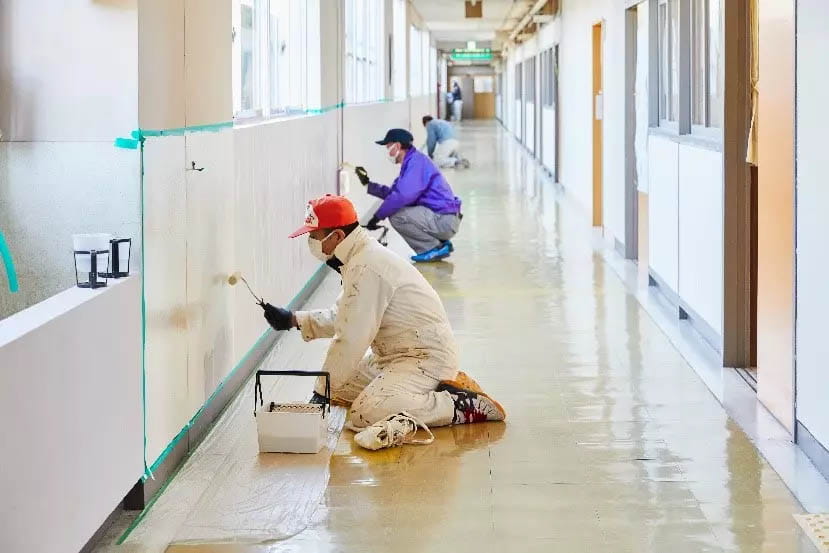 Teachers applying paint to a wall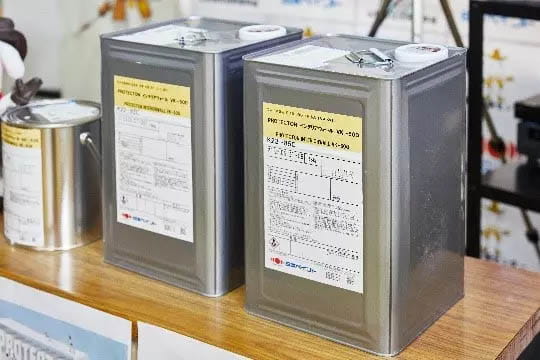 PROTECTON Interior Wall VK-500
Industry-academia collaboration
With the aim of making industrial education more attractive, Nippon Paint signed an industry-academia collaboration agreement with the Graphic Design Course of Osaka Prefectural Imamiya Technical High School. Since 2019, we have run an annual collaborative program.In this program, students are positioned as members of an external planning team in our Marketing Department. They work on the themes they select on their own to achieve practical solutions to issues using paint. They experience the entire process of creation or production, from planning to implementing the plan and presenting the results, through near-real-world activities. The program has met with a very good reaction from participating students, one of whom said, "I was able to have a very valuable and inspiring experience." Some participants have joined Nippon Paint through this program, making it a win-win for the school, the students, and Nippon Paint.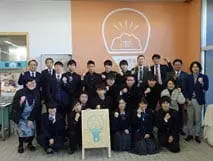 First collaborative class in 2019
Scenes from a painting practicum and a presentation given by students