Our Strengths
We have four key strengths.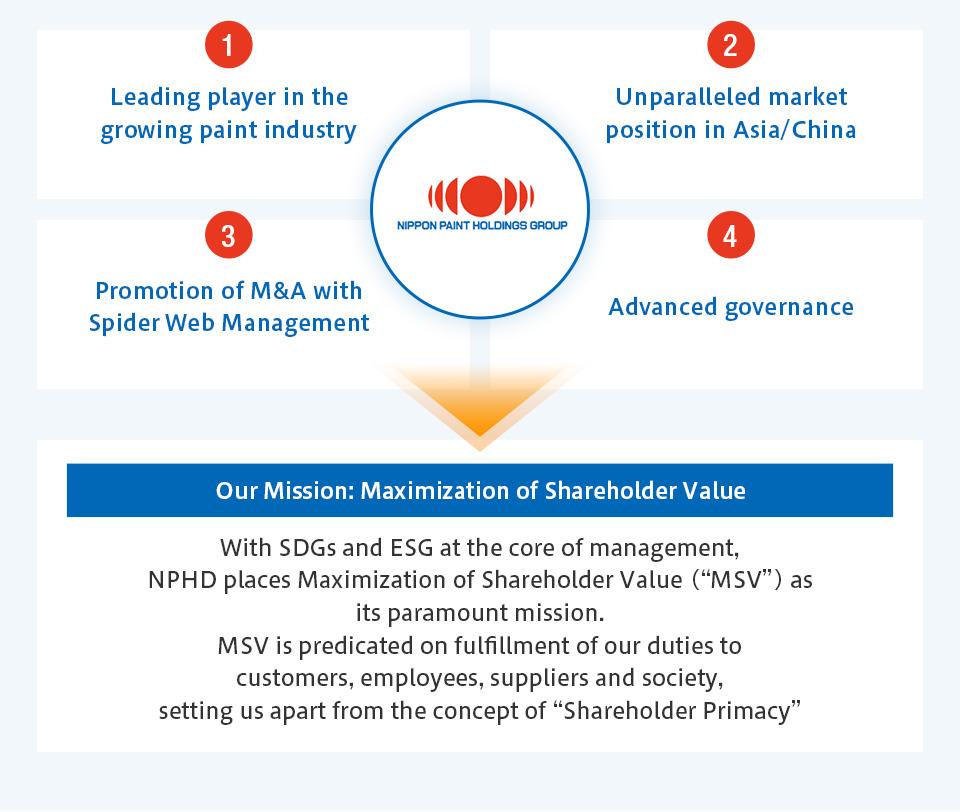 1. Leading player in the growing paint industry
From a global perspective, paint is a growing industry as demand will certainly increase along with population growth. Furthermore, paint has stable growth unlike the volatility in the general chemical industry. The world's population is expected to increase from 7.8 billion to 8.5 billion over the next decade. Accompanying this population growth, paint market is projected to grow 1.5 times over the same period, driven by growth in China and other Asian countries.
Paint market is expected to witness strong global growth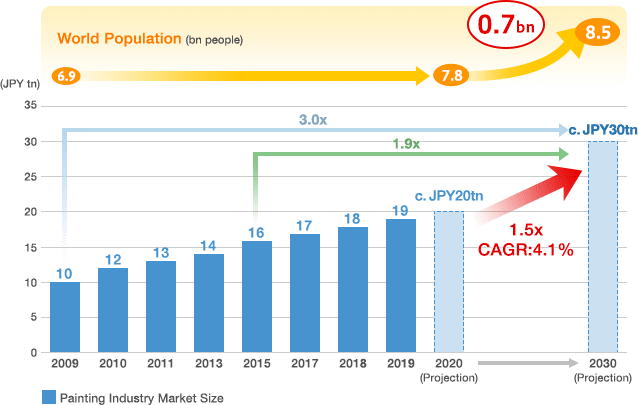 Source: Company estimates based on International Paint & Printing Ink Council Report, United Nations.
Note: Application of currency rate of JPY110.0/USD.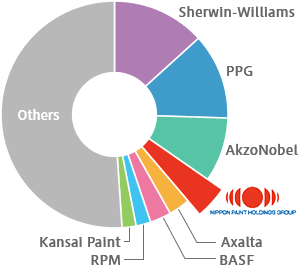 Global Market Share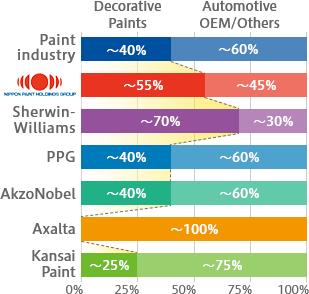 Business Portfolio
Note: Company estimates
The top 10 paint companies have a global market share of about 50%, and the remainder of this market consists of a large number of small and midsize companies. As a result, there will be ample opportunities to capture market share and utilize M&A. We foresee more demand in categories that require the environmental expertise, financial strength or other resources that only a large company has. We thus expect to grow via both market growth and share gain.
Our operations are well balanced with decorative paints at 55% of our revenue.
2. Unparalleled market position in Asia / China
NPHD has a leading position in decorative paints, as well as China and other Asian regions. We operate in 15 geographical locations in Asia and this represents 52% of our consolidated revenue.
In the DIY sector, due to the powerful LiBang brand, we have market shares of 36% in China, 71% in Singapore and 43% in Malaysia.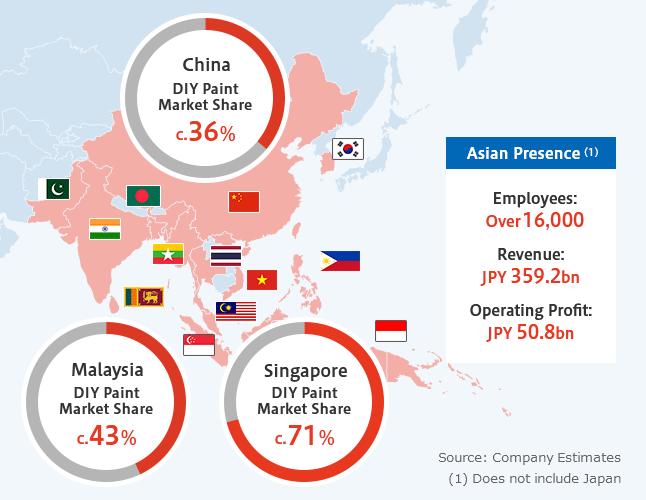 3. Promotion of M&A with Spider Web Management
In addition to steady growth, the paint industry is also characterized by extremely stable cash flows. Furthermore, this industry is an ideal place for M&A activity as funds can be procured now at very low interest rates.
Our priority is to seek M&A deals that will help maximize shareholder value. We will not do a merger or acquisition solely to become larger. We have and will reject deals that would reduce our financial soundness or not contribute to growth of earnings per share.
Capable of fully leveraging the advantage of industrial structure and market environment for M&A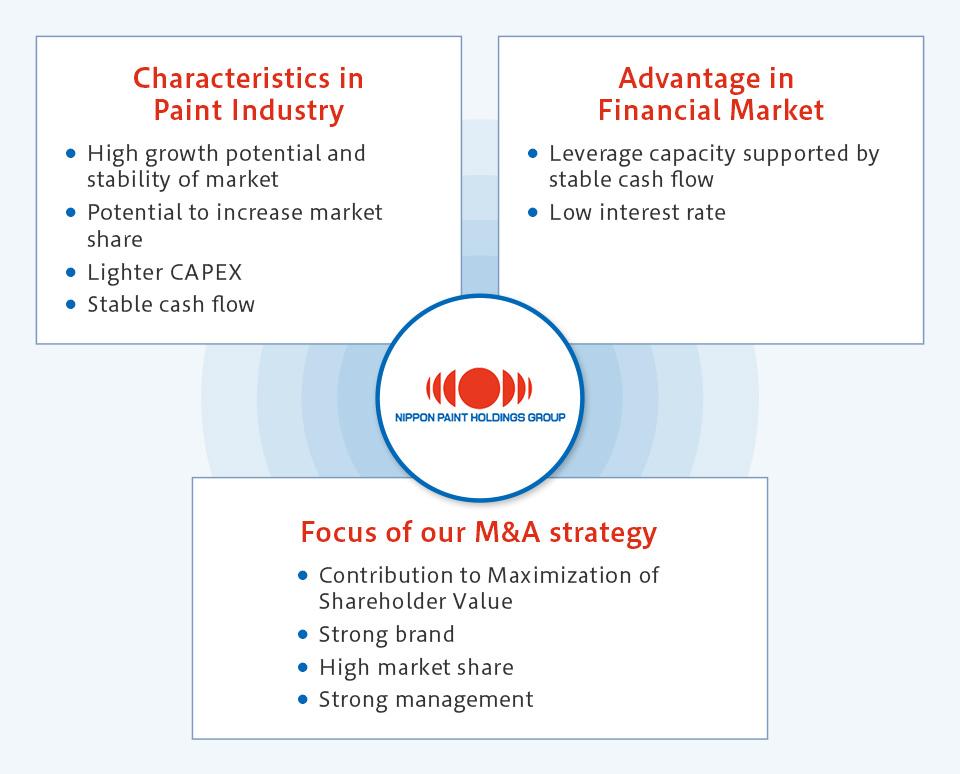 Building trust-based partnerships between the CEOs of regional and subsidiary companies
Intra-Linked structure to generate synergies through spider web management
The NPHD Group has adopted spider web management, which allows group companies in Japan and other countries to identify opportunities for synergy, not radiation type management where the head office gives all directions, in order to create new value through close collaboration between group companies.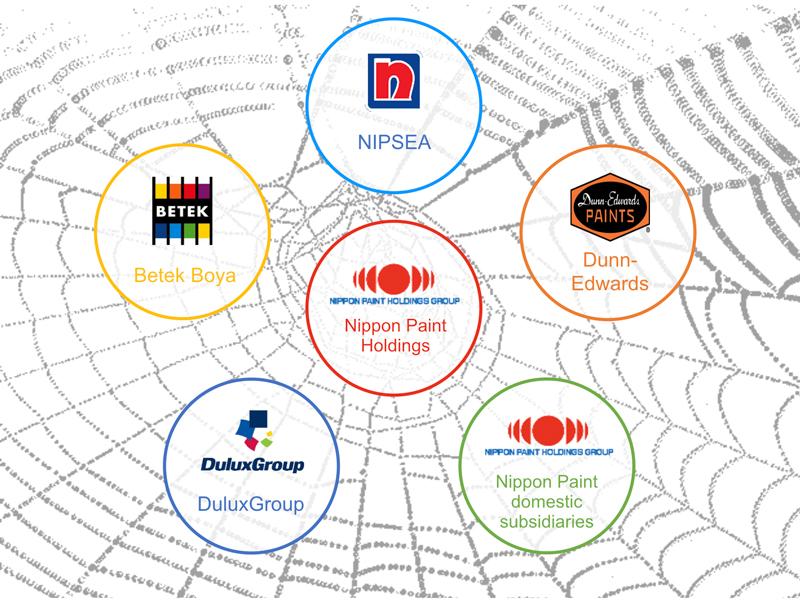 4. Advanced governance
We have taken many steps to establish a global governance structure. In 2018, we significantly increased the number of independent outside directors.
Following the March 2020 shareholders meeting, we adopted a corporate governance structure where six of our nine directors are independent outside directors (66.6% of the total), with the aim to protect the interests of minority shareholders and ensure the independence and objectivity of the board.
In addition, we shifted to a Company with Three Committees structure with the idea that there is a need to separate the role of directors from business management so that the board can concentrate on understanding strategies and overseeing the group's management. This structure will allow us to make agile management decisions in response to rapid changes in our market worldwide, while encouraging executives to accept a suitable amount of risk.
Enhancing transparency, objectivity and fairness of management

Enhancing transparency, objectivity and fairness of management
BoD will ensure the independence and objectivity by appointing 6 out of 9 directors as independent outside directors (66.6% of total)
Highly experienced 6 independent outside directors, including a female director
CEO does not belong to any of the Nominating Committee, Remuneration Committee and Audit Committee
→Protection of Minority Shareholder Rights (Role of BoD)
Separating/strengthening of supervisory function and execution
While transferring authorities to management, the BoD enhances its supervisory function
BoD will have more focus on business strategy discussion rather than each individual projects
Allows agile management decisions to deal with global issues
Strengthening global audit
Shift to the Audit Committee structure to promote functionality/appropriateness audit function
Strengthening global business audit system through Audit Committee and Audit Department
NPHD adopted a board structure where six of our nine directors are outside directors. In addition, we established three committees (Nomination, Audit and Remuneration Committees), each chaired by an independent outside director. President and CEO is not a member of any of the committees.
Our outside directors have qualities necessary to contribute to achieving our group's sustainable growth and medium- and long-term maximization of shareholder value, as well as high levels of expertise and extensive experience in their fields of specialization such as corporate management, accounting or legal affairs.
Board structure
Goh Hup Jin

Chairman
Managing Director of Wuthelam Group

Profile

Managing Director of Wuthelam Holdings (current)

Manabu Minami

Profile

Director of the Board of NPHD (current)

Former Senior Executive Officer of NPHD in charge of financial strategy

Outside Director

Nominating Committee
(Chairperson)

Hisashi Hara

Profile

Attorney of Law

Former Chairman of Nagashima Ohno & Tsunematsu

Outside Audit & Supervisory Board Member of Chugai Pharmaceutical (current)

Outside Director

Compensation Committee
(Chairperson)

Takashi Tsutsui

Profile

Former Senior Executive Officer of Nomura Securities

Former President & Representative Director of Jasdaq

Toshio Morohoshi

Profile

Former President & CEO of EMC Japan

Former President & CEO of Yaskawa Information Systems (currently YE DIGITAL)

Masayoshi Nakamura

Lead Independent Director

Profile

Former MD of Lehman Brothers/Morgan Stanley

Former Director & Senior Executive Officer of Mitsubishi UFJ Securities

Outside Director

Audit Committee
(Chairperson)

Masataka Mitsuhashi

Profile

CPA

Former Representative Director & President of PwC Sustainability

Audit & Supervisory Board Member (Outside) of FUJIFILM Holdings (current)

Miharu Koezuka

Profile

Former Representative Senior Managing Director of Takashimaya

Outside Director of Japan Post Holdings (current)
Committee composition
Nominating

Hup Jin Goh

Hisashi Hara (Chairperson)

Toshio Morohoshi

Masayoshi Nakamura

Compensation

Hup Jin Goh

Takashi Tsutsui (Chairperson)

Masayoshi Nakamura

Audit

Manabu Minami

Toshio Morohoshi

Masataka Mitsuhashi (Chairperson)

Miharu Koezuka
---
Links to related pages