Our four key strengths support our competitiveness
1. Leading player in the growing paint industry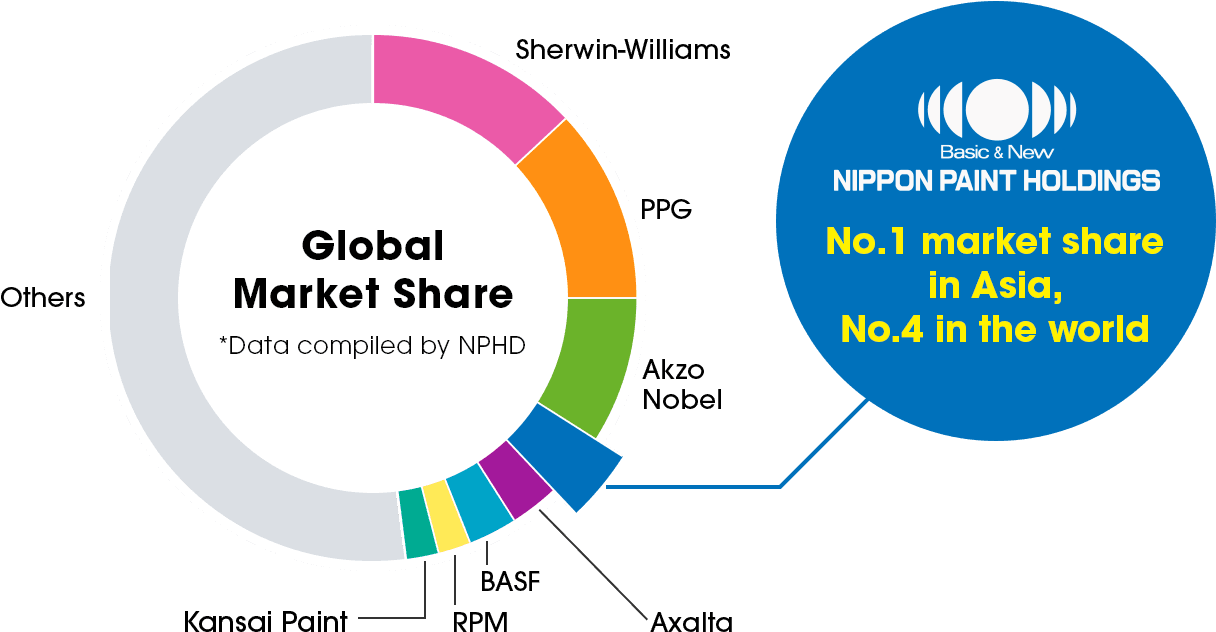 The paint industry is growing around the world, and we anticipate steadily rising demand as the global population increases. Our Group has the top market share in Asia and is the fourth largest paint manufacturer in the world, but small and medium-sized paint manufacturers represent roughly half of the global market. At the same time, the paint industry is facing increasing issues that can only be addressed by environmental technologies and financial strengths held by large companies. We believe these circumstances provide significant room for the Nippon Paint Group to increase its market share.
Demand for paint as an essential component of social infrastructure steadily rises with population growth and economic development

The paint market offers potential for sustainable growth worldwide
We expect the economic growth and accompanying urban development in China and other Asian regions to support continuous market growth through the medium and long term, mainly in the decorative paints field that supports infrastructure development such as housing and buildings.

2. Unparalleled market position in Asia and China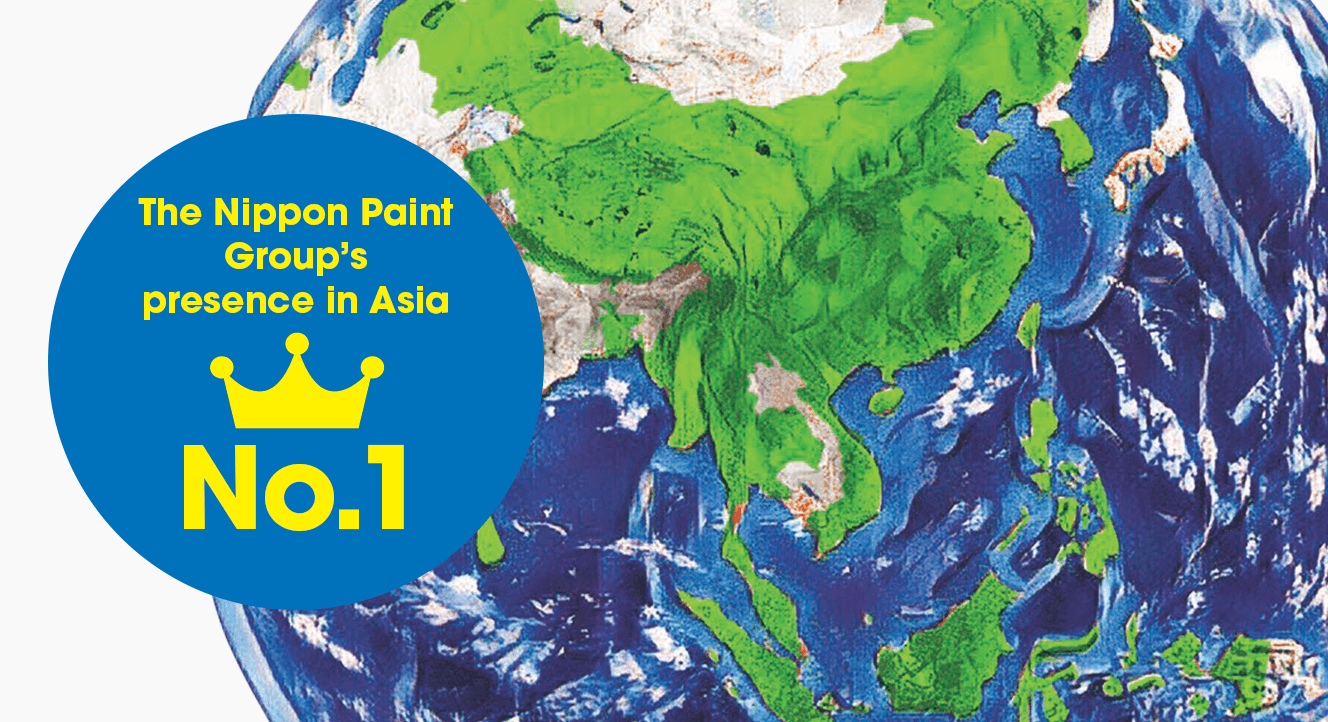 Our Group's growth is being driven by our businesses in China and other Asian regions, which account for 46% of consolidated revenue.
The Chinese paint market is the world's largest and is expected to continue rapidly growing with an average CAGR of 5.3% from 2019 to 2024. We have been leveraging the strengths of the LiBang brand and our extensive distribution network to generate high growth and establish a dominant market position in this growing market.
Boasting the No.1 market share in Asian markets and Turkey, with particularly strong growth in China enabled by localization of production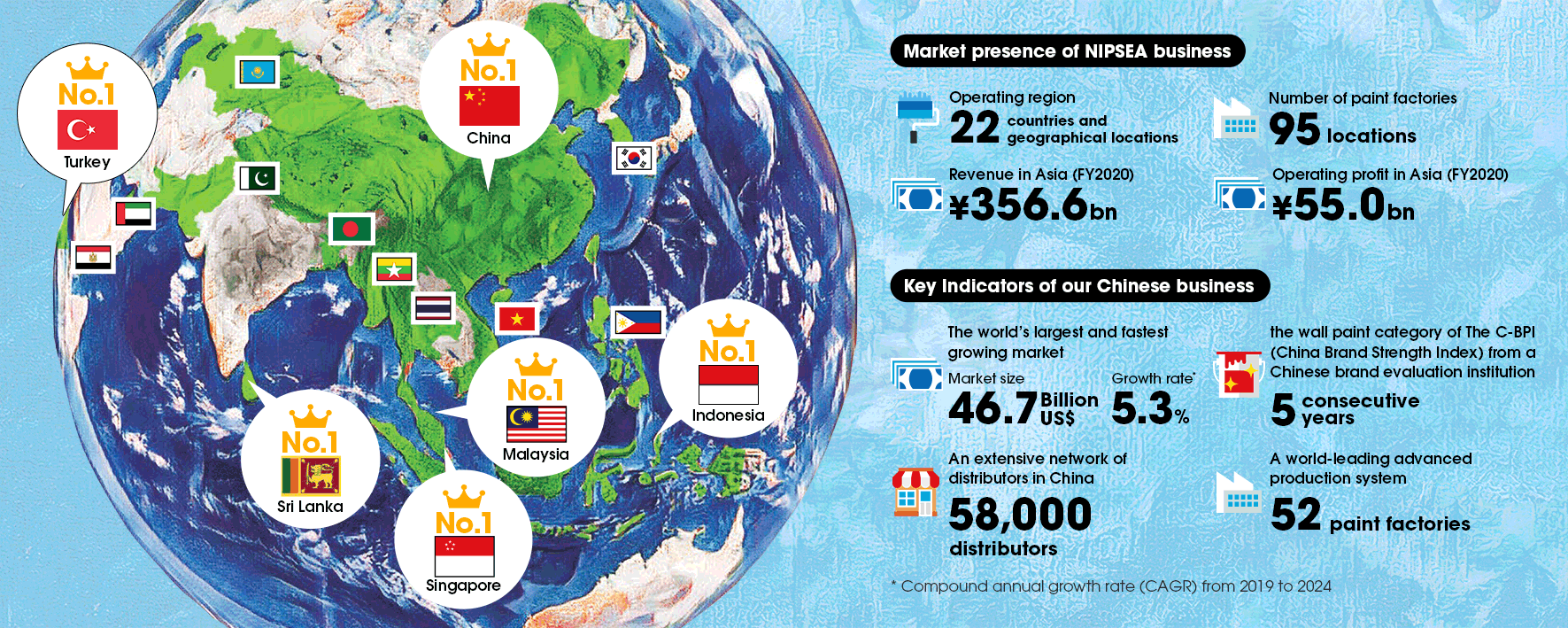 3. Powerful Partnerships supporting aggressive M&A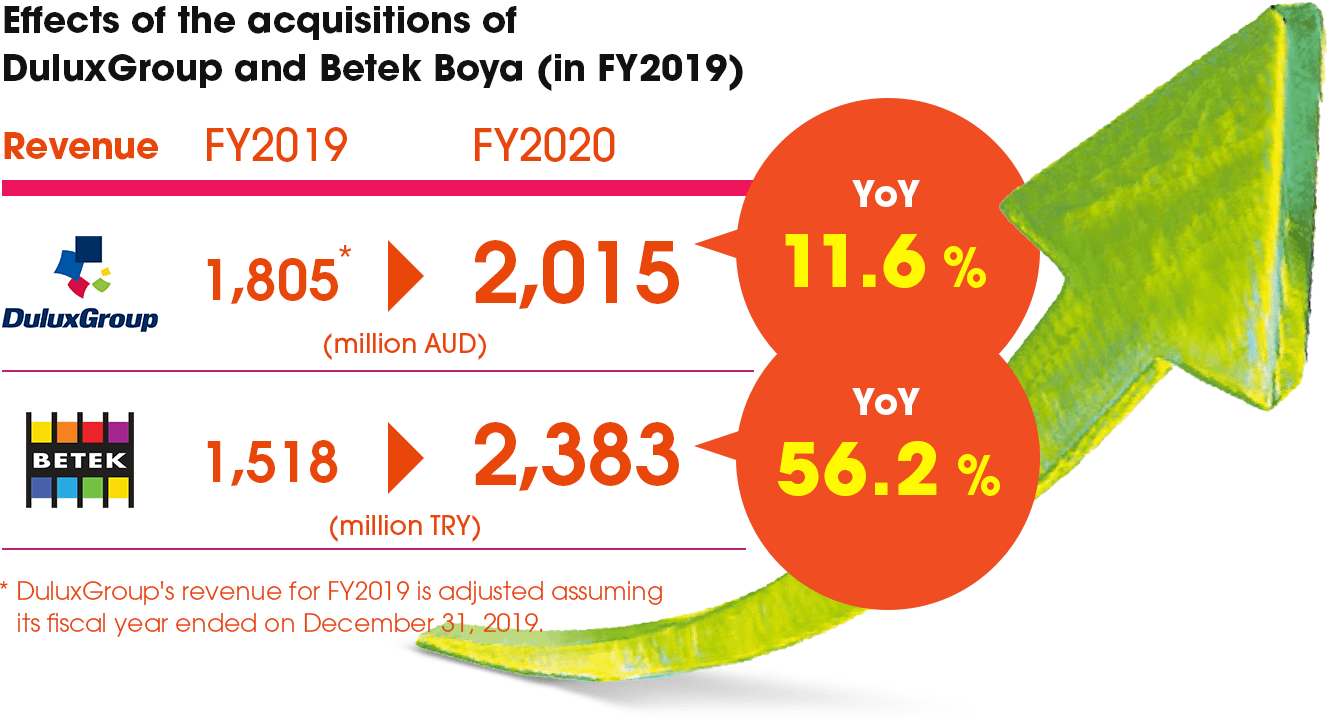 Our Group has established a solid structure to support acquired companies and their management teams and employees to bring out their best performance in local operations, taking into account the characteristics of the paint market. We will continue aggressively pursuing further synergies by taking actions including identifying new growth opportunities generated through the collaboration between the acquired companies and the existing Group companies, reducing costs by sharing raw material procurement sources, acquiring competent human resources, and sharing best practices.
Aggressively pursue new partners to join our Group taking advantage of the growth potential of the paint market and stability of cash flows
Overview of our M&A strategy

Key acquisition track record of our Group
Year
Company Name
Country / Region
Business
Reference Material
Creating synergies through trust-based collaborations with partner companies based on Powerful Partnerships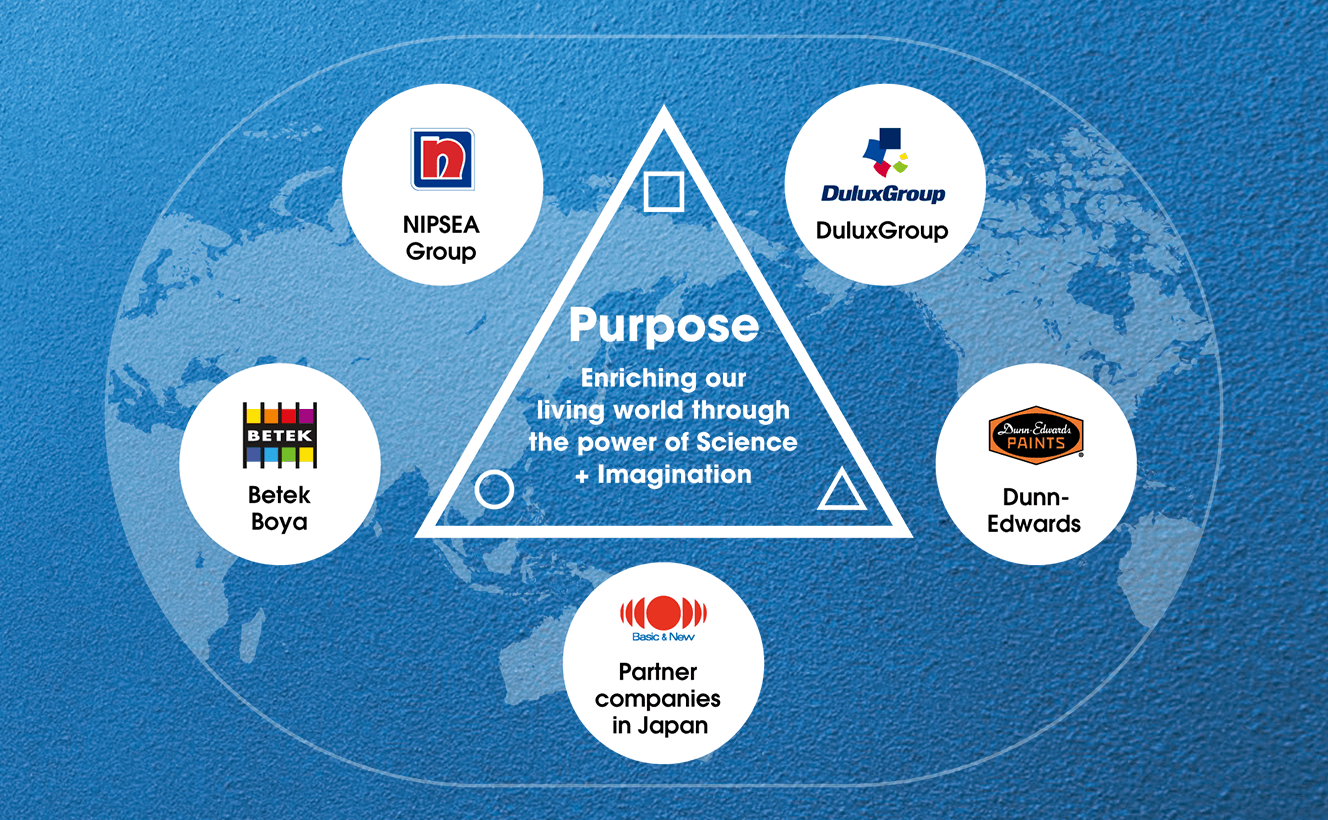 Our mainstay decorative (architectural) paints business features local production for local consumption. For this reason, NPHD exerting blanket control over the Group's wide palette of businesses would not be effective. Conversely, providing a platform for our Group companies to share and learn from each other is the most effective way to generate Group synergies.
We adopted a Powerful Partnerships approach to foster organic collaboration and cooperation among partner companies in Japan and overseas and to promote autonomous business growth guided by the Group's common Purpose. NPHD plays a governance role for the Group, including appointing and dismissing Group partner company CEOs and overseeing financial strategy, but the individual companies are responsible for executing their own autonomous initiatives to create synergies among the Group's partner companies.
Our aim is to encourage and facilitate our partner companies to create synergies with other Group companies and new additions to the Group to pursue new growth opportunities, reduce costs through joint procurement, acquire human resource talent, and share best practices to improve their businesses.
4. Advanced governance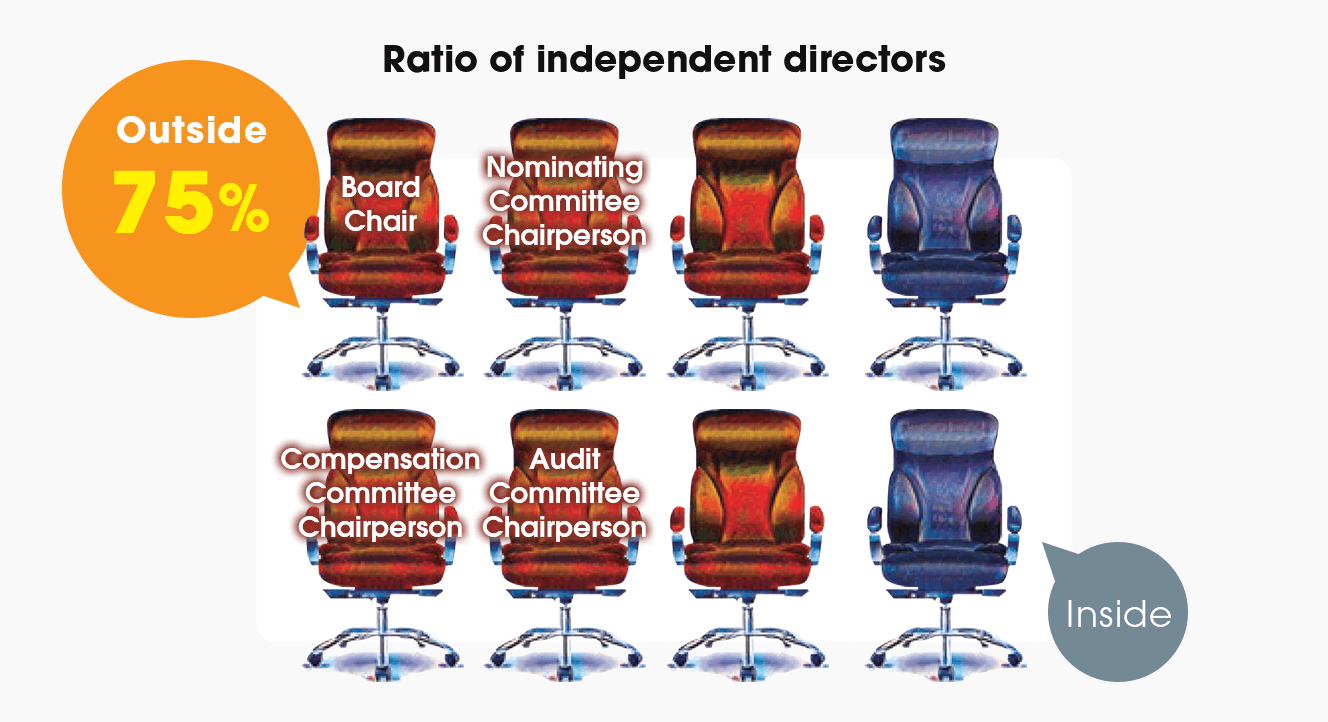 The Nippon Paint Group is building an advanced corporate governance structure to solidify its sustainable growth as a global company. We shifted to a Company with a Nominating Committee structure following approval at the General Meeting of Shareholders in March 2020. Six of the eight Board of Directors members are now independent directors. We will continue working to ensure the transparency, objectiveness, and fairness of the Board of Directors to protect the interests of minority shareholders.
Basic approach to governance
We have shifted to a Company with a Nominating Committee with the aim of enhancing transparency, objectivityand fairness of management as well as separating andstrengthening supervision of management and businessexecution. We, based on the Purpose as the significance ofexistence common to the Group and the Business Philosophy,which is its policy, promote its business and engage inongoing efforts to enhance and strengthen its corporategovernance, and thereby, will achieve "Maximization ofShareholder Value," as its ultimate objective.
Our attitude to the composition and skills of the Board of Directors (Nomination, qualification criteria, diversity, etc.)
We believe that the Board of Directors and each Committee need to be comprised of Directors with a suitable background with the aim to establish the Board of Directors that is capable of performing the supervisory function in a sustainable manner in an ever-changing business environment. We have designated the three categories of "Experience in corporate management," "Experience in global business operations" and "Experience in M&A" as required experience and the four categories of "Finance," "Legal affairs," "IT/Digital" and"Manufacturing/Technology/R&D" as required skills. We nominate Director candidates to form the Board of Directors comprised of members well balanced in terms of the above seven categories, and also appoint suitable Directors for each Committee that requires a higher degree of specialization. Experience in ESG-driven management, which has attracted attention in recent years, is included in "Experience in corporate management" as being able to supervise and make advise concerning a broad range of matters on overall management. Skills in GRC (Governance, Risk managementand Compliance) are included in "Legal affairs."
On the other hand, to ensure diverse opinions and supervisory functions at the Board of Directors, we endeavor to secure, expand and reinforce diversity based on a skill matrix without too much regard to particular attributes, such as age, nationality and gender.

Committee Composition
Nominating Committee

Goh Hup Jin

Hisashi Hara (Chairperson)

Toshio Morohoshi

Masayoshi Nakamura

Compensation Committee

Goh Hup Jin

Takashi Tsutsui (Chairperson)

Masayoshi Nakamura

Audit Committee

Toshio Morohoshi

Masataka Mitsuhashi (Chairperson)

Miharu Koezuka
---
Links to related pages