Excerpts of Sustainability Strategy from the Medium-Term Plan Progress Report Briefing
1. Front Cover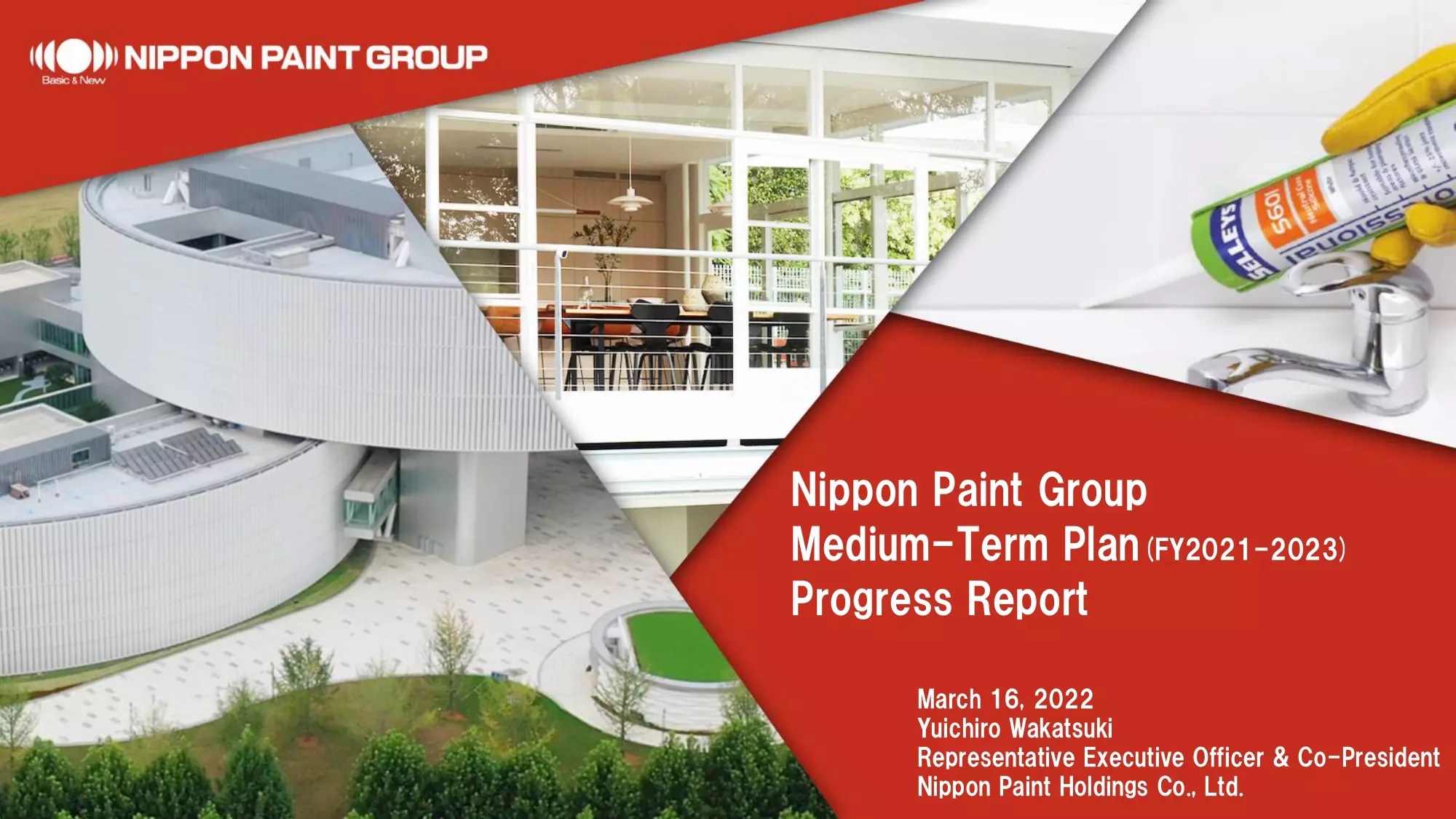 Good afternoon, everyone. I'm Yuichiro Wakatsuki, Co-President of Nippon Paint Holdings.
Thank you very much for taking the time today to participate in this progress report briefing on our Medium-Term Plan for FY2021-2023.
2. Front Cover of Sustainability Strategy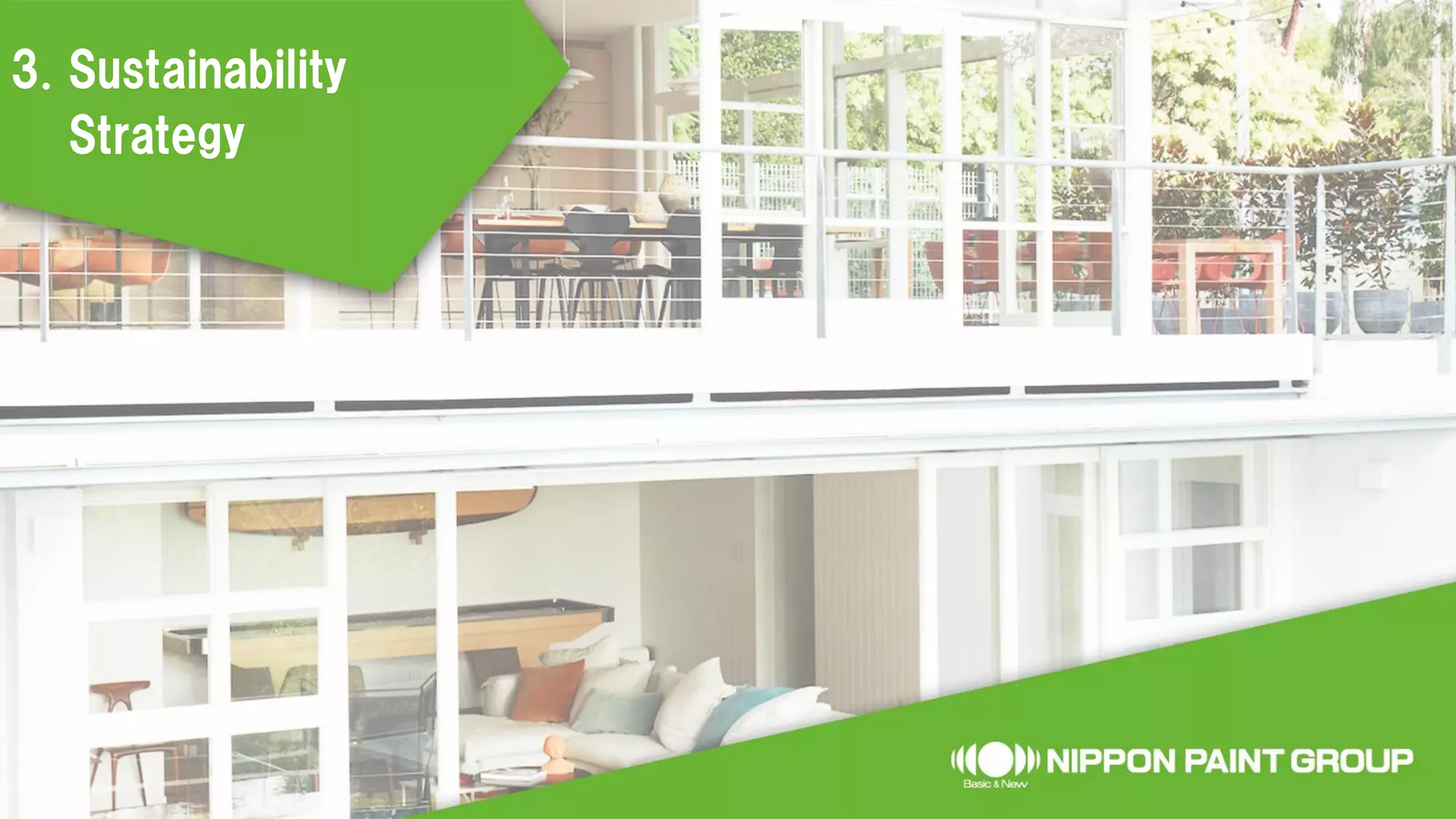 Next is an explanation of our sustainability strategy.
3. Establishing an Autonomous Sustainability Structure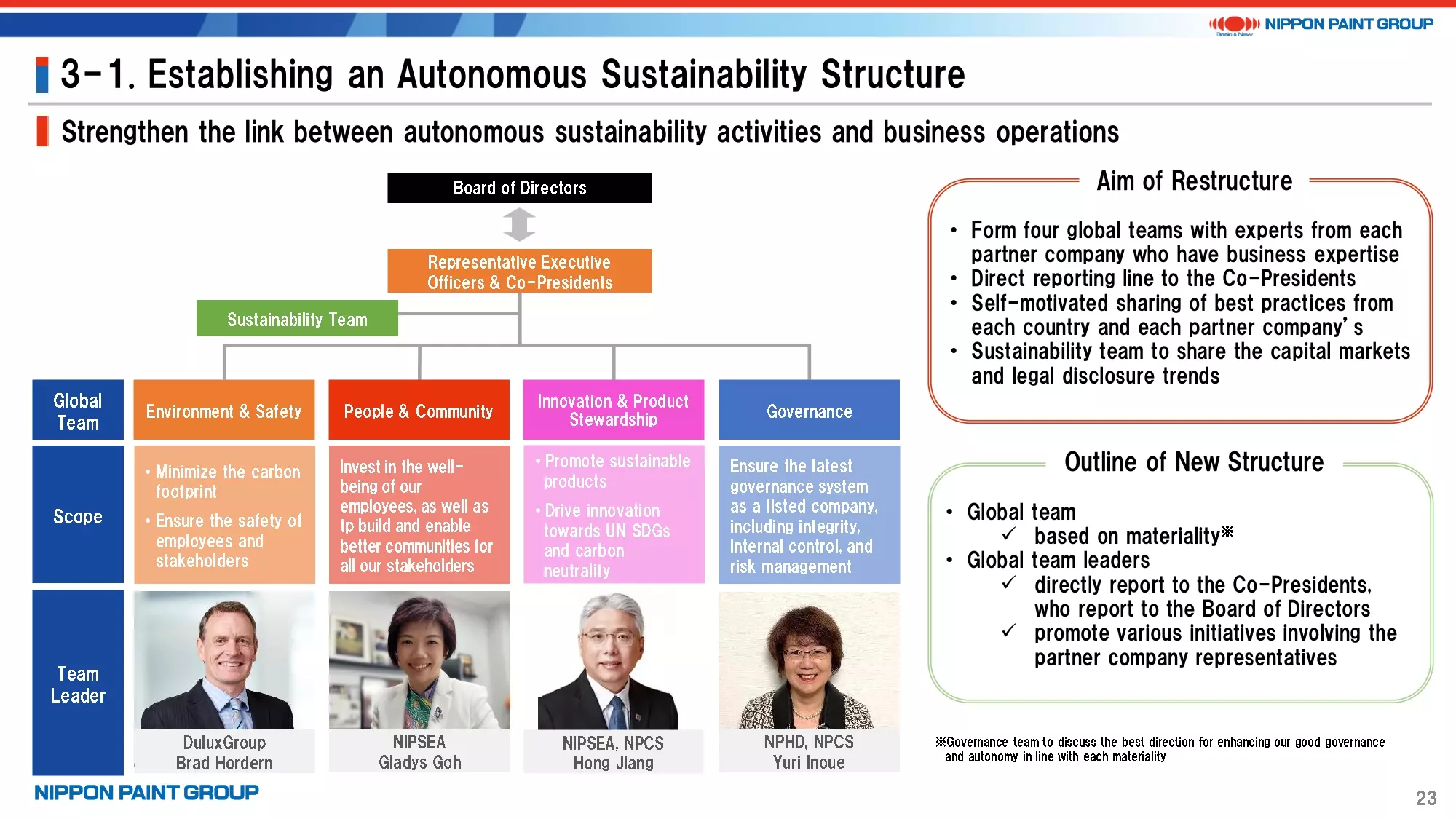 We reorganized the sustainability structure into an autonomous team structure by strengthening the link between sustainability initiatives and businesses. This replaces a structure to promote sustainability initiatives led by the holding company. We established four global teams based on materiality directly under the Representative Executive Officers & Co-Presidents. Our sustainability initiatives will be conducted on a global scale led by four global business leaders.
From the perspective of sustainability governance, each global leader directly reports to the Co-Presidents, who will then report progress and proposals to the Board of Directors whenever necessary. This structure allows the Board of Directors to supervise our sustainability initiatives.
4. Progress & Further Plan of Materiality ①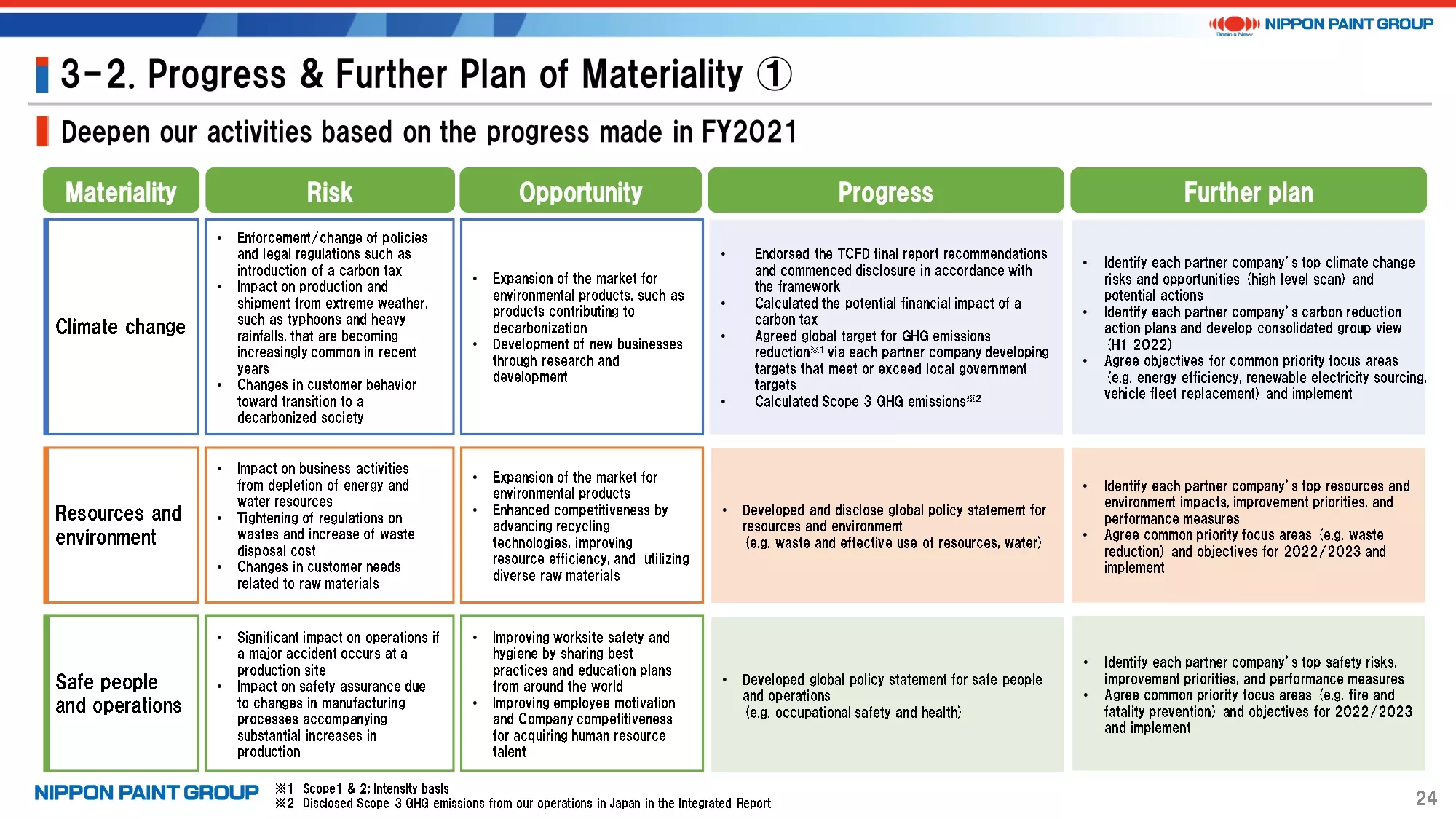 Pages 24 and 25 provide information about our progress with each materiality.
After we identified materiality in FY2020, we explained risks and opportunities related to each materiality item in our Integrated Report 2021 and have taken actions associated with those risks and opportunities.
To combat Climate Change, we commenced disclosure in accordance with the framework based on the TCFD final report recommendations and agreed with every Group partner company to establish a target for net zero CO2 emissions. I will discuss specific activities regarding these targets, such as starting to use renewable energy, later.
The bottom row of this page has information about Resources and Environment and Safe People and Operations.
5. Progress & Further Plan of Materiality ②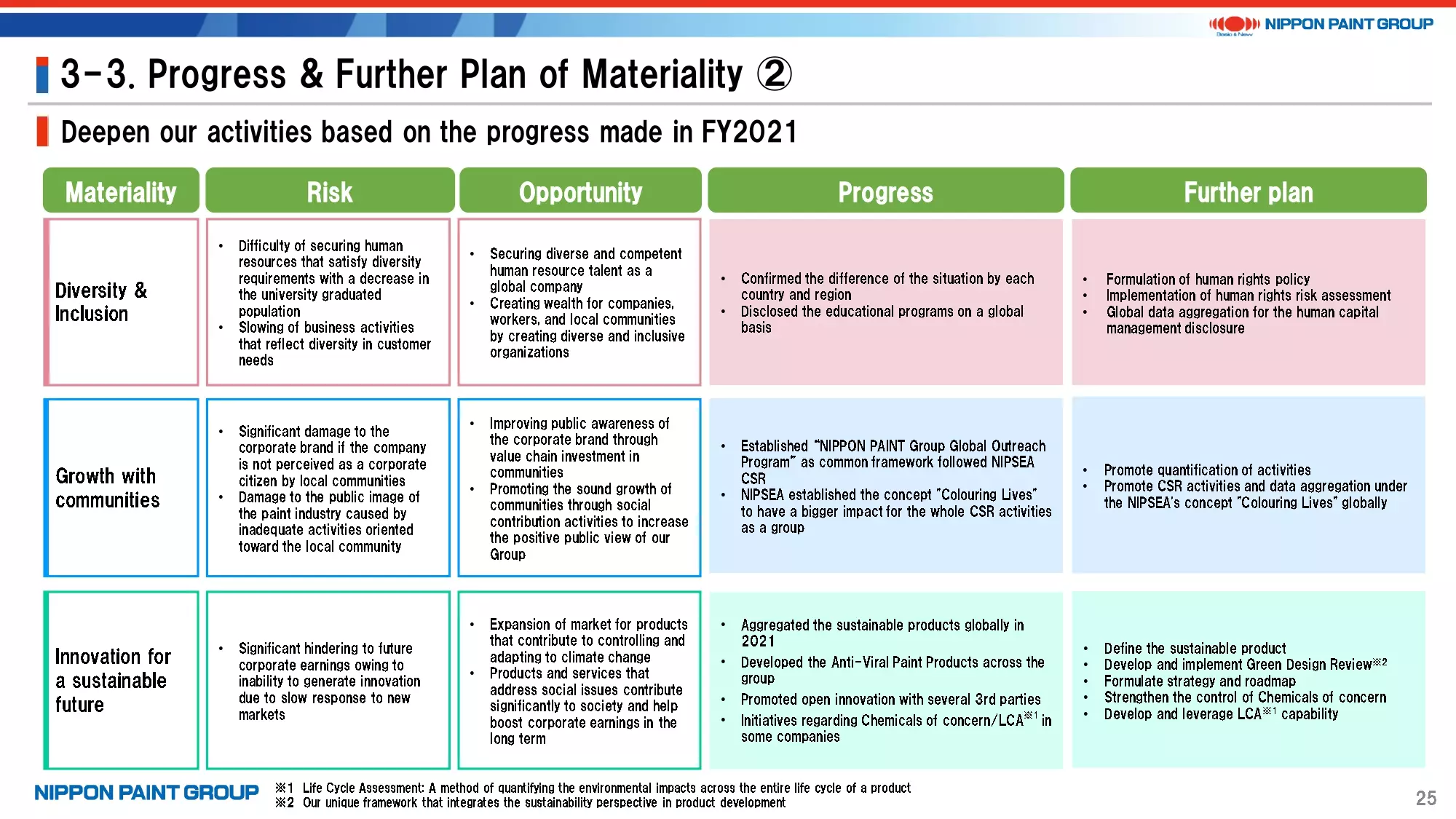 For Diversity & Inclusion, we shared information about the status of countries and regions and recognized the need to formulate a human rights policy and implement a human rights risk assessment. FY2022 marks the start of the execution phase of these initiatives. Diversity & Inclusion initiatives will include global data aggregation for human capital management in line with moves towards mandatory disclosure.
For Growth with Communities, we quantified and disclosed our social contribution activities in order to further clarify the link between sustainability initiatives and businesses. We will continue to step up these activities in FY2022 onwards.
As an example of Innovation for a Sustainable Future, we have developed and distributed anti-viral paint products through cross-functional activities throughout the Group. Going forward, we will strengthen the control of chemicals of concern and step up initiatives in life cycle assessment (LCA) and other areas where social concerns are rising.
6. Specific Initiatives for Net Zero CO2 Emissions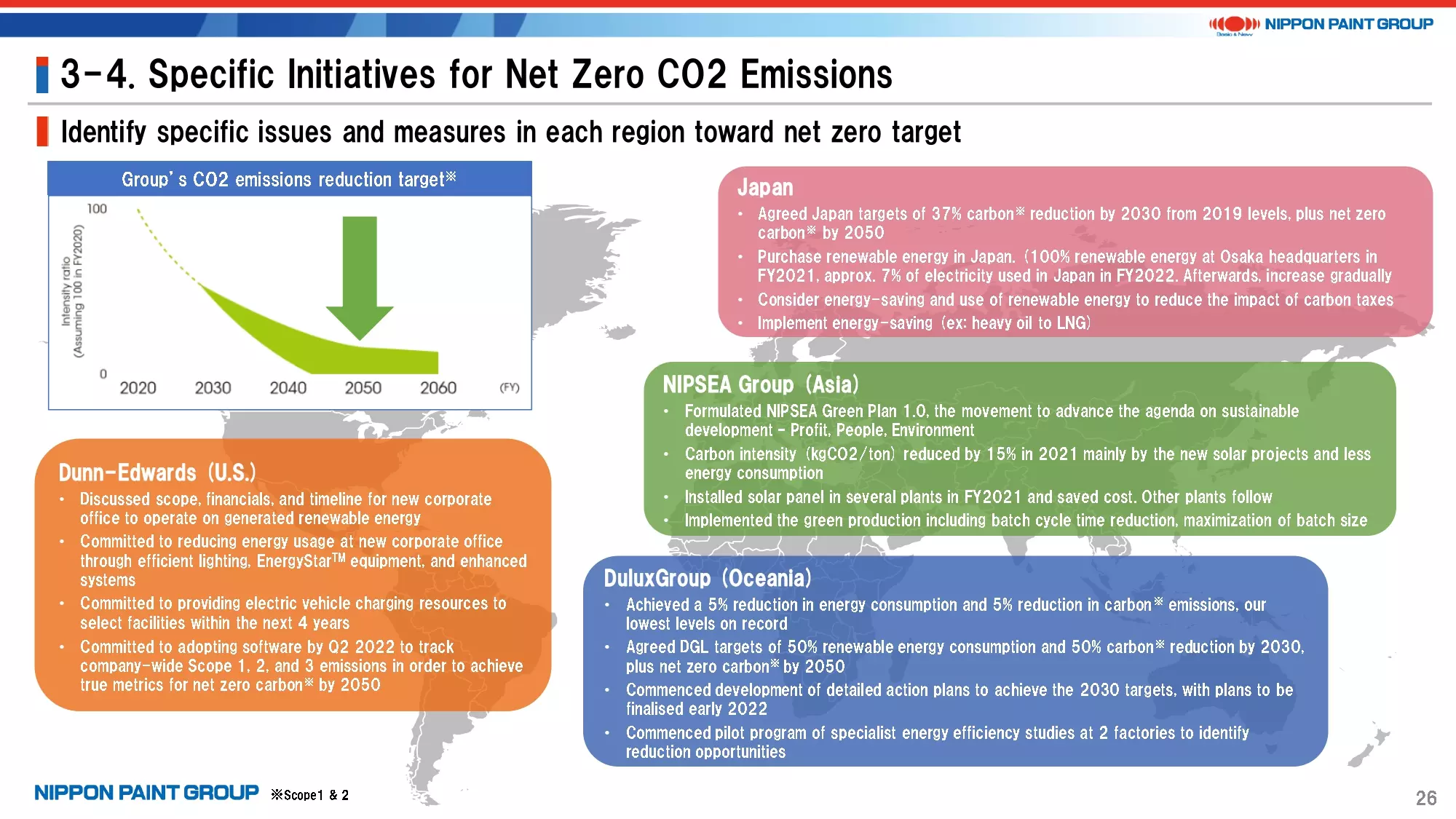 My next subject is two sustainability initiatives.
The first is our initiatives for net zero CO2 emissions. By sharing information about the initiatives in each operating region and learning from best practices while respecting the characteristics of every operating region, we will continue our cross-functional activities throughout the Group.
For instance, the NIPSEA Group has reduced carbon intensity by 15% in FY2021 by taking actions such as installing solar panels to utilize renewable energy and conducting energy saving activities.
DuluxGroup established its own target of achieving net zero CO2 emissions in FY2050, with interim targets of achieving 50% renewable energy consumption and 50% CO2 emissions reduction by FY2030, and is taking actions to achieve these targets.
Dunn-Edwards is considering building a new corporate office that operates on renewable energy.
In Japan, we started purchasing renewable energy in FY2021 and achieved 100% renewable energy use at the Osaka headquarters.
7. Specific Initiatives for Innovation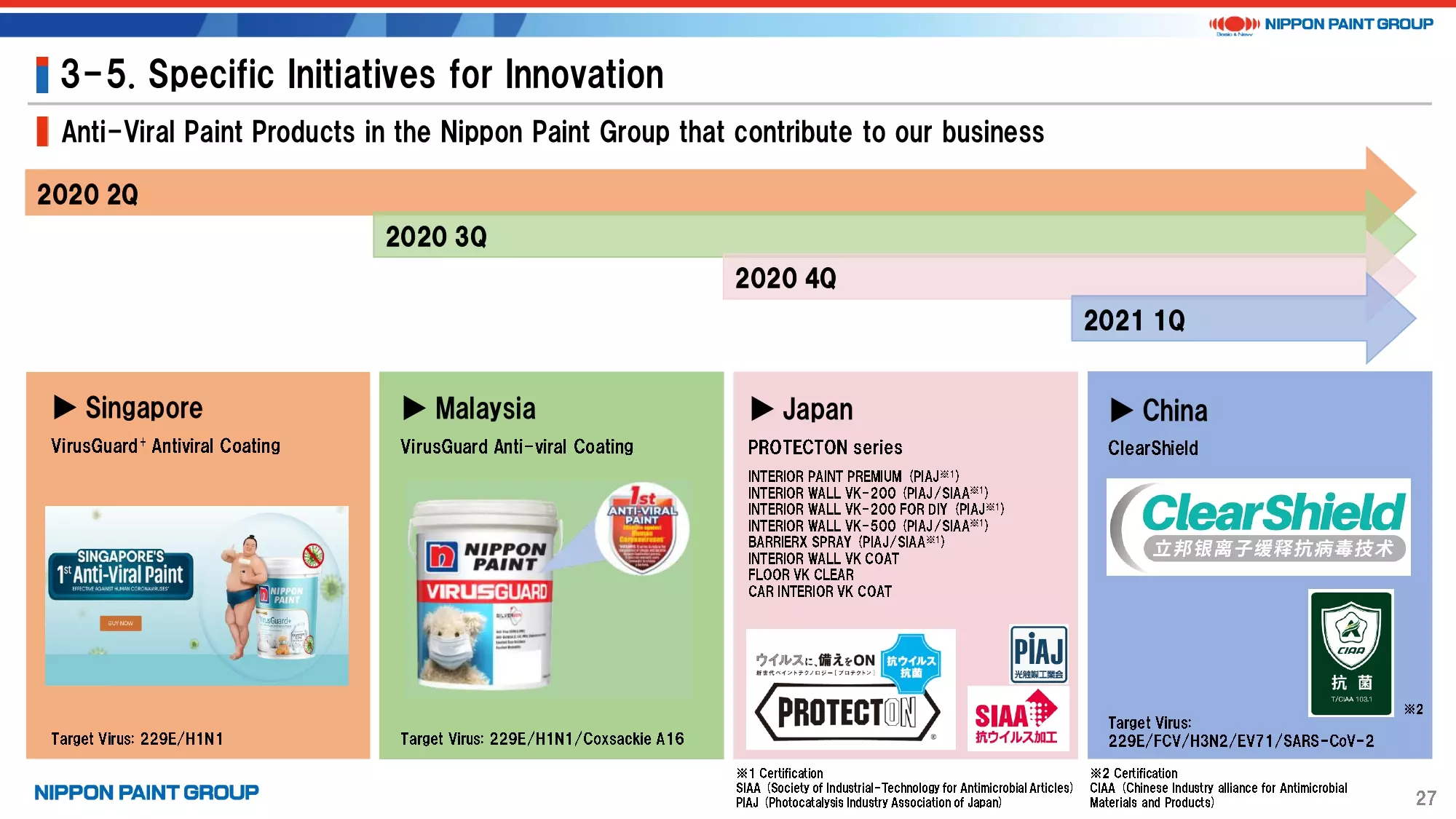 The second example is innovation initiatives.
The Nippon Paint Group has started selling anti-viral paint products in Singapore, Malaysia, and China, where NIPSEA Group companies operate, as well as in Japan, since FY2020.
We will continue to mobilize resources within the Group to develop and sell products that contribute to addressing social challenges.