Research and Development

2020.09.27
Environmentally friendly anti-fouling technology for ship bottoms
The nanodomain control technology for the coating film surface significantly reduces the fuel consumption of vessels and contributes to reducing greenhouse gas emissions into the atmosphere.
#Resources and environment
#Improving living standards
#Commercialized technologies
#Marine coatings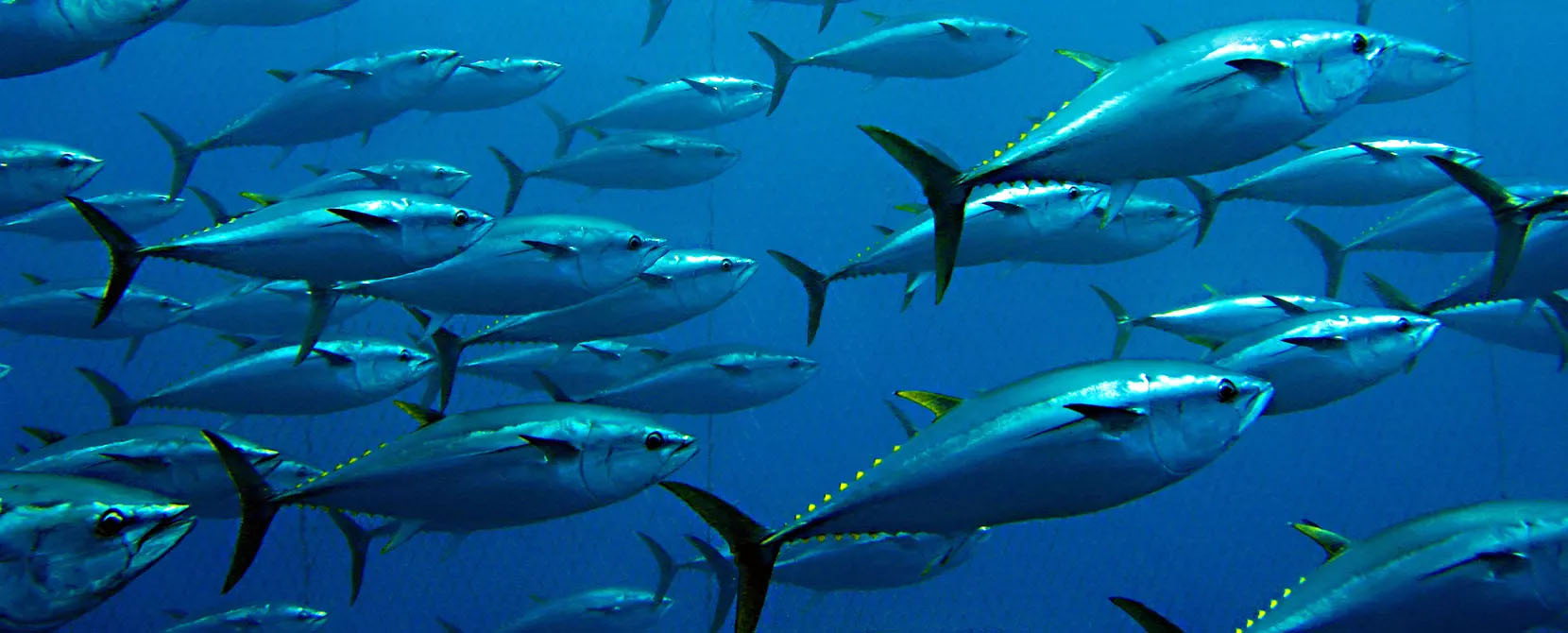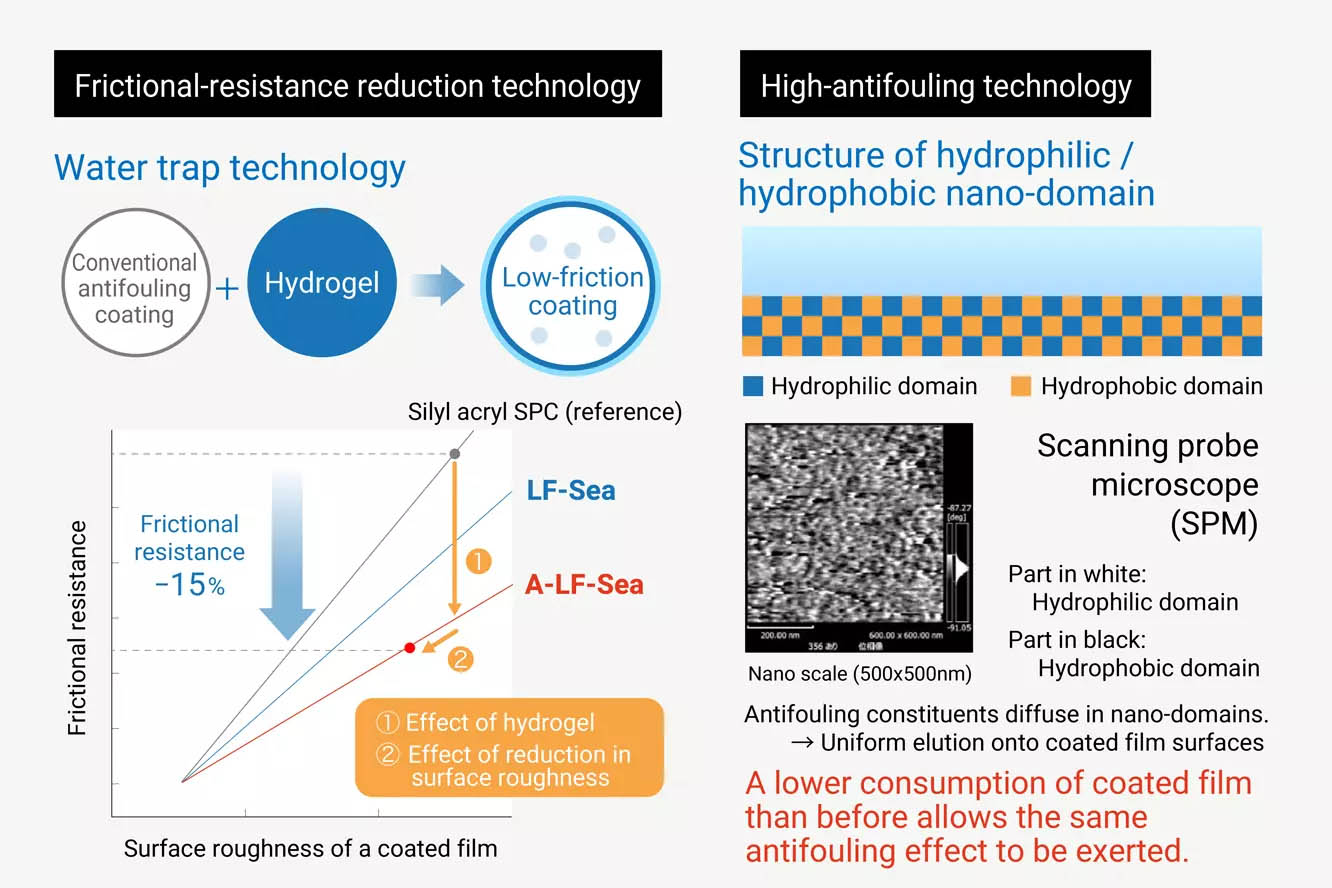 What is environmentally friendly anti-fouling technology for ship bottoms?
Ship bottoms are coated with anti-fouling paints for vessels to prevent adhesion of marine organisms, such as barnacles. Adhesion of marine organisms on the ship bottoms increases resistance and decreases the fuel efficiency and speed of vessels, causing the operational efficiency of vessels to decrease. We have been developing anti-fouling paints for ship bottoms to prevent adhesion of marine organisms and reduce the impact on the marine and atmospheric environments. This technology has two key points. First, the water trap technology using our proprietary hydrogel has made it possible to reduce fuel consumption. Second, anti-fouling performance is achieved by an unconventional solution. Most anti-fouling paints for ship bottoms are hydrolysable. They are made mainly from anti-fouling components and hydrolysable resins. The anti-fouling performance is maintained by renewing the coating film surface in water. Our new technology is designed to form a hydrophilic-hydrophobic domain using a resin and uniformly diffuse the anti-fouling component. This makes it possible to demonstrate the anti-fouling performance at a low polishing rate (coating film consumption rate).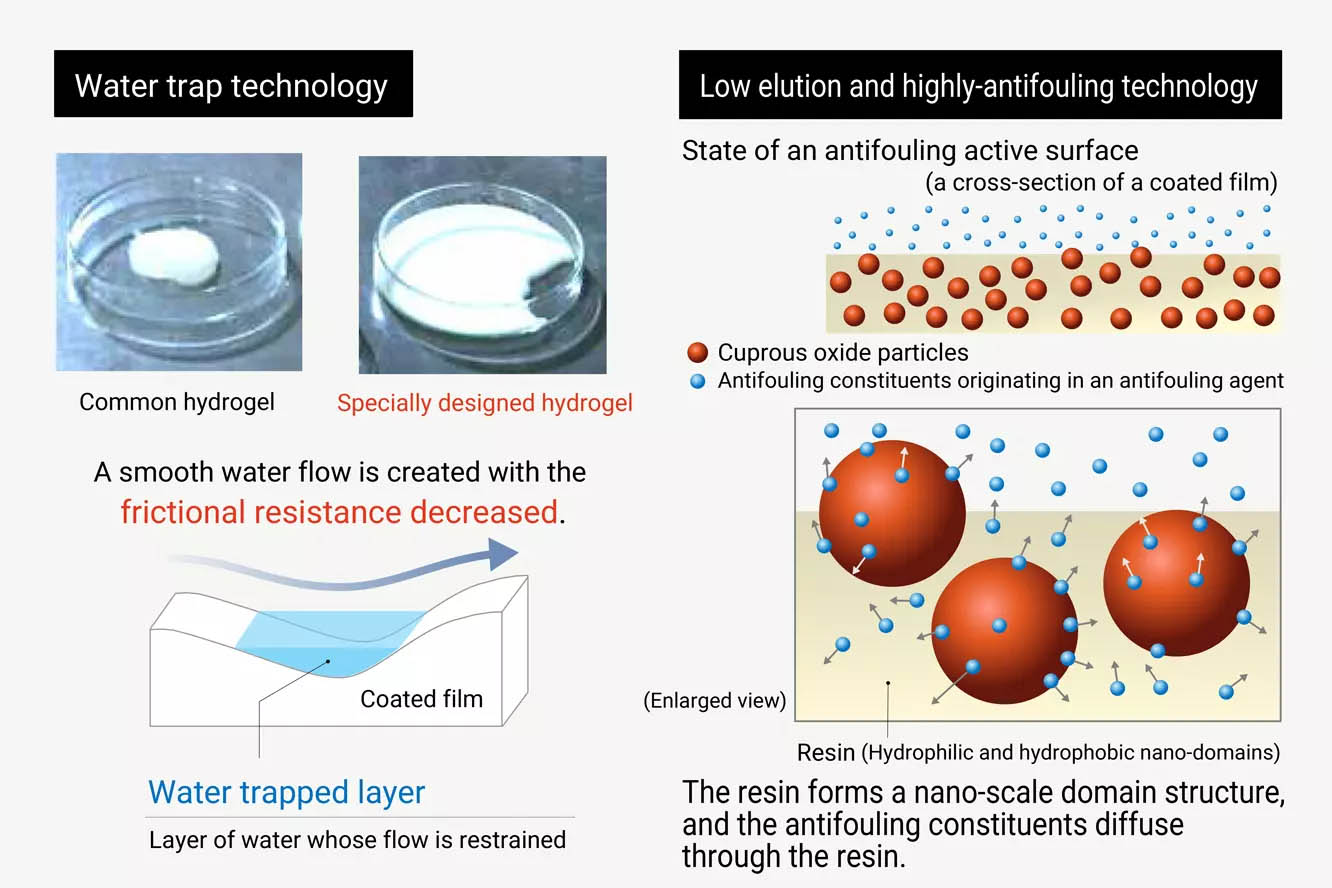 What are the key features of this technology?
Tuna are considered to be able to swim fast because their skin is covered with a thick mucous membrane, which reduces the frictional resistance with seawater. We used this as a hint to develop a specially designed hydrogel for paints. A pseudo-hydration layer is formed on the coating film surface to reduce the frictional resistance of water flow. We developed a hydrolysable resin that forms a hydrophilic-hydrophobic nanodomain structure when a coating film is formed. The anti-fouling component (cuprous suboxide) contained in the coating film is fractionated to ensure uniform elution. This has achieved a low polishing rate and anti-fouling performance.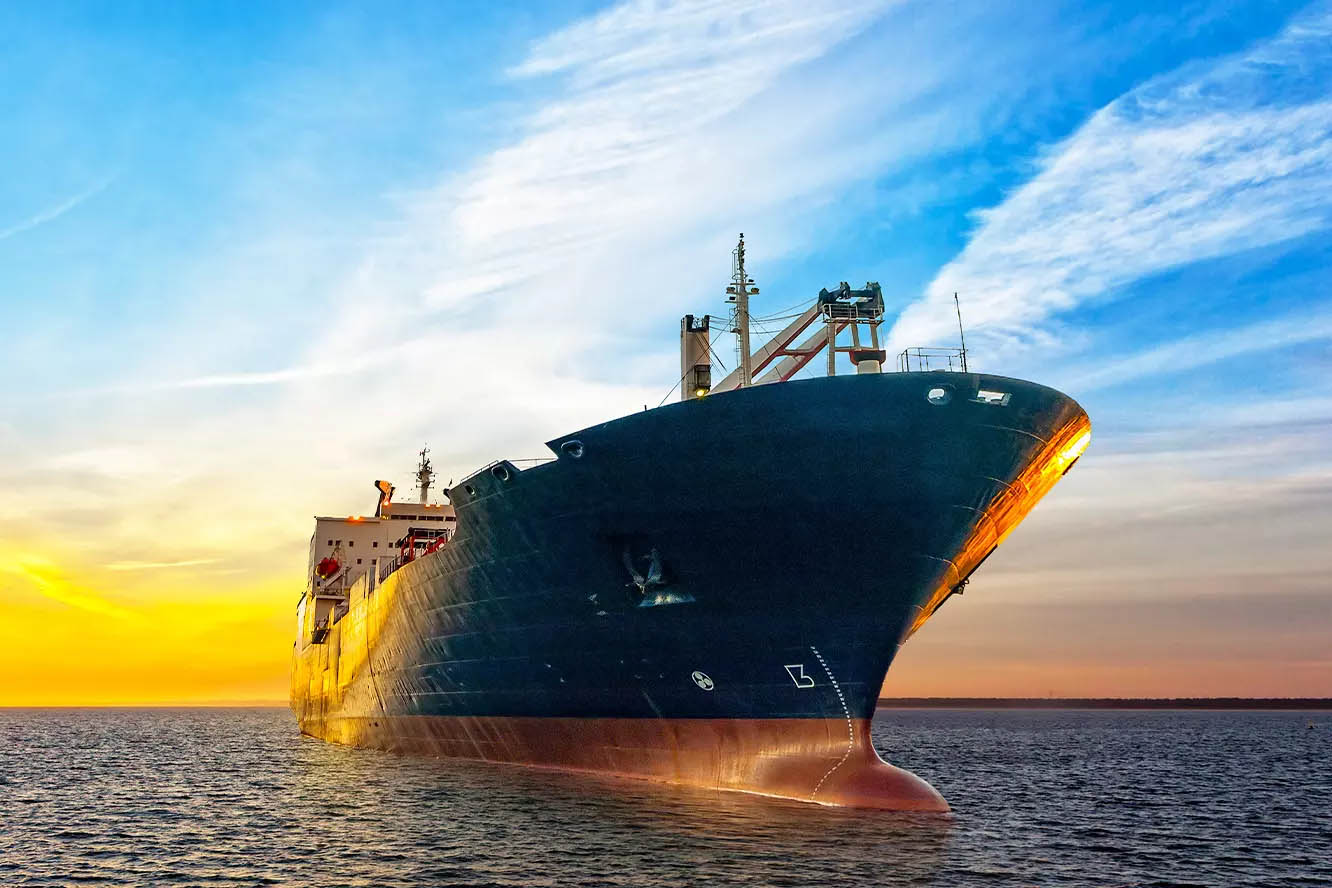 Contribution to solving social issues
The Nippon Paint Holdings Group has been developing various hydrolysable anti-fouling paints for ship bottoms. Notably, in terms of global warming, which has emerged as a problem recently, these paints can contribute significantly to reducing greenhouse gas emissions into the atmosphere by reducing the frictional resistance of vessels and significantly reducing fuel consumption. In fact, CO2 emissions from ocean-going transport vessels are comparable to emissions in Germany. We help improve the operational efficiency of vessels by offering paints for ship bottoms. We believe that this contributes significantly to improving the operation of vessels around the world and reducing the environmental impact.