Development policy and framework
Promote the development of sustainable products while pursuing innovation
Our technology mission is to drive and sustain growth and market share in Japan and globally through striving to be a leading technology organization for coatings and its adjacent markets. There are three pillars in our innovation strategy: 1) build adaptive organization; 2) develop core enabling technology competency, and 3) grow into adjacent and emerging markets. It is the implementation of our Group vision for Maximizing Shareholder Value from a technology perspective. We believe that our technology organization's culture of being customer centric, socially responsible and collaborative is the key driver to success.
Innovation for a sustainable future
In today's society, problems that are difficult to solve with past methods are becoming more and more apparent. We will strengthen our innovation output with active utilization of partnerships.
Significance of R&D activities in our paint and paint related businesses in utilizing and adding value to intellectual property
Worldwide there are 3,887 technical staff working in Nippon Paint Group, with 1,171 in Japan. They are our strong innovation power and core competitiveness for achieving sustainable business growth in the marketplace. Our technical staff are working in 50 R&D and technical centers to serve our domestic and global customers and consumers, including our major R&D centers in Tokyo and Osaka in Japan, Shanghai in China, Singapore, Melbourne in Australia, Los Angeles and Cleveland in the US, and France in Europe. In 2021, the total technology related expense in Nippon Paint Group is above 24.3 bn yen. In 2021, Nippon Paint Group has filed 200 new patents, and by end 2021 owned 1,000 granted patent rights.
Nippon Paint Group has classified its core technologies related to paint and coatings and manages its intellectual property portfolio in 10 categories, which are polymer chemistry, color science, formulation, curing technology, dispersion technology, application technology, process technology, rheology, weathering and corrosion, and measurement science. Subject matter experts are working in core R&D teams in the R&D centers, and collaborating with scientists from the global network of technical centers to support product development across the group.
Nippon Paint Group possesses a broad open innovation network with universities and academic research institutions worldwide. In 2020, the strategic research partnership with the University of Tokyo was initiated, with the University of Tokyo & Nippon Paint joint laboratory established. the partnership aims to create innovative coating technologies in three fields, infectious disease risk reduction, social cost and environment burden control, and contribution to smart society. In Singapore, NIPSEA Group has been collaborating with the research institutes of A*STAR (Agency for Science, Technology and Research) for decades. Recently, NIPSEA Group has strategically joined hands with A*STAR to develop disruptive technologies in the fields of smart surface enabling autonomous driving, and applying artificial intelligence in coating research.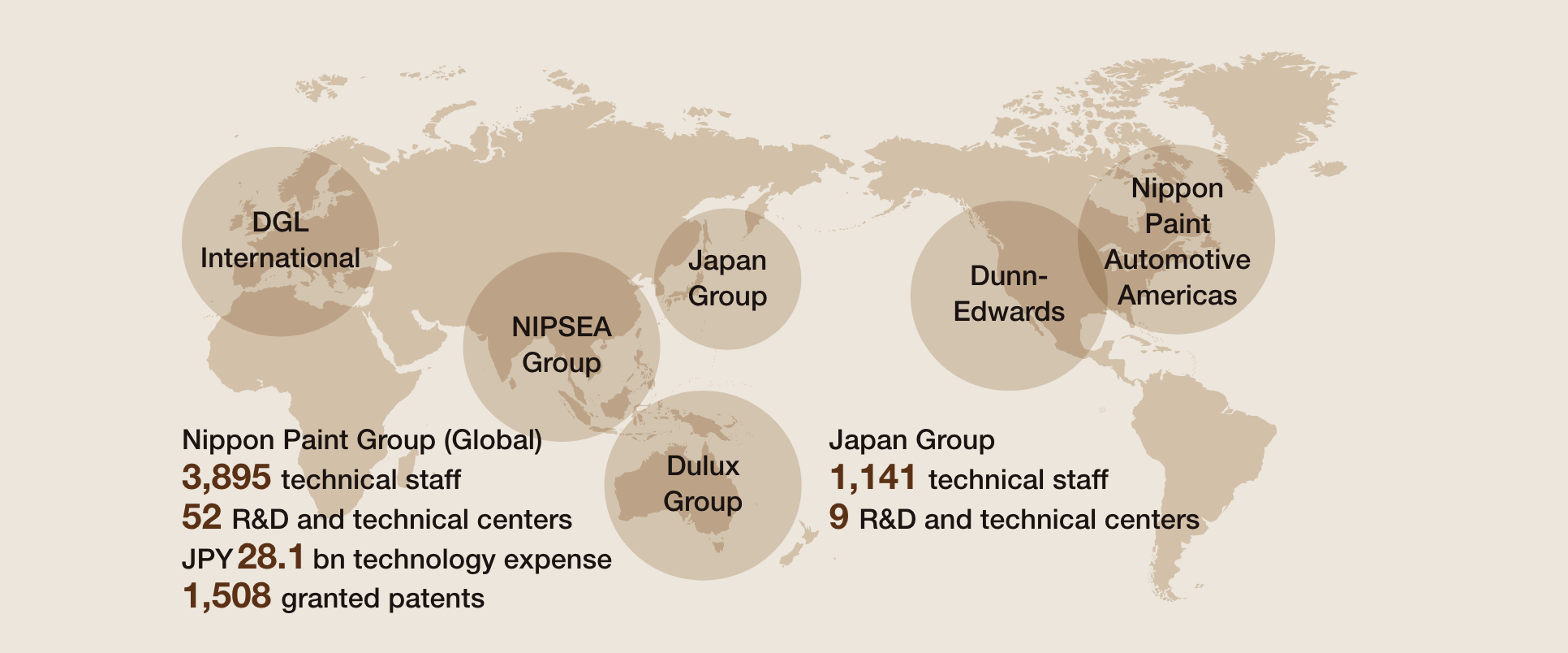 R&D organization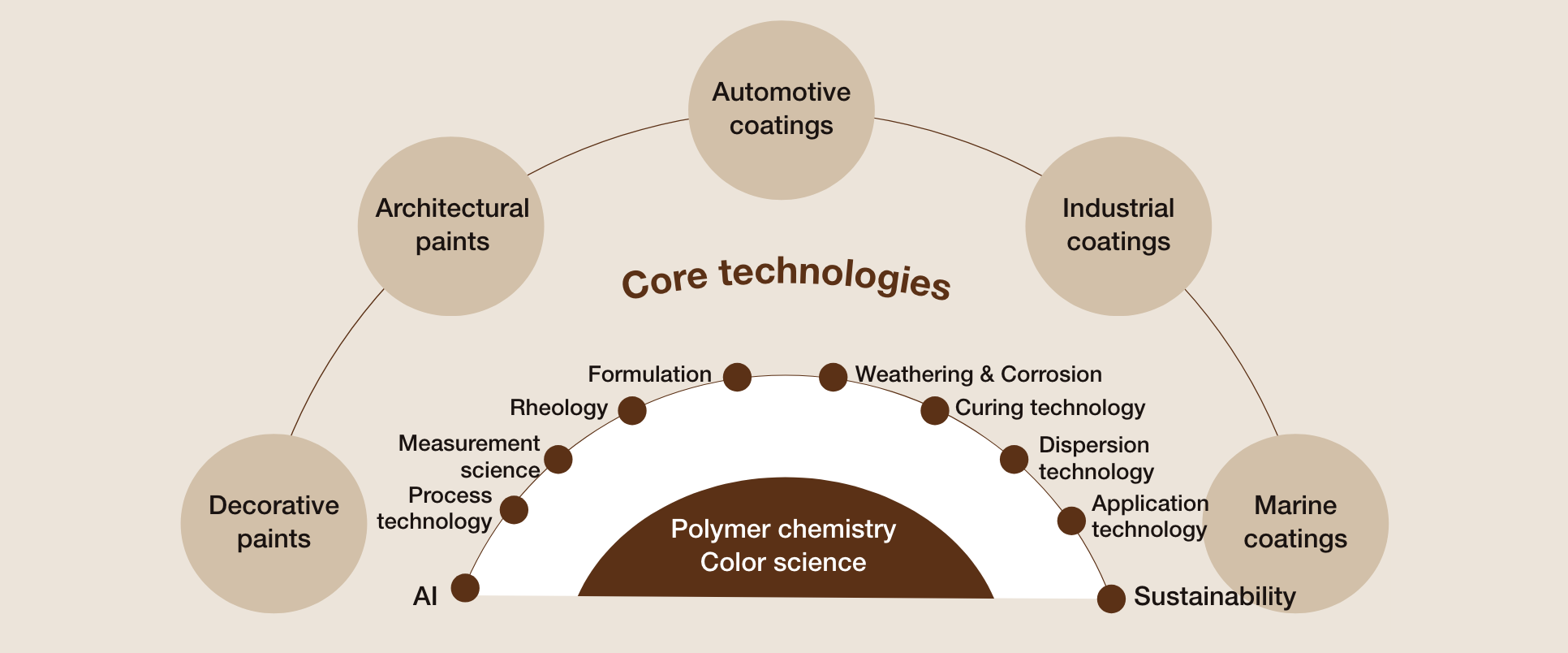 Core technologies
Innovation initiatives and programs
New Product Sales Index (NPSI)
New Product Sales Index (NPSI) is one of the indicators for measuring technology output. In Nippon Paint, we have established well-designed NPSI system with tools, to track the sales revenues generated from new products commercialized in the past three years. New products are categorized ranging from products upgrade by incremental improvement, to new-to-market products by disruptive innovation. NPSI is achieved with joint efforts of technical teams with business and supply chain operation teams, where strong collaboration brings together our commitment to Maximization of Shareholder Value.
NIPSEA Group started to implement NPSI in 2018. In 2021, Japan Group and NIPSEA Group together have achieved NPSI of 21.1%, and launched 18,000 new products in the same year.

2021 New Product Sales Index (NPSI) of Japan Group and NIPSEA Group (%)
Sustainability of our products
In Nippon Paint, we regard that sustainable features are essential factors for our products to benefit human society and thus achieve long-term business success. We define the product sustainable advantages in the principle of product life cycle and according to the framework of the United Nation's Sustainable Development Goals (UN SDGs). It is a systematical approach, covering the three main stages of product life cycle, eg.
1. product production,
2. products in application, and
3. products in service.
Furthermore, in each stage, the advantages over the mainstream products in the market are assessed by translating UN SDGs to the attributes of paint and coating products. In the stage of product production, manufacturing efficiency, raw materials, logistic and packaging, are the key aspects for assessment. In the stage of products in application, the advantages are helping customers and consumers when using the products, by reducing energy and material consumptions, chemical emissions, and chemical hazards. In the stage of products in service, the products are assessed in product service life, used in clean technologies, contribution to health and well-beings, as well as end-of-life treatment.
Under those sustainability principles, Sustainability Scoreboard for new product assessment has been developed and started implementation in NPSI systems of partner companies, Japan and China Group. In 2021, of new product sales of Japan Group and China Group together, 38% were contributed from newly developed sustainable advantaged products.
Meanwhile, Green Design Review has been developed and started implementation into R&D project management systems of Japan Group and NIPSEA. From our project portfolios of Japan Group and NIPSEA, 40% of R&D projects are in the focus areas of creating sustainable benefits according to the Green Design Review principles.