Corporate Information and Management

2021.06.02
140th Anniversary Vol.2: Renaming the Company Nippon Paint Co., Ltd. and Technological Progress (Great Transition Stages (1926-1945))
#Company Information・Management
#Careers
#140th Anniversary
#Notice

Expanded the Osaka Plant to the largest paint plant in the Orient and renamed the company Nippon Paint Co., Ltd.
In November 1927, the company was renamed Nippon Paint Co., Ltd., and in June of the year, a British-style steel-framed concrete building with an area of 1,680 m2 was built in the premise of the Osaka Plant as the largest-scale paint plant in the Orient to enhance production capacity.
During the Great Depression, which was triggered by the collapse of the New York stock market in 1929, an aggressive paint promotion campaign was carried out on a nationwide scale to survive the recession, and in November 1931, the head office was moved to Osaka.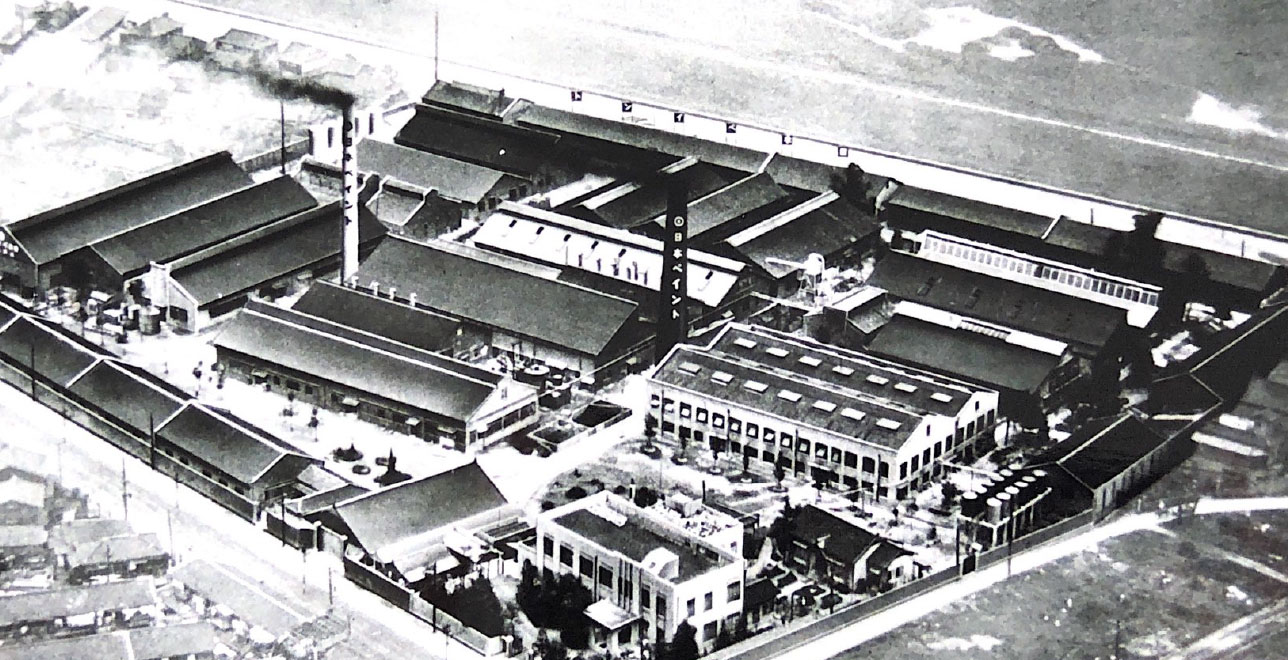 The Osaka Plant right after the large-scale expansion and renovation (June 1927) The plant, which was built with reference to a British-style plant and boasted a steel-framed concrete structure, partly two-story, and an area of 1,680 m2, became the largest-scale paint plant in the Orient.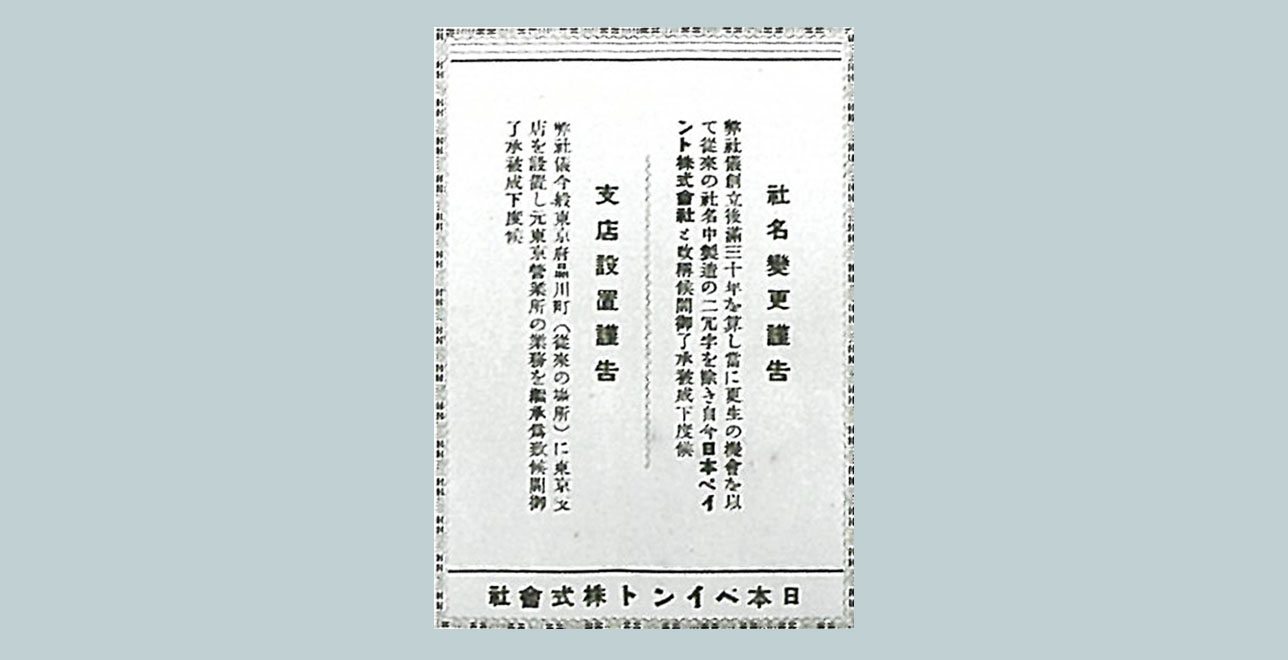 Announcement of renaming the company "Nippon Paint Co., Ltd." (published in the commercial bulletin "Paint" No. 33 in November 1927)
Development of synthetic resin paint―sprouting of a new technology that continues to this day
In the Showa era (after 1926), our technological development made great progress. In 1927, we released the unprecedentedly beautiful silver paint containing aluminum powder "Silver Coat," and we also developed the pyroxylin lacquer*1 "Nihon Lacquer," which was adopted for automobile painting.
In 1929, we developed "Koken," a phenolic resin paint that pioneered today's synthetic resin paints, in collaboration with the Osaka Municipal Technical Research Institute. The results of this research on synthetic resin paint were presented at a conference of the Japan Academic Association and highly acclaimed by various fields of industries. "Koken" was used for various applications, such as trains, furniture, utensils and electrical insulation, and became a symbolic product in the paint industry at that time
Following the launch of "Koken," new synthetic resin paints were released one after another―the phthalate resin paint "Bodelac" in 1931 and the urea formalin synthetic resin paint "Tomei" in 1933. "Tomei," developed as a transparent paint for Japanese architectural materials such as Shiraki (plain wood), was often used for the architecture and furniture of the time as well as the cabins of steamships and passenger cars. "Bodelac," developed as a paint suitable for exterior panels of railway vehicles, was recognized as a standard paint in the industry for the next 50 years.
The early Showa era was the time when the development of synthetic resin paints represented by "Koken" created a new era in the paint industry, and the technology continues even today. However, the Pacific War ended on August 15, 1945, and we lost all seven plants and five overseas bases.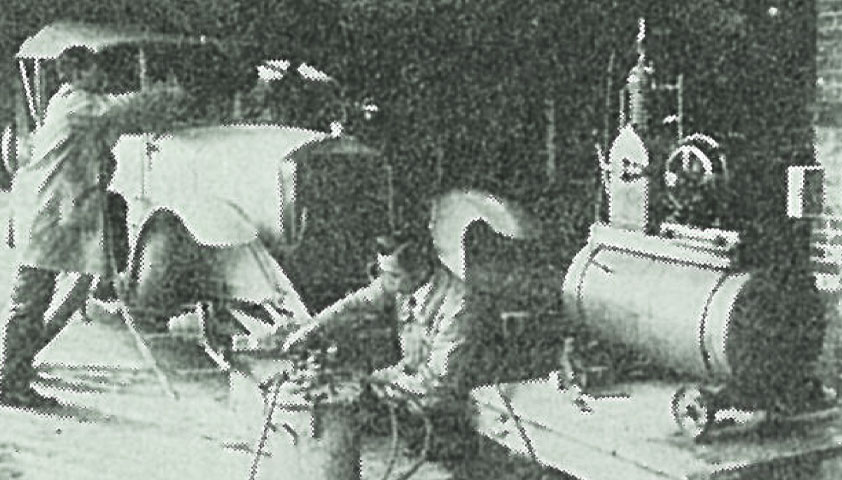 Automobile painting experiment using pyroxylin lacquer*1 "Nihon lacquer" around 1926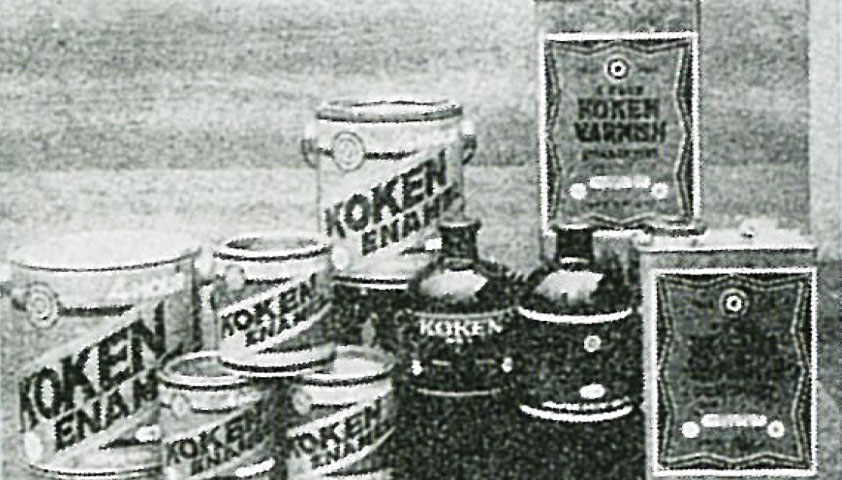 The coal acid resin (phenol resin) paint "Koken" (released in October 1929) The product was used for various applications, such as trains, furniture, utensils and electrical insulation, marking the beginning of the era of synthetic resin paint. "Koken," a product developed through joint research between the Osaka Municipal Technical Research Institute and us, was named after the two Kanji letters "Ko" and "Ken" in the Japanese name of the institute "Osaka-Shi Kogyo Kenkyusho."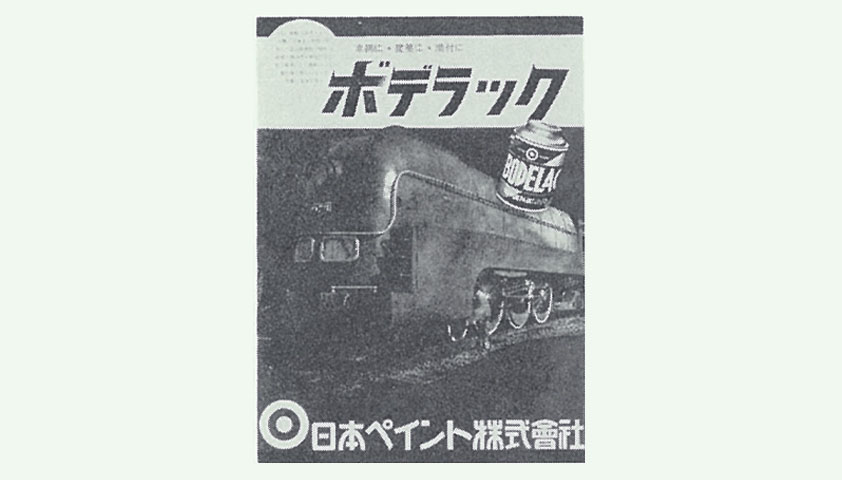 Product catalog of the phthalate resin paint " Bodelac " (released in 1931)
*1: Pyroxylin lacquer: A paint produced by dissolving nitrocellulose and resins in a volatile solvent
---
Related Links