FY2021 4Q Financial Results Conference Call Presentation Summary
1. Front Cover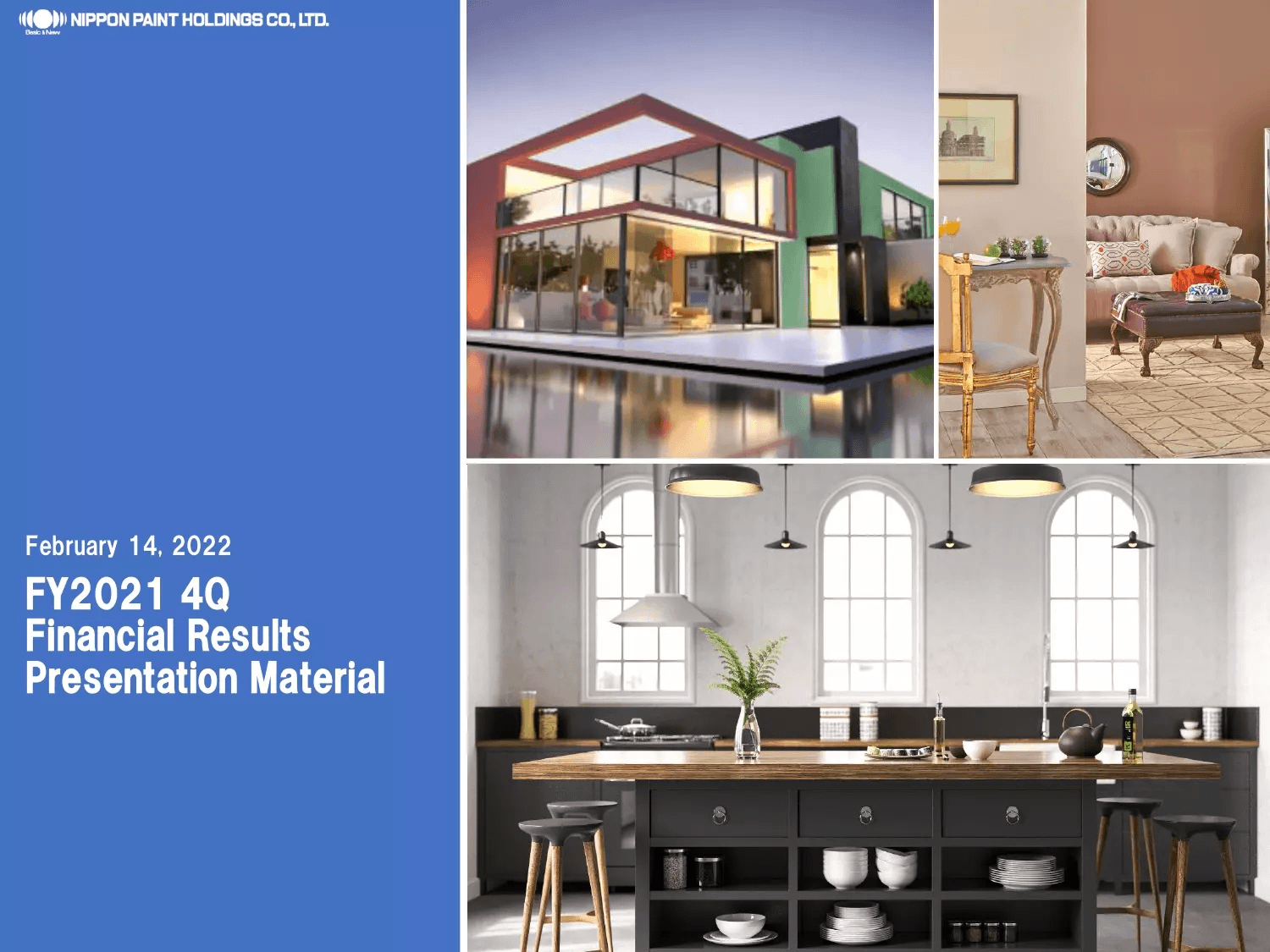 Good afternoon, everyone. I'm Yuichiro Wakatsuki, Co-President of Nippon Paint Holdings.
Thank you very much for taking the time today to participate in our conference call regarding financial results for the 4Q and FY2021 and forecast for FY2022.
2. Summary (1): FY2021 4Q Operating Results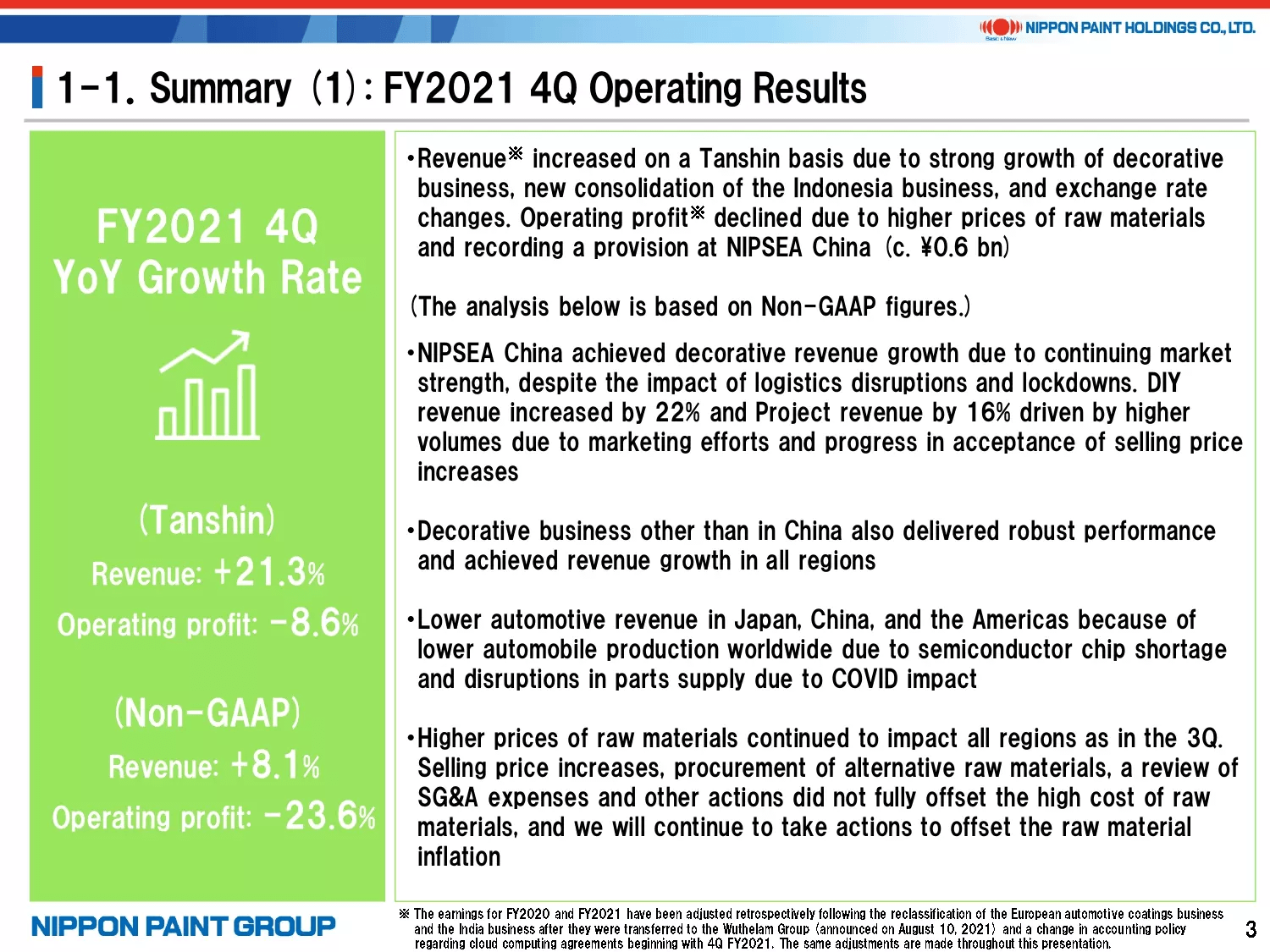 I would like to begin by summarizing the financial results for the 4Q of FY2021.
Revenue increased and operating profit declined in the 4Q both on a Tanshin and Non-GAAP basis. Revenue continued to increase in China and other regions.
The operating profit margin improved to 8.2% from 6.8% in the 3Q despite the ongoing significant impact of raw material price inflation. Even after reversing the provision recorded in our Chinese business in the 3Q and 4Q, the operating profit margin improved.
3. Summary (2): FY2021 Operating Results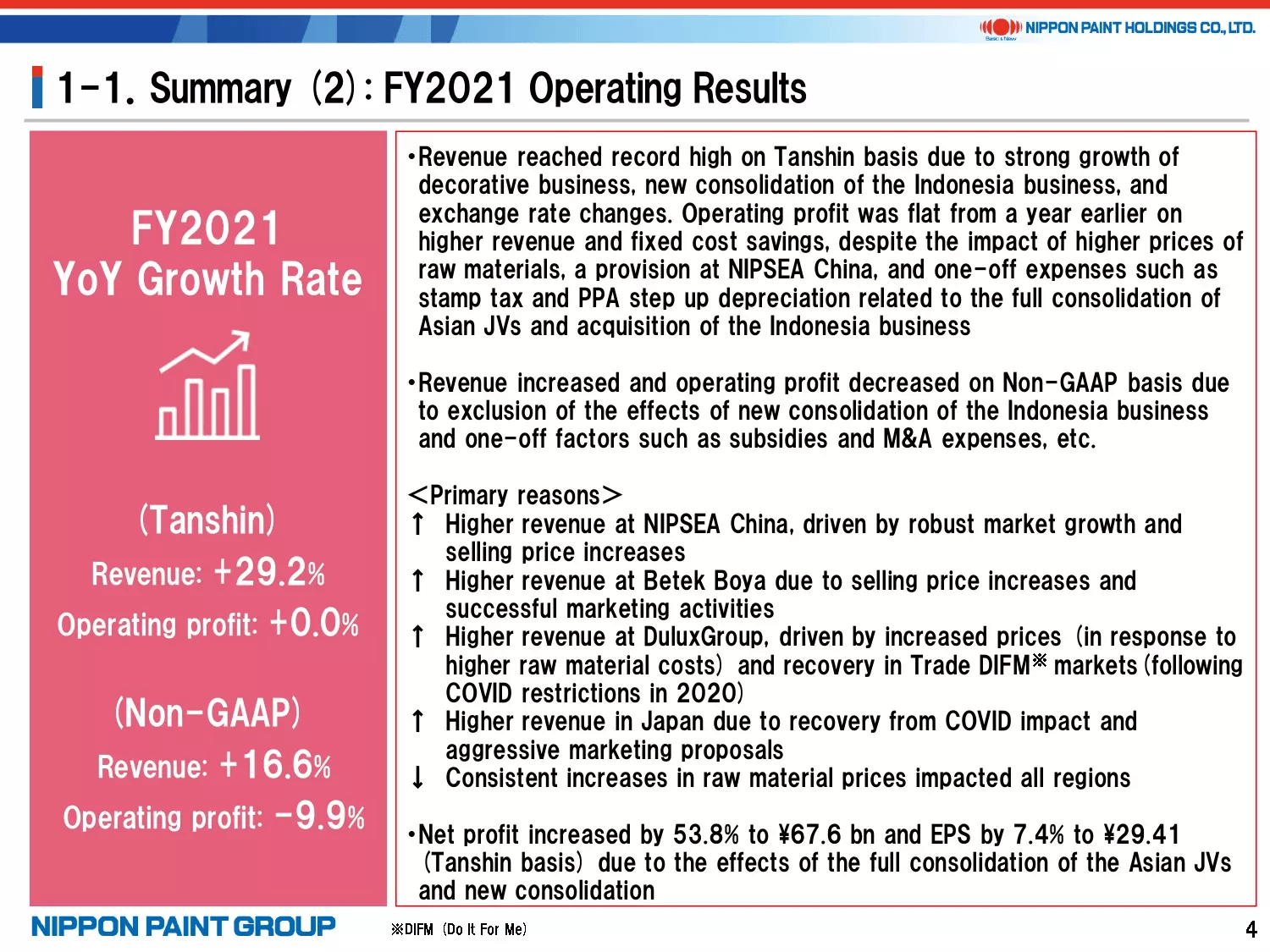 Looking at the full-year results for FY2021, revenue was ¥998.3 bn, which is roughly in line with the guidance announced in October 2021, and operating profit was ¥87.6 bn, which is nearly 10% higher than the guidance.
We achieved significant revenue growth of 29.2% from a year earlier on a Tanshin basis and 16.6% on a Non-GAAP basis that excludes the effects of new consolidations and exchange rate changes. Revenue increased by around 22% on a Tanshin basis excluding the impact of exchange rate changes of ¥54.5 bn. As you can see from these results, we are steadily delivering inorganic revenue growth through M&A, on top of building upon our strong base for organic growth.
On the other hand, the operating profit margin was flat from the previous year. However, our operating profit margin was impacted by around ¥5 bn in one-off expenses including a stamp tax related to the full consolidation of Asian JVs and one-off expenses including a provision of ¥3.2 bn at our Chinese business. The operating profit margin was not bad at all considering the adverse impact of raw material price inflation. Nevertheless, I believe our margins have much room for improvement.
Net profit was ¥67.6 bn, more than 50% higher than in the previous year when 49% of Asian JV earnings were not included in our consolidated earnings. Net profit in FY2021 also includes contributions to earnings from discontinued operations. EPS increased by 7.4% from the previous year as a result of the issuance of new shares.
4. Summary (3): FY2022 Forecast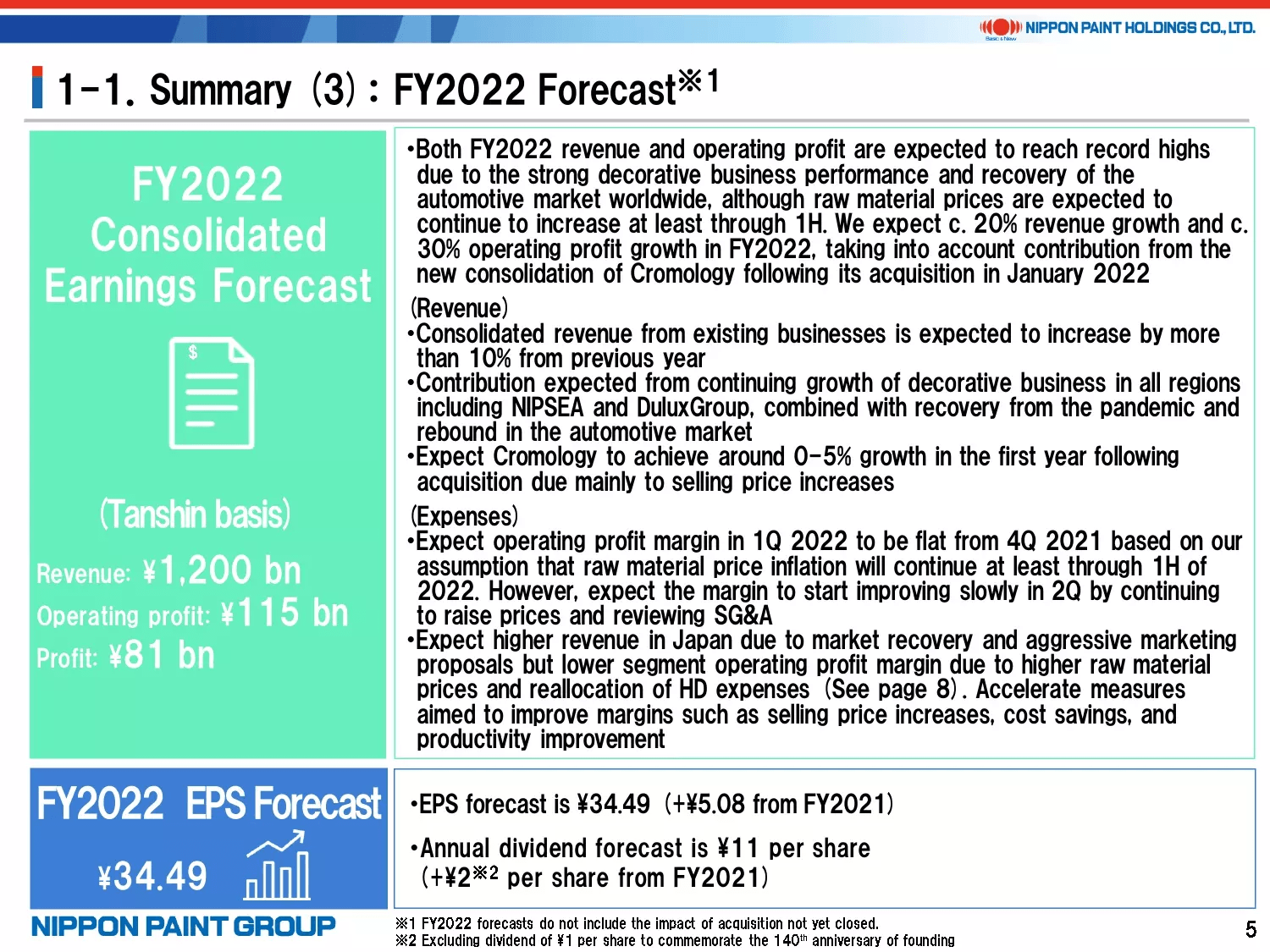 For FY2022, we forecast revenue of ¥1,200 bn and operating profit of ¥115 bn, which are increases of around 20% and 30%, respectively, from FY2021. We expect higher growth in operating profit than in revenue due to higher revenue, the absence of one-off factors, and a margin improvement. The annual dividend for FY2022 is forecast to be ¥11 per share, an increase of ¥2 from FY2021, based on our target dividend payout ratio of 30%.
I have four additional comments regarding the FY2022 forecast.
Firstly, we assume that raw material prices will continue to increase through the 1H of FY2022. Based on this assumption, our operating profit margin in the 1Q of FY2022 will be close to the level in the 4Q of FY2021 but will start recovering in the 2Q as a result of the acceptance of selling price increases. We expect higher revenue and a lower operating profit in the 1Q of FY2022 compared to the 1Q of FY2021 when our operating profit benefited from a low Raw Material Cost Contribution (RMCC) ratio at that time due to inventories of raw materials we carried over from the preceding periods. We expect our performance will be back to higher revenue and operating profit in the 2Q of FY2022.
Page 29 of the presentation shows an approximation of our outlook for revenue and operating profit growth in FY2022.
Secondly, the acquisition of Cromology, as shown in page 6 of the presentation, is expected to add slightly below ¥100 bn in revenue with an operating profit margin of around 7.5-8.5% excluding amortization of intangible assets and transaction expenses related to this acquisition. After excluding these expenses, we expect Cromology to contribute around ¥5 bn in operating profit to our consolidated earnings in the first year following the acquisition. Based on this estimate, our forecast is revenue of slightly higher than ¥1,100 bn and operating profit of around ¥110 bn from our existing businesses excluding Cromology. Note that this is strictly a provisional guidance.
Thirdly, this FY2022 forecast does not include JUB in Slovenia, whose acquisition we announced in October 2021. In November 2021, we announced the additional acquisition of stock of Chinese automotive plastic component coating companies, which are consolidated subsidiaries, in order to make these companies wholly owned subsidiaries. This change will only contribute to our consolidated net profit because the companies are already consolidated subsidiaries. The closing is scheduled for the 1H of FY2022. The contributions to our revenue and earnings from the JUB acquisition and increase in ownership of the Chinese subsidiaries are not included in our FY2022 forecast because the closing dates have not been finalized.
Fourthly, NPHD's expenses were charged to the Japan segment until FY2020 but have been reported as Adjustments since the beginning of FY2021. Our group companies in Japan have concluded service provision agreements with NPHD. Following the launch of Nippon Paint Corporate Solutions (NPCS), we decided to review the allocation of expenses and more rigorously separate expenses incurred by our businesses in Japan and expenses incurred by NPHD, thereby clarifying NPHD's functions. We expect that this accounting change will result in an increase in expenses allocated to the Japan segment and a decrease in expenses allocated to Adjustments by the same amount.
5. Summary (5): Raw material market conditions and impact on our operations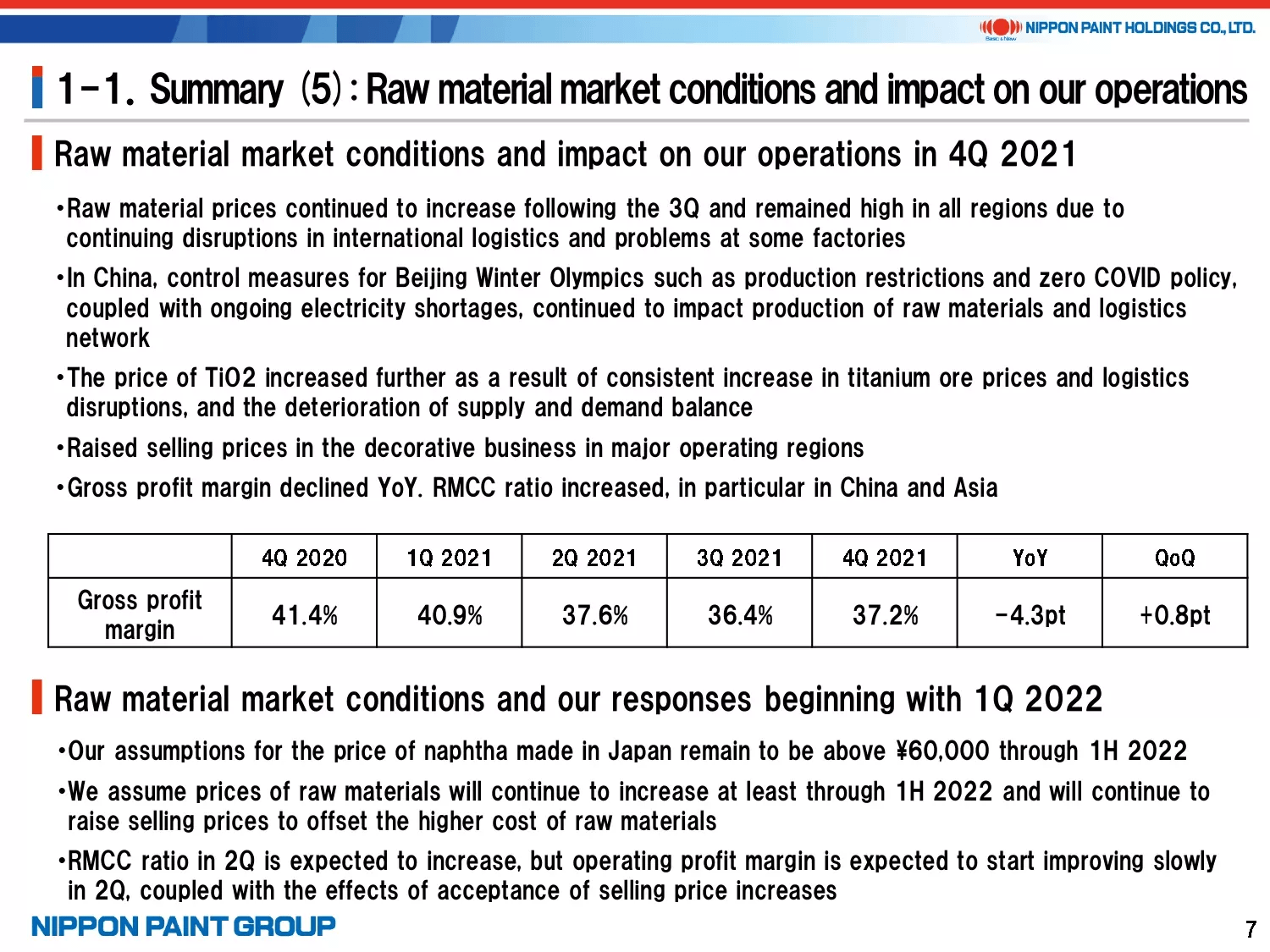 The market conditions for raw materials are as I explained earlier.
Our gross profit margin declined by 4.3 pts from the 4Q of FY2020 but improved by 0.8 pts from the 3Q of FY2021.
6. Major Topics After Announcement of FY2021 3Q Results①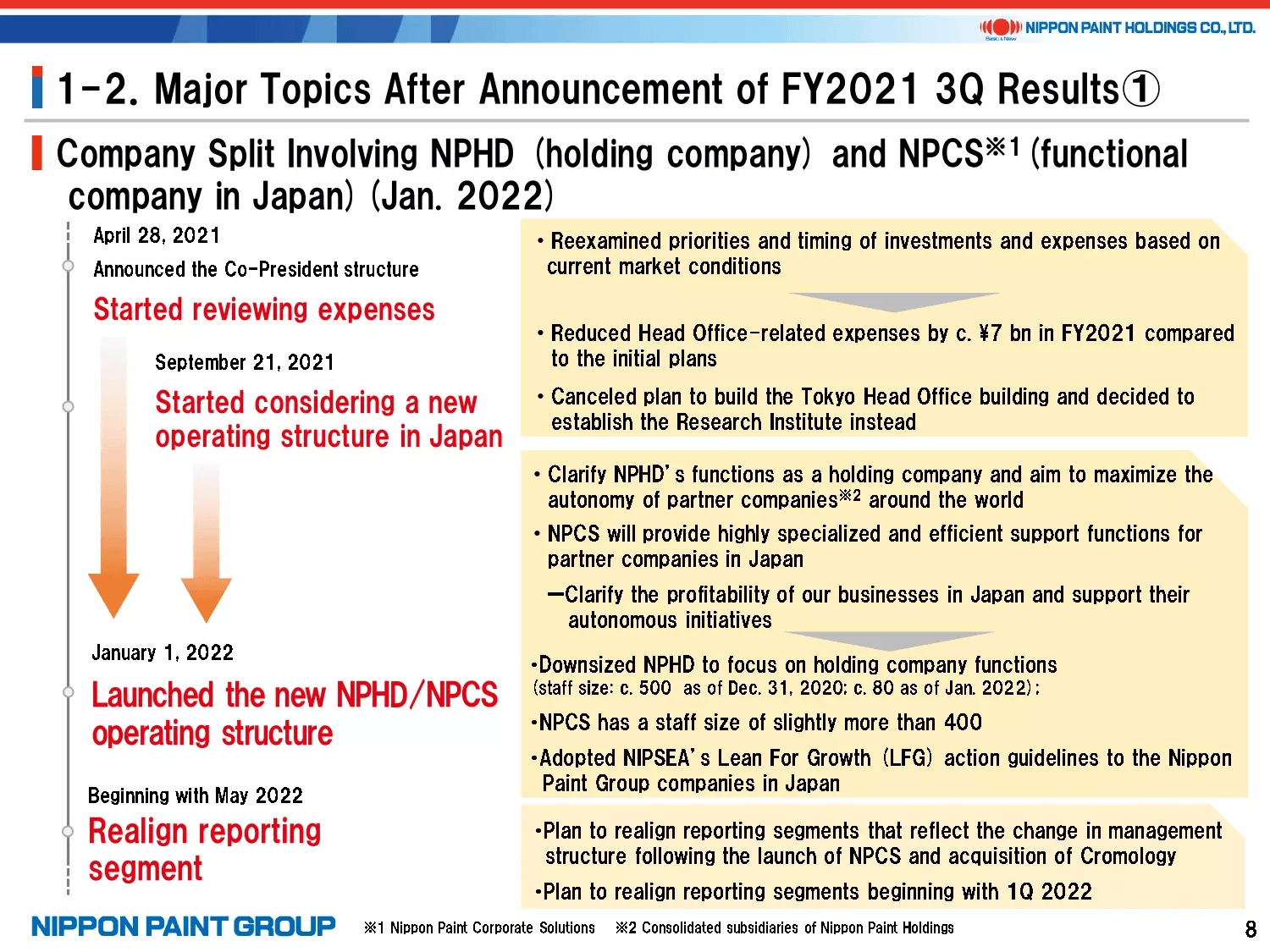 The company split involving NPHD and NPCS is as we announced last year.
We plan to realign our reporting segments to include Cromology in May 2022. We will use a disclosure format which continues to allow YoY comparisons. I would appreciate your continued feedback.
7. Major Topics After Announcement of FY2021 3Q Results② -(1)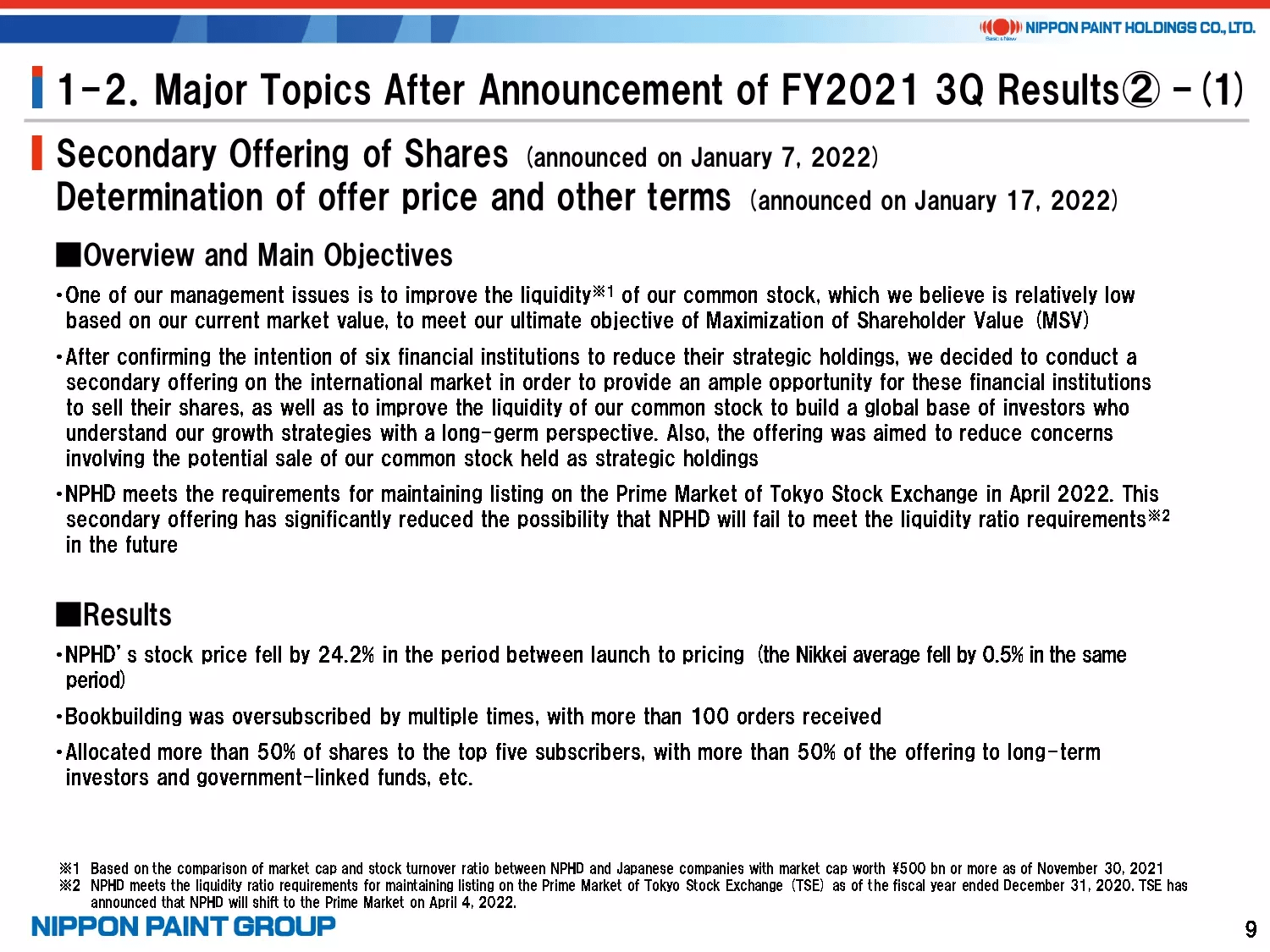 Page 9 explains the secondary offering of shares we conducted in January 2022.
Unfortunately, our stock price dropped by 24% during the period between the launch and pricing of this offering, which did not involve the issuance of new shares.
The liquidity of our stock as measured by the average daily trading volume had been very low at around 0.1% based on our current market value. As a result, we recognized the need to improve liquidity to allow investors to buy and sell our stock more freely.
At the same time, some shareholders, mainly financial institutions, had intentions to reduce their strategic shareholdings. Based on this agreement in intentions between us and our shareholders, we conducted this international secondary offering with the aim to: (1) improve the liquidity of our stock, (2) build a global base of investors, and (3) eliminate concerns about a potential overhang. We believe we have made significant progress in achieving these goals.
The Nippon Paint Group continues to have very strong growth potential. We intend to enhance engagement with investors as well as communications about the roadmap to improving our profitability.
8. Major Topics After Announcement of FY2021 3Q Results③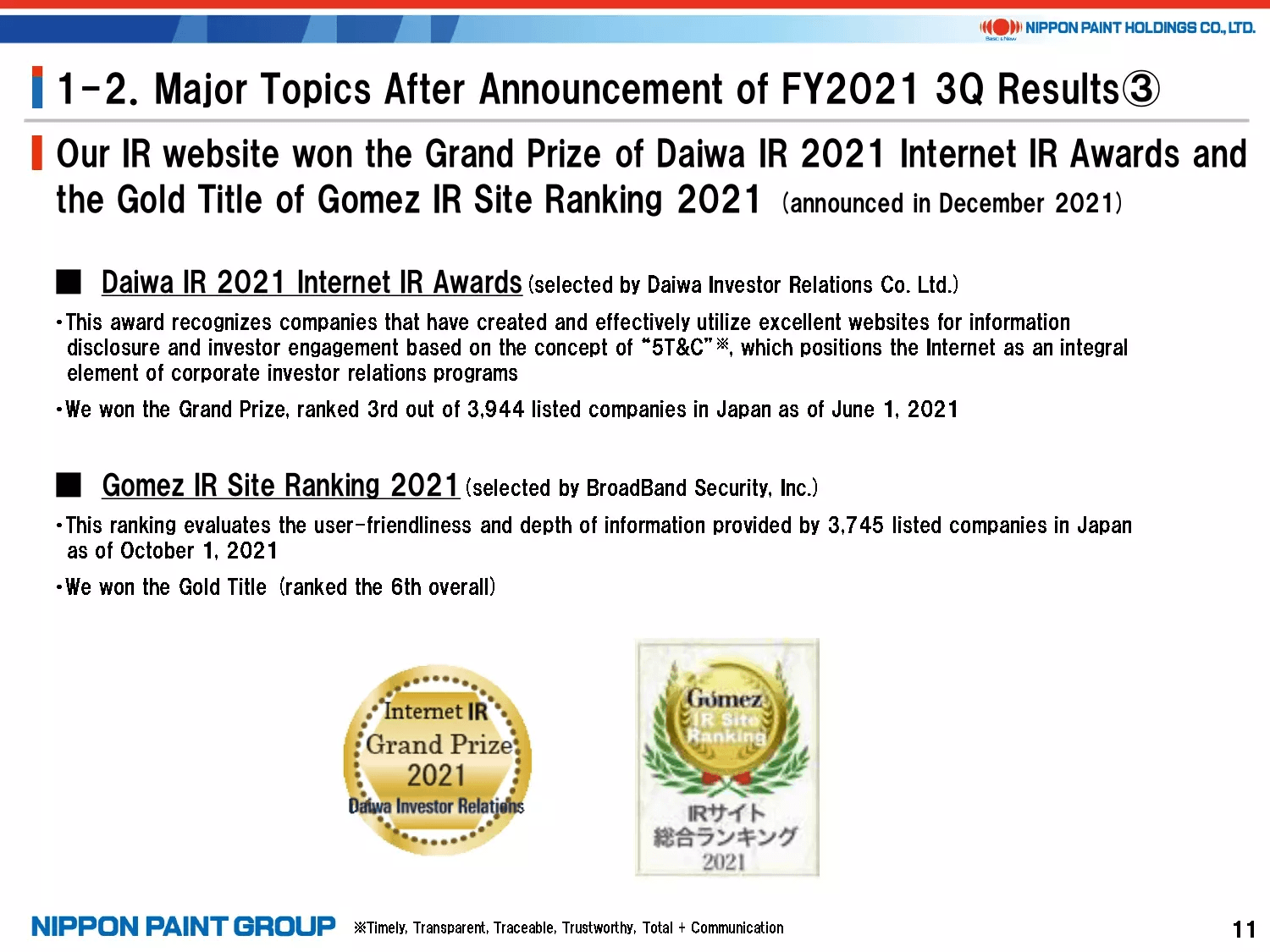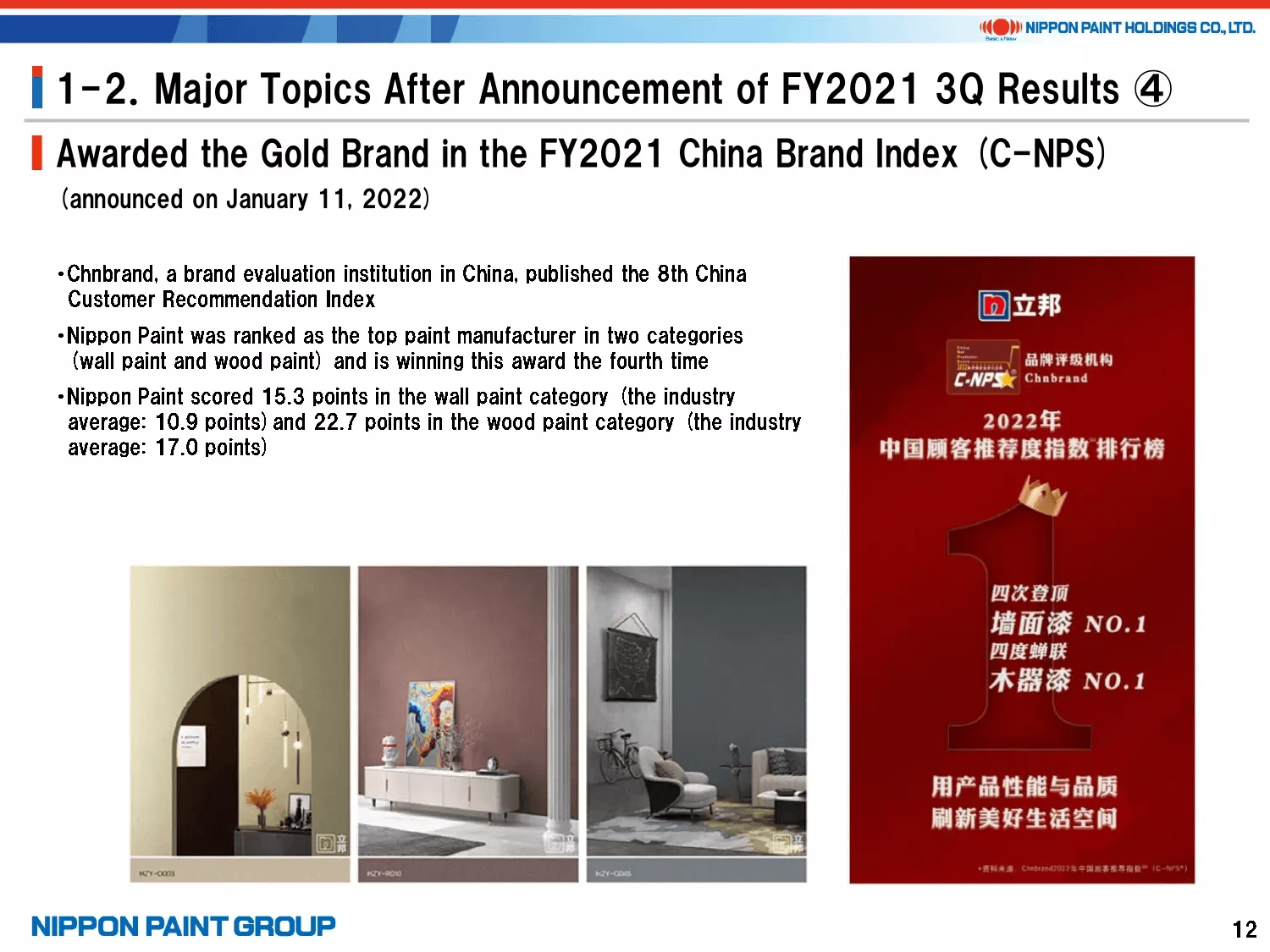 We are very pleased that our IR website received increased recognition from external evaluation agencies (see page 11 of the presentation) and that we continually received a high ranking in the China Brand Index (see page 12 of the presentation).
9. Major Topics After Announcement of FY2021 3Q Results ⑤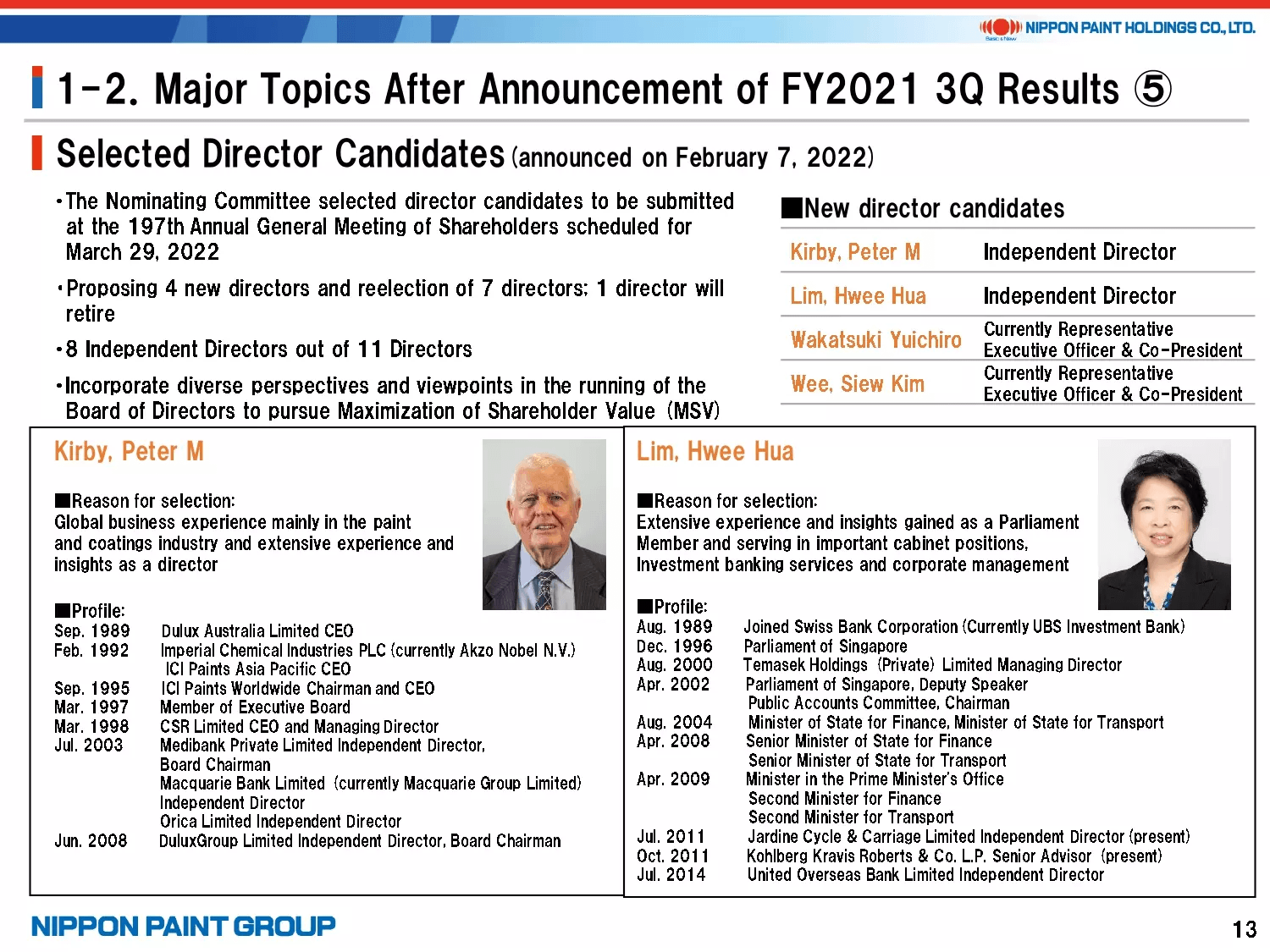 My final topic is the announcement of our new director candidates to be submitted at the general shareholder meeting at the end of March 2022.
We had a change of president last April, shortly after the general shareholder meeting at the end of March 2021. This year, the Co-Presidents Wee Siew Kim and I will be joining the board from the business execution team, and we have two outstanding candidates for new independent directors. Peter Kirby has considerable knowledge about the paint industry and Lim Hwee Hua has profound expertise in finance. I'm convinced that both can bring global and diverse perspectives to the board as we pursue Maximization of Shareholder Value (MSV).
This completes my presentation. Please be advised that we plan to provide a briefing in mid-March about the progress of the Medium-Term Plan announced last March. Thank you for your attention.