FY2022 4Q Financial Results Conference Call Presentation Summary
1. Front Cover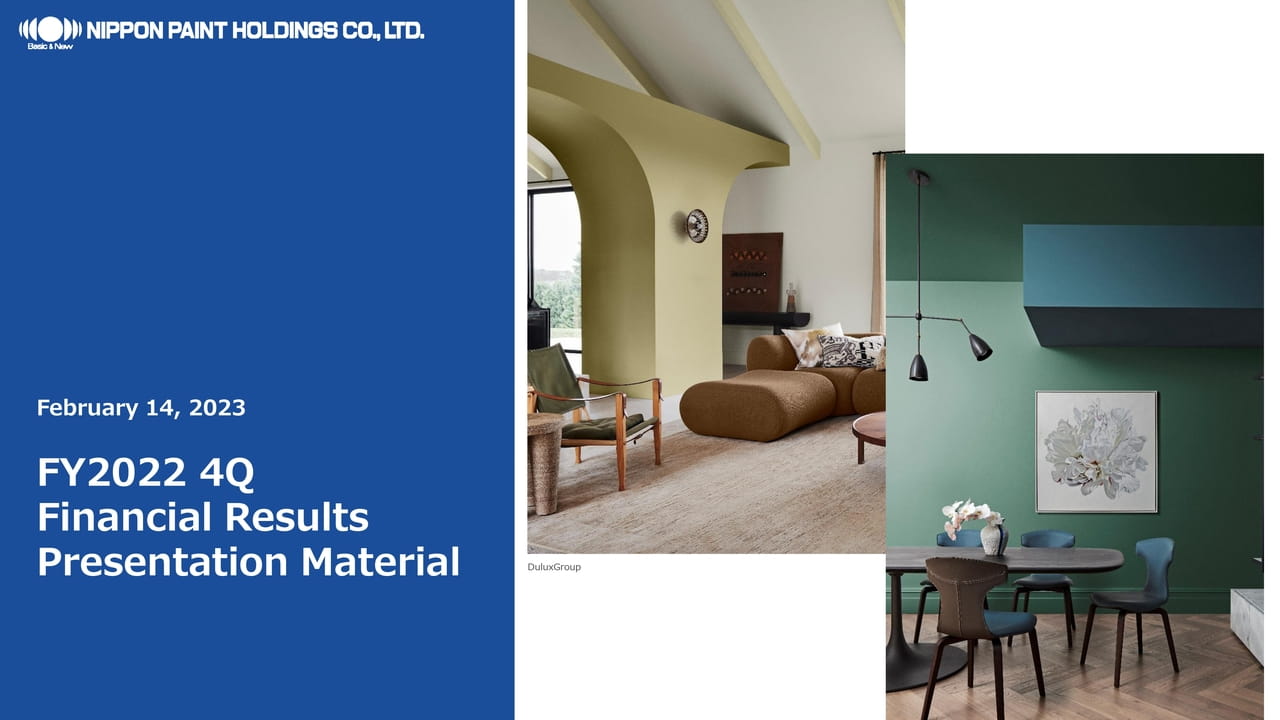 Good afternoon, everyone. I'm Yuichiro Wakatsuki, Co-President of Nippon Paint Holdings.
Thank you very much for taking the time to participate in our conference call regarding financial results for the 4Q and full year FY2022 and the forecast for FY2023.
Press reporters are joining investors and analysts today, and our earnings calls for the full year and six month period will be held this way starting this year.
2. Summary: FY2022 4Q Operating Results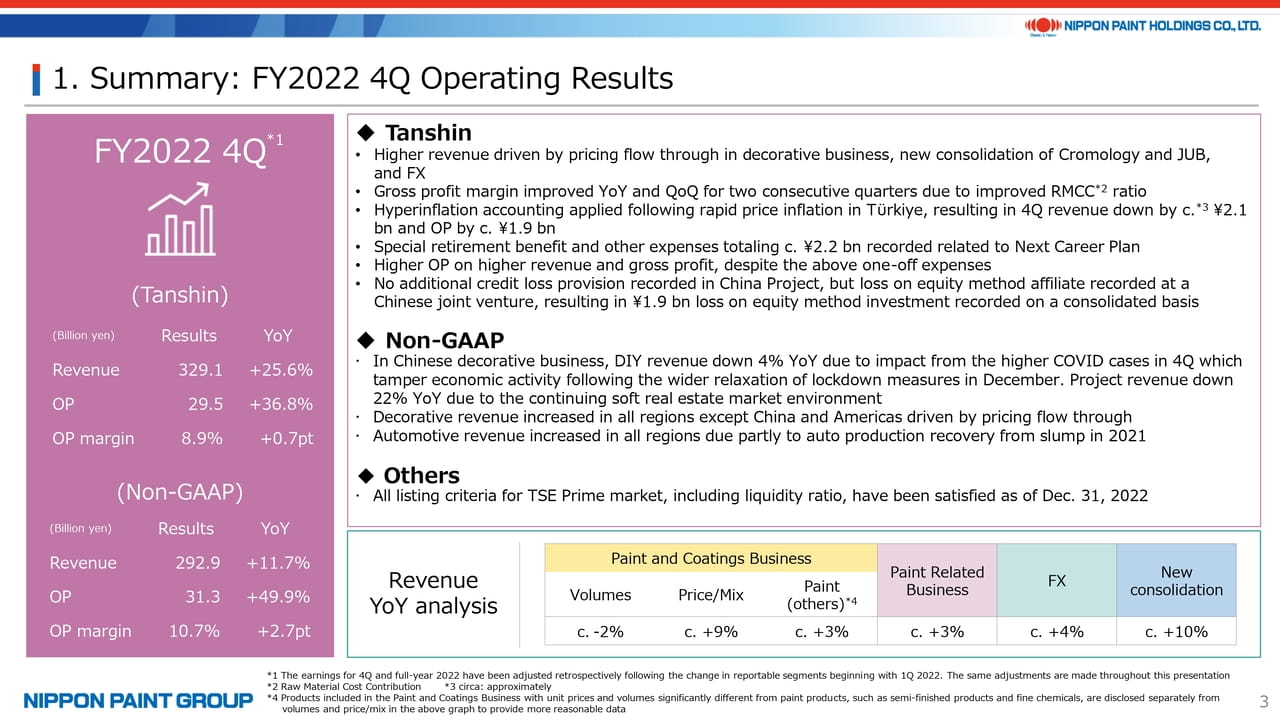 I would like to begin by summarizing the financial results for the 4Q of FY2022.
Revenue increased by 25.6% YoY on a Tanshin basis to ¥329.1 bn and operating profit rose by 36.8% YoY to ¥29.5 bn, which is a significant growth in both revenue and operating profit. The breakdown of revenue growth is shown on the bottom of page 3 of the presentation. Volumes in the decorative business declined while price/mix, paint-related business, FX and new consolidation made positive revenue contributions. Operating profit improved due to the flow through of price increases with the impact of raw material inflation easing. Demand is seasonally weak in the 4Q. Besides, the market environment was very challenging in China and we recorded net one-off expenses of c.¥2.4 bn, including expenses related to the Next Career Plan in Japan. After taking these challenges into consideration, I believe we performed very well in every region.
We did not record any additional credit loss provision related to the Chinese Project segment. However, we recorded additional credit loss provisions at Chinese joint ventures related to real estate developers. As a result, there was an equity-method investment loss totaling 1.9 bn yen in the 4Q of FY2022, including profit and loss of other joint ventures.
On a Non-GAAP basis that excludes new consolidations, FX, and one-off expenses, revenue increased by 11.7% and operating profit by 49.9%. The operating profit margin continued to recover, increasing by 2.7 points to 10.7%. In the Chinese decorative paints business, DIY revenue decreased by 4% YoY due to lockdowns associated with the Zero-COVID policy and an upturn in COVID cases in the 4Q that restricted economic activities following the relaxation of lockdowns. Project revenue declined by 22% YoY. The results were higher than our guidance announced at the 3Q announcement in November last year because logistics disruptions that happened last fall ended faster than expected and Zero-COVID measures were reduced during a seasonally weak demand period.
I'd like to take this opportunity to state that we have satisfied all listing criteria for the TSE Prime Market, including the percentage of tradable stock, which had been a source of concern, as of the record date for listing maintenance screening of December 31, 2022.
3. Summary: FY2022 Operating Results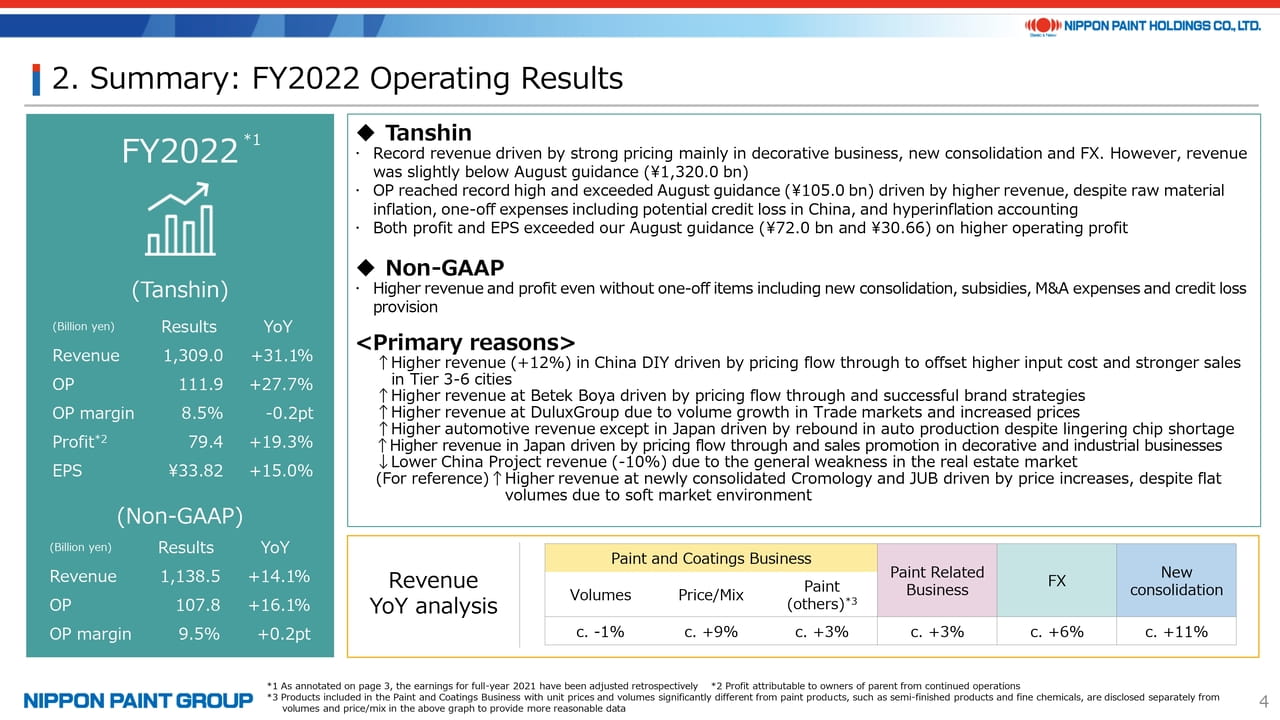 Next is our full-year results for FY2022.
On a Tanshin basis, both revenue and operating profit increased significantly with net profit growing by almost 20% YoY. Revenue was slightly below our guidance announced in August 2022 but operating profit, net profit and EPS (earnings per share) exceeded the guidance. The annual dividend, which includes the 6 yen dividend for the 2H, was 11 yen per share. The dividend payout ratio was 32.5%. Both revenue and operating profit reached record highs, and net profit was the highest since we started IFRS reporting in the fiscal year ended December 31, 2018.
The main reason for the below-guidance revenue was the Zero-COVID policy in China in the second half of the year, especially in the seasonally strong demand period in China of September and October. Our results in other regions were more or less mixed but were roughly as expected. Operating profit slightly exceeded the guidance due to the overall flow through of prices and moderation in some raw material prices, as well as almost no additional credit loss provision for real estate projects in China. However, earnings were generally in line with our guidance after taking into account the equity-method investment loss.
Our revenue and operating profit also increased on a Non-GAAP basis. Despite the very challenging business environment, our results in FY2022 demonstrated the underlying strength and resilience of our growth model based on strong organic growth and M&A.
4. Summary: FY2023 Forecast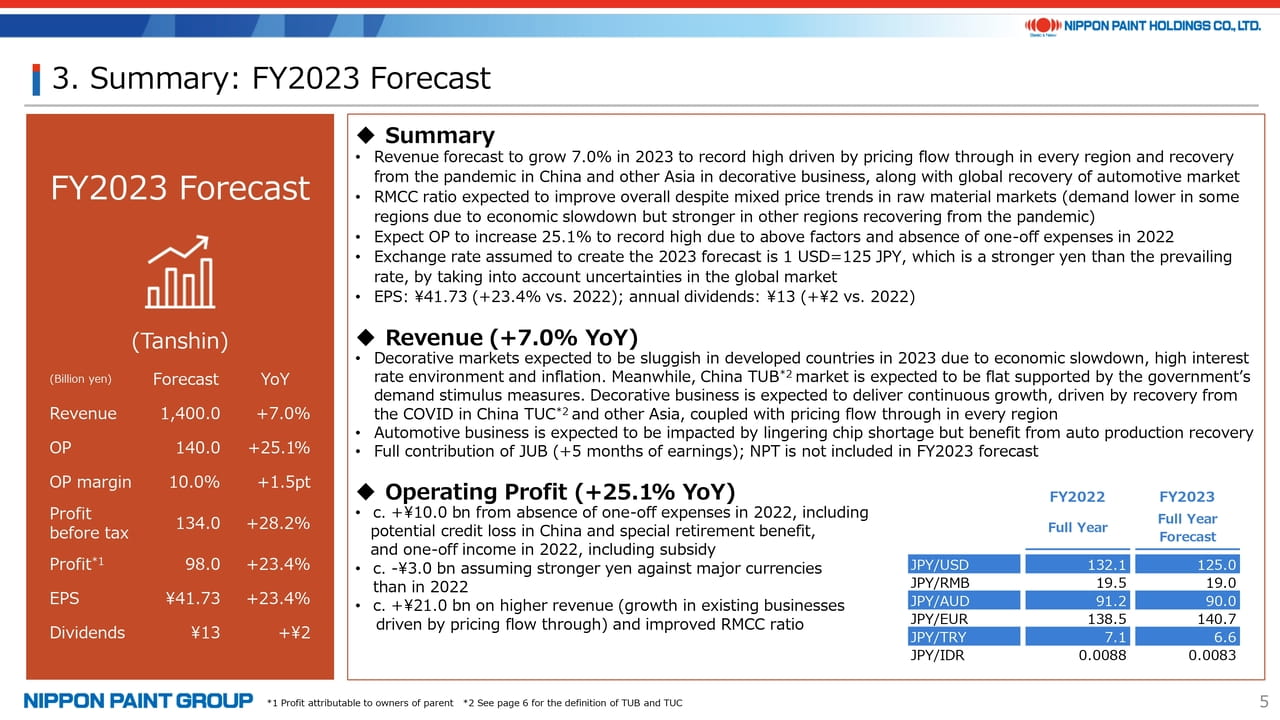 We expect the business environment to remain uncertain, so the guidance for FY2023 is strictly based on our assumptions at this time. For FY2023, we forecast revenue of 1,400 bn yen, operating profit of 140 bn yen, net profit of 98 bn yen, EPS of 41.73 yen, and annual dividends of 13 yen per share. The dividend payout ratio will remain over 30%.
Although we expect overall market conditions to be difficult, we will pursue steady growth in every region, even regions with limited growth opportunities, through market share gains and full-year contributions of price increases. We assume a stronger yen in FY2023 compared to FY2022, which will negatively affect our yen-based revenue and earnings. Based on our current assumption of no significant M&A activity in FY2023, we project effective revenue growth of around 10% on a constant currency basis.
Our operating profit growth projection is 25%, which is significantly higher than our revenue growth forecast. We expect additions of c.¥21 bn due to revenue growth and a higher operating profit margin, c.¥10 bn net of the absence of one-off expenses such as credit loss provisions in China and the end of subsidies. We assume a stronger yen than in FY2022, which will reduce operating profit by c.¥3 bn. All in all, the net increase in operating profit will be ¥28 bn.
There are four major assumptions underlying our guidance:
Raw material prices will remain stable: e.g., crude oil will remain in the $70-80 range and Japan-produced naphtha around ¥72,000.
Exchange rates will be stable; a stronger yen will have a negative impact on a yen-denominated earnings and a weaker yen will have a positive impact.
Market conditions will be stable in China following the relaxation of the Zero-COVID policy. Our assumption at this time is that the Chinese market, in particular the market for TUC (business to general consumers and retail stores, etc.) will be stronger than in FY2022 and the market for TUB (business mainly to project customers and distributors) will be almost flat. January and February are normally a very quiet period due to the Chinese New Year and other seasonal factors. I will give updates on our market outlook for March and beyond or for 2H when appropriate.
The automotive market will start recovering despite the lingering impact of chip and parts shortages.
5. Assumptions for FY2023 Forecast (1)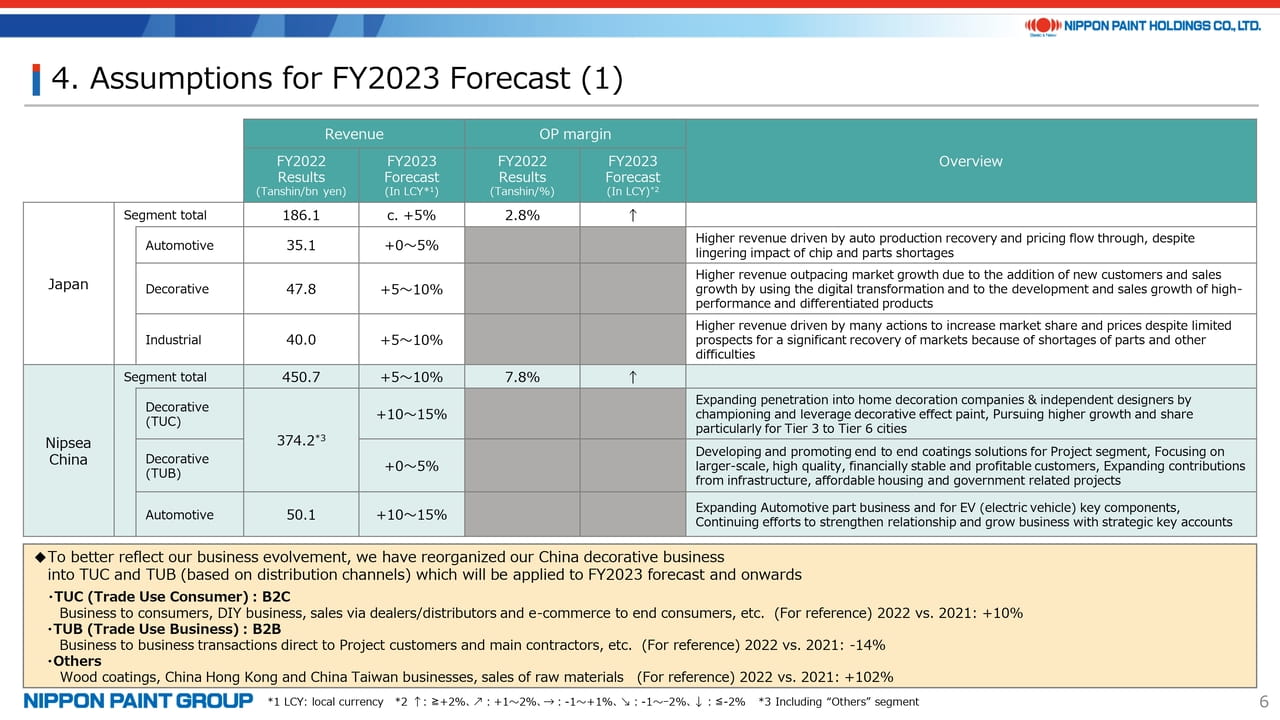 Various assumptions for the FY2023 forecast are explained on page 6 and 7.
We have reported the Chinese decorative business under the DIY and Project segments. However, there was a shift in FY2022 in China from products to distribution channels as the basis for the internal management of business operations. As a result, we have decided to report results of operations based on the TUC segment (business to general consumers and retail shops, etc.) and TUB segment (business mainly to project customers and distributors) starting in FY2023 for consistency with the internal management segments. This is based on our ability to provide total solutions to customers, including sales of half-finished goods and adjacencies products, in addition to DIY paints and paints and coatings for project customers.
For your information, YoY revenue growth in FY2022 in terms of TUC, centered on the DIY business, is +10% because of strong DIY revenue growth and TUB revenue decreased 14%. The breakdown among TUC, TUB, and Others is roughly 60%, 30%, and 10%.
6. Assumptions for FY2023 Forecast (2)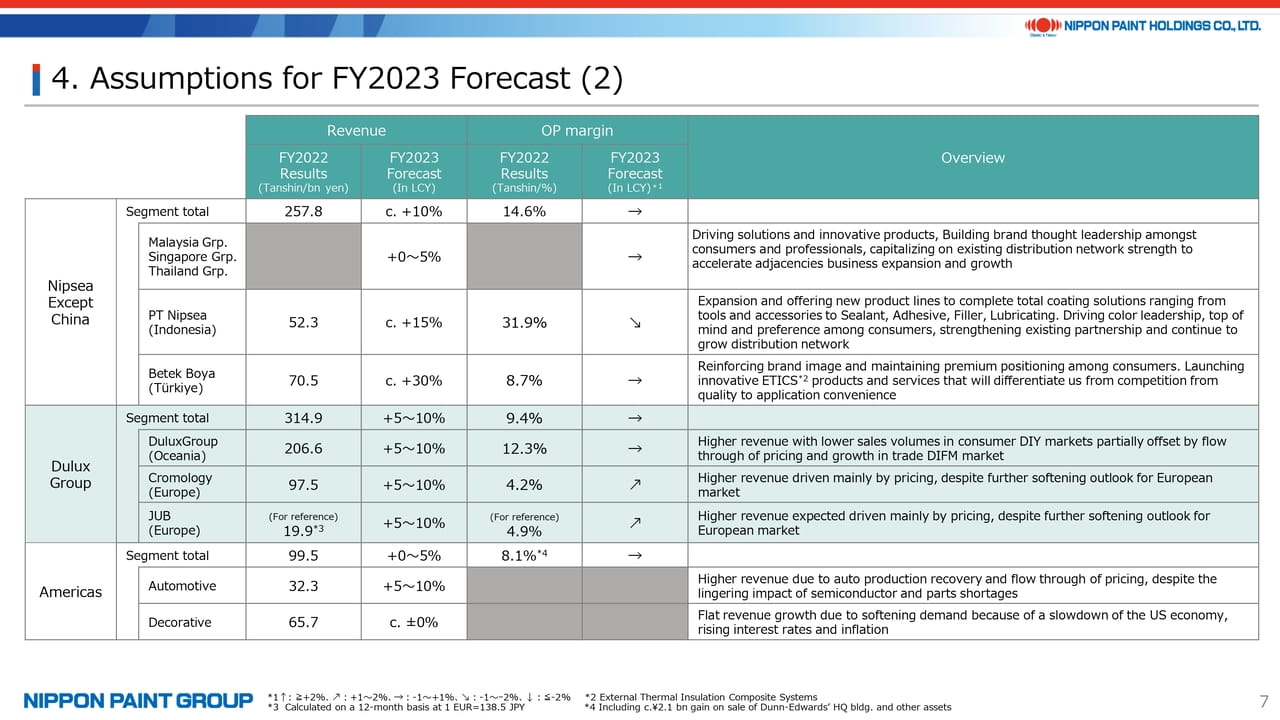 Please turn to page 7. In Nipsea Except China, we expect steady growth to continue at PT Nipsea (Indonesia) but factored in the possibility of a slight decrease in the operating profit margin because of higher sales promotion expenses. The overall Nipsea Except China is expected to achieve growth in both revenue and operating profit.
We expect Betek Boya to achieve local-currency growth of around 30%. We assume high inflation to continue and the main growth driver will be price increases rather than volume growth.
7. Raw Material Market Conditions and Our Responses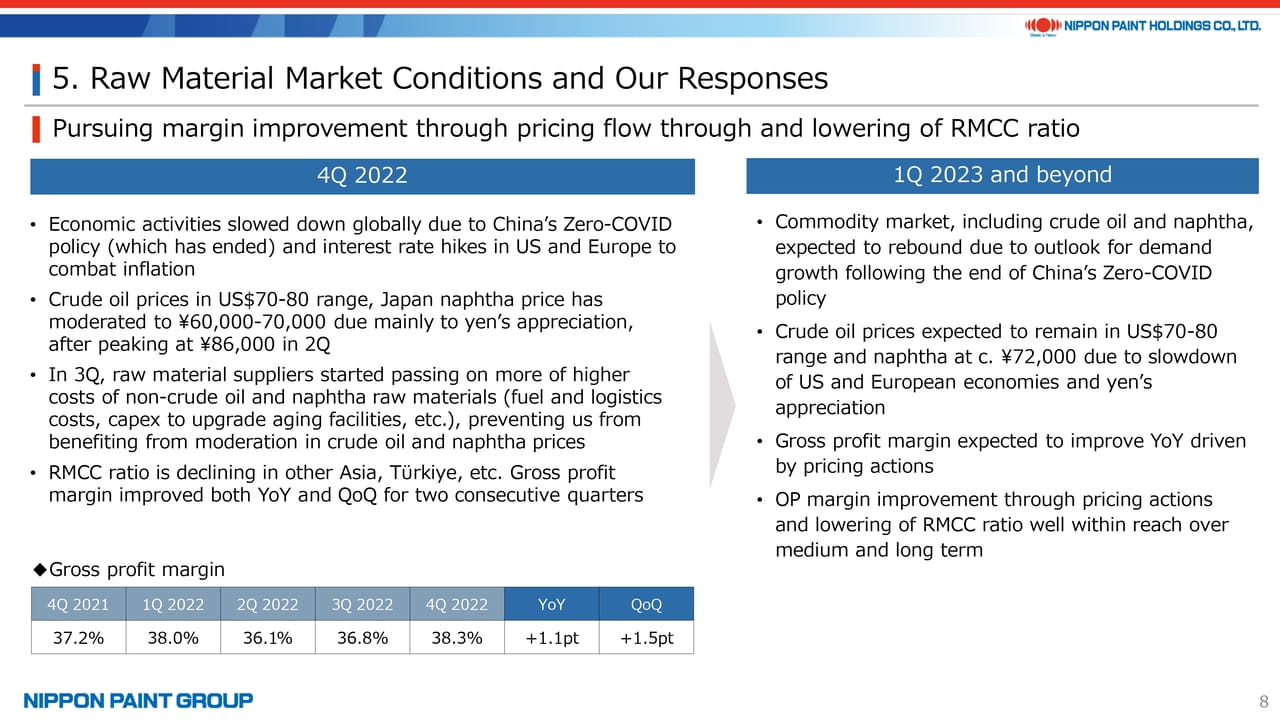 As explained on page 8, we expect raw material prices to be generally stable. If you look at the situation globally, you need to assess the demand outlook by taking into account soft demand globally caused by economic slowdowns and the possibility of demand growth in China due to end of most Zero-COVID restrictions. We expect a margin improvement in FY2023 because of the full-year benefits from price increases and declines in prices of some raw materials compared to FY2022. We assume that our gross profit margin will increase gradually after reaching the lowest point in the 2Q of FY2022.
8. Summary of Operating Results in Major Segments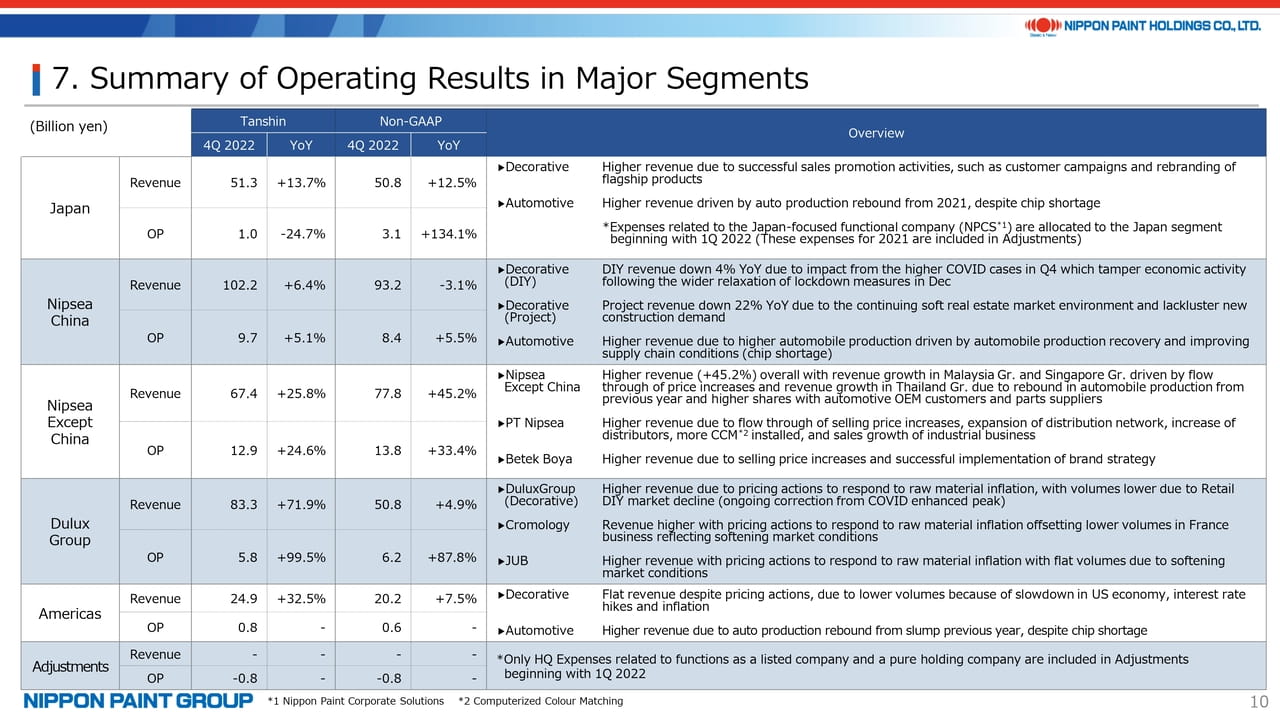 I will skip page 9 and turn to page 10.
This page summarizes operating results in the 4Q of FY2022 in each major segment. Further analysis of results by segment starts on page 19 and I will answer questions about this subject in the Q&A session. For now, I will explain some key points.
In China, as I stated at the earnings call for the 3Q FY2022 in November last year, we had opportunity losses in September and October, a period of strong demand in China, due mainly to logistics disruptions. As a result, overall Nipsea China revenue on a Non-GAAP basis decreased 3.1%. Decorative revenue was down 8.6%. However, Tanshin-base revenue growth was positive due to FX. Even with the current challenging business environment and considering that the 4Q is a seasonally weak period, our 4Q operating profit margin improved YoY. This shows that our performance, including cost controls, was not bad at all. In addition, our Chinese automotive business achieved a greater-than-expected recovery.
In the Japan segment, the Non-GAAP base operating profit margin after reversing a special retirement benefit of ¥2.2 bn was 6.1%, which is a recovery from lower margins in the past. The allocation of Nippon Paint Corporate Solutions expenses to the Japan segment, which is an accounting treatment that started in FY2022, was around 0.4 bn yen in 4Q (1.3 bn yen in 3Q). Making an apple-to-apple comparison, operating profit and the operating profit margin improved significantly in FY2022 to ¥3.5 bn and 6.9%, respectively, from operating profit of ¥1.3 bn and an operating profit margin of 2.9% in FY2021. We are aiming to further improve profitability in FY2023.
The performance in PT Nipsea (Indonesia) was rather weak in October after a strong performance in September. However, they achieved a recovery that, along with rigorous cost controls, resulted in increases in revenue and earnings.
For Betek Boya (Turkey), we continued to use hyperinflation accounting. The application of this accounting method will normally increase revenue and decrease earnings in the local currency. However, revenue decreased because the increase in revenue in the 4Q was offset by the depreciation of lira.
On a Non-GAAP basis, which excludes the effects of new consolidations and FX, DuluxGroup in Oceania achieved revenue growth driven by price increases and a big operating profit increase due to cost controls in the 4Q. On the other hand, at Cromology and JUB there was seasonally weak demand in the 4Q due to winter. However, revenue was higher due mainly to pricing actions and operating profit was impacted by one-off expenses related to a new consolidation in 4Q as was in the 3Q. As a result, both Cromology and JUB had a local-currency operating loss in the 4Q but made a contribution to consolidated earnings on a full-year basis.
9. Major Topics ①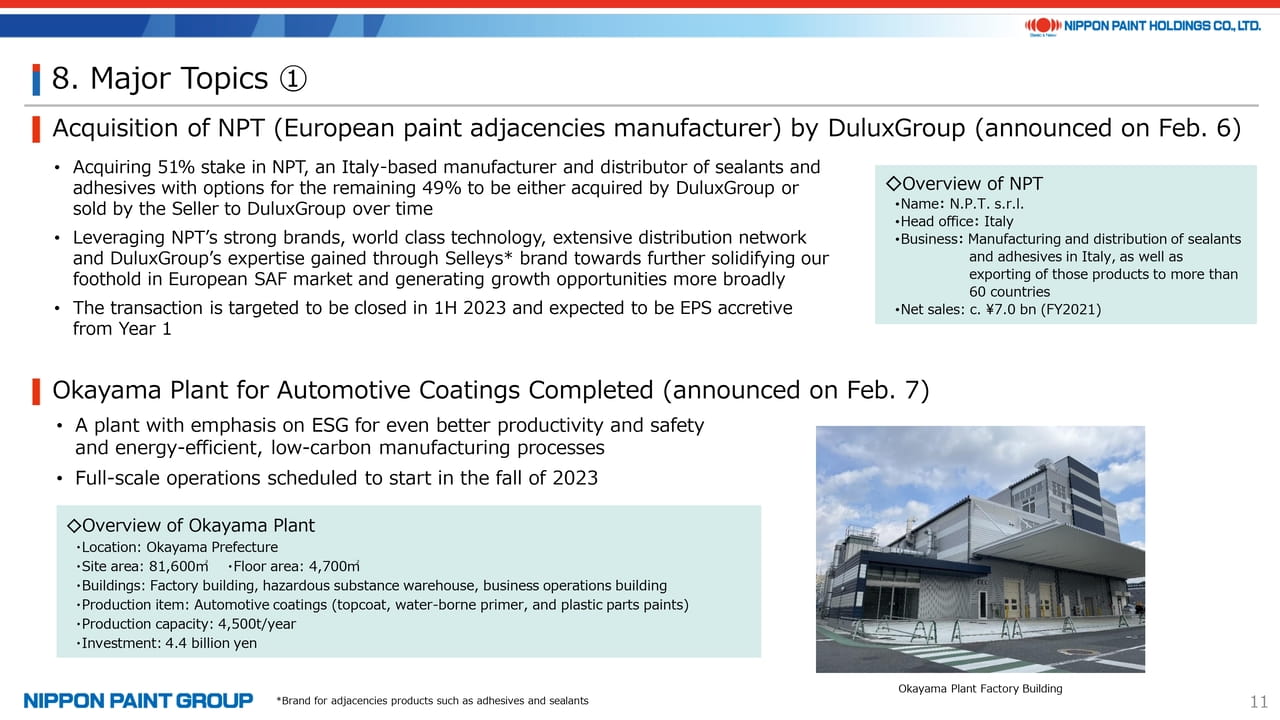 Major topics are provided starting on page 11.
The acquisition of NPT in Europe by DuluxGroup was announced on February 6. NPT's net sales are around ¥7 bn. The main goal of the acquisition is to capture growth opportunities in the adjacencies arena on a global scale, rather than as part of our European strategy. We expect NPT to contribute to our earnings beginning with the first year after acquisition.
On February 7, the construction of the Okayama Plant was completed in Japan. This next-generation plant will aim for even better productivity and safety and use energy-efficient, low-carbon manufacturing processes. Full-scale operation is scheduled to begin in the fall of this year of afterward. We hope to invite analysts and investors for a tour in the future.
10. Major Topics ②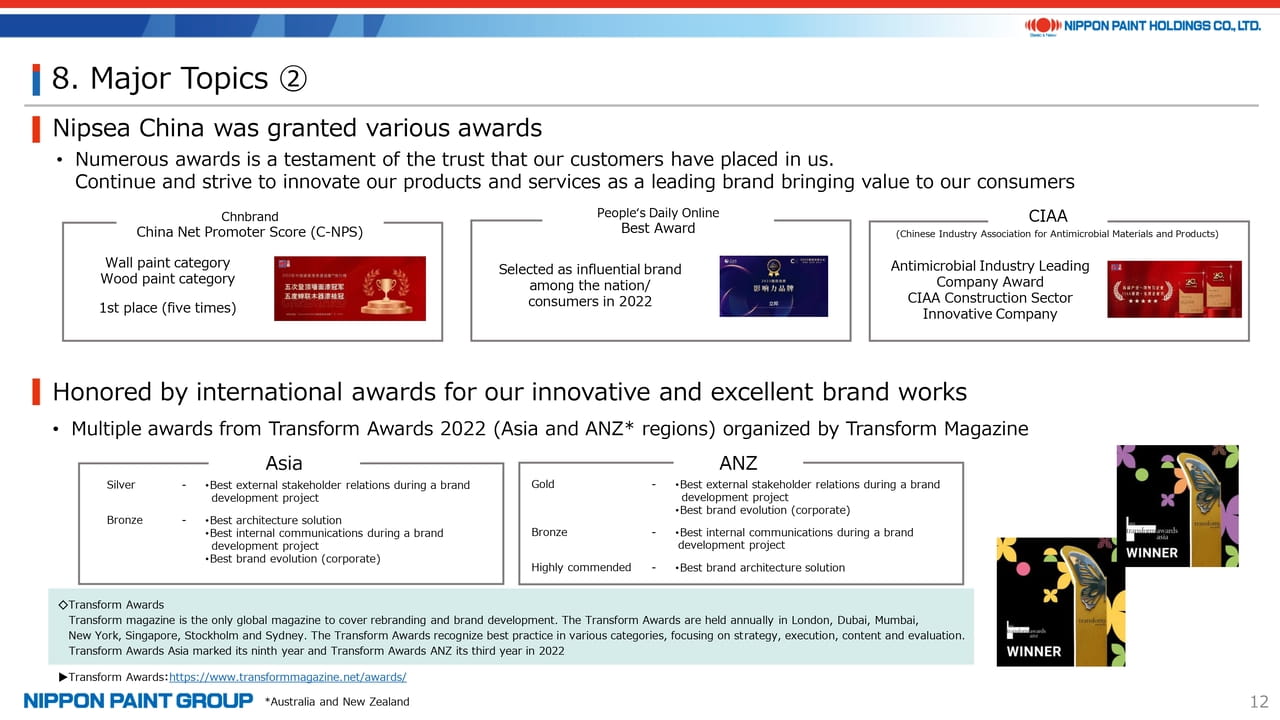 Page 12 has topics on about the recognition of our brand power. On top is our continuous receipt of brand awards in China and on the bottom is our receipt of brand awards in Asia and ANZ.
11. Major Topics ③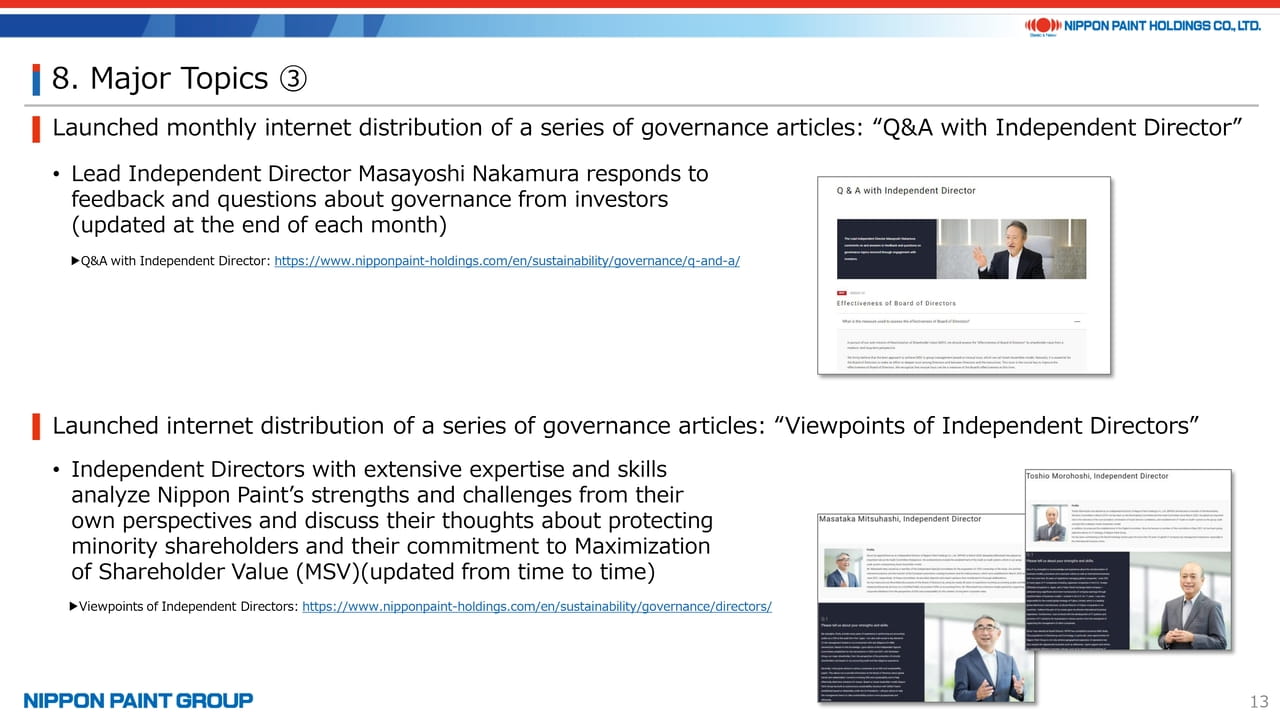 As shown on page 13, we have launched two series of governance articles featuring Independent Directors with the aim of enhancing the disclosure of governance information. As you may know, the majority of our board members are Independent Directors. The Nominating Committee, Remuneration Committee, and Audit Committees are chaired by Independent Directors. In addition, the Board Chair is the Lead Independent Director. We planned these series of articles based on the belief that sharing the thoughts of our Independent Directors is a good way to give investors a better understanding of Nippon Paint. Your requests and feedback will be greatly appreciated.
I have an announcement before proceeding to the Q&A session. This year is the final year of the Medium-Term Plan, and we plan to hold an investor update meeting about the plan on Friday, April 7 at 15:00.
Thank you for your attention.