Capital Policy
With SDGs and ESG at the core of management, NPHD places Maximization of Shareholder Value ("MSV") as its paramount mission. MSV is predicated on fulfillment of our duties to customers, employees, suppliers and society.
While maintaining financial discipline of pursuing optimal capital structure with balanced leverage and allowing one-time higher-leverage for strategically important M&A, NPHD places higher priority to investments for future growth thus focusing on providing higher Total Shareholder Return (TSR) through the accretion of basic earnings per share (ESP).
As an effort to increase TSR, NPHD has set out a policy to pay dividends stably and continuously, taking comprehensively into account factors including the earnings trends, investment opportunities and dividend payout ratio. NPHD is aiming to maintain a dividend payout ratio of 30%.
Starting from FY2015, NPHD has determined the amount of dividends based on the dividend payout ratio on an IFRS basis.
Trends in Dividends and Dividend Payout Ratio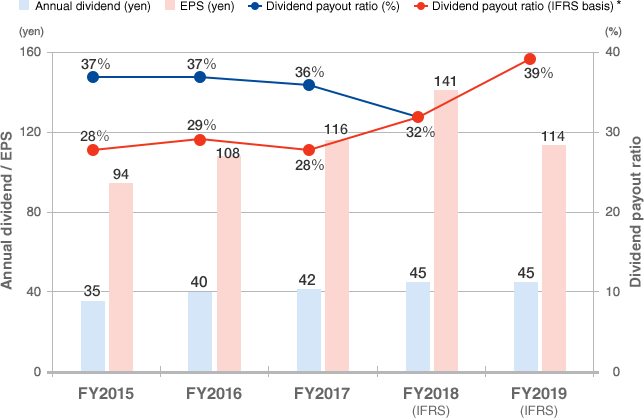 Item
FY2015
FY2016
FY2017
FY2018
FY2019
Annual dividend

(yen)

35
40
42
45
45
Interim dividend

(yen)

15
20
20
22
22
Year-end dividend

(yen)

20
20
22
23
23
Dividend payout ratio

(%)

Dividend payout ratio(IFRS basis) *
28
29
28
32
39
Dividend payout ratio
37
37
36
32
-
※Figures for dividend payout ratio (IFRS basis) from FY2015 to FY2017 are calculated using dividend payout ratio (JGAAP basis) after adjustment for goodwill amortization.
Acquisition of Treasury Shares
NPHD did not undertake any acquisition of treasury shares in FY2019, except for acquisition under Article 155, Item 7 (acquisition of shares less than one unit) of the Companies Act.
Stock Split
NPHD did not conduct any stock split in the past 10 years.