FY2022 3Q Financial Results Conference Call Presentation Summary
1. Front Cover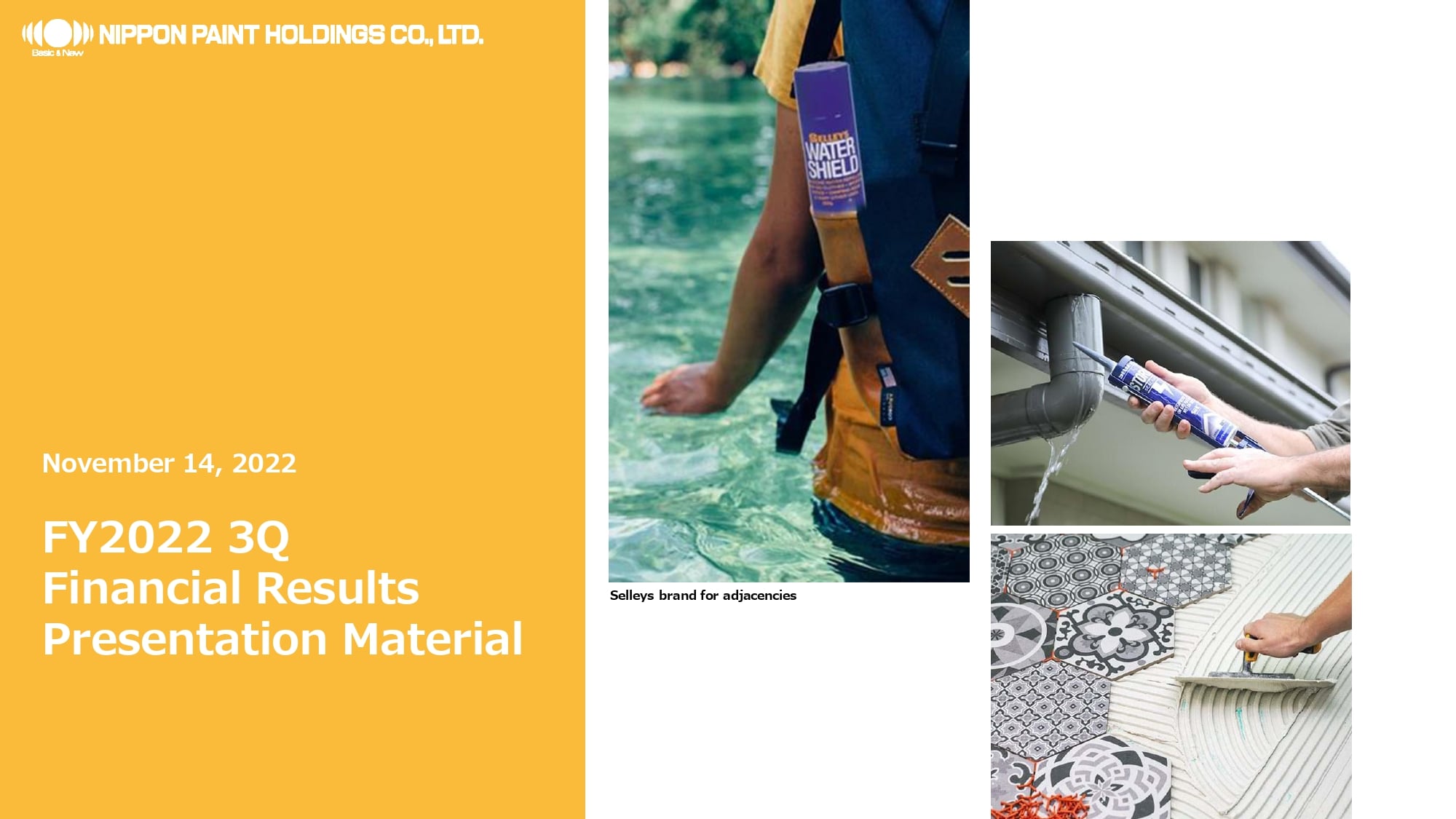 Good afternoon, everyone. I'm Yuichiro Wakatsuki, Co-President of Nippon Paint Holdings.
Thank you very much for taking the time today to participate in our conference call regarding financial results for the 3Q of FY2022.
2. Summary: FY2022 3Q Operating Results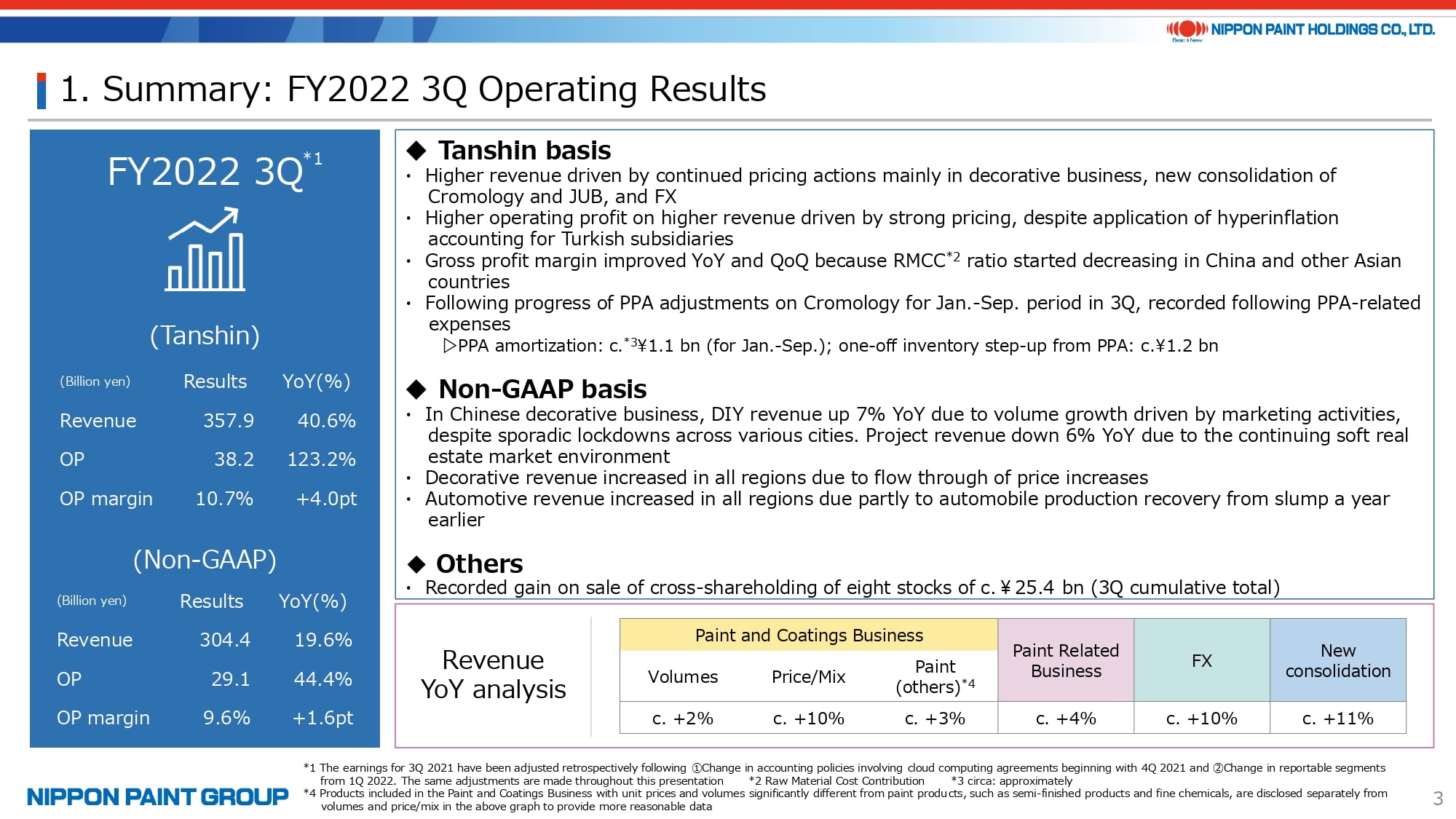 I would like to begin by summarizing the financial results for the 3Q of FY2022.
Revenue increased by 40% YoY on Tanshin basis to 357.9 bn yen, staying on a strong growth path continuing from the 2Q. Operating profit surged by 123% YoY to 38.2 billion yen. Both revenue and operating profit hit a record high for quarterly results.
This revenue growth was attributable to a positive contribution from all factors shown in the bottom of page 3, including volumes, price/mix, the paint related business, FX and two new consolidated subsidiaries. Operating profit increased significantly from a year earlier because the gross profit margin started to improve as a result of the flow through of selling price increases and mitigation of the impact of the rapid raw material price increases that started in the 3Q of FY2021. In addition, there was a provision for potential credit loss in China in the 3Q of FY2021 and subsidy income in the 3Q of FY2022. I will touch on Purchase Price Allocation (PPA) related to Cromology later on.
On Non-GAAP basis that excludes the new consolidated subsidiaries, FX, and one-off expenses, revenue increased by 19.6% and operating profit by 44.4%. Our results showed another quarter of improved performance in every operating region. Both the decorative business and industrial business achieved improvement and growth. The Chinese DIY business achieved decent local currency revenue growth of 7%. As I will explain later, however, it is too early to be pleased with this performance because of the challenging environment in the 4Q of FY2022.
Let me add that we recorded proceeds of 25.4 billion yen from the sale of cross-shareholdings of eight stocks during the first nine months of this year, although this is not a P/L item.
3. Raw Material Market Conditions and Our Responses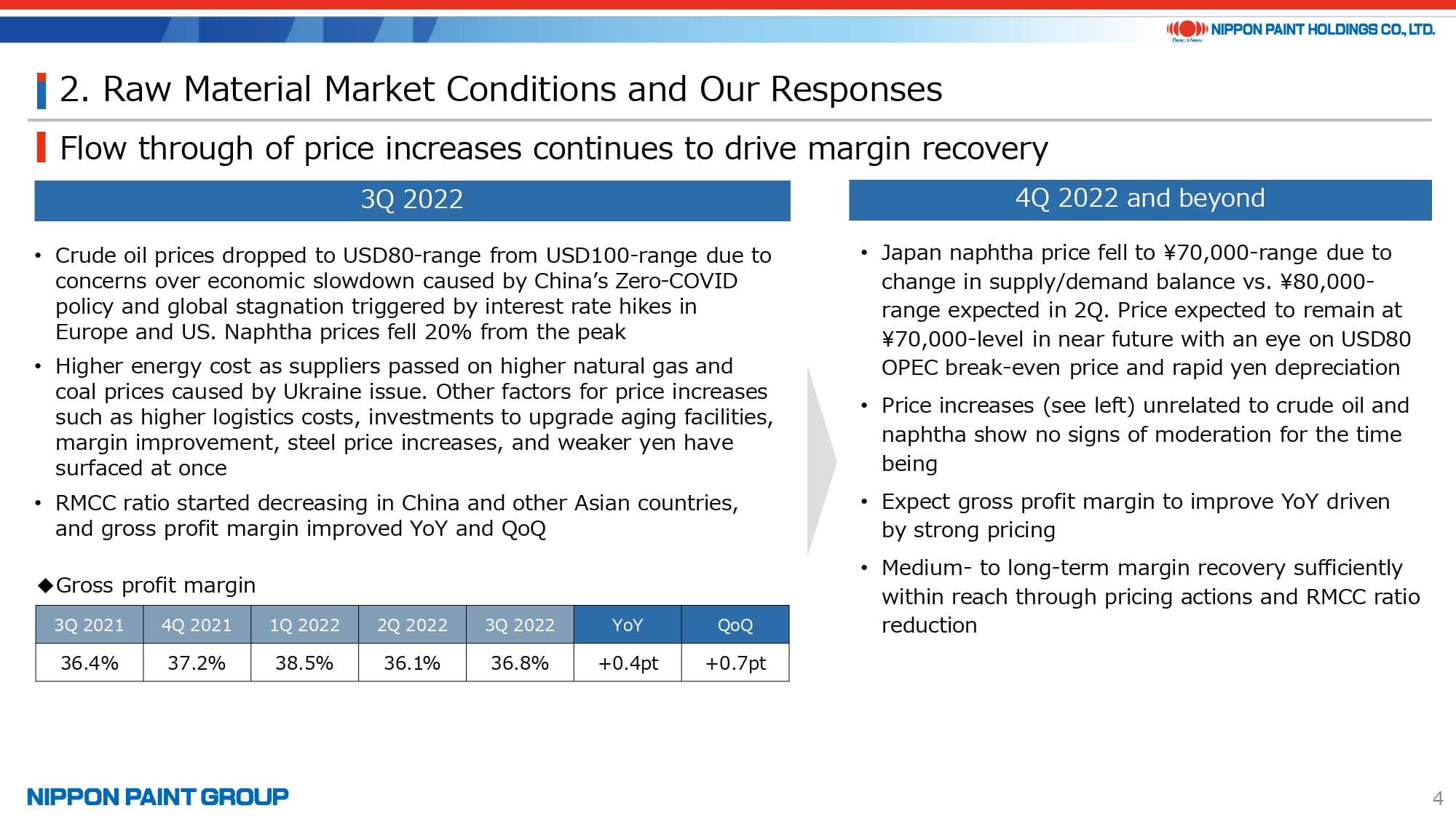 Regarding raw material market conditions, the price of crude oil started decreasing and the pace of raw material price inflation in China and Asia slowed down. However, energy prices have remained elevated and logistics disruptions have continued. All in all, the gross profit margin improved both QoQ and YoY because of the progress with price pass-through measures.
4. Summary of Operating Results in Major Segments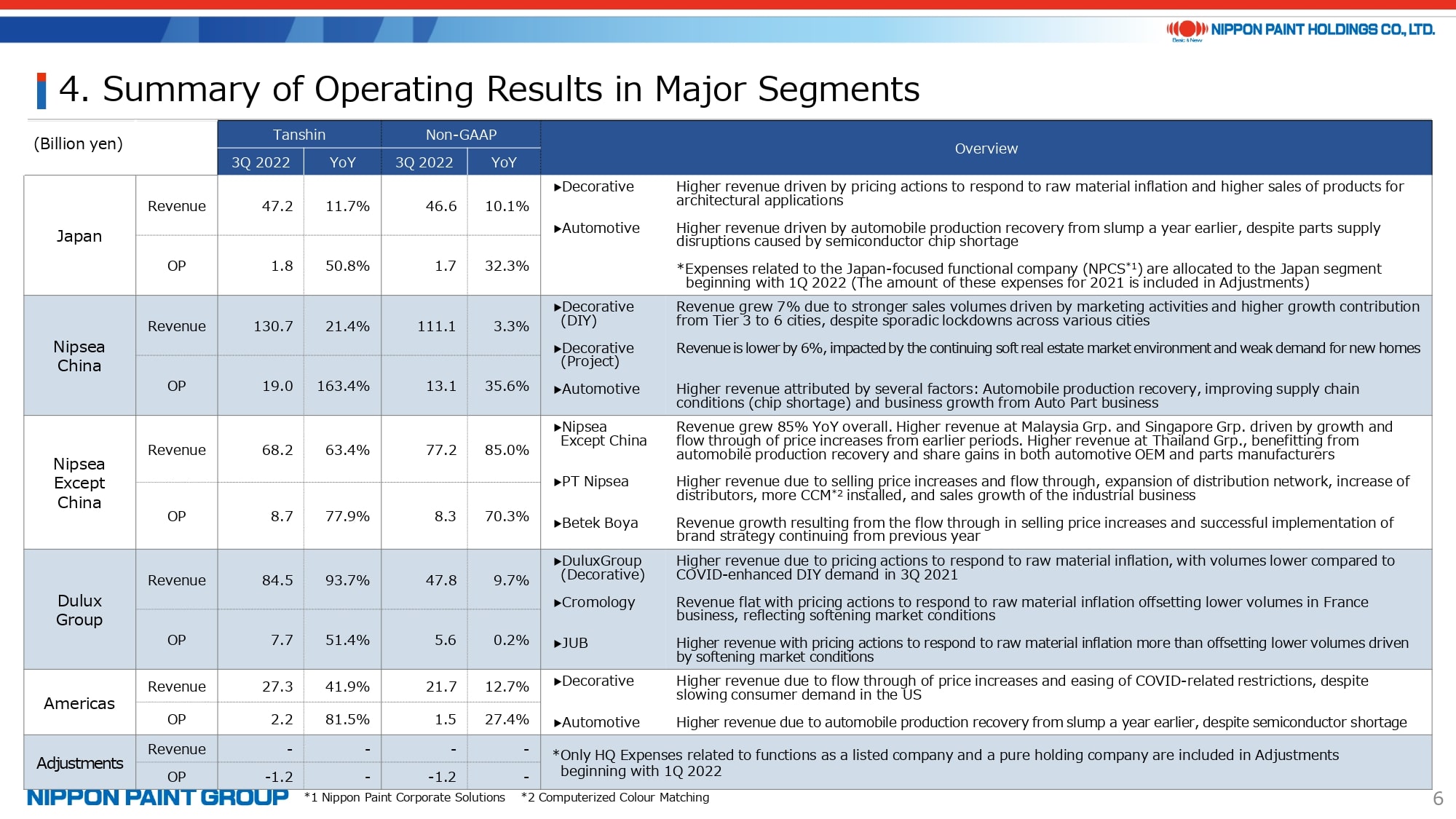 Page 6 is a summary of operating results in our major segments. Please see the supplemental material that starts on page 13 for more information.
Operating profit in the Japan segment of 1.8 bn yen is after deducting expenses related to Nippon Paint Corporate Solutions (NPCS) and would be around 3.1 bn yen after reversing the expenses allocated in the 3Q of FY2022 using the same conditions as in the 3Q of FY2021. When compared with operating profit in the previous year under the same conditions, operating profit in the 3Q of FY2022 increased by more than 150% from 1.2 bn yen in the 3Q of FY2021. However, our operating profit has still not fully recovered and decreased slightly from the 2Q of FY2022 due primarily to the typhoons that hit Japan in September and delays in the recovery of production at automobile manufacturers.
Nipsea China revenue increased by 3.3% YoY on Non-GAAP basis. Revenue in the decorative business, which accounts for 80% of total Nipsea China revenue, grew by 3.3%. Automotive revenue increased by 17.8% and industrial revenue decreased by 16.9% YoY. Please see page 19 for more information.
Turning to Nipsea Except China, we achieved a strong performance in every region including Indonesia and Tϋrkiye. Please note that Tanshin-base revenue was smaller than Non-GAAP revenue only in Tϋrkiye because the Turkish lira depreciated against yen. Revenue in Indonesia increased significantly by 37.7% on Non-GAAP basis. However, taking into consideration the demand surge in the 3Q ahead of selling price increases and existing market sentiment, we expect that the 4Q will be challenging.
The very steady performance of DuluxGroup in Oceania continued as its revenue growth was mostly driven by selling price increases. Revenue at Cromology was roughly the same as in the previous year with higher selling prices offsetting lower volumes. JUB achieved 5% revenue growth with higher selling prices more than offsetting volume decreases. This is just for your reference because neither of these companies was included in our consolidated results in the previous year.
5. New Consolidation: Cromology (Europe) & JUB (Europe)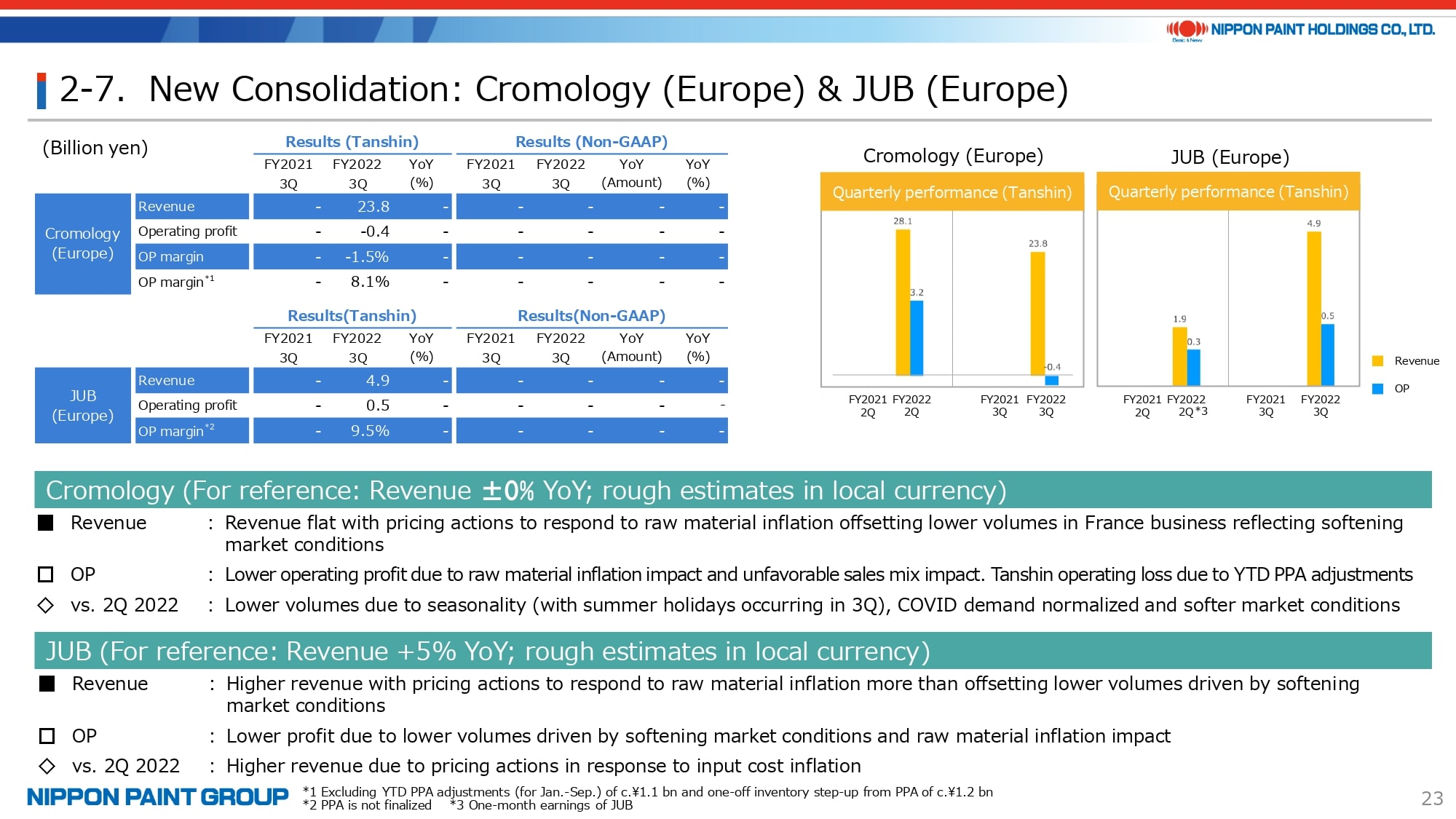 Let me move on to page 23 of the presentation. Here, I will explain the operating loss of 0.4 bn yen at Cromology in the 3Q of FY2022 on a Tanshin basis. We have performed PPA after the completion of the acquisition of Cromology. We recorded PPA adjustments in the 3Q because we obtained an overview of expenses although we do not have all expenses worked out yet.
The PPA adjustments in the 3Q were: (1) one-off inventory step-up (reevaluation) from PPA of around 1.2 bn yen and (2) PPA amortization of intangible assets of around 1.1 bn yen for January to September. The PPA amortization expenses will continue to accrue through the amortization period, but this lump sum amortization expense was recorded in the 3Q as we did not take any write downs in the 1Q and 2Q. Of the 1.1 bn yen, one-third was recurring expenses and the remaining two-thirds were one-off expenses for the 3Q of around 0.73 billion yen. Therefore, one-off expenses recorded in the 3Q were around 1.93 billion yen, which is the total of the expenses in (1) and (2). Adding back the one-off expenses of 1.93 billion yen to the operating loss of 0.4 billion yen on a Tanshin basis results in around 1.53 billion yen, which is Cromology's true earning capability. The operating profit of Cromology before PPA amortization on intangible assets was around 1.9 bn yen, which can be compared under same conditions with 3.2 bn yen in the 2Q and 1.4 bn yen in the 1Q. PPA will be finalized by the end of this year. So, we expect some adjustments to be made in the 4Q, but this is the current number based on information available at this time.
DuluxGroup reversed its obligation to pay a contingent consideration related to Maison Deco, which DuluxGroup acquired before joining the Nippon Paint Group. This increased operating profit at DuluxGroup by around 1 bn yen, which is included in Adjustments.
In the Americas, growth in automotive revenue was due to a rebound from the slump a year earlier and growth in decorative revenue at Dunn-Edwards was mostly driven by higher selling prices with flat volume.
6. FY2022 Forecast (For Reference)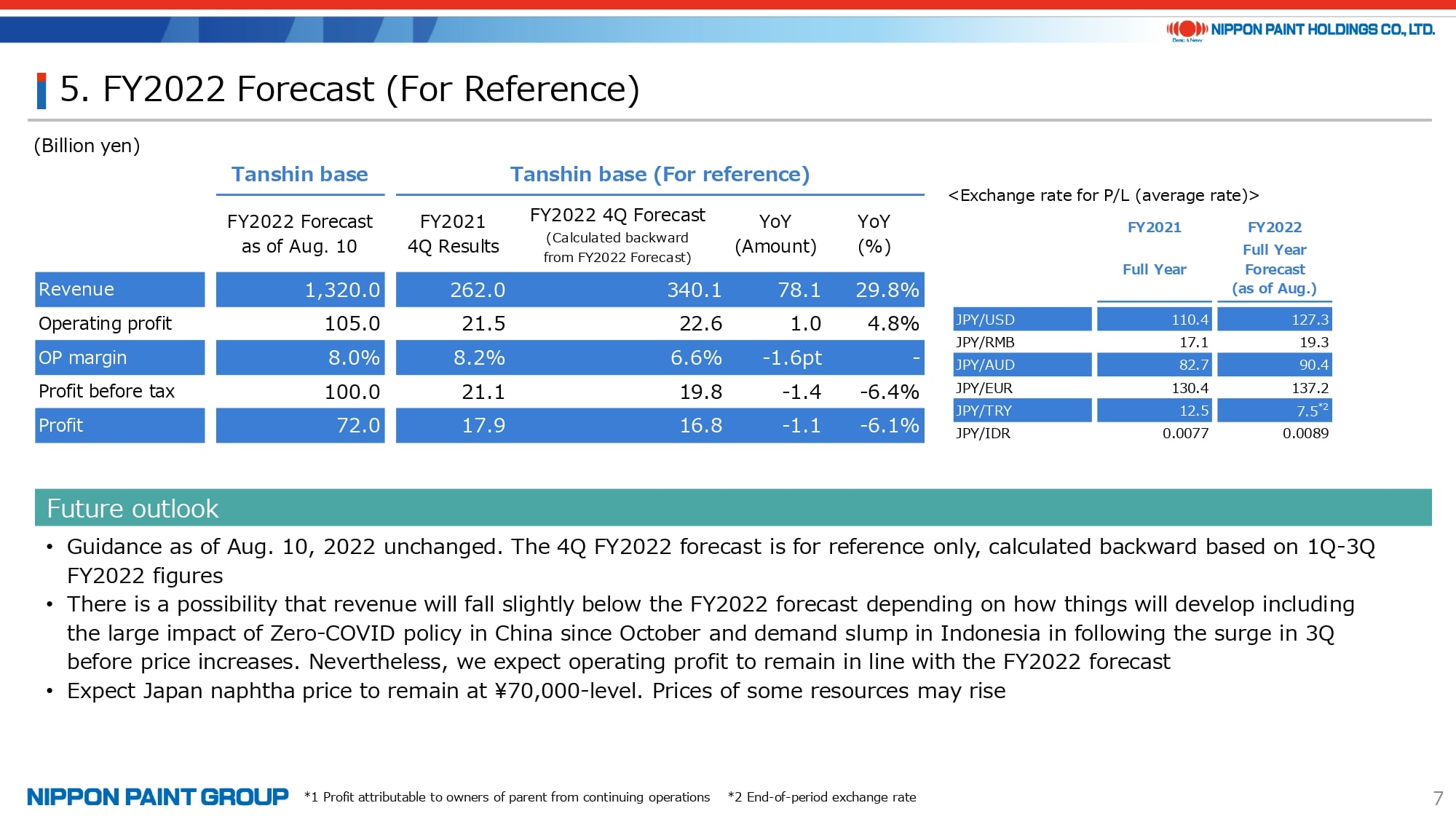 Page 7 is provided for reference in order to meet the requests from some investors. With the FY2022 guidance announced in August unchanged, the 4Q forecast was obtained by subtracting the 3Q cumulative figures from the FY2022 forecast.
Although we did not change the FY2022 guidance, there is a possibility that our full-year revenue will be below the guidance because the preliminary sales figures from October onward, in particular in China and Indonesia, are below our August forecast. Revenue was impacted greatly by disruptions in logistics in China caused by lockdowns. In fact, there are many areas where we are unable to deliver products to customers. Also, there were effects of the National People's Congress held in October. The Chinese government has announced the overall direction, such as the relaxation of the Zero-COVID policy. However, the local management assumes that it will take some time before the easing of COVID restrictions will produce a positive outcome. In addition, we assume that the 4Q, which includes December when demand is normally very soft, will be a fairly challenging environment. We will tightly control costs in order to deal with this situation.
7. Assumptions for FY2022 Forecast (For Reference)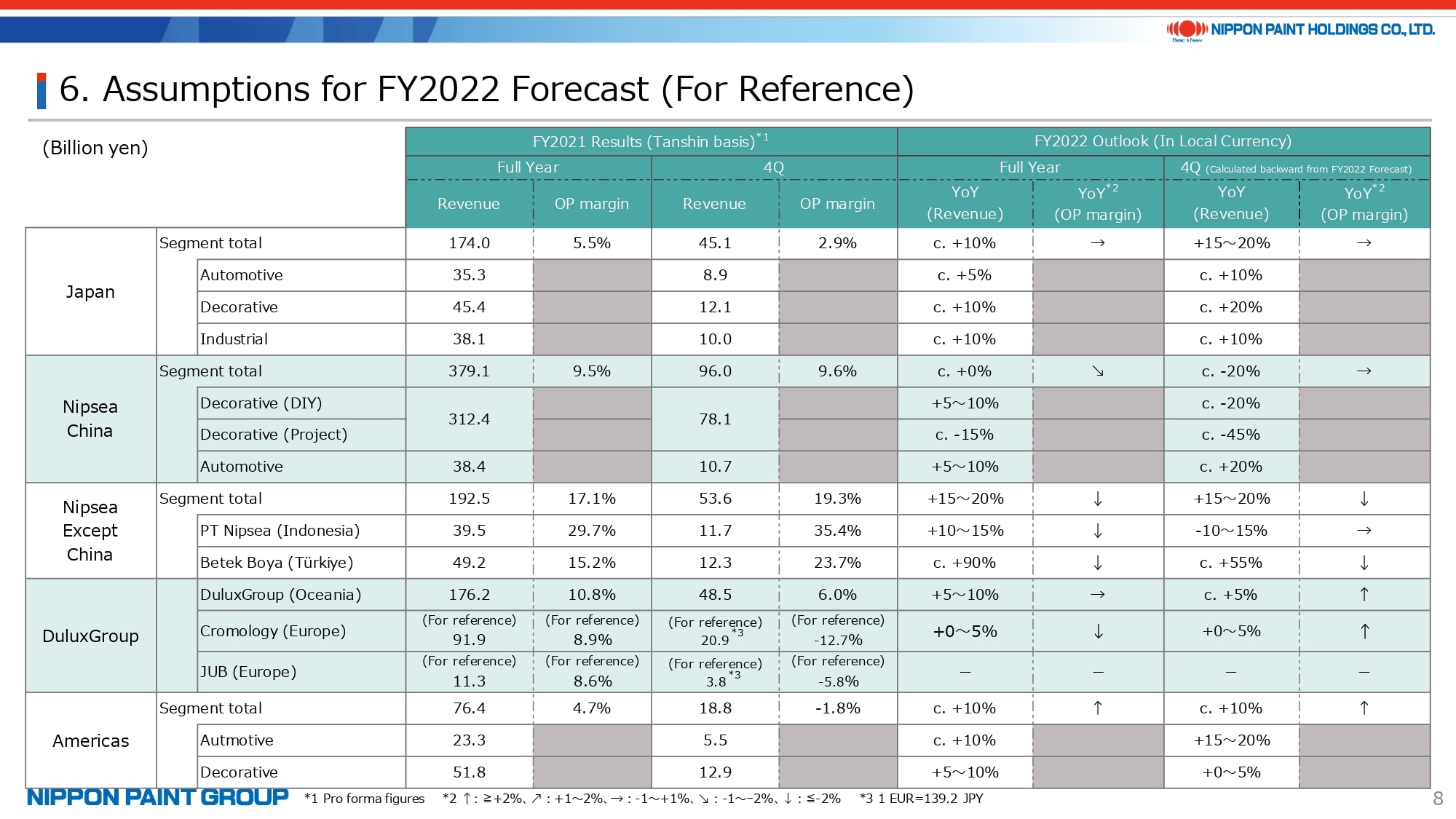 Page 8 of the presentation provides more details of our assumptions at this time for the FY2022 forecast. The FY2022 outlook on the right half of the page are in local currencies without the effects of FX.
The FY2022 revenue forecast for Nipsea China overall was decreased to zero percent from the growth forecast of 15-20% as of August, along with downward revisions of forecasts for the DIY and Project businesses. Based on rough estimates that were calculated backward by deducting the 3Q cumulative results from the FY2022 forecast, our 4Q revenue forecast is -20% in the DIY business and -45% in the Project business.
The situation changes day to day and the same goes for our sales figures. My intention is to give you an idea of the challenging market environment in the 4Q.
8. Major Topics ①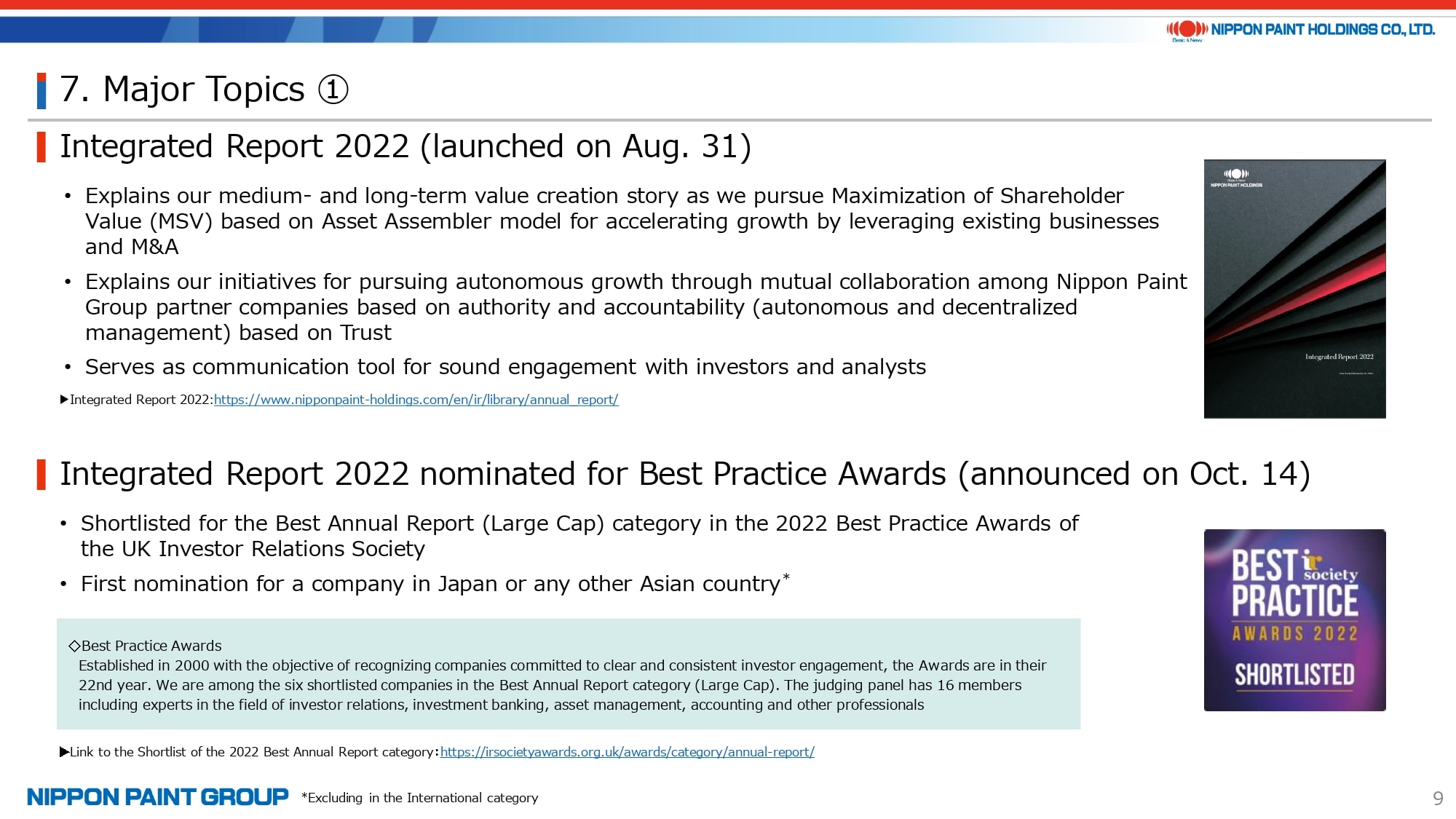 Major topics are provided starting on page 9.
The first topic is our Integrated Report, which has undergone a major improvement including in terms of design. I appreciate your taking a moment to review this report and welcome your feedback and suggestions for improvements.
Last year's report received several awards, and this year's report was among the six on the Shortlist (Large Cap) of the Best Practice Awards of UK IR Society. The nomination was the first for an Asian company.
9. Major Topics ②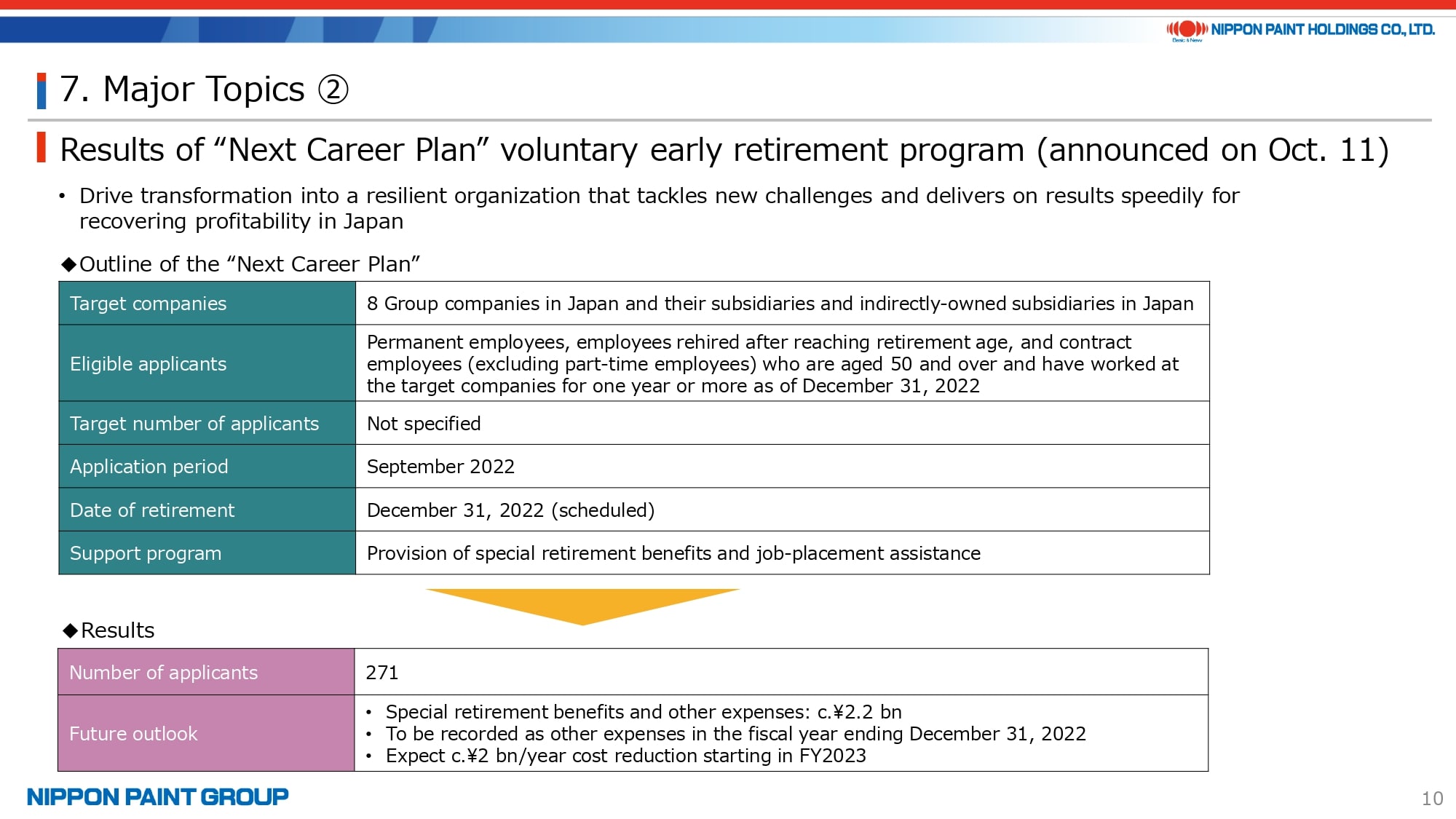 The results of applications for the Next Career Plan (NPC) voluntary retirement program were announced on October 11. We expect to record around 2.2 bn yen as expenses associated with NPC, such as special retirement benefits, and the implementation of NPC will reduce costs by around 2 bn yen annually starting next year. This impact is entirely related to the Japan segment.
10. Major Topics ③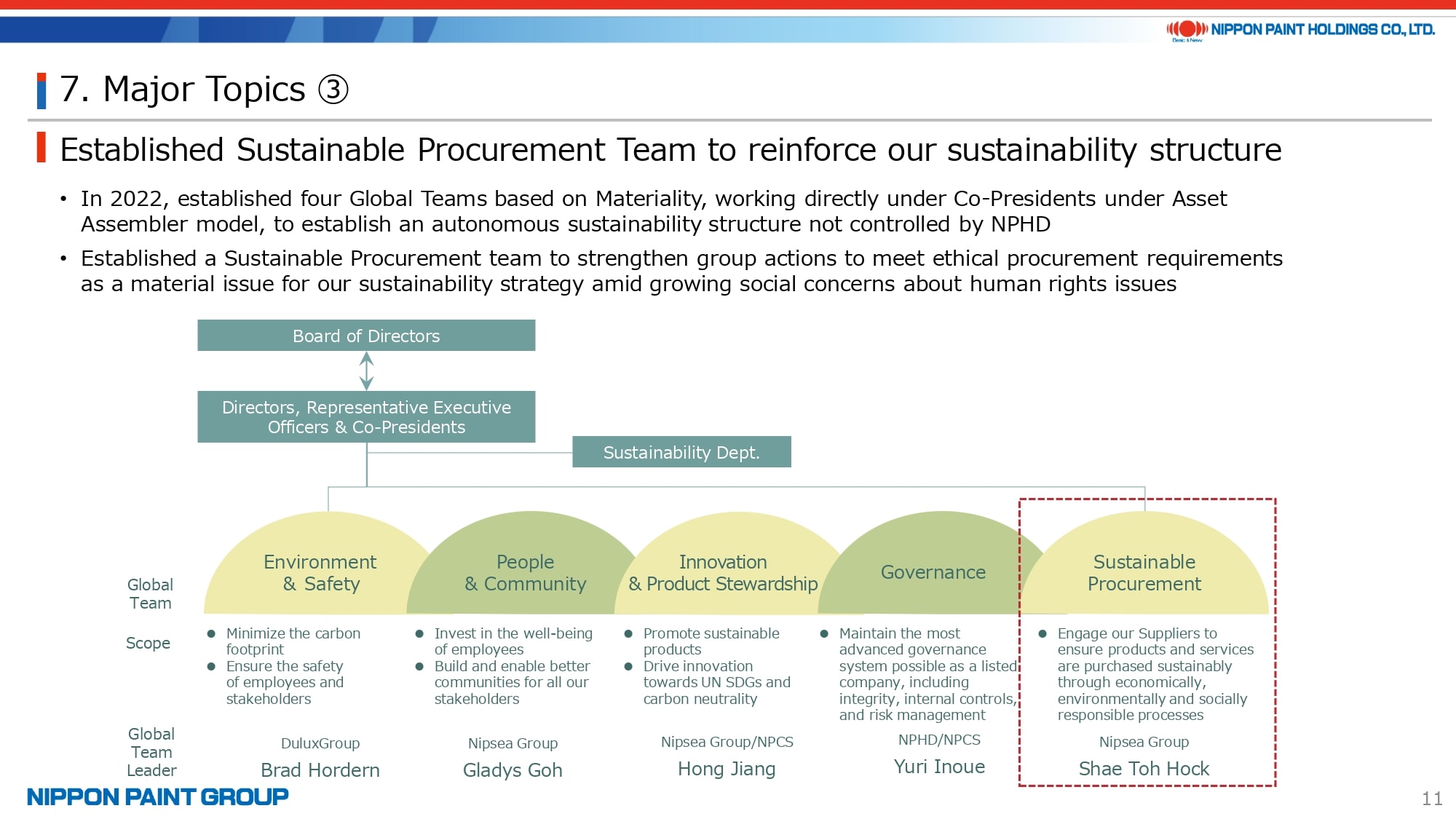 The final topic is about the update of our sustainability framework.
I have mentioned on prior occasions that we changed the sustainability structure to an autonomous structure that is linked with businesses but not controlled by NPHD. This sustainability structure has four pillars, each with a Global Team and Global Team Leader. Ethical procurement including protection of human rights has become a growing concern among customers. This is why we established Sustainable Procurement as the fifth pillar and appointed the Head of Procurement of Nipsea Group to serve as Team Leader. Some areas of sustainable procurement overlap with actions in the existing four pillars but other areas do not. In this manner, we have strengthened sustainability actions in Nippon Paint Group.
This concludes the summary of our results for the 3Q of FY2022.