FY2023 2Q Financial Results Conference Call Presentation Summary
1. Front Cover
Good afternoon, everyone. I'm Yuichiro Wakatsuki, Co-President of Nippon Paint Holdings.
Thank you very much for taking the time to participate in our conference call regarding financial results for the 2Q of FY2023.
In attendance for our earnings calls for the 2Q and 4Q are not only investors and analysts but also members of the press.
2. Summary: FY2023 2Q Operating Results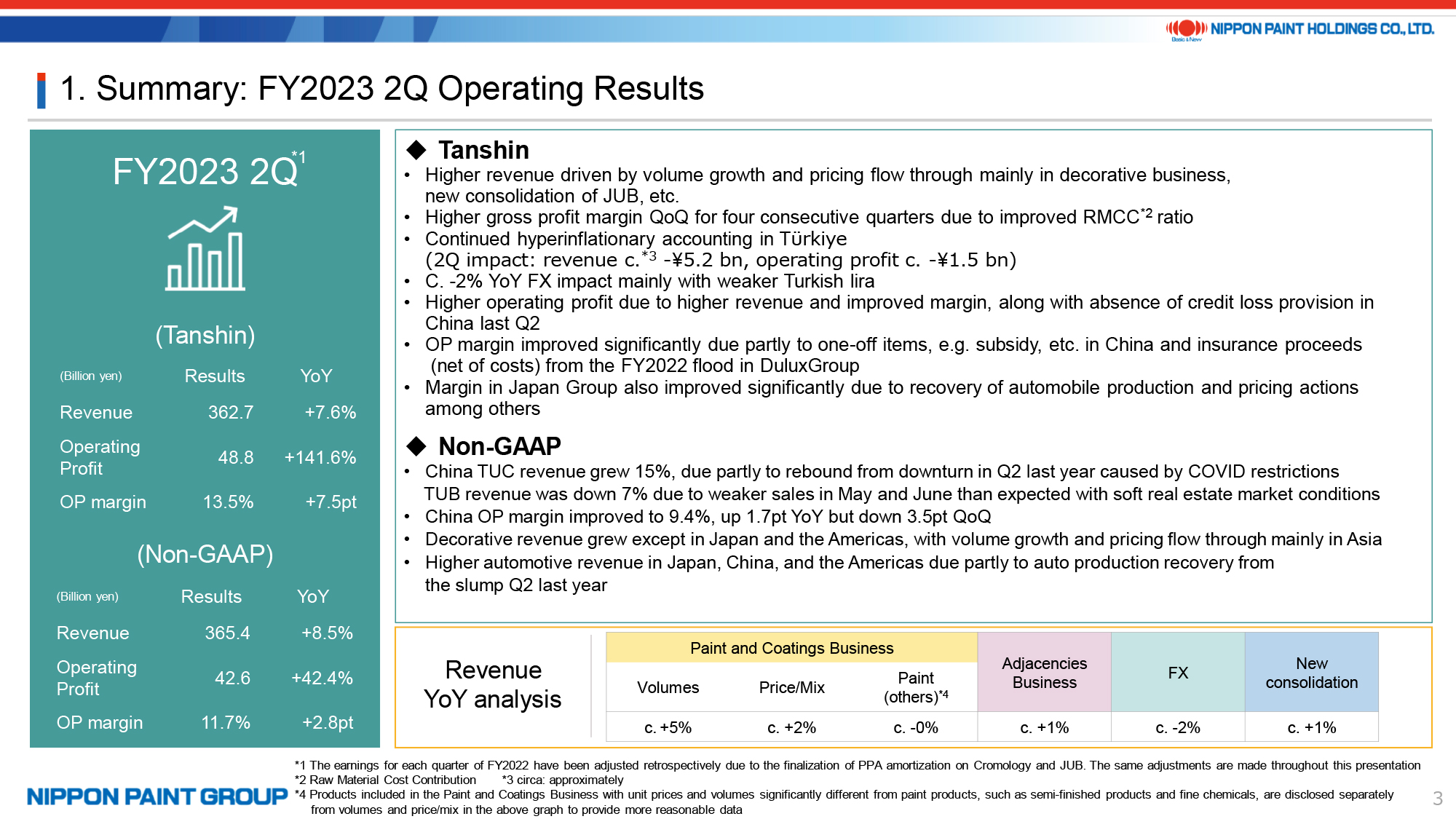 I would like to begin by summarizing the financial results for the 2Q of FY2023.
On a Tanshin basis, there was noteworthy growth in both revenue and operating profit. Revenue saw a YoY increase of 7.6% to 362.7 bn yen, while operating profit experienced a remarkable YoY surge of 141.6% to 48.8 bn yen. The table in the bottom of the presentation illustrates the detailed breakdown of revenue growth. Positive contributions to revenue were driven by the volumes and price/mix of the decorative paints business, adjacencies business, and a new consolidation. However, there was a negative impact on revenue due to the depreciation of the Turkish lira.
In terms of profitability, the gross profit margin demonstrated a consistent improvement, which can be attributed to the ongoing moderation in raw material prices and the effective flow-through of pricing adjustments. Although our earnings in the 2Q exhibited remarkable strength, it's important to note that this performance was augmented by exceptional factors, including subsidy income in China and net insurance proceeds (after deducting costs) in DuluxGroup, which collectively amounted to around 6.9 bn yen. When considering the Non-GAAP perspective, which eliminates the effect of these one-off factors, along with the FX impact and new consolidation, the operating profit margin stood at 11.7%. This figure signifies a YoY and QoQ margin enhancement, highlighting continued improvement.
On a Non-GAAP basis, there was an 8.5% rise in revenue and a 42.4% increase in operating profit. In the Chinese decorative paints business, TUC revenue increased by 15%, whereas TUB revenue declined by 7%. The operating profit margin for the overall Chinese business reached 9.4%, marking a gain of 1.7 percentage points from the corresponding period last year. However, this represents a decline of 3.5 percentage points from the first quarter of FY2023. Notably, within the decorative paints business, the decrease in the operating profit margin was prominent, despite an increase in sales volume. This decline can be attributed to the deterioration of price/mix, which was influenced by substantial sales growth in economy range products.
3. Summary: Revision of FY2023 Guidance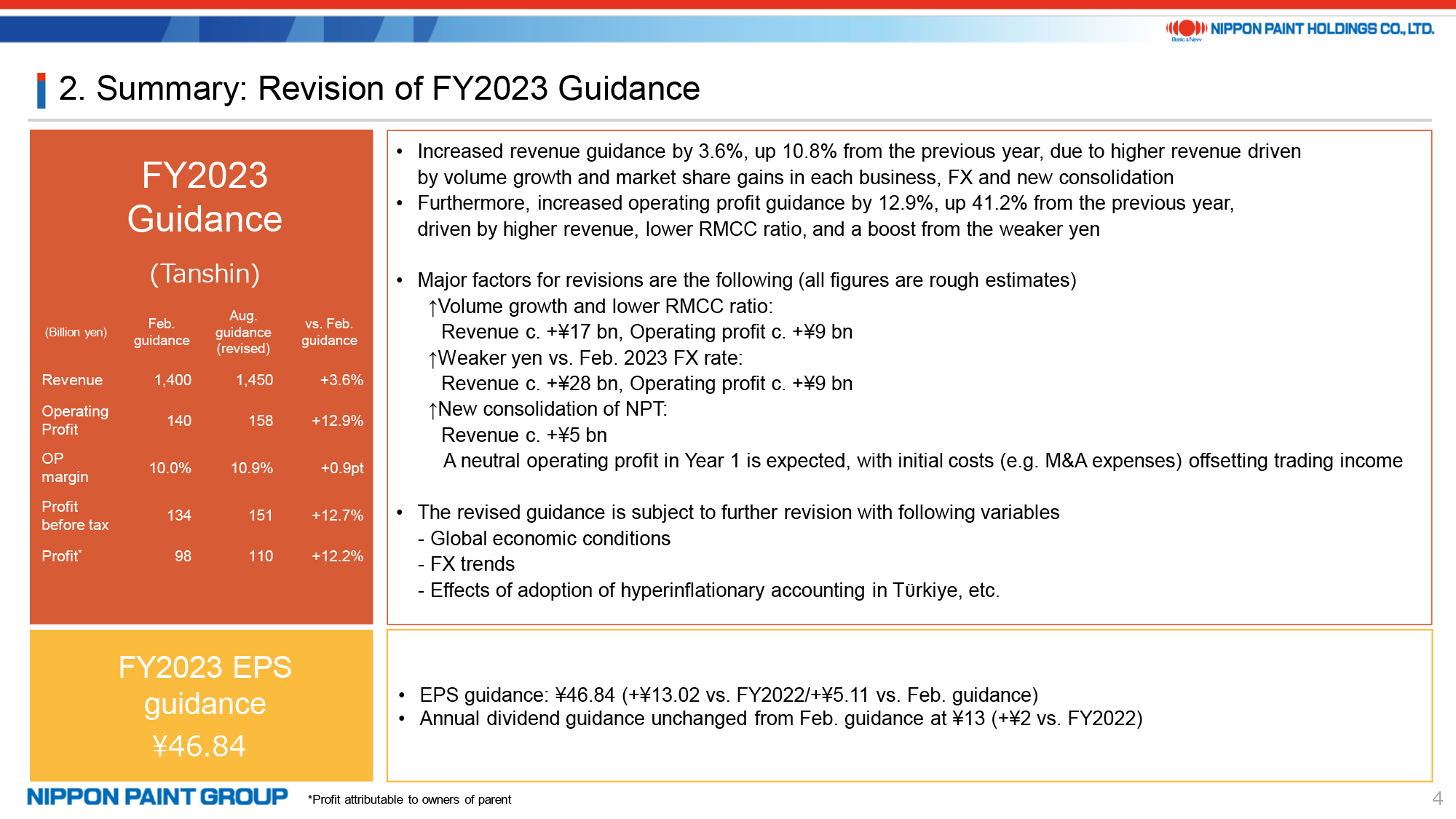 I will now elaborate on the revision of our full year guidance, which was disclosed in February 2023.
The revenue projections have been increased by 3.6% from the guidance announced in February to 1,450 bn yen, signifying a substantial YoY growth of 10.8%. Additionally, the operating profit guidance has been revised upward by 12.9%, to 158 bn yen, a 41.2% increase.
The factors contributing to the revision, based on a preliminary estimate, can be outlined as follows: Revenue experienced an approximate increase of 17 bn yen due to volume growth and margin improvements, while operating profit saw a rise of approximately 9 bn yen. The revisions made to the February exchange rate assumptions are expected to result in a revenue increase of around 28 bn yen and an operating profit increase of about 9 billion yen. Moreover, the inclusion of NPT following its acquisition closure in July is projected to add roughly 5 bn yen to the 2H revenue, although its impact on operating profit is expected to be modest after accounting for one-off expenses.
We revise our financial guidance by considering a range of assumptions. Our financial forecasts may be revised due to factors like second-half economic trends, encompassing consumption and raw material prices, fluctuations in foreign exchange rates, and the uncertain effects of hyperinflationary accounting in Turkey. Updates to our guidance will be provided as necessary.
Additionally, we anticipate the earnings per share (EPS) to surpass our February forecast by 5.11 yen to exceed 45 yen, which is the final year goal of the Medium-Term Plan (FY2021-2023). Our yearly dividend forecast remains unchanged at 13 yen per share, which is an increase of 2 yen per share from the previous year.
4. Raw Material Market Conditions and Our Responses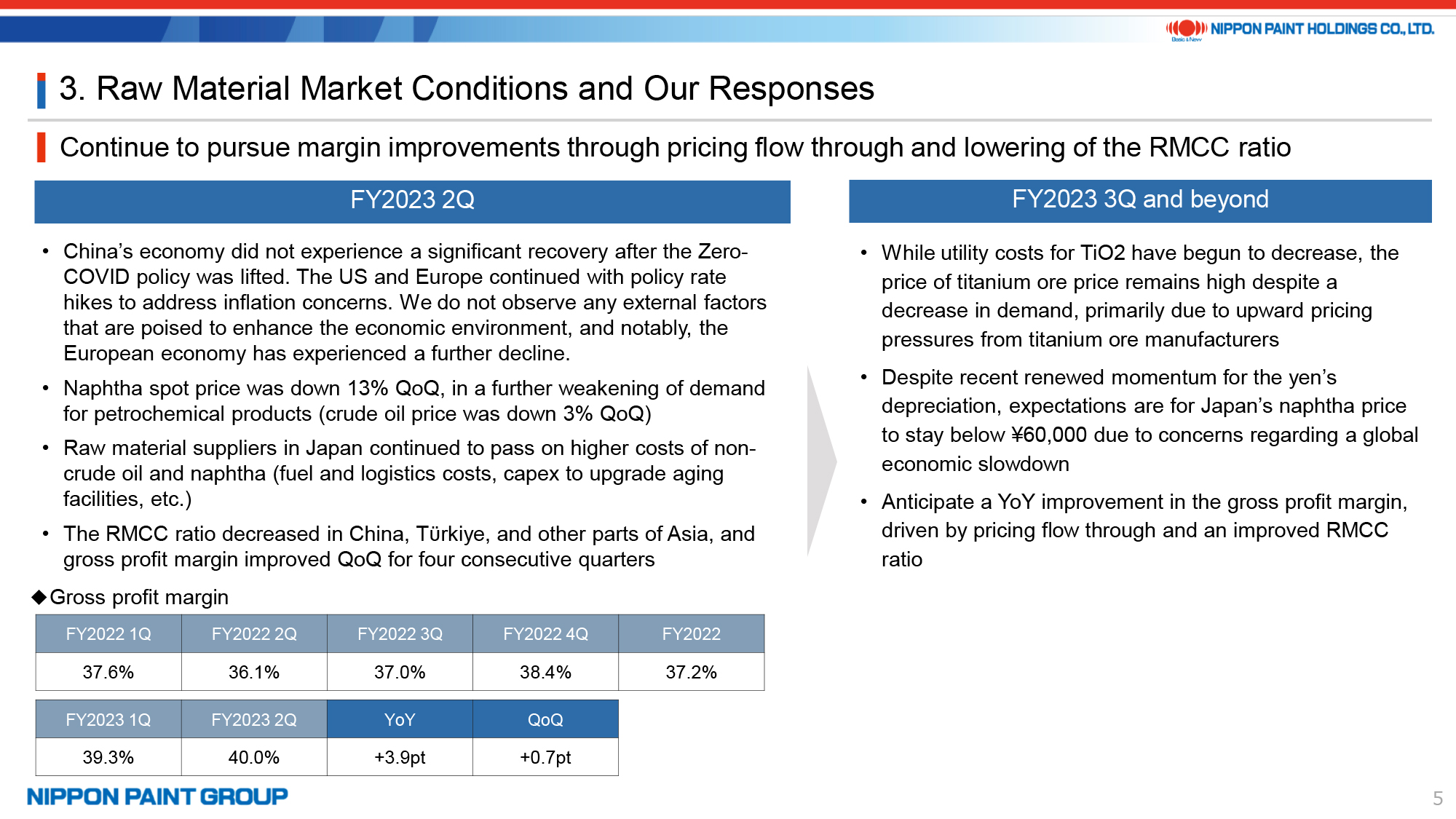 The analysis of raw material market conditions can be found on page 5 of the presentation.
We are of the opinion that the influence of inflation has begun to ease significantly, partially due to the global decrease in demand that reflects the ongoing economic slowdown.
5. Market & Business Environment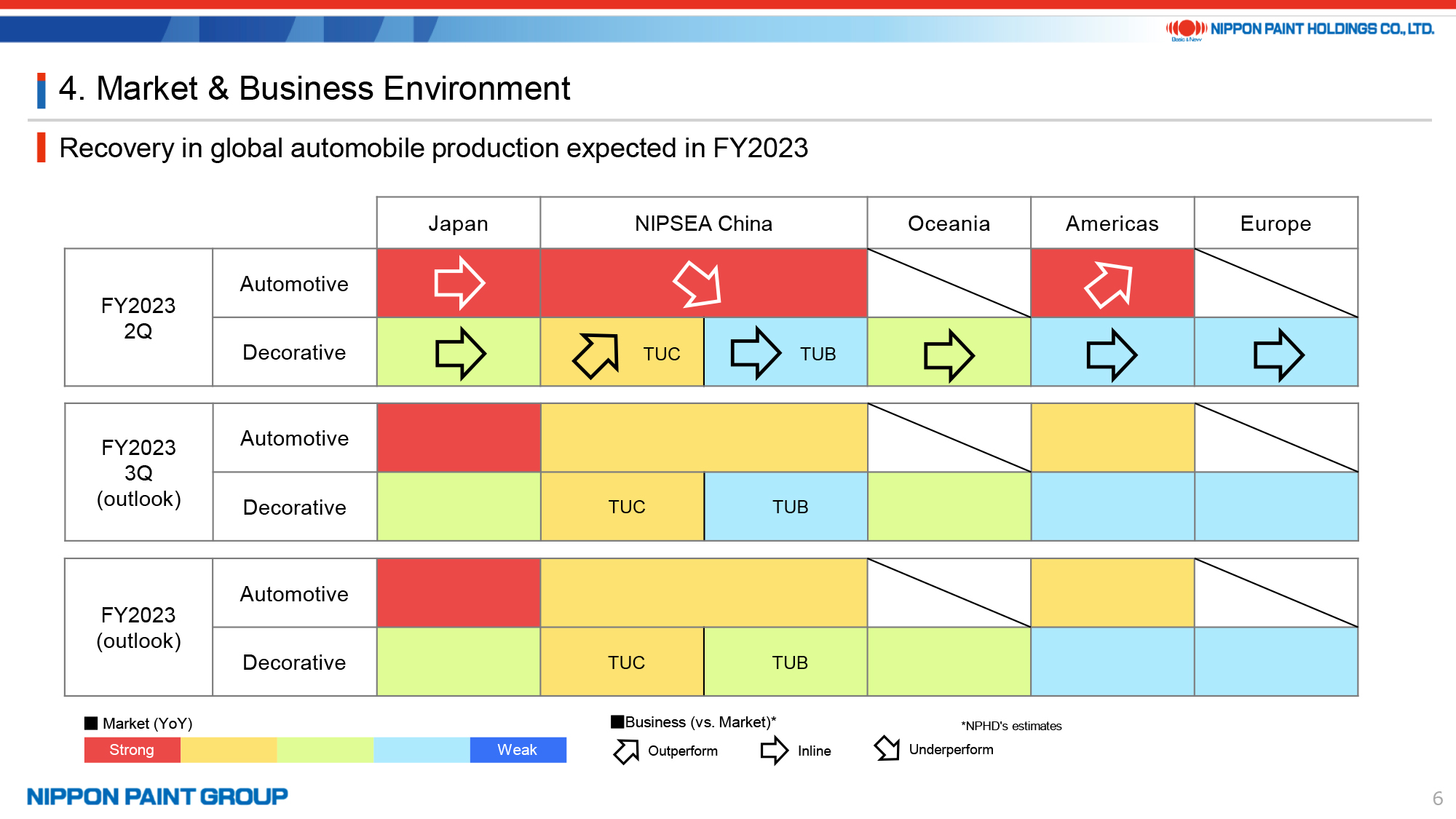 The heat map presented on page 6 of the presentation illustrates the market and business environment in which our Group operates.
Our assessment reveals a slight reduction in our market share within the NIPSEA China automotive coatings business, consistent with the trends observed in the 1Q. This is due to the growing market dominance of Chinese electric vehicle manufacturers over their Japanese OEM counterparts, with whom we maintain larger sales volumes than our competitors. Turning to the NIPSEA China decorative paints business, we believe our market share has grown in the TUC market, while remaining steady in the TUB market.
6. Summary of Operating Results in Major Segments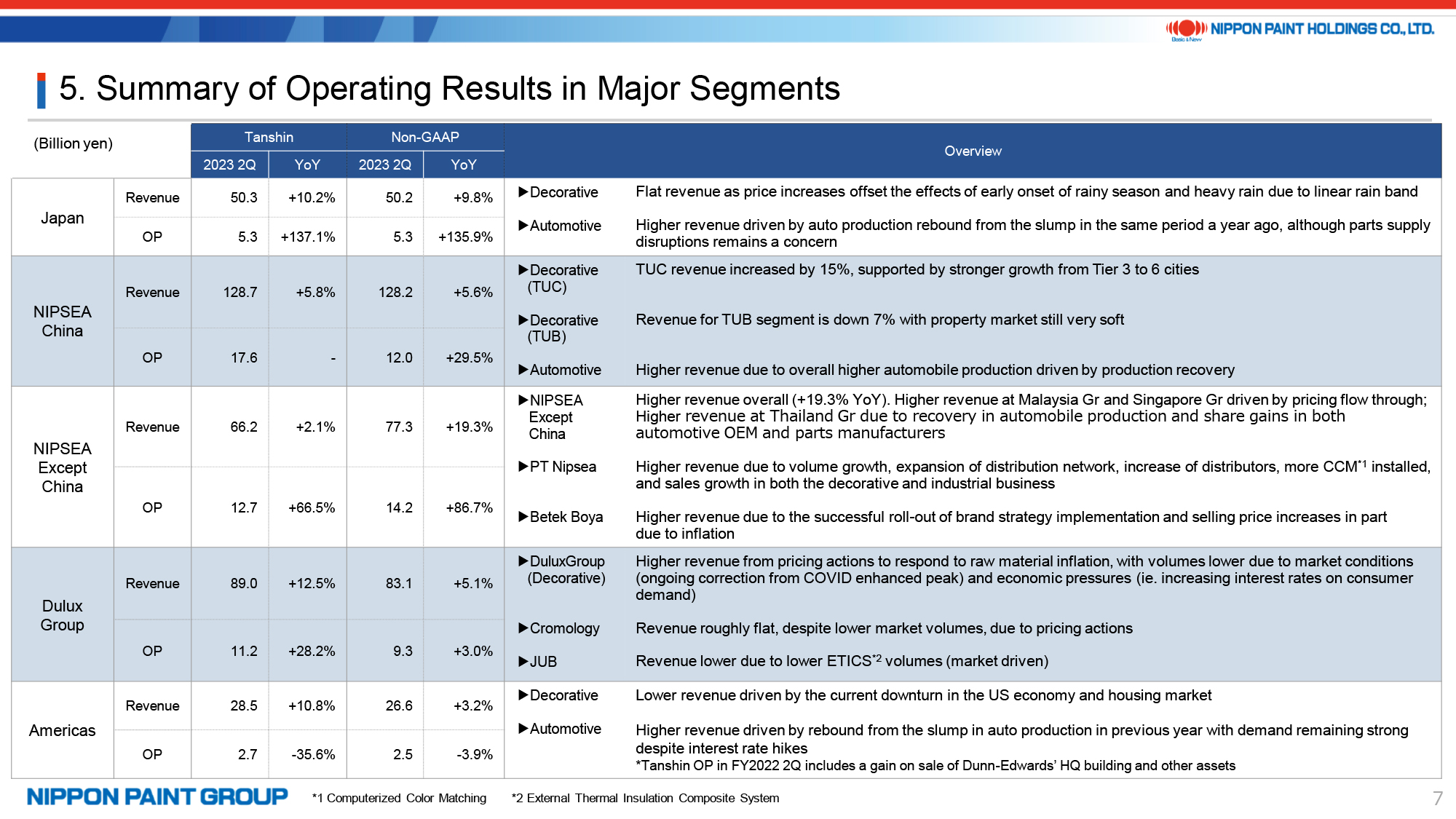 This page provides an overview of our operational outcomes across key segments in the 2Q of FY2023. During the Q&A session, I will answer questions related to this topic. For the present moment, I will offer succinct observations regarding our performance in each geographical area. Additionally, you can refer to our segment results starting on page 15 of the presentation.
The operating profit margin in the Japan segment has surpassed 10% after a considerable period. This achievement can be attributed to the sustained enhancements in margin in the automotive coatings and marine coatings businesses. Furthermore, the decorative and industrial coatings businesses managed to absorb the decline in sales volume through price increases.
I will be answering questions regarding the NIPSEA China business during the Q&A session, given that I have already elaborated on the main advancements within this segment.
In Asia except China, we maintained a strong trajectory of revenue and profit growth. Particularly noteworthy is the Indonesia business, which accomplished remarkable revenue growth and achieved an operating profit margin surpassing 30%. Furthermore, we attained substantial revenue growth in Tϋrkiye, attributed to factors including the recovery from the earthquake that occurred in the 1Q. In conjunction with the enhancement of the raw material cost contribution ratio, we managed to reestablish a remarkably high operating profit margin in the Turkish business, even following the implementation of hyperinflationary accounting.
In the core Pacific segment of DuluxGroup, sales volume contracted due to subdued market conditions; however, consistent revenue growth was sustained by the flow-through of price increases. Meanwhile, in the Europe segment, Cromology reported nearly unchanged revenue figures as the volume decline was offset by price increases. JUB recorded an 8.7% revenue decrease in local currency, attributed to reduced sales volume of ETICS. Nonetheless, on a Tanshin basis, JUB played a more substantial role in bolstering our consolidated earnings in the 2Q. This is attributed to the company's inclusion in our consolidation from June of the previous year, coupled with significant enhancements in its profit margins.
Concerning our performance in the Americas, there was a substantial recovery in automotive coatings revenue, while decorative paints revenue declined owing to the persistent slowdown of the housing market, prompted by interest rate hikes. Nonetheless, our earnings increased notably in comparison to the 1Q of FY2023, a period characterized by adverse weather conditions that impacted our performance.
7. Major Topics (1)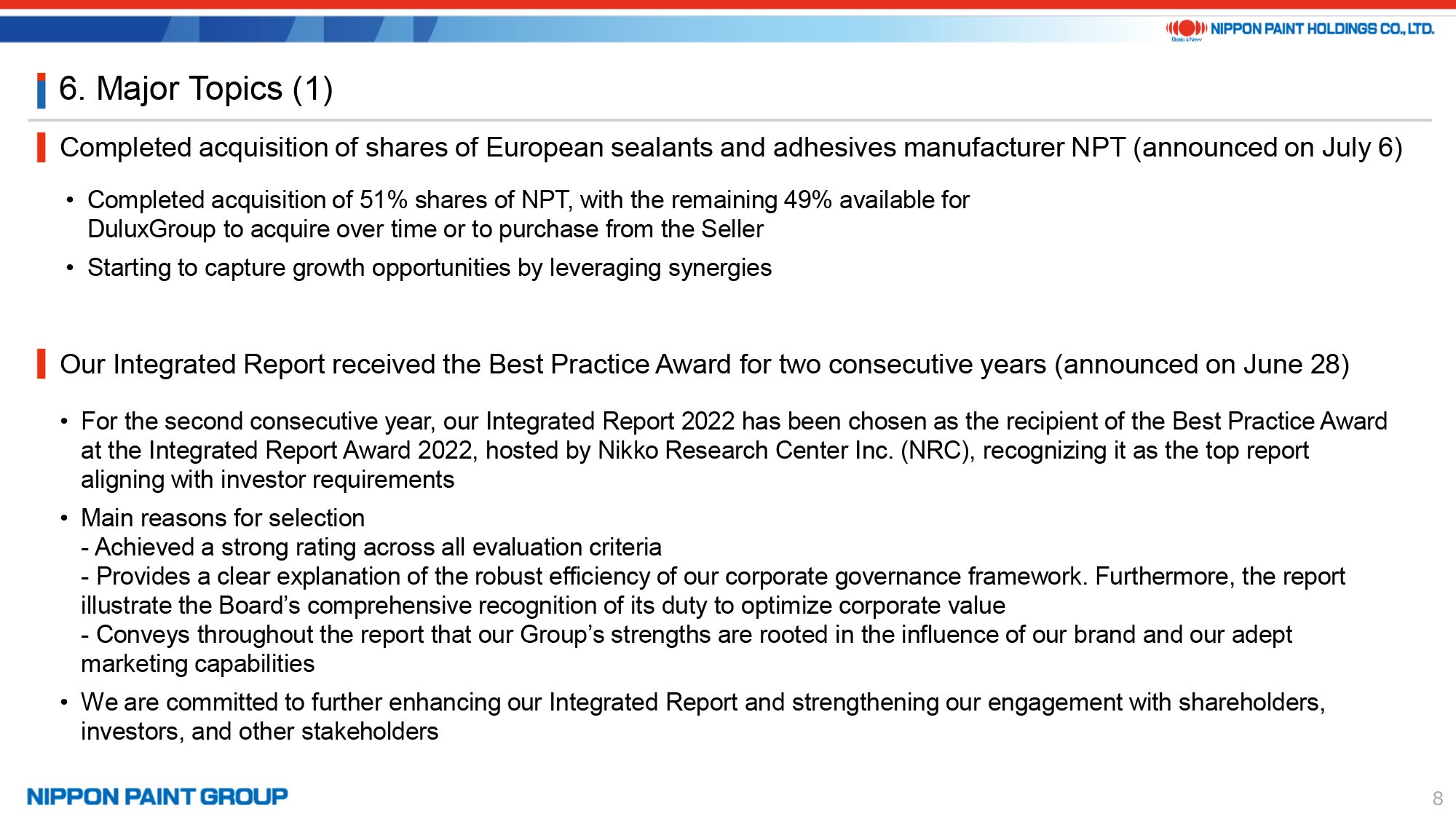 Shifting the focus to major topics, I would like to address the successful completion of the acquisition of Italy-based NPT in July, subsequent to receiving the necessary approvals from the authorities.
Our Integrated Report has consistently garnered commendable recognition from external entities. The 2023 edition of the report is currently in its concluding production phase. The Integrated Report remains a crucial instrument for engaging with investors, and I encourage you to spare a moment to peruse its contents.
8. Major Topics (2)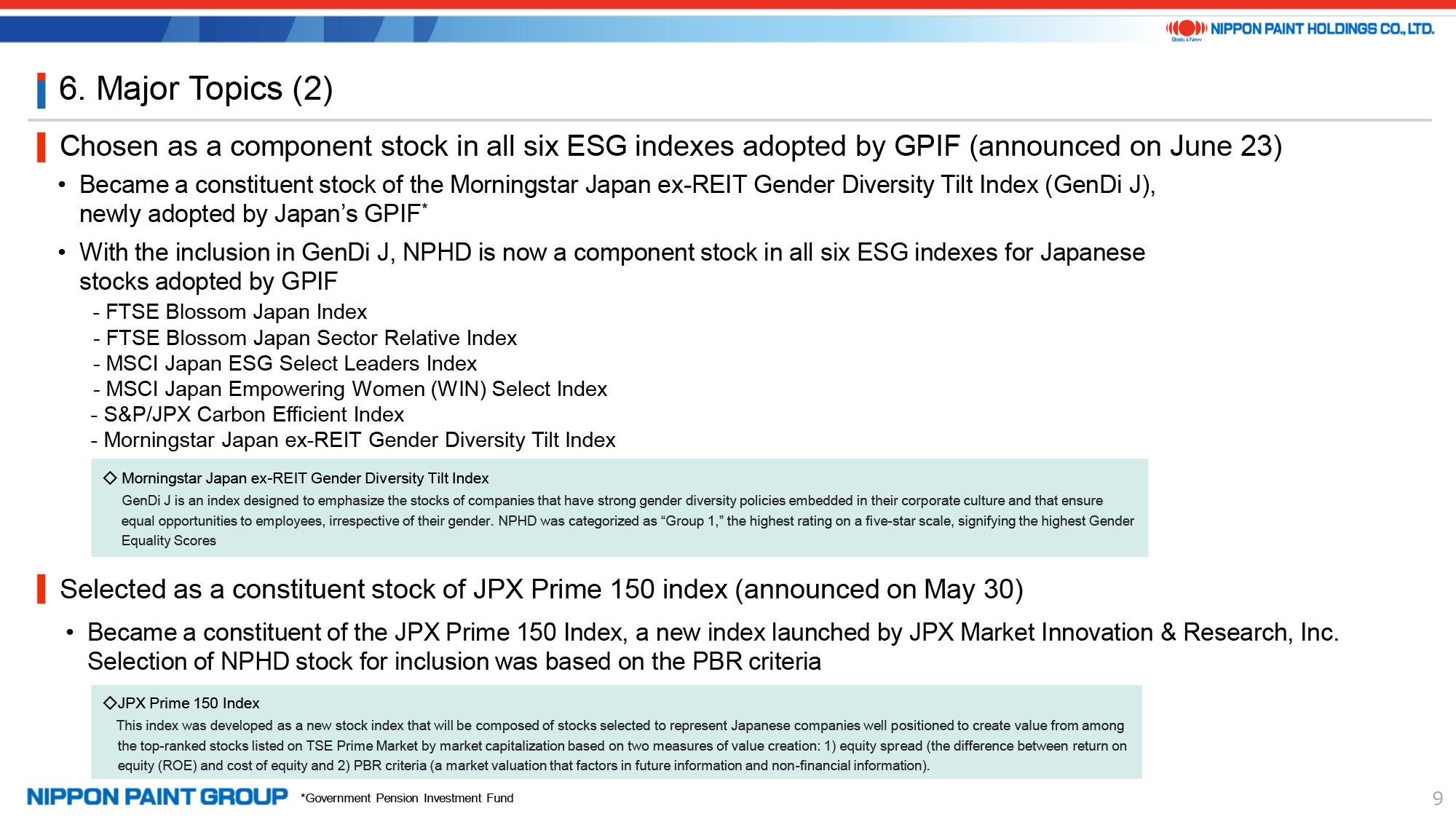 As previously communicated through press releases, we have been chosen as a constituent stock in several stock indexes. Our commitment to sustainability remains unwavering, as we perceive recognition of our sustainability initiatives to be instrumental in further expanding our investor base.
9. FY2023 Guidance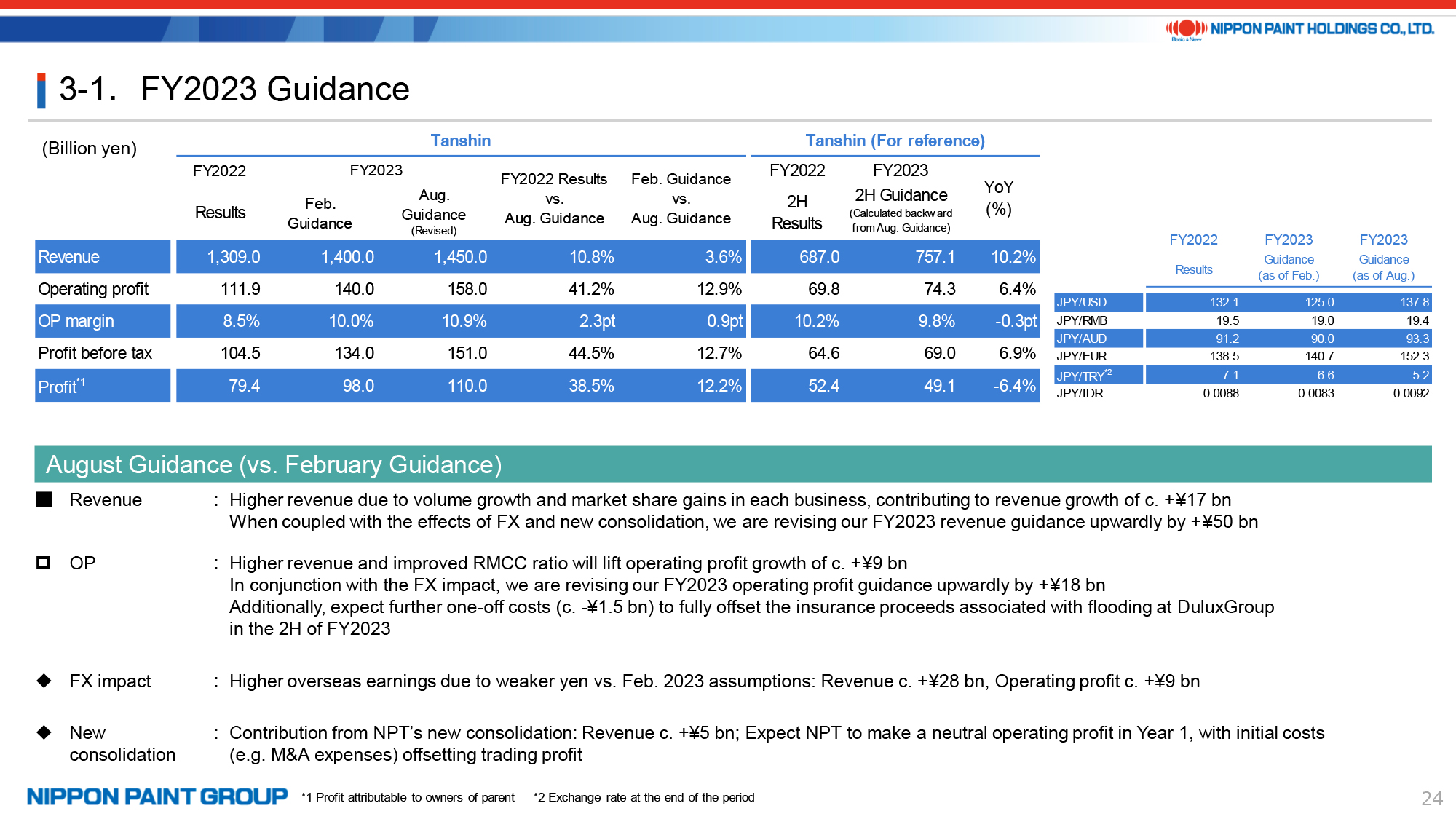 Before wrapping up this call, I would like to provide additional information regarding the revision of our FY2023 guidance, which is outlined on page 24.
In response to requests from certain analysts, we have initiated the practice of furnishing the FY2023 2H guidance purely for reference purposes. This guidance is computed by subtracting the 1H results from the overall FY2023 guidance.
In the 1H of FY2023, our operating profit margin stood at 12.1% on a Tanshin basis, while on a Non-GAAP basis that excludes one-off items (please see page 28 for details), it was 11%.
The operating profit margin guidance for the 2H, which was calculated retroactively, is expected to reach 9.8%. This 2H guidance encompasses one-off expenses of approximately 1.5 billion yen caused by the flooding incident at DuluxGroup. Discounting these factors, the projected operating profit margin for the 2H, according to our full year guidance, is estimated to hover around 10%. This means that while we anticipate a 10% revenue growth for the 2H, similar to the 1H revenue growth, the operating profit margin is likely to be 1 percentage point lower than that of the 1H. Moreover, it is expected to remain approximately level with the 2H of FY2022. This revision accounts for a certain degree of margin decline in the 2H compared to the 1H, primarily due to factors like the impact of the economic slowdown in China and hyperinflationary accounting in Turkey, among others. This underscores our unwavering commitment to gaining market share even amidst a decelerating economy. In fact, we view this scenario as an opportunity rather than a hindrance. It's important to mention that alongside our market share growth objectives, we are also focused on improving margins. It's worth emphasizing that each partner company will naturally endeavor to surpass the provided guidance.
Thank you for your kind attention.